"Let's sacrifice NK to punish Pashinyan" - Tom de Waal on Moscow's position
Thomas de Waal on recent developments in NK
"We can sacrifice Nagorno-Karabakh to punish Pashinyan, to work with Azerbaijan and Turkey," according to Thomas de Waal, a British expert on the Karabakh issue, this is the decision Moscow has made regarding Azerbaijan's latest military operation in Nagorno-Karabakh.
He says this is one of the reasons why Russia has abandoned its "traditional policy" in the Karabakh issue. And this approach has become particularly evident since the outbreak of the war in Ukraine. Russia has "prioritized" Azerbaijan over its strategic ally Armenia in this conflict. In his opinion, Yerevan "did not expect such close cooperation" with Baku.
The analyst believes that Moscow's refusal to assist Armenia was also caused by Pashinyan's "bold and too hasty" steps, including the visit of the prime minister's wife to Kyiv and joint military exercises with the United States, the process of ratification of the Rome Statute and public statements about the questionable value of Russia's CSTO military bloc for Armenia. All of this has "angered Russia," de Waal says.
"But for me the main issue is the naive trust of the Karabakh leadership in Russia. They still believed that Moscow would not sell them out, but that's exactly what happened."
What else the expert said in an interview with Radio Azatutyun (Liberty).
---
---
Why is Azerbaijan important to Russia?
"For several reasons. One is the road for Russia to the south, to Iran and Turkey by land and across the Caspian Sea. And this is obviously especially important now that the borders with Europe are closed.
In addition, the Azerbaijani regime is familiar [to Russia]. They understand each other, they speak the same language. But Moscow and Yerevan do not speak the same language. Democracy or human rights are out of the question [in Russia and Azerbaijan].
The third circumstance is that Azerbaijan is a unique bridge to Turkey. Unfortunately for Armenia and the West, we now see a kind of Russia-Azerbaijan-Turkey axis where they have common interests in the Caucasus. It is to prevent the West from coming here, to have a weak Armenia, to build a transportation corridor that will be controlled by Russia's FSB and peacekeepers."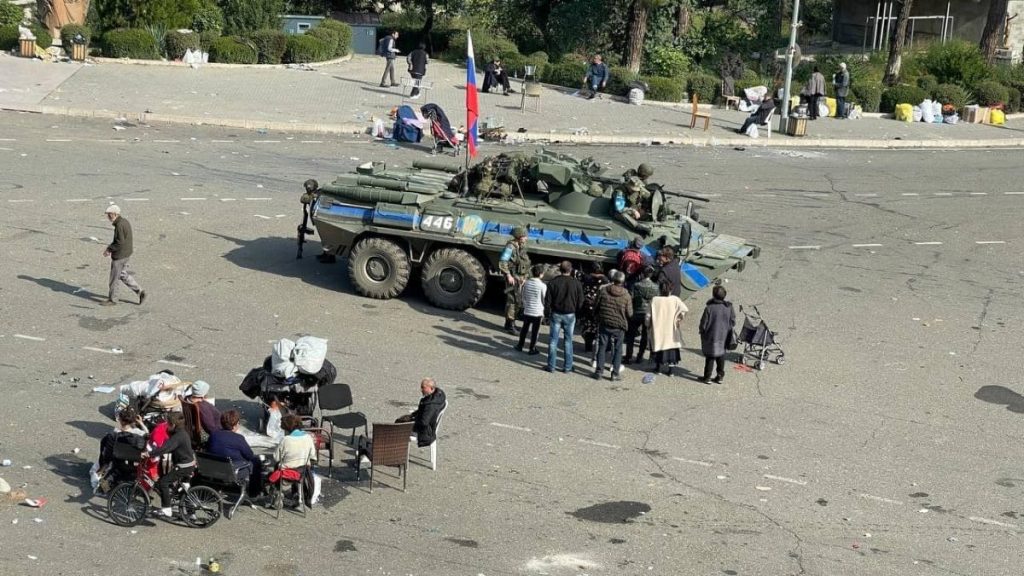 Why did Aliyev dare to ignore the calls of the West?
"Obviously, President Aliyev had all the cards in his hand. He already had Karabakh under total blockade. So why did he dare to ignore Western appeals [not to start military action]?
He knew it would surely damage his relations with the West. I think the answer is simple: he got the go-ahead, the green light from Moscow. On the day of the operation, the Russian peacekeepers stepped aside. Moscow did not condemn Aliyev. The Russians condemned Pashinyan.
In essence, Aliyev was able to conquer Karabakh. I think this was a scenario that many people feared, hoped it could be avoided, but we have what we have."
This is essentially the end of Nagorno-Karabakh
"We know that the history of Nagorno-Karabakh begins in 1923 when it was first established in the Soviet Union, but of course the history of Armenian Karabakh begins centuries before that, and its future is very uncertain.
We see the Armenian population leaving Karabakh. This is a great tragedy. And we can talk about who is responsible. Obviously, first of all, the responsibility lies with President Aliyev, who used force."
There will be people in Karabakh who will want revenge
"The conflict will end only when everyone feels that they have come to peace. It is clear that for many Armenians, and especially for many people from Karabakh, this is not peace, it is defeat. And they will want another stage of revenge.
I am sure that there will be people in Karabakh who will want to fight one way or another. I'm sure they will. And they will be supported by some Armenians of the Diaspora."
Azerbaijan will not change in one day
"Azerbaijan is a state with an anti-Armenian state ideology. This is what they teach children in school, what they say in the media. This is the state ideology of the country, which will not change in a day.
Azerbaijan should radically change its education system, media, legislation on minority rights. All this should change."
There were negotiations with Baku, but it was too late
"I think the negotiations were actually already underway there. They were secret negotiations in Shushi/Shusha. And they were actually progressing. But one has to understand what went wrong then.
I knew from my sources that the Karabakh authorities were involved in negotiations with high-ranking officials of Baku, for example, with the head of the State Security Service of Azerbaijan, Ali Nagiyev. And these negotiations took place even before the military operation. They started talking to Baku, but it was already too late."
After the 2020 war, we should have realized that the threat was very real
"There was still an illusion on the Armenian side after the 2020 war that Karabakh could continue to live in the same way, the situation would not change. I believe that this was a big mistake.
The 2020 war should have been a wake-up call: they should have lowered the bar, started serious discussions with Azerbaijan, started talking about autonomy, economic relations with Azerbaijan. They should have realized that the threat is very real."
Armenia will be in greater danger if internal political divisions do not cease
"Obviously, if something happens militarily in Syunik [a region in southern Armenia bordering Azerbaijan] [refers to military action to push the so-called "Zangezur corridor" through Armenian territory], the Armenian armed forces are very weak to fight back. They will have to rely on Iran. But we don't know what Iran really thinks. We know what it says [it will not allow border changes in the region], but we don't know how it will react.
Obviously, it's a nightmare scenario. We will certainly go from 2023 to 1918-1920, we will be in the situation that was here at that time, when there were serious battles along the border and so on. Many warnings will be sounded, and this will be something for which I think there will be sanctions against Azerbaijan, and there will be many consequences.
So hopefully this can be avoided. I assume that instead we will probably see a lot of political pressure, a lot of statements from Aliyev, Erdogan, maybe Putin that Armenia should agree to this corridor, that it's not cooperating enough.
And of course, as we know, Russia has a lot of tools to pressure Armenia. I believe this is also related to the internal political situation in Armenia. As long as Armenia has a stable government, I think it will have the means to confront it. If there are internal political disagreements in Armenia, if there are attempts to oust Pashinyan, Armenia will certainly get weaker, and then I think Syunik will be even more threatened."
What is the West ready to do to protect Armenia?
"The issue of Armenia's security has become more significant on the agenda of the West, the United States, and France. Although in France this issue has obviously always been given more importance. But its importance has also increased in countries like Germany.
I think the question is what else can really be done to really protect Armenia, beyond political and financial support. But I think that the will [to solve this issue] among Western countries is certainly growing."
Follow us – Twitter | Facebook | Instagram
Thomas de Waal on recent developments in NK