"There will be no Armenians left in NK in the coming days. This is an act of ethnic cleansing" - Pashinyan
Pashinyan on exodus of Armenians from Nagorno-Karabakh
"The exodus of Armenians from Nagorno-Karabakh as a result of the policy of ethnic cleansing implemented by Azerbaijan continues. The analysis shows that there will be no more Armenians left in Nagorno Karabakh in the coming days. This is a direct act of ethnic cleansing and deprivation of homeland, something we have been warning the international community about for a long time," the Armenian Prime Minister said at a government session in the morning.
Nikol Pashinyan considers it vital that international actors issue statements condemning what is happening in Nagorno-Karabakh.
"Statements by various international players condemning the ethnic cleansing taking place in Nagorno-Karabakh are important, but if not followed by concrete actions, these statements will only be seen as a series of moral statistics for history, so that in the future, those countries will have the opportunity to formally dissociate themselves from this crime by saying "We have condemned". If condemnation statements are not followed by commensurate political and legal decisions, condemnations become acts of consent to what is happening."
The Prime Minister also touched upon "arbitrary arrests" on the part of Azerbaijan, referring to the detention of Ruben Vardanyan, former State Minister of the unrecognized NKR. He stressed that the Armenian state bodies should take steps to protect the rights of the detainees, including in international instances.
NK Armenians are leaving their homes after the military actions of the Azerbaijani army on September 19-20. After 24 hours of resistance, representatives of Nagorno-Karabakh Armenians signed a truce agreement with Baku.
On September 28, the president of unrecognized NKR signed a decree, according to which from January 1, 2024 it will cease to exist, all state institutions will be dissolved.
A few hours after Ruben Vardanyan's arrest, Armenia applied to the ECHR to ensure his defense. Armenia is also discussing what will happen to those on Baku's "black list". Azerbaijan announced a possible amnesty for Nagorno-Karabakh military formations that lay down their arms, but specified that it would not apply to those who "committed war crimes during the first Karabakh war".
---
---
"The main objective is to provide for immediate needs."
According to Pashinyan, at the moment the main task and duty of the Armenian government is "to receive our brothers and sisters forcibly displaced from Nagorno-Karabakh with the utmost care and to provide for their most basic needs," such as short and long-term housing.
Pashinyan said the arrivals will be included in Armenia's social system, including employment programs. In addition, the government is considering issuing and giving them ration cards:
"We are talking about cards on which there will be certain funds and they can be used only to buy food."
More than 68 thousand people have already moved to Armenia
The work of the governmental humanitarian assistance center is being coordinated by Deputy Prime Minister Tigran Khachatryan. According to him, points receiving people and accommodating them are operating in Goris and Vayk cities, 24-hour duty is established in 64 communities of the country. Most of the Karabakh Armenians have been temporarily settled in Kotayk and Syunik regions, while fewer people have been accommodated in Gegharkunik and other regions.
At the time of publication, it is reported that 68,386 people have arrived in Armenia from Nagorno-Karabakh.
About 11,000 people have already been provided with housing, they have agreed to stay in the places the government has offered them. Many said they have other options for accommodation.
"Perhaps not everyone is being offered the facilities that would be preferable for them. Operational management is difficult with the high flow. I would like to ask that what is offered, especially these days, be perceived as an opportunity to solve a pressing problem," Khachatryan said.
According to the Deputy Prime Minister, the government will try to find more suitable options for the needs of people in the near future, the possibility of using "various support instruments" will be considered.
He said that a treasury account for donations will be opened soon, where individuals and organizations will be able to transfer sums to support the arriving compatriots.
The government will send buses to NK to transport people to Armenia.
"A large number of people are still in Stepanakert due to the lack of their own transportation to leave. 30 buses are waiting in Goris to go to Stepanakert accompanied by Russian peacekeepers – as soon as the traffic on the road eases," Deputy Prime Minister Tigran Khachatryan said.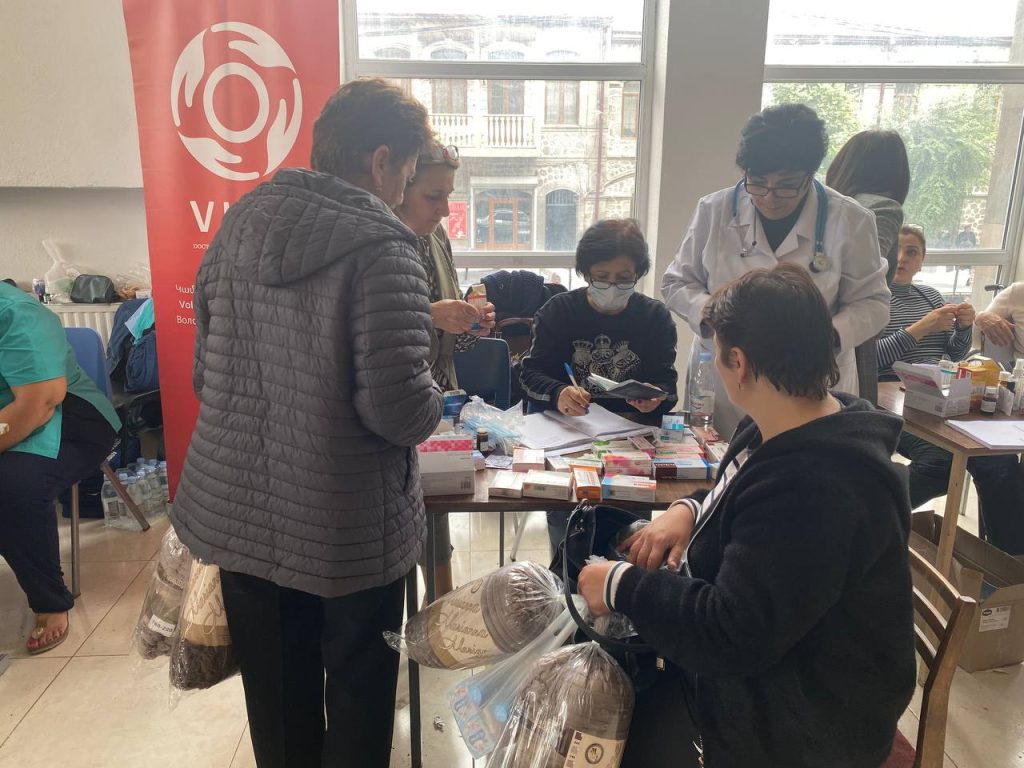 Follow us – Twitter | Facebook | Instagram
Pashinyan on exodus of Armenians from Nagorno-Karabakh