Karabakh people in Armenia: stories of people who fled their homes. Photos and videos
Stories of NK residents who came to Goris
Goris was the first Armenian town to receive Armenians leaving Nagorno-Karabakh after Azerbaijan unblocked the Lachin corridor. This city in southern Armenia now resembles a camp for people without homes. There are cars loaded with suitcases, tired people with despair in their eyes. Their fate is still in complete uncertainty. According to official data, 53,629 people had arrived in Armenia by the time of publication.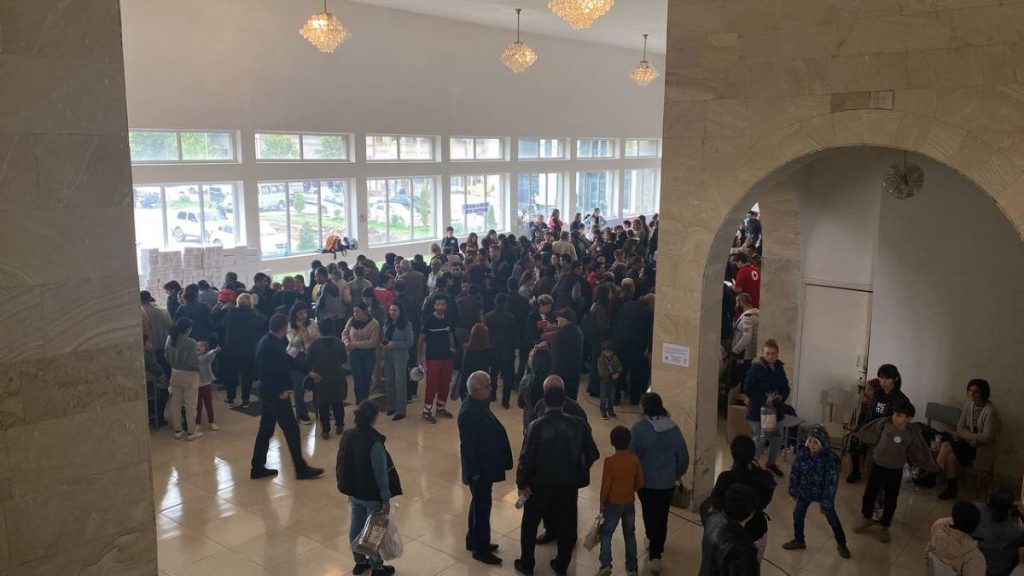 The first group of Armenians arrived from Nagorno-Karabakh to Goris on September 24 and they were provided with all available temporary accommodation.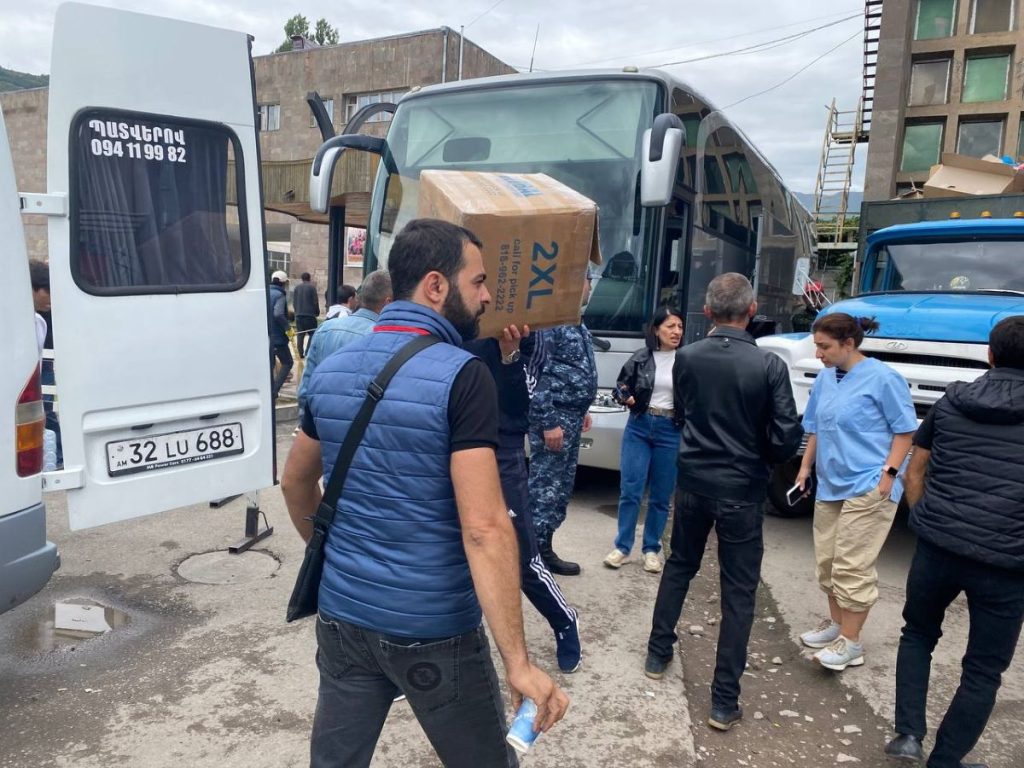 The flow of arrivals has only continued to increase, and there is a constant traffic jam on the road to Armenia. After reaching Goris, many are forced to spend the night in their cars.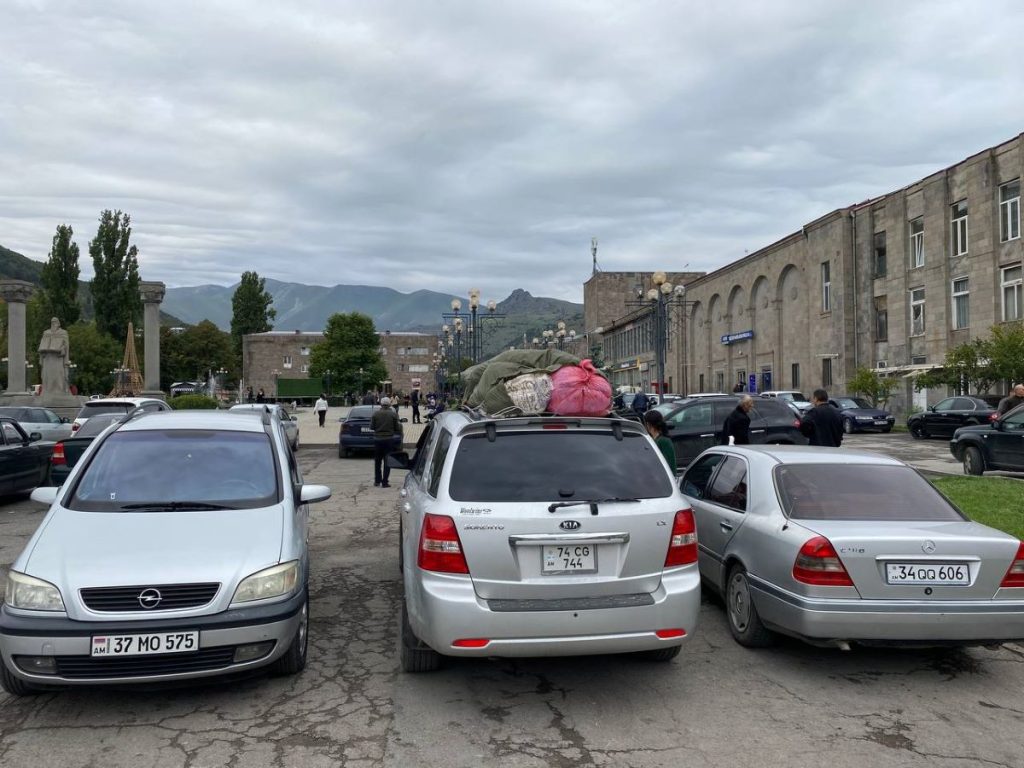 JAMnews correspondent talked to those who are now in Goris. They told the stories of their families and expressed their opinions about what is happening.
---
---
Ruzanna's story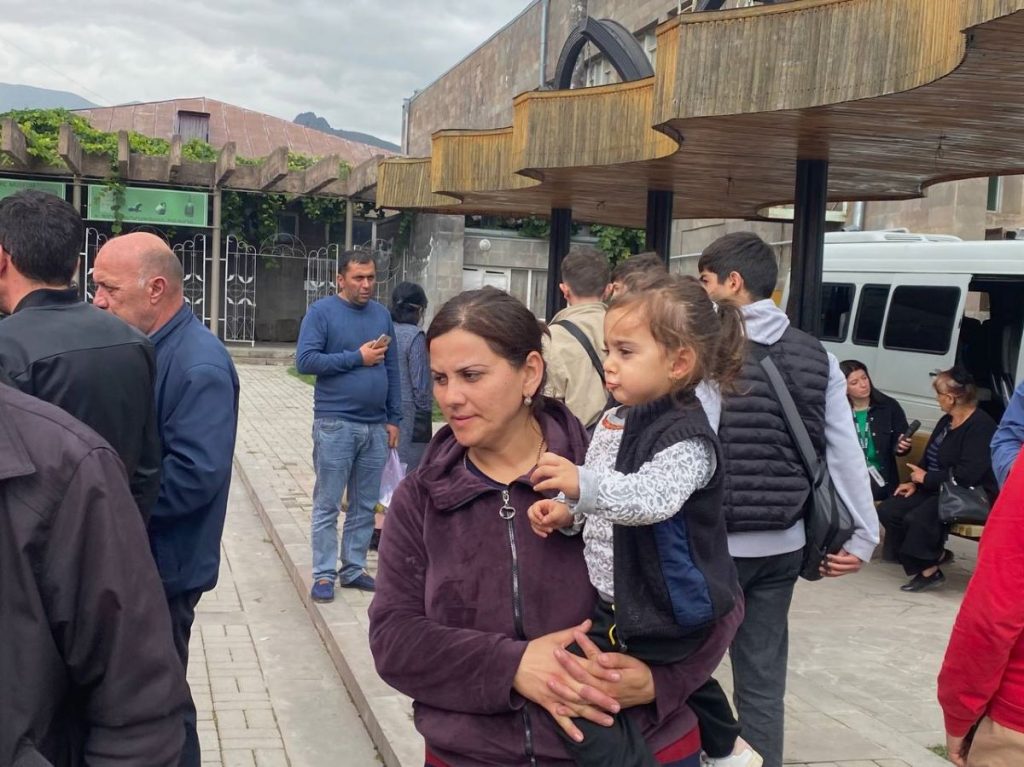 This is Ruzanna from Martakert. She is a mother of three little ones. With tears in her eyes she tells how difficult it was to get gasoline to go to Armenia.
"We spent 2-3 days getting fuel – here and there, asking relatives and neighbors to leave. My husband's brother's family, my mother-in-law, also came with us. We came in one car. The brother-in-law's family also has four children. Imagine how we traveled for 18 hours in a car with so many children," Ruzanna says.
But then she recalls those days when they all had to hide in a bomb shelter, the nine months of blockade of Nagorno-Karabakh. She says that no hardships and difficulties can compare with that stress:
"When our village was shelled, we hid in the shelter. When the first shells hit the village, the children were at school. We ran after them and went together to the nearest bomb shelter. Then we were evacuated to the capital of NK. And now we have come to Armenia. Everything was left in Karabakh: houses, our fields, cattle. We didn't even manage to go home to get clothes."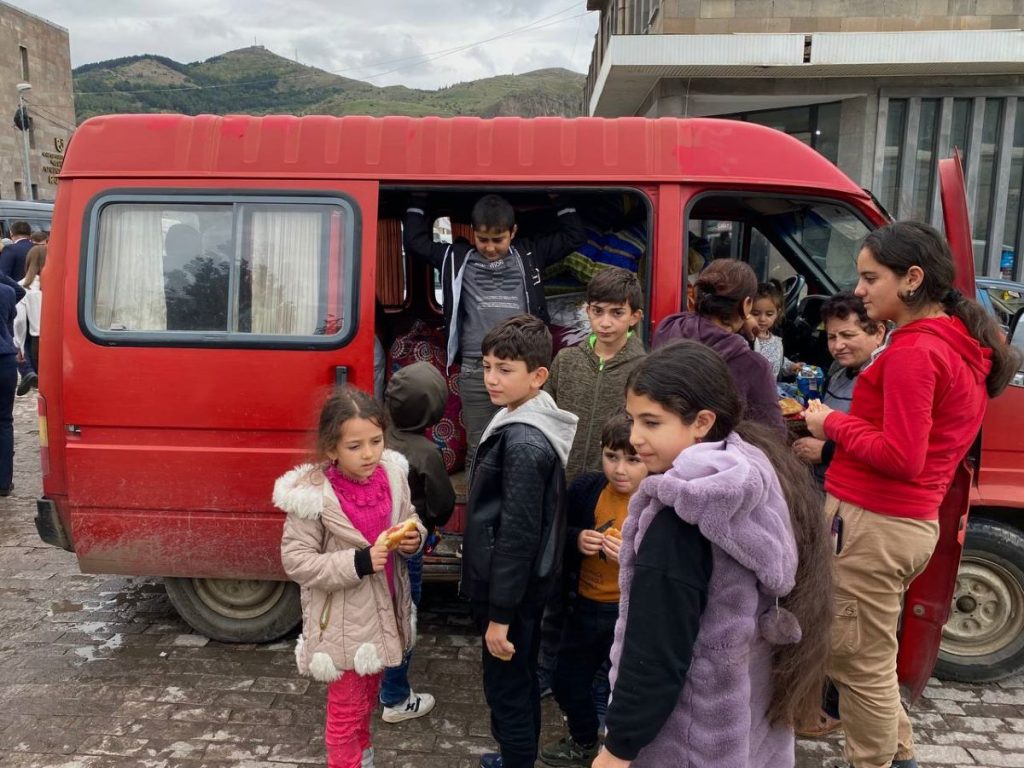 Ruzanna's youngest son, who is under three years old, is the most frightened and cannot sleep well at night. He jumps at every sound, crying as he did when the family took shelter from the shelling.
"We have seen so much grief beside us these days, we have shed tears ourselves, we have lost our land. I don't know how we will live with this burden on our shoulders, that we couldn't keep a handful of our land. What will we answer to our children when they grow up and ask: why did this happen, why don't they have a home, why don't they live in their homeland? I don't know," says Ruzanna.
Lusine's story
Lusine is a mother of 6 underage girls, from Martakert. A baby was born during the blockade. Her husband is a military man, so he could not leave with his family. Lusine came to Armenia with her children, her mother and her brother, who was disabled during the 2020 war.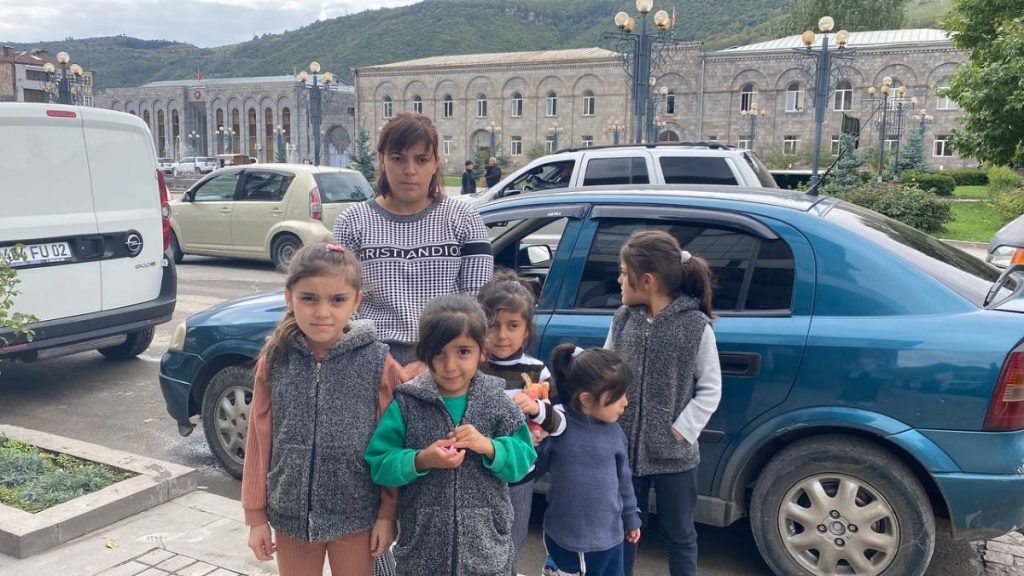 She recalls that on September 19, when the bombing started, she was at work and the children were at school. Since there was no shelter nearby, they hid from the shelling behind a hillside, between large stones.
"There are big very big rocks, we stayed behind them until we were evacuated. Barefoot, without clothes, without food, we ran to the place from where we were evacuated to Stepanakert. We suffered so much, we couldn't feed our children for 9 months [during the blockade], so that today we can give Karabakh to Azerbaijanis and leave? What has happened to us? I can't come to my senses. I don't believe that this is happening to us. Even in a terrible dream I could not imagine anything like this, that we would have to leave our homeland," she says.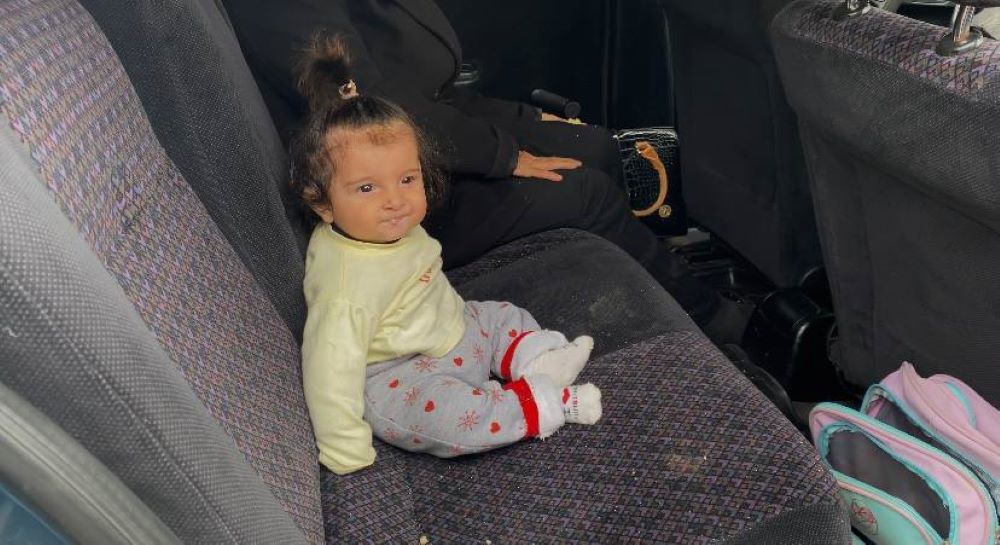 The woman says she doesn't know yet what will happen next. First we have to solve the issue of housing, then we have to send the children to school so that the adults can work somewhere.
Samvel's family history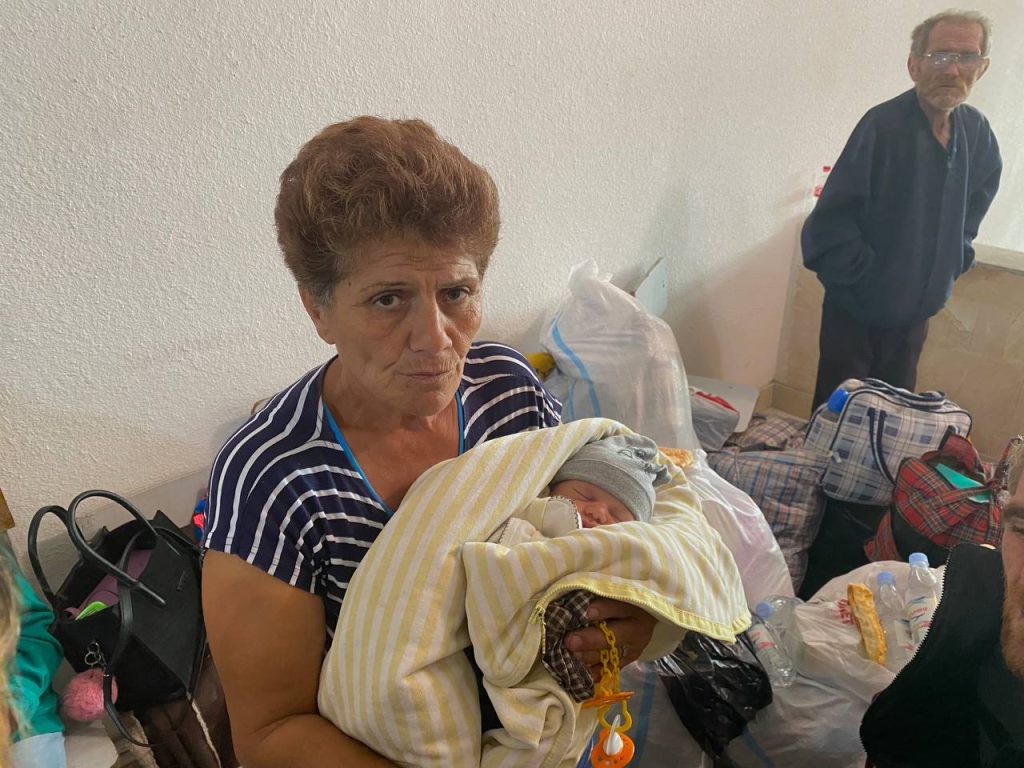 This baby's name is Samvel; he was born recently. It was not possible to talk to his mother, who was at the humanitarian aid center. Samvel's grandmother said that she had gone to get milk formula for the baby.
The grandmother was also a bit verbal. She said she was in mourning; her son, who was in the Army, died on Sept. 15.
"Our whole life was spent in war, our children could not enjoy life as is typical of the young in their years, and now we are running from our homes so that we will not be killed. I only ask God for one thing, that this be the last misfortune, that our grandchildren and great-grandchildren live in a human way. I don't know on whose conscience what happened, how they [Azerbaijanis] will live on this land, taste their victory, but let them leave us alone," she said.
"Our children, old people were killed, girls were raped. How could we stay?"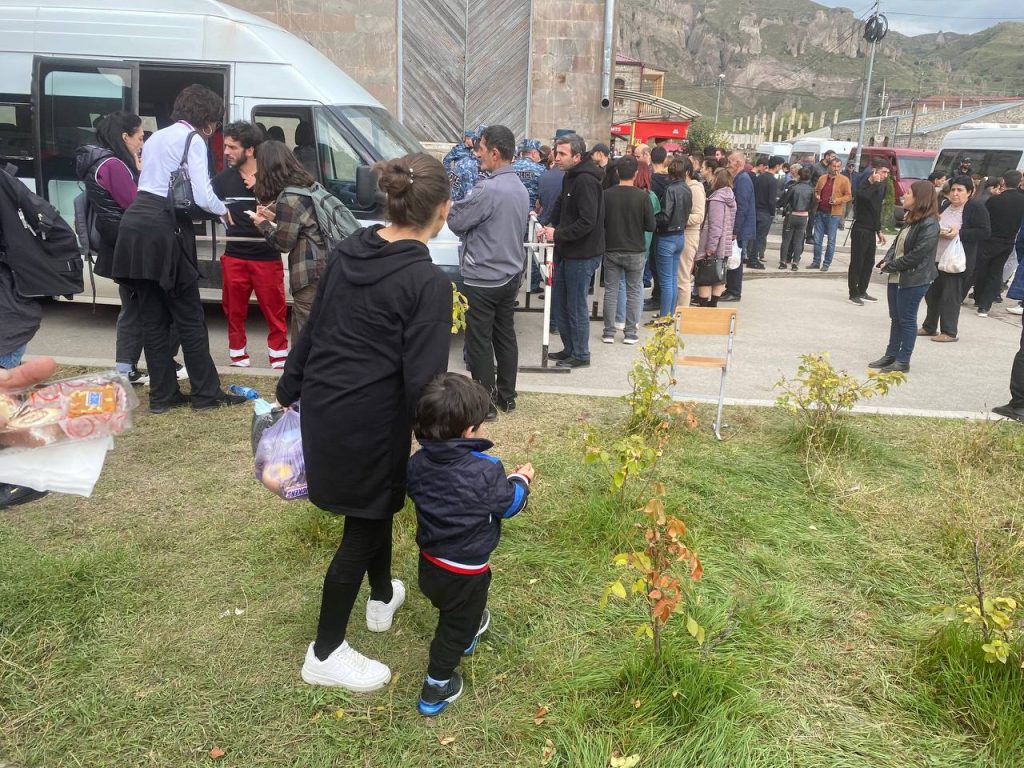 The 24-year-old woman, who did not want to give her name, says the claims that their lives in Nagorno-Karabakh would not have been threatened if they had stayed in their homes are false:
"Azerbaijan has always been hostile. During the last war [September 19-20] they killed our compatriots, children, old people, raped girls. How could we stay and live together with them? During the days of the blockade we could not feed our children properly. And now I am 6 months pregnant, and I am also not eating properly to give birth to a healthy baby. Why did we have to stay so that they could kill us too?"
Follow us – Twitter | Facebook | Instagram
Stories of NK residents who came to Goris