Baku has won, Armenians are leaving NK: Opinions of all sides of the conflict
What will happen next in Nagorno-Karabakh
Is the Karabakh conflict over? This question is being asked by societies and experts in Armenia and Azerbaijan. Baku is celebrating victory, and Karabakh Armenians are leaving their homes — some saying goodbye to their homeland forever, some hoping to return.
What will happen next, what do people expect? Residents of Yerevan and Baku talk about it on video, Azerbaijani and Armenian analysts share their predictions. JAMnews journalists also talked to Karabakh Armenians – a woman who talked about what the situation in NK is like now, waiting to leave for Armenia, and a journalist who has already reached Goris.
---
---
"Communication and bread are the most necessary things now". Stories of two Karabakh residents
Author – Armine Martirosyan, Yerevan
The Nagorno-Karabakh conflict has alternated between phases of hostilities and truce for decades. There have been ethnic cleansing of Armenian settlements more than once since the Soviet era, and people have survived more than one deportation. But Armenians continued to live on this land. Azerbaijan's military operation on September 19, conducted after 10 months of blockade, changed the situation fundamentally.
"In connection with the created complicated military-political situation, based on the priority of ensuring the physical security and vital interests of the people of Artsakh […] the Republic of Nagorno-Karabakh (Artsakh) hereby ceases to exist," announced the leadership of the NKR, never recognized by any nation.
Its residents began to leave en masse on September 24, as soon as the Lachin corridor was unblocked. Assistant to the President of Azerbaijan, Hikmet Hajiyev, announced that "no one is forcing Armenians to leave Karabakh, and it is a personal and individual decision for everyone".
The Armenian Ambassador for Special Assignments responded to this statement by listing the reasons why people are leaving:
"People are leaving because they are being attacked by the Azerbaijani military.
"People are leaving because their towns and villages are occupied by the Azerbaijani armed forces.
"People are leaving because neither the international community nor Azerbaijan guarantees their rights and security.
People are leaving because for 10 months Azerbaijan has kept 120,000 people, including 30,000 children, blockaded and starved them as part of its ethnic cleansing policy.
People are leaving because no one has been punished for Azerbaijan's war crimes in 2016-2020, and there is no guarantee that beheaders will not roam freely in these territories to behead new victims."
What do Karabakhis themselves say about the situation? Two of them shared their stories.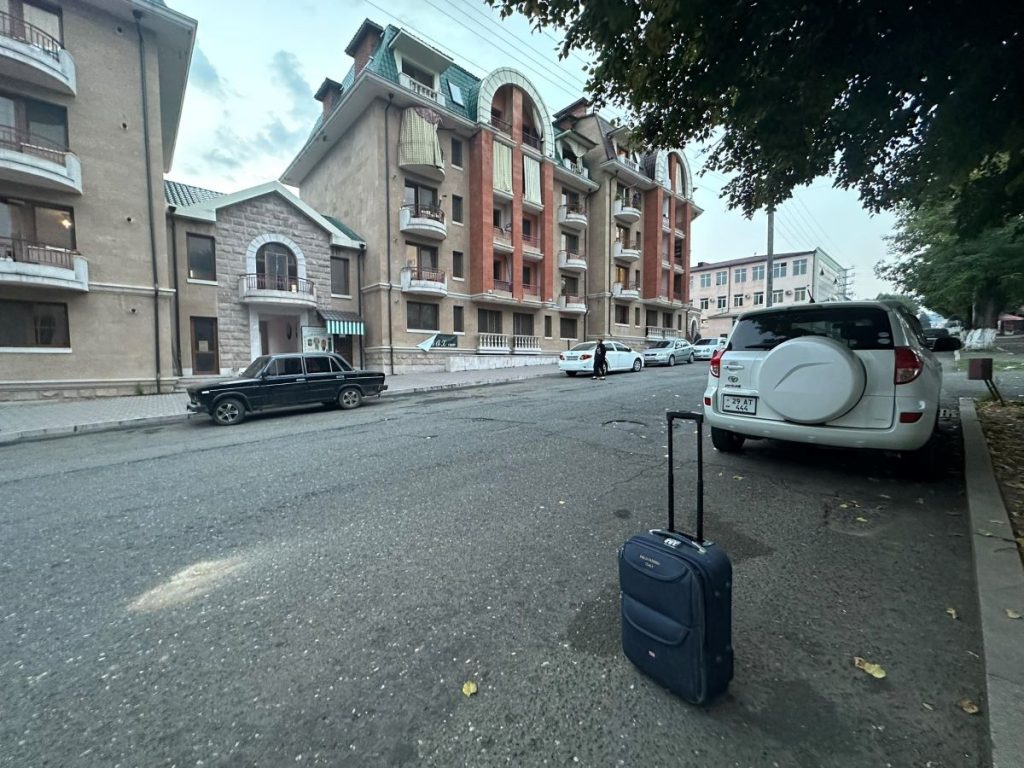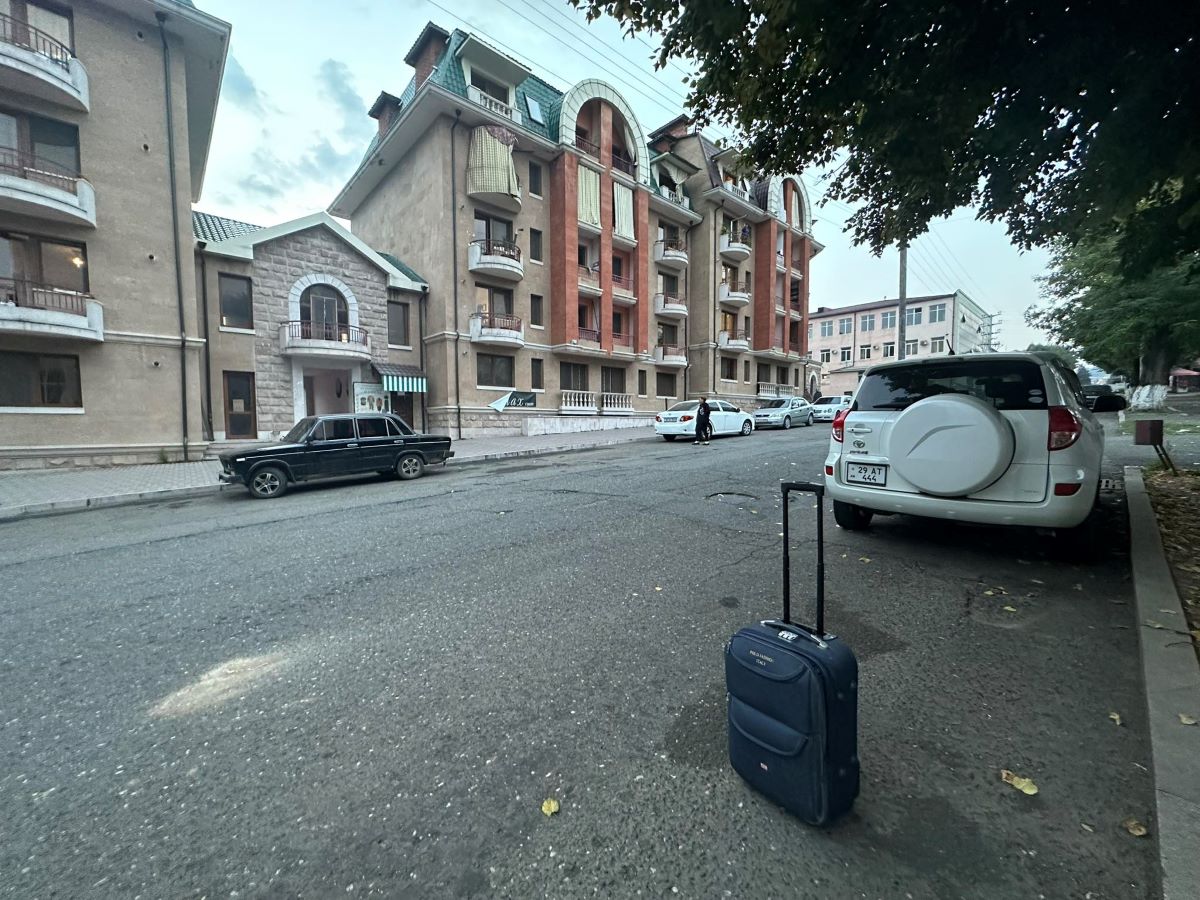 Arshaluys Harutyunyan, resident of Stepanakert (Khankendi)
Communication and bread
"The government building is one of the few places in Stepanakert where you can charge your phone. I have been here since early morning – more than 7 hours, with three phones of our family members and an elderly neighbor.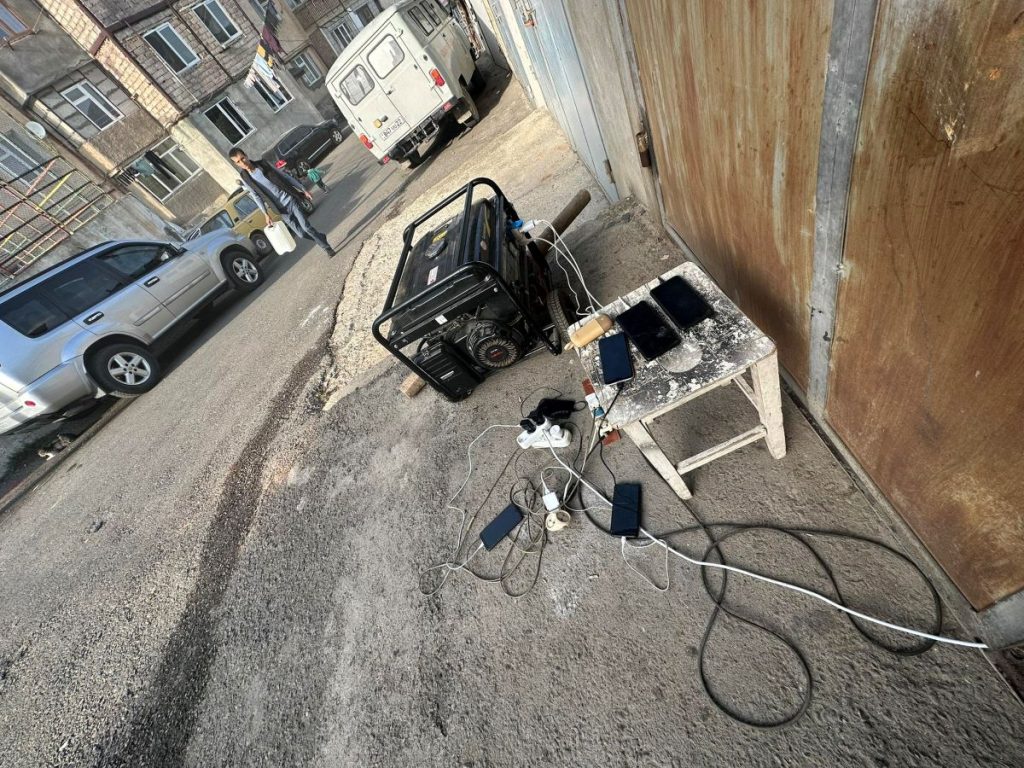 There's a lot of people here. I was lucky to find an empty socket. Many people's phones are old and lose their charge quickly, so I have to charge them every day. I'm also charging a lamp for the children's room.
While this text was being prepared, it was reported that Azerbaijan disrupted the work of the telecommunications operator Karabakh Telecom, actually leaving NK residents without cellular communication. Azerbaijanis destroyed a 50-meter cross near Stepanakert, which also served as a cell phone tower. Now Armenians who left Nagorno-Karabakh have lost contact with their relatives waiting for their turn to leave.
We spoke to Arshaluys before the connection was cut off.
Unfortunately, I can't charge the power bank today, because I have to go into town to look for bread. In the morning I was told that bread was available only in two places, but my friends warned me that there was only one. It's scary to think what kind of line there is, but we've been without bread for a week — we'll have to stand.
Communication and bread are the most necessary things for us now. Of course, we still need to ensure that all Artsakh residents can go to Armenia. But whether the local authorities will do this is a big question. After all, the Russians need our presence to continue to keep their troops here, and the Artsakh authorities are unlikely to go against Russia's interests. We are all hostages.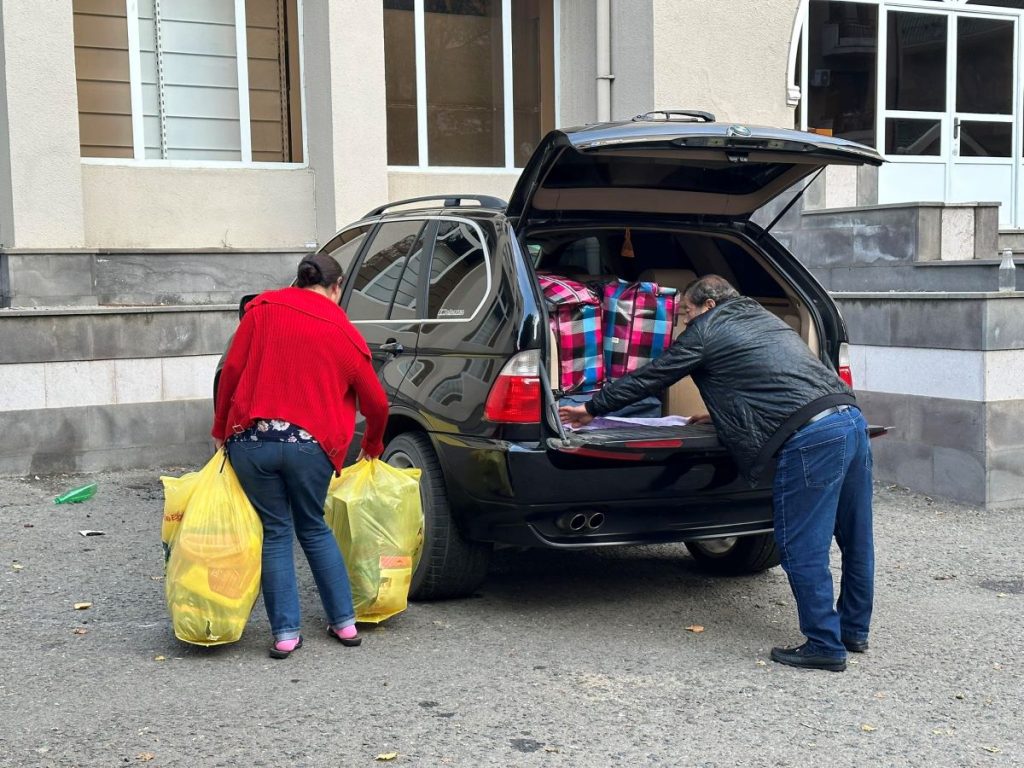 Coexistence with Azerbaijanis is a fantasy
"We made an unambiguous decision to leave, no matter how hard it would be to leave our native land. At this stage, joint coexistence between Armenians and Azerbaijanis, especially within the state of Azerbaijan, is impossible.
It is ridiculous and disgusting to hear the speeches of various representatives of the centers of power when they express satisfaction with the speedy resolution of the Karabakh conflict and the advent of an era of peace between our peoples.
If they really wanted to promote Armenian-Azerbaijani reconciliation, they would have taken a completely different path. This is a very long and difficult road, generations must change, and a democratic government must emerge that will switch from Armenianophobia to constructive human dialogue.
But now this is a fantasy, and we have another genocide, not a desire to "reconcile". And the genocide is accompanied by unconcealed Armenian hatred, the intention to suppress and self-assert, to avenge the defeat in the first Karabakh war, which they themselves, in fact, unleashed.
And it is not difficult to imagine some aspects of Armenian life under Azerbaijan. For example, in school children will be taught that all Armenian cultural and historical monuments and churches on the territory of Karabakh are actually "Caucasian Albanian" [a former territory in what is now Azerbaijan]. And in the course of modern history our children will have to condemn "Armenian separatism" and glorify the Azerbaijani ascetic victor.
Not to mention that young Armenian boys, along with all citizens of this state, will join the army, and in the next military conflict with Armenia they will be obliged to follow orders.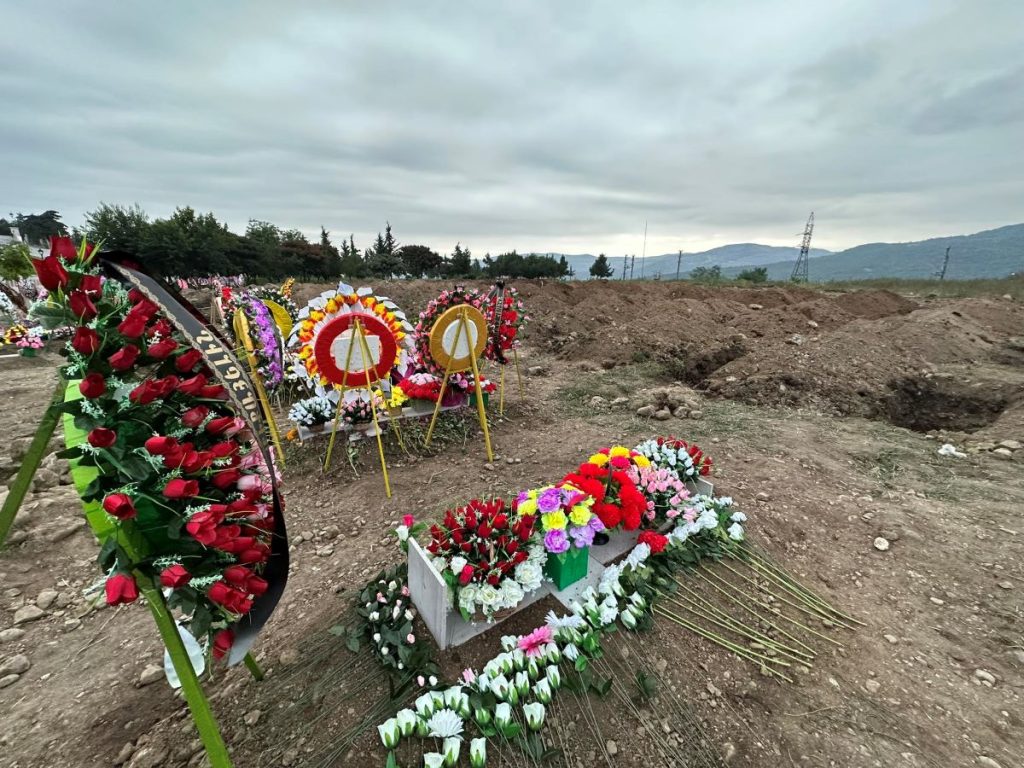 One can understand when lonely old people talk about staying and dying on their land. But young people and children will have no life here.
The important thing is to get out alive
"We will go to Armenia – into the complete unknown. We will try to rent a house somewhere in the suburbs of Yerevan, there will be several families of us, to ease the burden of rent. Perhaps this is the only thing we can look forward to in the near future. We can't plan anything else, we don't know what will happen. The main thing is to get out alive.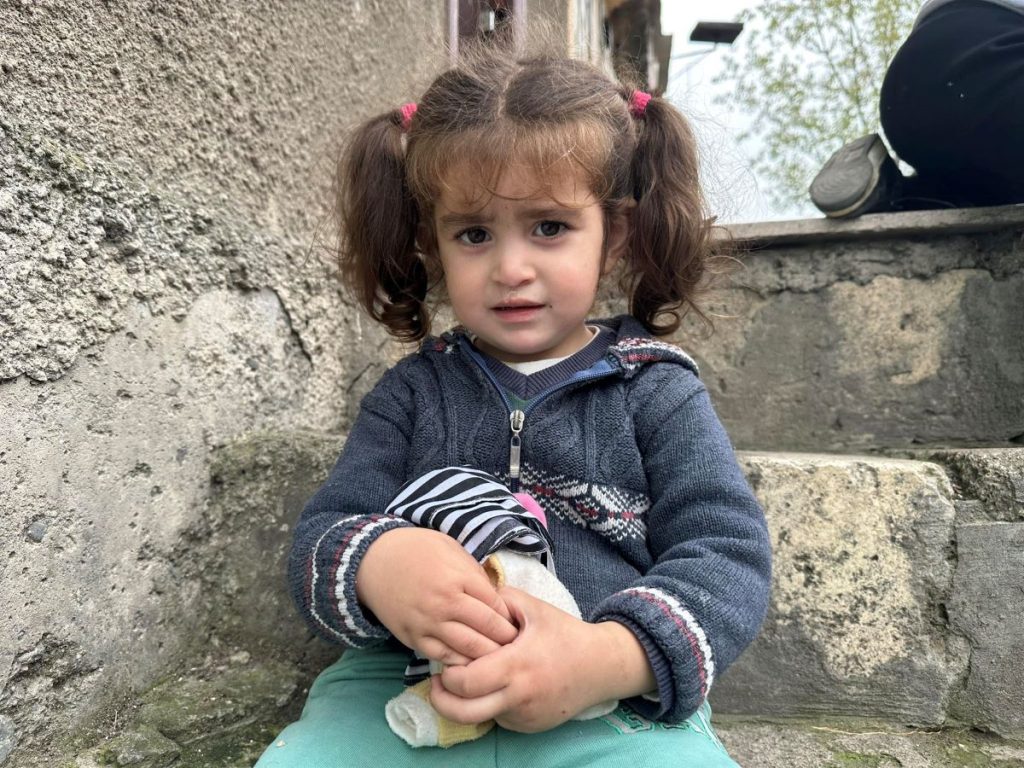 Marut Vanyan, journalist from Stepanakert
Old habits in new realities
"I am already in Goris. The war that Azerbaijan started on September 19, followed by the tragic incident at the fuel depot, made us forget about the 10-month blockade in Karabakh. The explosion of the fuel tanks left a heavier imprint than the explosions of shells, the sounds of which still ring in my ears.
For the first time in ten months I took a shower. Of course, this did not wash away all the hardships and burdens, but there was a strange feeling of comfort.
Chaos on the road
"On the way from Stepanakert we didn't take much with us, we thought we would be in Goris in a few hours. There was only chocolate in the car. They gave me a treat, and I never liked sweets at all.
The road was very long: two meters to drive – two hours to wait, another two meters to drive – another two hours to wait. For a full day we were on the road in this awful situation.
This column of cars in four rows started, without any exaggeration, from the church in Stepanakert to the Khakari Bridge and further – more than 60 kilometers. Between the cars there were trucks, sometimes even defective cars and tractors tied to them. Children are crying, people are hungry and cold. And no one ven knows what will happen. Will you get over the bridge or not, what will happen at the checkpoint, where will you sleep?
Suddenly, someone nearby receives a message about children who were victims of a fuel depot explosion. Someone in all this chaos decides to go back. And you are so tired when you have gone through all this hell, you haven't slept for 24 hours, you fall asleep in the car. And you feel like you're having a nightmare, but you open your eyes and it turns out to be reality.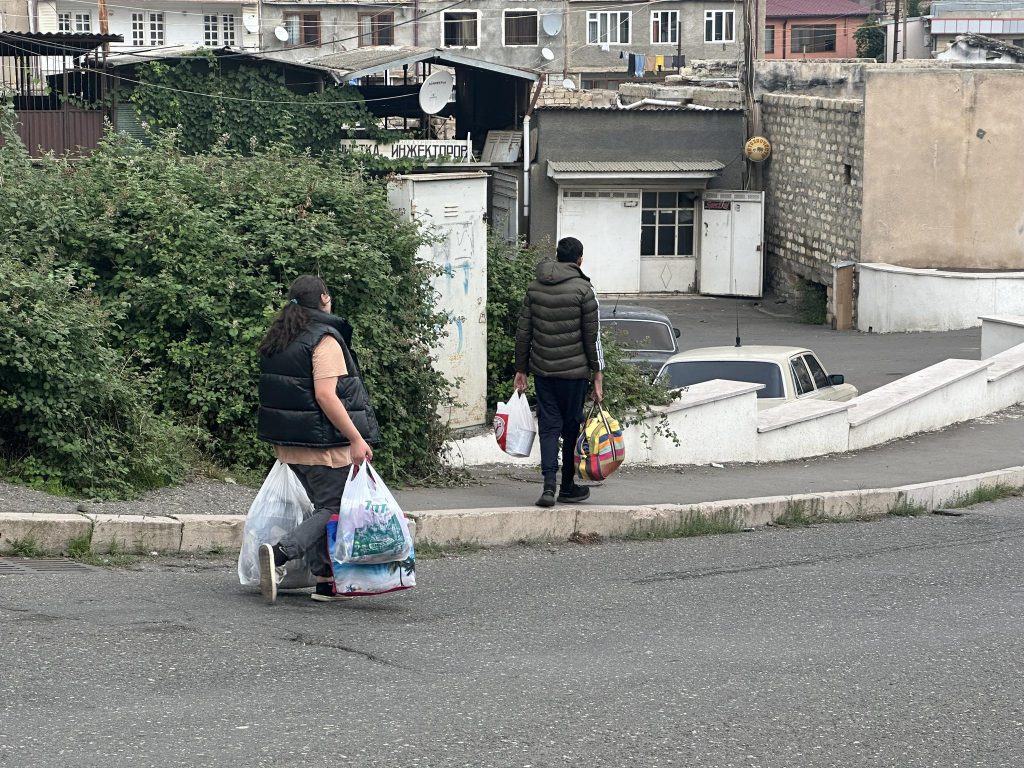 No-holds-barred bread and shiny candy wrappers
"We got to Goris. The first thing we saw was a bakery. Can you imagine, 5-6 women baking bread, and there was no line for bread. Recently there was no bread at all in Stepanakert. Something like bread that you can break your teeth on was sold in rare places, and elderly people complained that they had dentures, it was impossible to eat such bread.
In Goris' supermarket, my eyes lit up when I saw soap on the shelves. I have never liked chocolate, but the shiny candy wrappers fascinated me, I was as happy as a child.
In Stepanakert I was often asked by different international media to film stores. I filmed those empty shelves so much that I never imagined another supermarket.
Once the priest of Stepanakert church found a handful of candy from somewhere and distributed it to the children. You should have seen their happy eyes.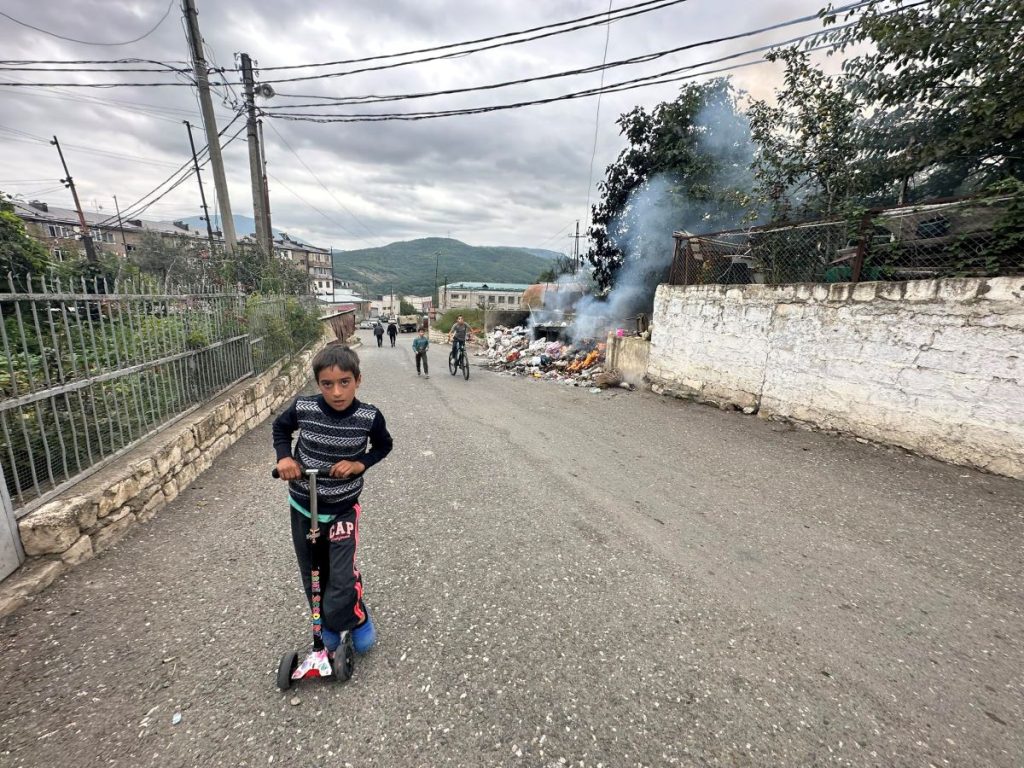 I left the apartment, but took the keys
"In a hotel in Goris, I wanted to open the room door with my apartment key. I got out my keys out of habit. I left the apartment, but took the keys.
Now all events are happening so fast that you don't have time to think about anything. It will be a while before we start to realize what happened to us.
Only now I am beginning to understand the feelings of our Diaspora Armenians. Before, I wondered why they were always suffering. They live in Paris and Glendale and have everything they need.
Here is video shot by Marut Vanyan in NK on September 24, then on the way to Armenia – in the early morning of September 25. The last shot is in Goris, at the center for assisting arriving Karabakh Armenians.
De facto capitulation and mass exodus: Karabakh remains without Armenians
Author – Artur Khachatryan, Yerevan
What was so feared in Armenia and wanted so much in Azerbaijan happened. Nagorno-Karabakh endured a total blockade for 10 months, but was subjected to a new military attack by Baku and failed to hold out. The Armenian authorities refrained from military intervention. As a result, the one-day war ended with the disarmament of the local Defense Army, and a mass exodus of the Armenian population from Nagorno-Karabakh began.
---
---
Why didn't Yerevan intervene?
After the beginning of the "counter-terrorist operation" of Azerbaijan, the Armenian Ministry of Defense, the Ministry of Foreign Affairs and the Prime Minister's Office persistently kept silent. A wave of indignation started in social networks. There were speculations that the Armenian leadership might decide to intervene militarily. However, Prime Minister Nikol Pashinyan's address answered the questions hanging in the air:
"Attempts to drag Armenia into military escalation are unacceptable, we will manage this process. As much as we understand the worries and other emotional issues in this situation. But we must not allow some external and internal forces to jeopardize Armenia's statehood."
Thus the Armenian Prime Minister immediately made it clear that despite the stalemate situation, official Yerevan would not come to the aid of the army of the unrecognized NKR. Even then it was clear that the fall of Karabakh was a matter of hours or days. And so it happened.
Could the Armenian army enter Nagorno-Karabakh? Political scientist Ruben Mehrabyan thinks not, because in this case Armenia itself might come under attack:
"Armenia would not take part in this, because it would mean that Armenia would be exposed as a party that is encroaching on the territory of a neighboring state. In any case, this is how Aliyev would have presented Armenia's actions. Plus, he would reserve the right to exert military influence directly on the territory of Armenia itself. As we know, the balance of forces is such that, except for damage, this can bring nothing to Armenia".
Armenia does not have the resources to wage a full-scale war now, says former Armenian Ambassador to Canada Ara Papyan. But the Armenian authorities themselves are to blame for this, as they failed to reform the army after the 2020 war, the diplomat believes. He also says:
"Nikol Pashinyan is personally guilty for this situation because he spoke in such a spirit that Azerbaijan considered Nagorno-Karabakh as its internal affair. He did nothing practically and did nothing to reorient the country towards the West."
What will Karabakh be like after the war?
Will the Armenian population remain in Karabakh? The answer to this question is becoming clearer by the day. Two days after the cessation of hostilities, Azerbaijan allowed fuel to enter the republic and simultaneously opened the Lachin corridor. True, only towards Armenia. And for the first three days about 40,000 Armenians left their homeland. By the time of publication of the piece it is reported that about 100,000 people have already arrived in Armenia. Before the recent events about 120,000 people lived here.
Doctor of Political Science at Stanford University Arthur Khachikian does not see any prospect of any Armenian remaining in Nagorno-Karabakh:
"It's hard for me to imagine how, after such atrocities, killings, bullying, violence against the civilian population, there will be any Armenians left there after all this. This was done precisely to intimidate the population."
However, Ara Papyan believes that a small Armenian population may remain in Nagorno-Karabakh. He suggests that the Russian side will at least try to achieve the preservation of some number of people – to justify its presence in Nagorno-Karabakh:
"The Russian leadership hopes that at least 10,000 Armenians will remain in Karabakh. This is in Azerbaijan's interest too. Azerbaijan has to show the whole world that integration is going on, that there are no problems. These people will be forced to speak out in favor of Azerbaijan, to thank this country. That is, some number will remain in the end. In a year and a half Baku and Moscow may agree that peacekeepers will remain on a small territory where the Russian base will be located".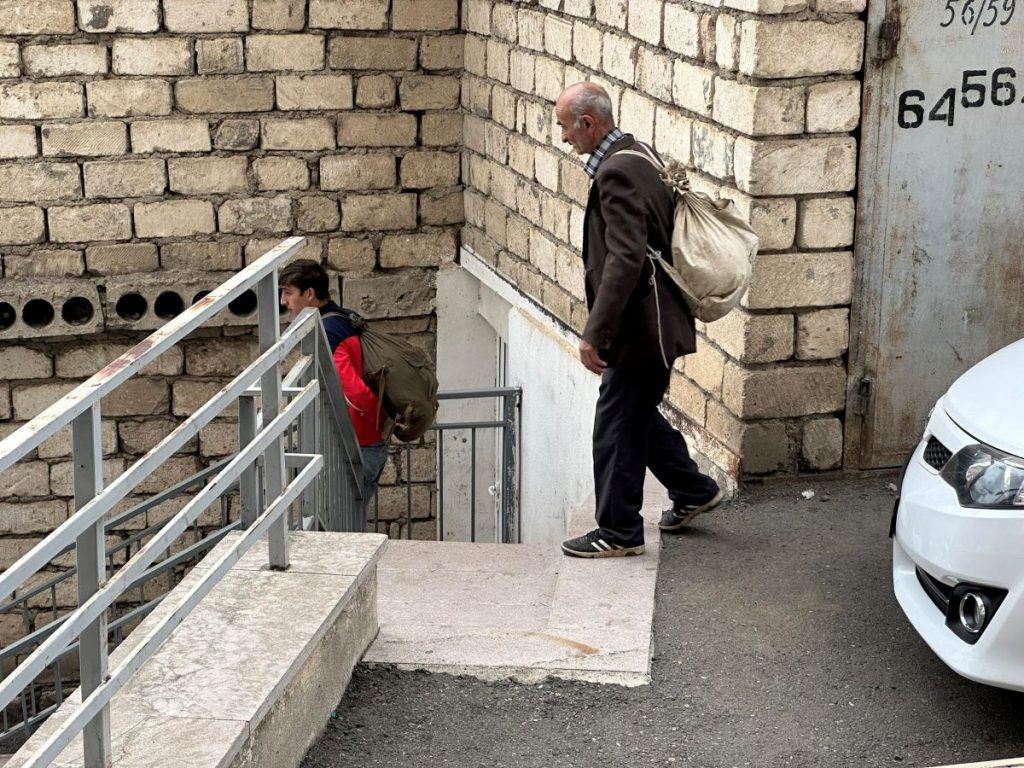 Anti-Russian sentiment in Armenia
Never before has there been such a wave of anti-Russian sentiment in Armenia. From time to time the Armenian authorities openly criticize Russia's position and the inaction of the peacekeeping contingent stationed in NK. In Yerevan, in front of the Russian embassy, there are periodic protests of residents chanting "Russia is the enemy". There is total disillusionment among the traditionally pro-Russian Armenians in NK. But despite all this, official Moscow continues to talk about "allied relations" with Armenia.
"Armenia remains our ally, a close state. Armenia is a nation close to us. You know that more Armenians live in our country than in Armenia itself, much more. We will continue to fulfill our functions, we will continue the dialogue with the Armenian side, with Pashinyan among others, and we will continue to work so that all the rights of the residents of Karabakh, meaning Karabakh Armenians, are respected," Russian presidential spokesman Dmitry Peskov commented.
Will Russia leave Armenia and NK?
At the same time, statements are being made from Armenia that "the peacekeeping mission has failed to ensure the security of the inhabitants of Nagorno-Karabakh, as a result of which there is now a mass evacuation of people". From Russia, all the blame is being laid at the feet the Armenian authorities. They declare that it was the Armenian Prime Minister who signed a document in Prague recognizing the territorial integrity of Azerbaijan, including NK territory.
Citing this argument, Russian officials and experts consider the dispute exhausted — while Putin himself, long before the Prague agreement, had twice publicly stated that Nagorno-Karabakh is part of Azerbaijan.
In any case, the relations between the allies are experiencing a colossal and perhaps unprecedented crisis. Pashinyan has in fact openly accused Russia of interfering in the country's internal affairs — in connection with the protests in Yerevan demanding his resignation. And in the Armenian society, following the expert circles, the talk about the necessity of Armenia's withdrawal from the Russian military bloc CSTO became more frequent.
Will Russia leave Armenia and Karabakh? Much in this issue will depend on the Ukrainian crisis, political scientist Artur Khachikyan believes:
"After the Cold War, the world had a chance to build a unified security architecture. But it did not happen. And we are now standing on the threshold of possibly several regional conflicts. And against this background, the ethnic cleansing of 120,000 people [in Nagorno-Karabakh] is viewed with indifference by all sides."
What will happen to Karabakh and Karabakh Armenians?
Armenian politicians have refrained from answering the question of what will happen to Karabakh in the very near future. And neither the incumbent authorities nor the opposition. In the streets of Yerevan, where protests have been taking place for about two weeks now, Nagorno-Karabakh is the main topic. However, what the opposition is going to do in case it comes to power regarding Nagorno-Karabakh is not announced and remains unclear.
Eduard Sharmazanov, a former member of the Armenian parliament and a member of the Republican Party, actually says that "Artsakh has already been lost" and now we need to think about how not to lose Armenia:
"The time for action has come for the state-minded citizens of the country. It depends on us whether Armenia will be independent or turn into a Turkish vilayet. You are all talking about Artsakh now, but it is not only Artsakh that is in danger. Armenia's independence, sovereignty and security are at risk."
While the opposition is trying to achieve a change of power through street fighting and Pashinyan's party is trying to defend that very power, the number of displaced people from Karabakh is rapidly growing in southern Armenia. The government has to solve the issues of supplying and providing housing for tens of thousands of people.
Brussels, Paris and Washington have already announced their decision to provide financial assistance to Yerevan. But the responsibility for those arriving falls on the acting government.
People interviewed on the streets of Yerevan say:
"The authorities are obliged to do everything to receive all our compatriots with dignity."
"Both the state and the people are obliged to receive the Karabakhis well. After all, they are Armenians, with Armenian passports. And the state is obliged to protect its citizens."
"Of course, people are tense now, to put it mildly. They have been through so much. But we still have to welcome everyone with open arms."
"Undoubtedly, a historic event". What do they say in Azerbaijan about what is happening in Karabakh?
Author – Huseyn Ismailbeyli
On January 1, 2024, there will be no de facto separatist regime in Karabakh. After more than 32 years, the oldest interethnic conflict in the post-Soviet space – the Karabakh conflict – will come to an end.
What will happen next? Will any part of Armenians remain in Karabakh? How will they live as part of Azerbaijan?
These are the most pressing questions in Azerbaijan now.

"Thirty years have been stolen. Both from us and from themselves. What did they get? Although we lived in the center of Baku, Ganja, Sumgait, Mingechevir and other well-appointed cities of Azerbaijan. Even in my native Lankaran, where Armenians could be counted on the fingers of one hand, the director of the most popular school was an Armenian.
In 1988, I served for 5 months in Stepanakert, in the infamous 366th regiment. All the signs in the city were in two languages: Russian and Armenian. Everything sold in the stores, from butter to cigarettes, was made in Armenia. It did not feel that this city was part of Azerbaijan. Until you went up to Shusha. But it was not enough for you.
You stole 30 years. Thousands of lives. Both from us and from yourselves. Though it's hard to find a more compliant people than the Azeris. You could live here as long as you want without encroaching on the land. By God, you would earn more from oil and gas than we do. But you became victims of your myths.
What happens after? Sit and think about it. Will you once again decide to steal both our years and lives, or will we learn to live side by side in a human way?" – former political prisoner, historian Yadigar Sadigli addresses Armenians.
What was it?
"Undoubtedly, this is an historic event," independent politician Azer Gasimli says.
In his opinion, the main reason is that Russia changed its position:
"If with Russia's support in the early 90s of the last century Armenians managed to proclaim a separatist entity on the territory of Azerbaijan and occupy seven adjacent districts, now Moscow preferred to stay on the side and not interfere.
Russia's goal here is once again to continue to control both South Caucasus countries. To do this, it needs to oust Pashinyan in Yerevan and bring a loyal politician to power. And in Azerbaijan it is going to keep its troops. Right now it is the RCC."
Political observer Shahin Jafarli says that after the latest fighting, "another important step has been taken in bringing the territory where Russian peacekeepers are temporarily stationed back under Azerbaijani control."
"Meetings are being held between representatives of official Baku and the Karabakh Armenian community to discuss the conditions for the reintegration of the region's Armenian population into Azerbaijani society. These meetings mainly discuss humanitarian issues, but they show that the Karabakh Armenians already recognize Azerbaijan's sovereign rights over the region. These are all, of course, very important developments."
"There is no doubt that Baku has agreed with Moscow to carry out a counter-terrorist operation. It is understandable that in such matters there is bargaining between the parties. Personally, I am concerned about what was promised to Moscow?
Perhaps Azerbaijan agreed to the stay of the Russian peacekeeping contingent in Karabakh even after 2025. Certainly, Russia does not want to leave the region. And from this point of view, official Baku could have taken such a step.
Either the RCC will remain as a security guarantor for those Armenians who decide to stay in Karabakh, or it has been agreed that the RCC will be transformed into a temporary Russian military base in Azerbaijan. These questions are still open. We will find out the answers to them as events unfold," Jafarli suggests.
Azer Gasimli is almost of the same opinion with him:
"I am interested in only one question in this case: what did Azerbaijan promise in return for the fact that Russia only observed what was going on?"
Will Armenians stay to live in Karabakh?
After the counter-terrorist operation of the Azerbaijani Armed Forces on September 19-20, a mass exodus of the Armenian population of Karabakh to Armenia began. According to Armenian sources, so far 100,000 people have left Karabakh.
In Azerbaijan these figures are treated with great skepticism. Anyone who knows elementary arithmetic, on the basis of the figures published by the Armenian side, can count and come to the conclusion that every minute about 16 people cross the border between Azerbaijan and Armenia at the Lachin checkpoint. Taking into account the fact that there is only one registration window at the checkpoint, and all those leaving the country must be registered, this is practically impossible.
According to former Azerbaijani Foreign Minister Tofig Zulfugarov, according to the last census in the Soviet years, 127,000 Armenians and 32,000 Azerbaijanis lived in the Nagorno-Karabakh Autonomous Region.
"Before the war started in 2020, according to some estimates, about 60,000 people lived in Karabakh. The majority of this population were military personnel. These are both the Armenian Armed Forces and those who served there. About 30,000 servicemen. In fact, the occupied territories of Azerbaijan turned into a military camp.
After the 2020 war, most of the population left Karabakh, but then some of them returned. The Azerbaijani side, through a visual survey, found that about 24,000 people had returned. Russian peacekeepers called the figure about 50,000. It was assumed that together with the military and their families, about 40,000 people lived in that part of Karabakh," Zulfugarov told JAMnews.
"Today it is quite difficult to say how many Armenians will remain in Karabakh. I assume that in the best case it will be a figure of 5 -10,000," he added.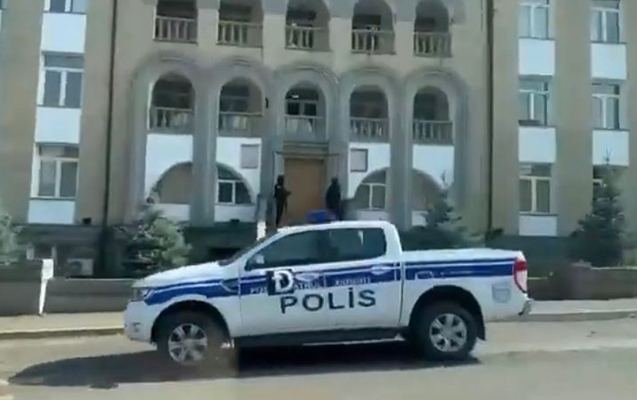 A complete exodus of Armenians is disadvantageous for Russia
"The process of Armenians leaving Karabakh for Armenia is of interest. In fact, Russia should not be interested in this. In order to prolong the RCC's stay in Karabakh, it is important for Russians that Armenians remain in the region.
This leads some political analysts to believe that the Kremlin is trying to capitalize on the protest mood of Karabakh Armenians to overthrow the Pashinyan government in Armenia. But in general, of course, Russia should be interested in keeping some Armenians in Karabakh.
In my opinion, at least a few thousand Armenians will still remain in Khankendi," political observer Shahin Jafarli said in conversation with us.
"I believe that approximately several tens of thousands of Armenians will remain in Karabakh. Russia will do everything in its power to keep a certain share of Armenians," independent politician Azer Gasimli echoes the observer's thoughts.
Will Russian peacekeepers remain in the region?
According to the November 10, 2020 trilateral statement that put an end to the second Karabakh war, Russian peacekeepers will remain in Karabakh until November 2025. Unless one of the parties (Azerbaijan and Armenia) withdraws from this agreement six months before the expiration of this term, the RCC's stay in Karabakh is automatically extended for another 5 years.
Because of the events in Karabakh, many in Azerbaijan are wondering: what will become of the Russian peacekeepers? Will they leave or will they stay?
"There are still unresolved questions. First of all, they concern the role that Russian peacekeepers should play in the region after what happened. And of course, the question of their term of stay in Karabakh.
There is no doubt that the peacekeepers will remain in Karabakh until November 10, 2025, since in 2020 the term of their stay is set at 5 years. The main thing here is what Azerbaijan and Russia have agreed on behind the scenes," says Shahin Jafarli.
What will happen in Karabakh itself?
From January 1, 2024, the unrecognized NKR must cease to exist. But is it that simple?
"I think, first of all, official Baku will establish a special management regime there, as the territory is militarized, there is still a lot of work to be done there to clear mines, etc. Only after that there will be ordinary governance, as in other regions of Azerbaijan," Tofig Zulfugarli believes.
Shahin Jafarli thinks that everything will be resolved with the passage of time:
"Regarding the problem of future cohabitation of Armenians and Azerbaijanis in Karabakh, the solution of humanitarian issues, it all takes time. One cannot think that all issues of Armenian life in Azerbaijani society will be solved overnight. This includes the curriculum in schools, the issue of service in the army, employment, etc.
At first, I admit that Armenians will be actively involved in the system of self-government in Khankendi. Perhaps in the form of a municipality operating within the framework of Azerbaijani legislation. It is quite possible that Baku will appoint one of the loyal Armenians as the head of the executive power of Khankendi. All this requires a little time."
Azer Gasimli has completely different predictions about the near future in Karabakh:
"According to my assumptions, the Kremlin will try to leave the separatist regime in Khankendi at least in some form. Let's say, in the form of a mini-model. Therefore, almost all Armenians who decided to stay in Karabakh will be placed in Khankendi. The forces of the RCC will also be focused there, and perhaps the Azerbaijani security forces will not be allowed there.
Maybe formally the flag of Azerbaijan will be flying there, a representative of official Baku will sit there. But there will be no control over the city as such".
Could the conflict reach Armenia?
"One of the fears of Armenian society in Armenia itself is the likelihood of a continuation of the confrontation between Azerbaijan and Armenia over the Zangezur corridor.
I think that this issue is no longer as pressing as it was a few months ago. Yerevan's position is obvious — it does not want the extraterritorial status of the road that will connect the western regions of Azerbaijan with Nakhichevan. Iran also opposes such a scenario. And, probably, this plan will have to be reconsidered, since there can no longer be a corridor as such.
But in the light of recent events in Armenia, the most interested party in opening the Zangezur corridor is Russia. Russia is trying its best to push through this extraterritorial project in Armenia. As is known, according to the terms of the trilateral statement of November 10, 2020, the corridor should be under the control of Russian special services, and this factor can raise the importance of Russia in Armenia, which has been seriously shaken recently. But Russia cannot ignore Iran's position on this issue, as Tehran is an important ally of Moscow. Therefore, I believe that the probability of opening the extraterritorial Zangazer corridor has significantly decreased," Shahin Jafarli told JAMnews.
What should Armenians do about the anti-democratic regime in Azerbaijan?
One of the fears of Armenians when it comes to the possibility of living in Azerbaijan is the anti-democratic regime in the country. The arrest of oppositionists, activists, lack of freedom of speech and expression are cited as arguments.
Political observer Shahin Jafarli is not so categorical on this issue:
"The argument of Armenians that the anti-democratic regime in Azerbaijan treats its citizens rather harshly is used as propaganda. Mainly by the Armenian Diaspora in different countries.
I do not consider this argument to be valid. Suppose tomorrow there is a change of power in Azerbaijan, and the power is transferred to the opposition, let's imagine the Popular Front Party of Azerbaijan. What will change in this case with regard to the Armenian population?
Everyone knows that they have an even tougher stance towards the Armenian population of Karabakh than the authorities. In other words, the democratization of society in Azerbaijan is not yet a decisive factor in this issue.
And if we talk about a change in the internal policy of the Azerbaijani authorities after the reintegration of Armenians, I don't think this will happen. Yes, the authorities will pursue a softer policy towards the Armenian population. But I don't think there will be any change in the behavior of the authorities towards the traditional opposition."
Is the conflict over?
"I don't think the conflict is over. It has only changed its form, moved to another plane.
The conflict will end only when the Russian troops leave Azerbaijan and the powers that be come to a consensus on the Karabakh issue and recognize Karabakh as an integral part of Azerbaijan," politician Azer Gasimli concluded.
---
With the support of Mediaset