Russia – friend or occupant? Russian tourists, expats in Georgia on recent unrest
Mass protests in Georgia, which began after an MP of the Russian State Duma who openly supported the occupation of Abkhazia and South Ossetia spoke from the parliamentary speaker's chair, have given rise to new tensions between the two countries and opened a broad discussion about the safety of using the Russian language and Russian tourists in Georgia.
The decision of Vladimir Putin to ban direct flights between Russia and Georgia starting July 8, as well as the order to take measures to return home Russian citizens temporarily in Georgia, has caused wide public response and heated discussions on social media. 
JAMnews offers a look at current events through the eyes of Russian and Russian-speaking tourists, as well as Russians, who have moved to Georgia for permanent residence.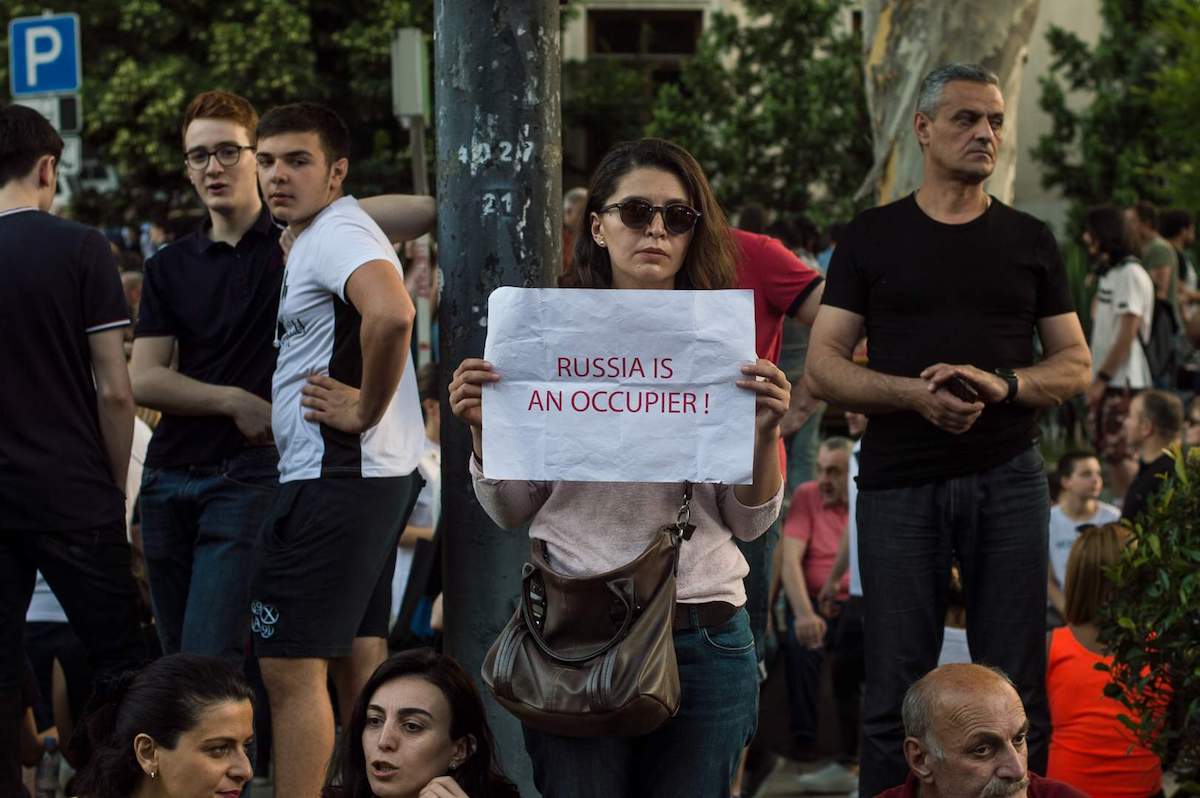 The atmosphere downtown
Evgeny and Katya went to a bar located some 200 meters away from Rustaveli Avenue to refresh themselves after a walk on a sultry June evening.
"No, nobody has been aggressive towards us", Evgeny says, laughing.
They are sitting at the same table with a Georgian – the owner of the bar telling them about the different wines he has for them to try.
Before coming to the bar, Evgeny and Katya had been walking on Rustaveli Avenue, where preparations for the next protest were going on – people, mostly students and young people, started to gather, making final preparations on the stage.  Katya shows photos taken on the way on her mobile phone.
"When we get out of here, we'll go back to the [Freedom] Square," says Evgeny.
•Tbilisi protests: what they mean and what to expect
•PHOTOS: Peaceful demonstration in front of Tbilisi parliament after bloody dispersal
•Georgian government agrees to hold 2020 parliamentary elections by proportional system
What is Tbilisi protesting?
The protest, which initially began against the Georgian government's weak stance on the Russian occupation, resumed with redoubled force after the brutal dispersal of the protesters on the night of June 20. 
The police used tear gas, water cannons and rubber bullets to disperse crowds – before that, some protestors demanding the resignation of the PM, the interior minister and speaker of parliament tried to break into the parliament building. 
The forceful dispersal, during which 305 people were detained and 240 were injured with varying degrees of severity, led even more people to Rustaveli Avenue the next day. 
On June 24, the Georgian authorities agreed to one of the main demands of the protesters: to hold parliamentary elections in 2020 by a proportional system, and also suspended ten police officers involved in the dispersal.
However, the protesters intend to continue to seek the resignation of Interior Minister Giorgi Gakharia, as well as the release of activists who are still in detention. 
 Among other slogans at the protest actions in Tbilisi are: "Russia is an occupant", "Putin xuilo" and others. These banners are repeatedly demonstrated by Russian media as evidence of Russophobia and the threat to Russians in the country, who in recent years have made up about 20 percent of the total number of visitors to Georgia.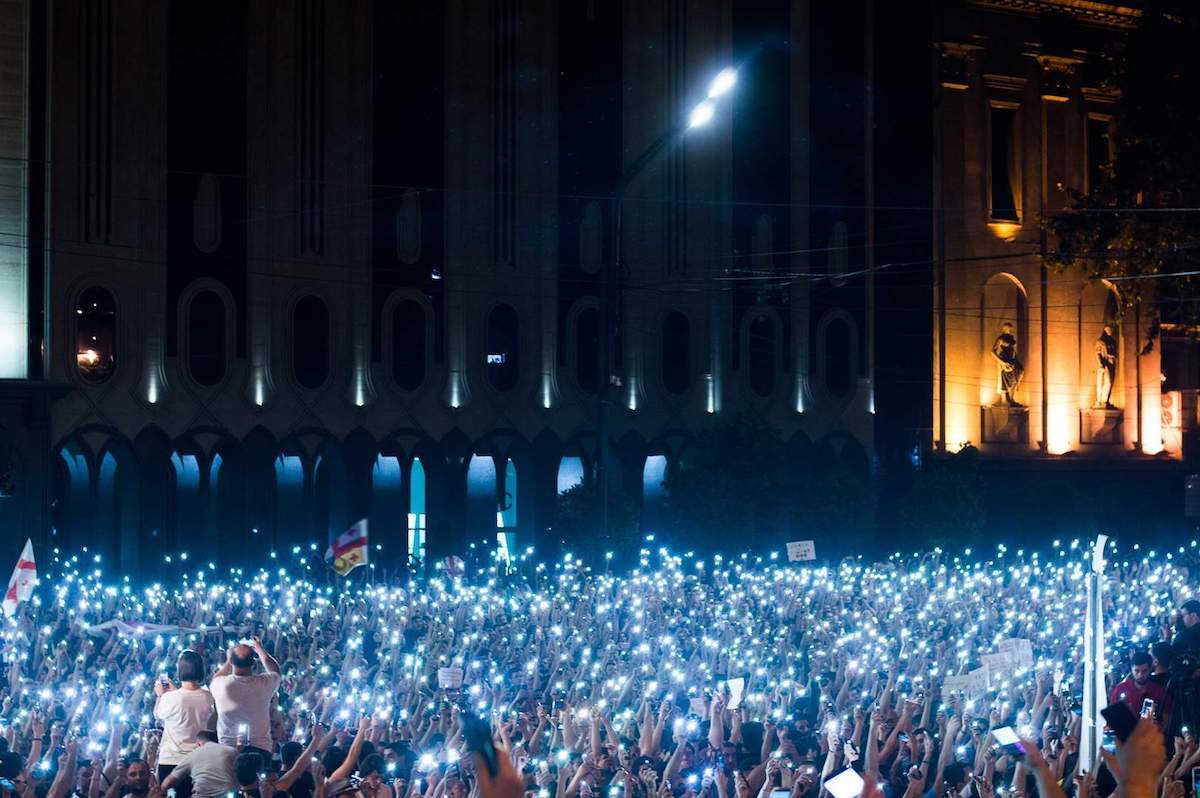 What do Russians in Georgia say? 
Katya Borodina arrived came to Tbilisi in the midst of events and even changed her tickets to stay in Georgia for a week longer.
"I do not observe or feel any 'anti-Russian' sentiments.  rotests in Georgia are directed against the government, and not against specific people, it is important to understand this! Of course, I often see posters with the name of Putin, but this is in no way associated with me, Georgians realize that not every Russian person signs under the actions and words of the President of the Russian Federation."
In recent years, more and more Russian citizens are choosing Georgia as a country of permanent or temporary residence. Daniela Shapoval moved to Tbilisi in May, now she works as a cook in the cafe Ovsyanka, which earlier this year was opened by Russians from St. Petersburg. 
On June 20, Daniela, along with other citizens, also went to protest in front of the parliament building on Rustaveli.
"I was tear gassed, I was rescued by local guys, Georgians, and when they heard that I was Russian, they didn't believe me. They didn't want to let me return, but I didn't want to leave. I have not seen such love and care for a long time."
Vladimir Romensky, journalist for TV channel Dozhd (Rain) was on holiday in Batumi.  On June 21, on the instructions of the editorial board, he was already in Tbilisi.
"I have repeatedly arranged an interview with the protesters in Russian. They are wary of Russian journalists; they understand that the majority of our media have already become the mouthpiece of propaganda. But for honest independent journalists, Georgians are ready to explain their position and talk about the reasons why they require a change of power."
Observers agree that the protests in Georgia are not anti-Russian in nature and that though most people are negatively disposed towards the Russian authorities, but not to ordinary people. Although, there are some exceptions. 
Nikita Ionov and his wife Natalya Lugovskaya moved from Smolensk to Tbilisi a year ago.
"I did not notice any changes.  There was only one case – the other day a woman approached us on the street, apparently because she had heard the Russian language.  She started with the phrase 'Do you know that you Russians are occupiers?!' But since I was with friends from Belarus, they said that Belarus is not an occupier. After that, the woman apologized left and went about her business", says Nikita.
 "But since this is the only case of such an attitude towards Russian speakers, I don't draw any conclusions about the entire Georgian people," adds Natalya. 
It should also be noted that since June 21, Georgian cinemas have stopped showing films in Russian.
Is the Russian language a problem in Georgia? 
Ulyana Vandysheva arrived in Tbilisi seven years ago to open a restaurant. Today, she works as a specialist in the food and drink industry. 
"Recently, I worked in a company in the front office, and it so happened that the manager had to remove me from this position, because clients had complaints that the Russian-speaking girl was answering the phone and conducting business correspondence in Russian. But nevertheless, when events occurred on Rustaveli, the first person who called me and asked if I was OK was the head of this organisation."  
In 2017, Dina Ramazanova, together with her colleague Alexander Novikov, opened the DADI wine bar next to Freedom Square. During the protests, Dina was in Tbilisi, at work.
"Some kind of tension has undoubtedly appeared. Those who were previously dissatisfied with the presence of Russians in this country began to express it more openly, they became bolder, perhaps, after the recent events. And those who do not mix the personal and the political, who think and see the picture a little wider, do not speak out about this and support it. It is difficult to say how it will affect the business, in any case, DADI's clients are mostly tourists from Russia and other places."
Anticafe Tsiferblat was also opened in Tbilisi by immigrants from Russia.
Paolo Gvasalia, who works at Tsiferblat, was wounded in the stomach on the night of June 20 during the dispersal of the action.
"My injury in comparison with those received by other participants of the action is a fairy tale," says Paolo.
Every day, various people come to Tsiferbalt, both locals and expats – including from Russia. 
"I haven't even once seen a Georgian showing aggression towards a Russian. This is not a struggle between citizens. It is a political struggle between states that does not concern ordinary civilians and should not change people's attitude towards each other", says Paolo.
Despite the testimonies of Russian-speaking tourists from Georgia, Russian media reports will not pass without consequences. But many in Georgia believe that reducing the flow of tourists will entail an improvement in the quality of service.
Alex Tatevosyan was born and raised in Tbilisi – he has also participated at protests in recent days in front of the Georgian parliament.
"As for the cancellation of flights, only Russians will suffer.  Yes, there will be a small negative dip in the Georgian economy, but not so serious that we won't be able to survive it. I believe that after this, tour operators will improve the quality of service and will focus on the western market, which will only improve the tourism potential of our country".
Toponyms and terminology used in the article, and views, opinions and strategies expressed in it do not necessarily reflect the views and opinions of JAMnews or any employees thereof. JAMnews reserves the right to delete comments it considers to be offensive, inflammatory, threatening, or otherwise unacceptable