"Azerbaijan is not forcing anyone to leave Karabakh" - Azerbaijani presidential aide
Interview with Hikmet Hajiyev DW
"Azerbaijan is not forcing anyone to leave Karabakh," says Hikmet Hajiyev, an adviser to Azerbaijan's president. Speaking to Deutsche Welle, he insisted that it was a "personal and individual decision" of the residents.
---
---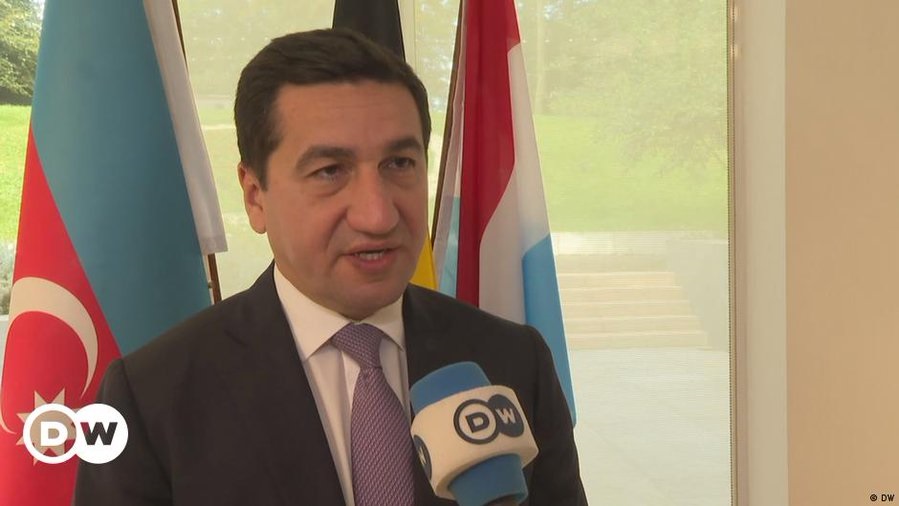 Hajiyev, aide to the Azerbaijani President and head of the Foreign Policy Department of the Presidential Administration, has shared his interview with the German publication Deutsche Welle (DW) on X.
Responding to a question about "possible ethnic cleansing in Karabakh by Azerbaijan," Hajiyev said that "such expressions as 'ethnic cleansing' are insulting to the Azerbaijani people."
"There has never been such a case in the history of the Azerbaijani people. Azerbaijan provides safe corridors for representatives of the peaceful population who, on the basis of individual choice and freely decide to leave for the Republic of Armenia due to circumstances. Again, this is a free choice. Azerbaijan ensures their freedom of movement. At the same time, safe and organized communications with the local Armenians who decided to leave for the Republic of Armenia are carried out – it is their personal individual decision," he said.
When asked by DW journalist "they were not forcibly expelled from their homes?" Hajiyev answered as follows:
"No, they were not forced. Because the Republic of Azerbaijan, as a result of anti-terrorist measures on the ground, first of all, did not enter peaceful settlements and major cities. These measures were limited, and the Azerbaijani forces and police are mainly guided by these principles. We are also in close contact with local representatives of the Armenian community and are trying to alleviate the humanitarian situation on the ground. No forceful actions or incidents have been recorded on the ground."
The presidential aide commented on the statement of Russian presidential spokesman Dmitry Peskov that "the mission of international observers can enter Karabakh only with the consent of the Azerbaijani side."
"Azerbaijan has nothing to hide, it does not intend to create a no-go zone there. And we are currently in contact with our colleagues from the specialized UN offices in Azerbaijan. The UN office in Baku is accredited throughout Azerbaijan, and some of its representatives and experts can also have access.
But, of course, we do not see the need for any international observation mission and so on, because the realities are obvious, Azerbaijan has nothing to hide.
So far, some things are very difficult. This is quite understandable, because in every such situation there are certain difficulties and challenges. But at the same time, the Azerbaijani side is determined to ensure equal rights for Armenian civilians on the ground, and we are also happy to see that two intensive rounds of discussions have been held with their representatives on an inclusive process whereby we can ensure their rights and security on the ground."
Lastly, Hajiyev answered a question about Washington and Moscow's statements to each other. "Aren't you afraid that your country will become a tool in this political issue?" the DW journalist asked.
"I have already said that Azerbaijan has always been against any geopolitical competition in our region. The region has suffered a lot. And this is also a message to our European partners. The region should not be viewed through the prism of geopolitical competition and everyone should make efforts to achieve peace in the region. I think this will be an important historical moment. Armenia and Azerbaijan can become much closer to a peace treaty," he said.