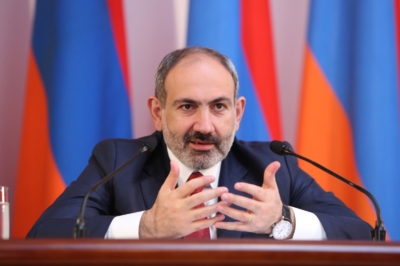 Nikol Pashinyan (born 1 June 1975) has been the prime minister of Armenia since May 8, 2018. Prior to this he was an opposition politician, and from 2012-2018 he was a deputy of the national assembly.
Pashinyan became the prime minister after winning the Velvet Revolution, which he himself started, and the previous administration, headed by influential long-term leader Serzh Sargsyan, was forced to resign. In December 2018, the My Step Alliance, which he leads, gained the majority in parliament during preterm parliamentary elections.
The focus of Pashinyan's domestic politics became a harsh war against corruption and economic monopolies. During his presidency, several high-profile political and anti-corruption criminal cases have been filed. Two ex-presidents, Robert Kocharian and Serzh Sargsyan, are among those under investigation, as well as their close relatives.
Pashinyan declares the following priorities of his foreign policy:
• A partnership with both Russia and the EU
• Armenia is a member of the Collective Security Treaty Organization (CSTO) operating under Russian guidance, and is uninterested in NATO membership. But cooperation with NATO will continue, including peacekeeping missions in Afghanistan and Kosovo.
• Armenia is ready to establish diplomatic relations with Turkey, without preconditions concerning Nagorno-Karabakh.\
• Cooperation with Iran is important for Armenia, and Yerevan hopes that the United States will understand this.