In the footsteps of war
Sirun Oganyan is one of three women who have been working for the Halo Trust for about a year now, clearing landmines left behind after the Karabakh war.
On 29 March, three of Sirun's colleagues were killed and two were seriously injured during demining work. According to the statement issued by the organisation, the Halo Trust deminers were in a vehicle at the time of the accident.
Since 1995, a total of 376 accidents have been recorded, with 296 people sustaining shrapnel wounds or losing limbs or their eyesight and 80 people being killed as a result of exploding mines or other munitions.
The Halo Trust is a British charity which has been working in Nagorny Karabakh since 2000. According to data from the organisation, 90% of the conflict zone has been demined. Provided sufficient funding is available, the demining work could be completed by 2020. Currently, 150 people are involved in the demining.
After the accident involving her colleagues, it was several weeks before Sirun felt able to share her experiences with us.
According to a Halo Trust representative, these are the first deaths among the deminers working in Nagorny Karabakh.
"We weren't far from the minefield where it happened. When we got to the scene of the accident after the explosion we could see the guys' body parts scattered about all over the place. I knew them by sight and was friends with one of them", says Sirun.
"When they asked me after the blast whether I could go back to work I said I'd only know once I got to the field. When I went out into the field the next time I realised I could still do it."
Sirun joined the group of deminers on 12 June 2017, although her family were against it.
"I decided to do it when my brother suggested it – he works here too. My father was against the idea, but… I have three young children and I'm the family's only breadwinner", she says.
Her colleagues call Sirun "the face of the Halo Trust". "Our Sirun [which means 'beautiful' in Armenian] is very beautiful", they say.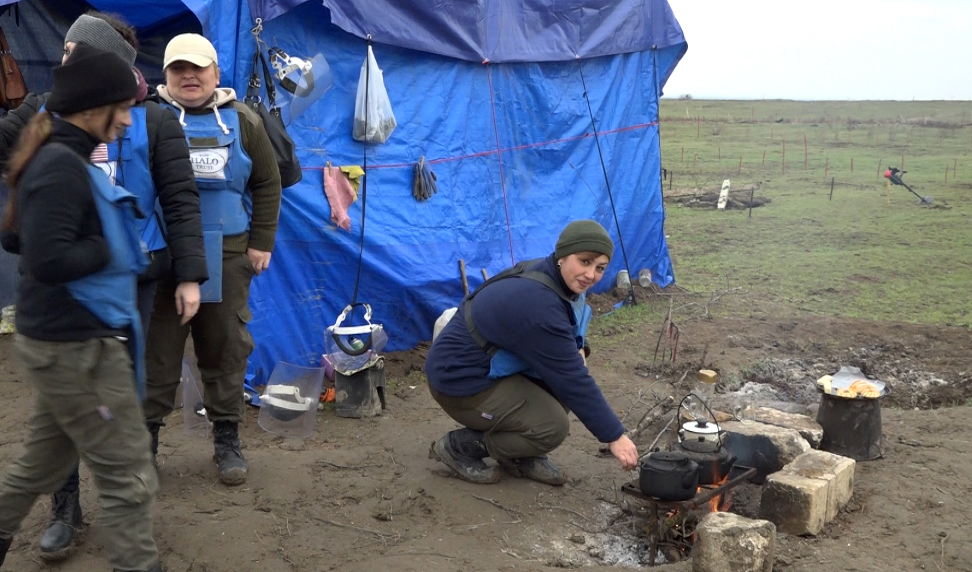 Initially, the men found it strange to have women working with them, but they came to realise that gender is irrelevant – what matters is a professional attitude.
Araik Margaryan, one of the leaders of the demining unit, talks about his experience: "Working with guys is a bit different. When the women joined the squad we were demining high up in the mountains, over rough ground, and it was quite hard for them, but now they're used to working in even the most difficult areas. The women are on an equal footing with the men at work, the only thing is, we have to watch our language when we're working with them and lay off the swearing."
The teams work in cycles of 50 minutes, followed by a five-minute break. "We don't have time to talk, we have to keep completely quiet and follow the rules really carefully, to make sure we don't miss even the tiniest signal from the mine detector", explains Sirun.
Sirun says they have repeatedly driven back to the place where the last explosion occurred and still can't understand how it happened.
Once women in make-up and jewellery got stuck into their work alongside the men, stereotypes along the lines of "women are weak", "women need to be protected" were destroyed – as the women hoisted their heavy rucksacks on to their backs and set off through forests and gorges, in the rain and the heat.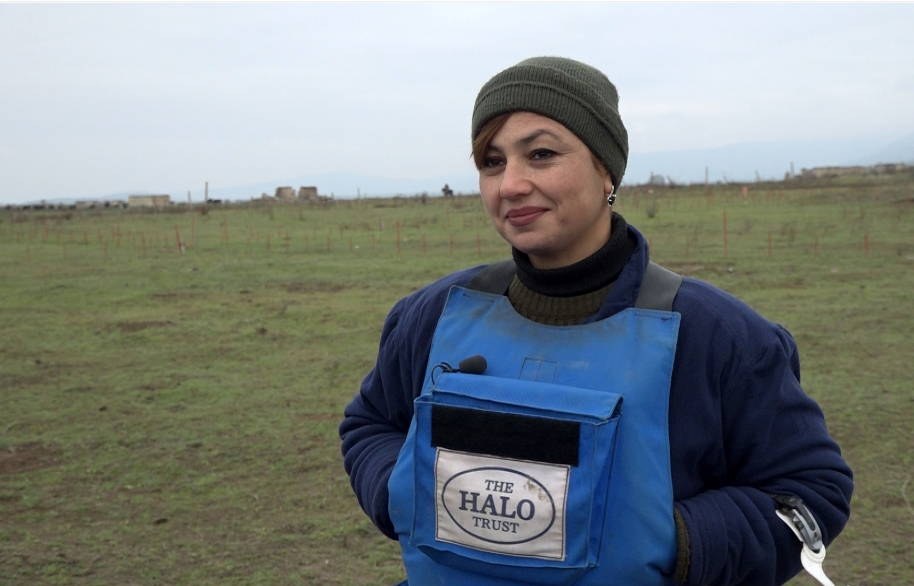 Sirun says the women don't always come to work wearing make-up.
"Respect is more important than make-up and jewellery – you have to earn respect from the men."
A deminer's collection
The earth often "rewards" the deminers not with mines but with jewellery, old jugs or coins. Over the course of nine months, Sirun has already accumulated a small collection. Persian coins, a copper ring that just fits on her finger. People used to wear copper rings if they had blood pressure problems. Sirun doesn't have any issues with her blood pressure but she likes it when the earth presents her with these surprises.
She recalls: "One time the signal was so strong, it was hard to orient myself without the commander. We thought there must be a really big mine and it would be difficult to get it out. It was such a surprise and so funny when instead of uncovering a big mine we found a frying pan!"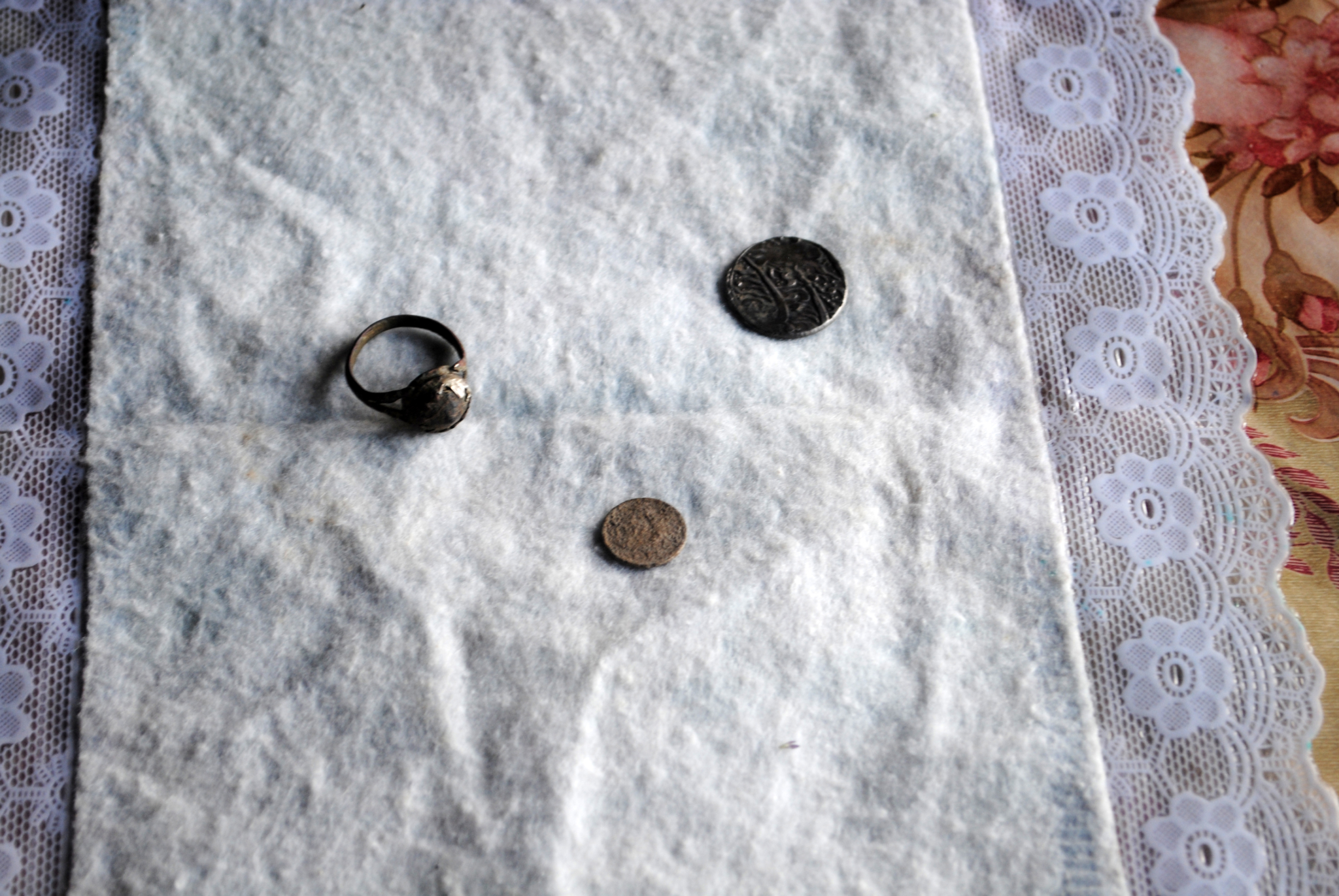 Sirun's mother moved to Nagorny Karabakh from Baku in 1980. During the war Sirun's eight-year-old sister was killed. "The war left a dark shadow over our family", she says.
Twenty-four years have passed since then, but traces of the war still remain. There are still areas that are mined where people go about their everyday lives, trying to reap a harvest from the land.
"In the summer we demined a field full of strawberries. The local people almost came to blows with us, insisting they'd harvested strawberries there for decades and nothing had happened to them. It's hard to explain that mines make no distinctions between people or for age, they just explode without warning", says Sirun.
She emphasises the contribution made by women to the demining process, because they are more cautious and careful.
"When you see the mines, a shiver goes right through you, you immediately get a sense of the unfinished war", she says.
37-year-old Sirun goes to the window to check whether her uniform is dry. On Monday morning she has to go back to the minefield.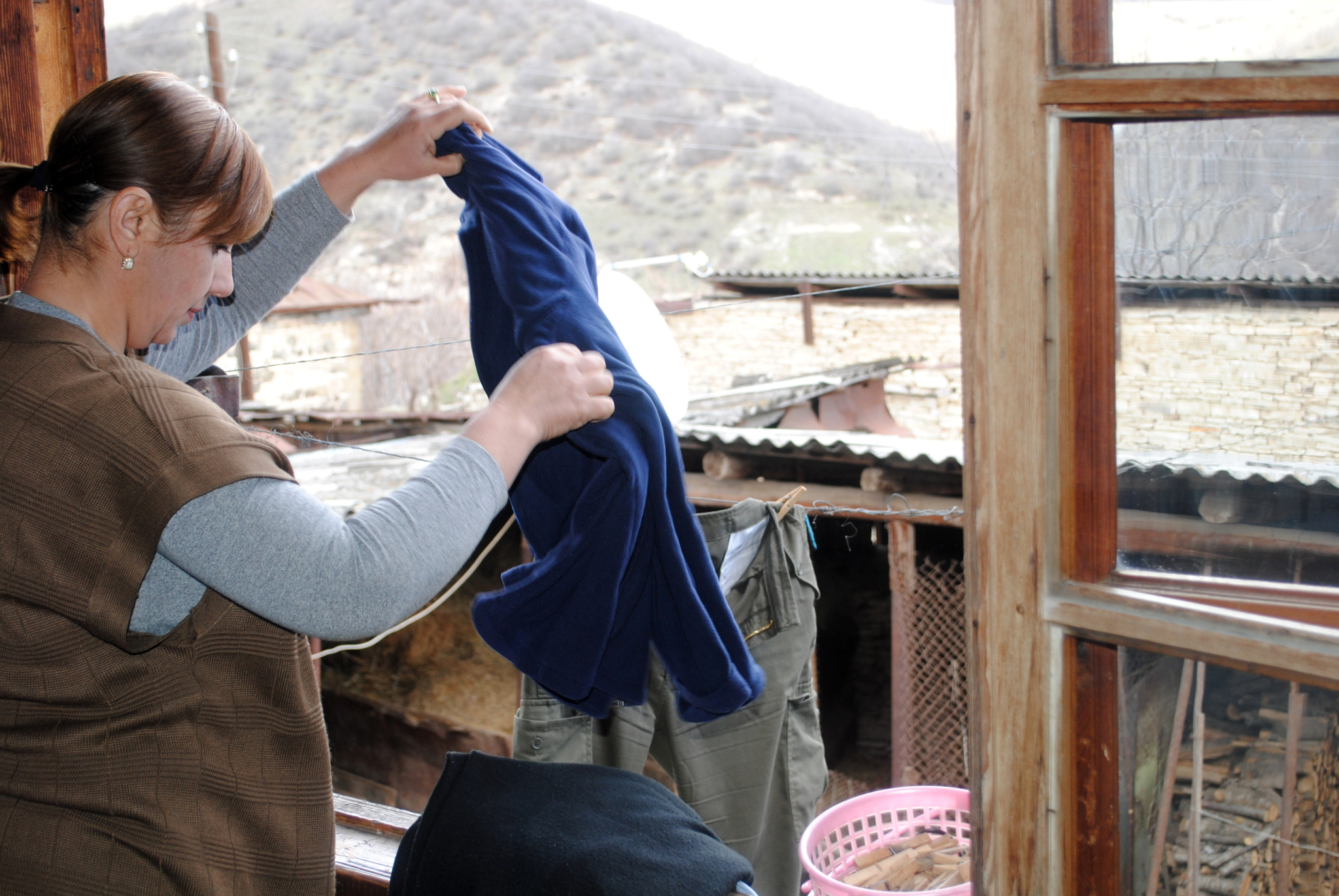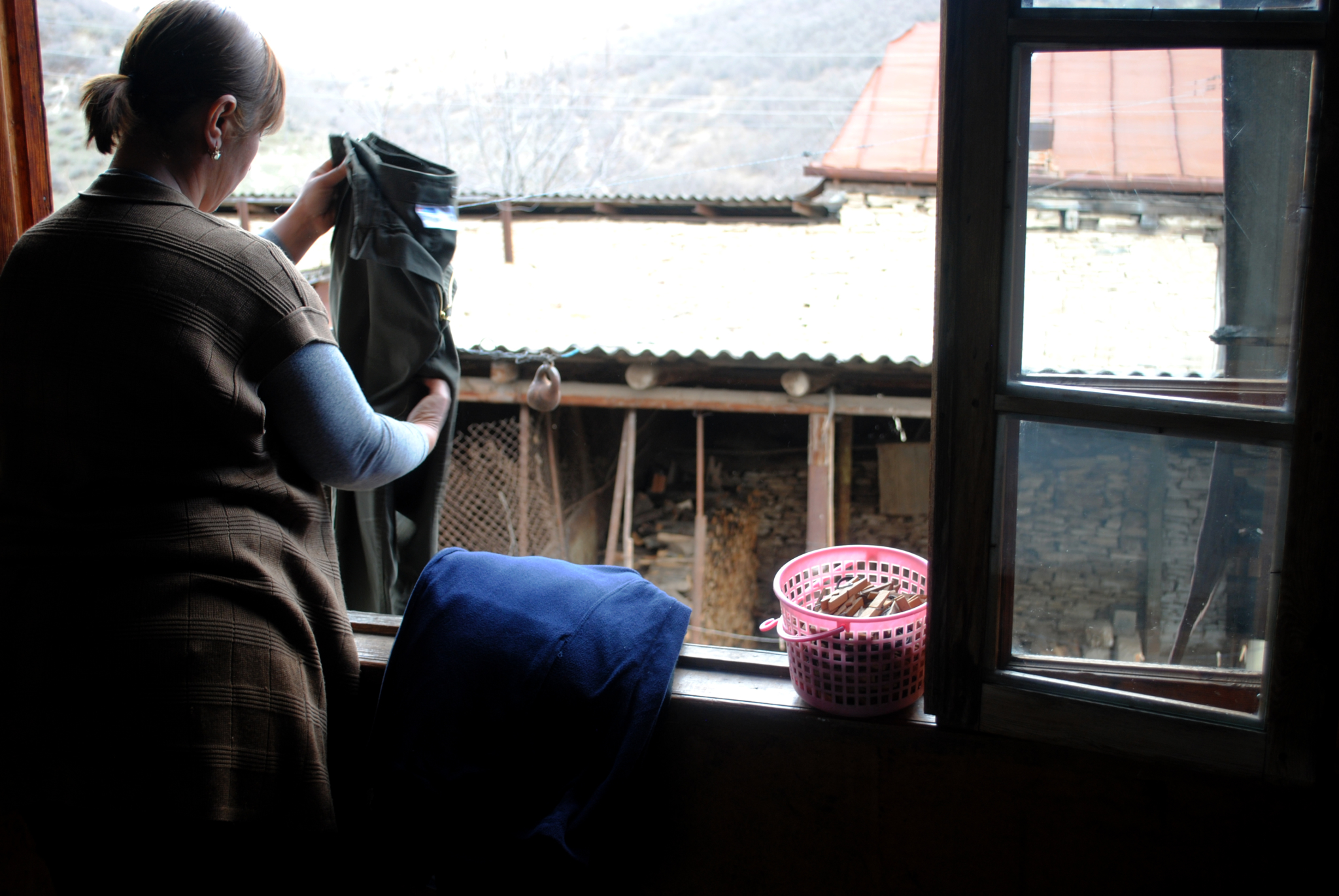 Two days of love and warmth
The relatively new asphalt of the road, mended after the ceasefire, comes to an end at the entrance to the village of Kagartsi. It branches off to the left here from the Stepanakert-Martuni highway.
A stony track leads to Kagartsi, a small village in Martuni district in south-east Nagorny Karabakh (31km from Stepanakert) where Sirun Oganyan's family live. People arriving by car are shaken about wildly as they drive over the rough surface.
There are narrow lanes, with houses packed close together: on the balcony of a two-storey house stands Sirun, barely recognisable without her uniform and helmet. In her arms she holds her son, Artem, who is not yet two.
At home and around the village everyone calls Sirun Nonna Oganyan. When she was a child her grandmother affectionately called her "Nanka" and so Sirun became Nonna. In official documents and at work she's Sirun.
Little Artem is not really talking yet, but according to his family, on Fridays he constantly looks out of the window, listening out for the rumble of the car's engine and he apparently recognises the particular sound of the car which brings his mother home. They say he sometimes even runs a temperature he misses her so much.
Sirun leaves her three children in the care of her parents. Her father gets an army pension, her husband is in Russia.
Five nights a week Sirun has to stay in Stepanakert, so she only sees her children and the rest of the family at weekends.
"As soon as I get home I hug the children, then my mum. She plays a huge role in my children's lives", says Sirun, trying to hide her emotion. From the other side of the room Sirun's mother listens to our conversation and her father quietly finishes smoking another cigarette.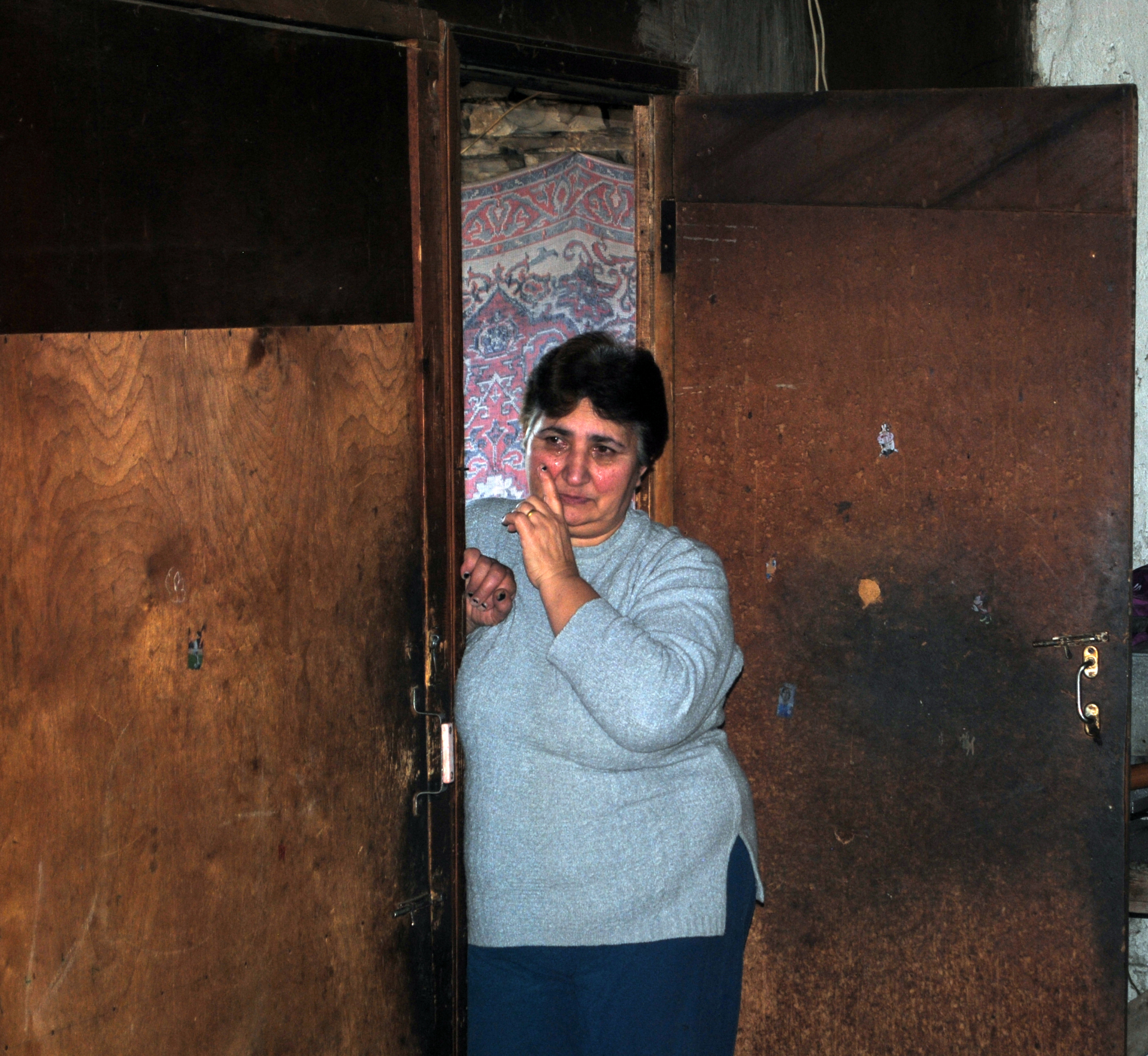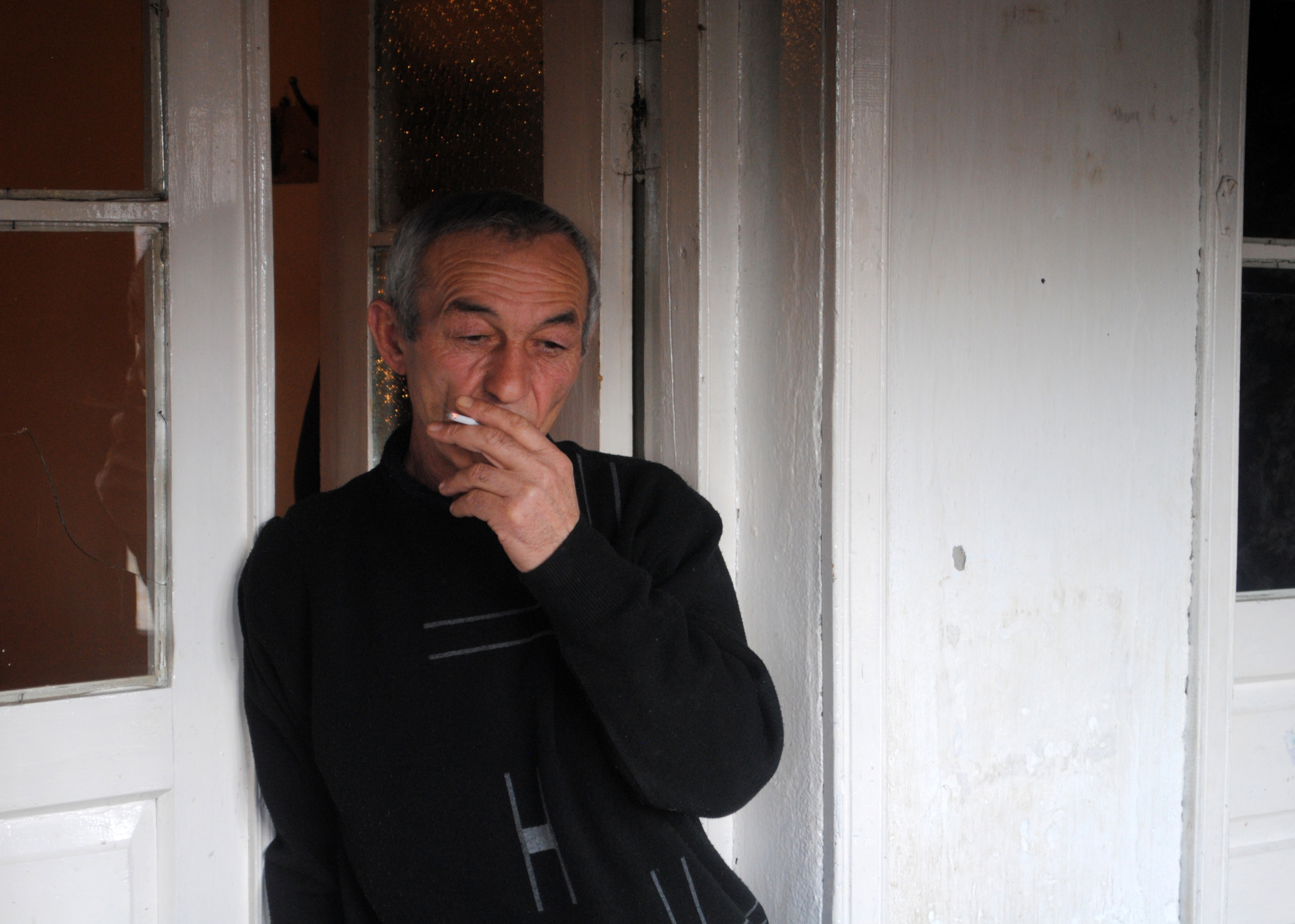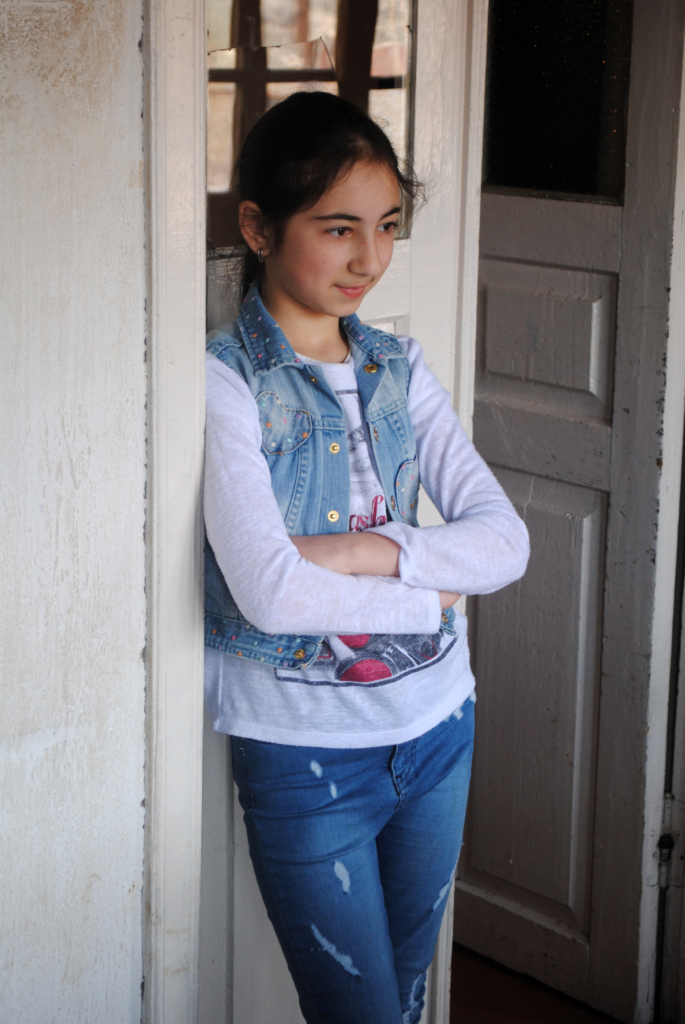 Sirun's middle son, Artur, films his mother on a small video camera, capturing every moment so he can watch it over the coming week when he misses her.
"Artur is like me", says Sirun. "He doesn't talk about his feelings. Silva phones me and says she misses me. They know: Silva is my hope, Artur's my faith and Artem is my love. He's still so little and, unfortunately, he hasn't seen much of me."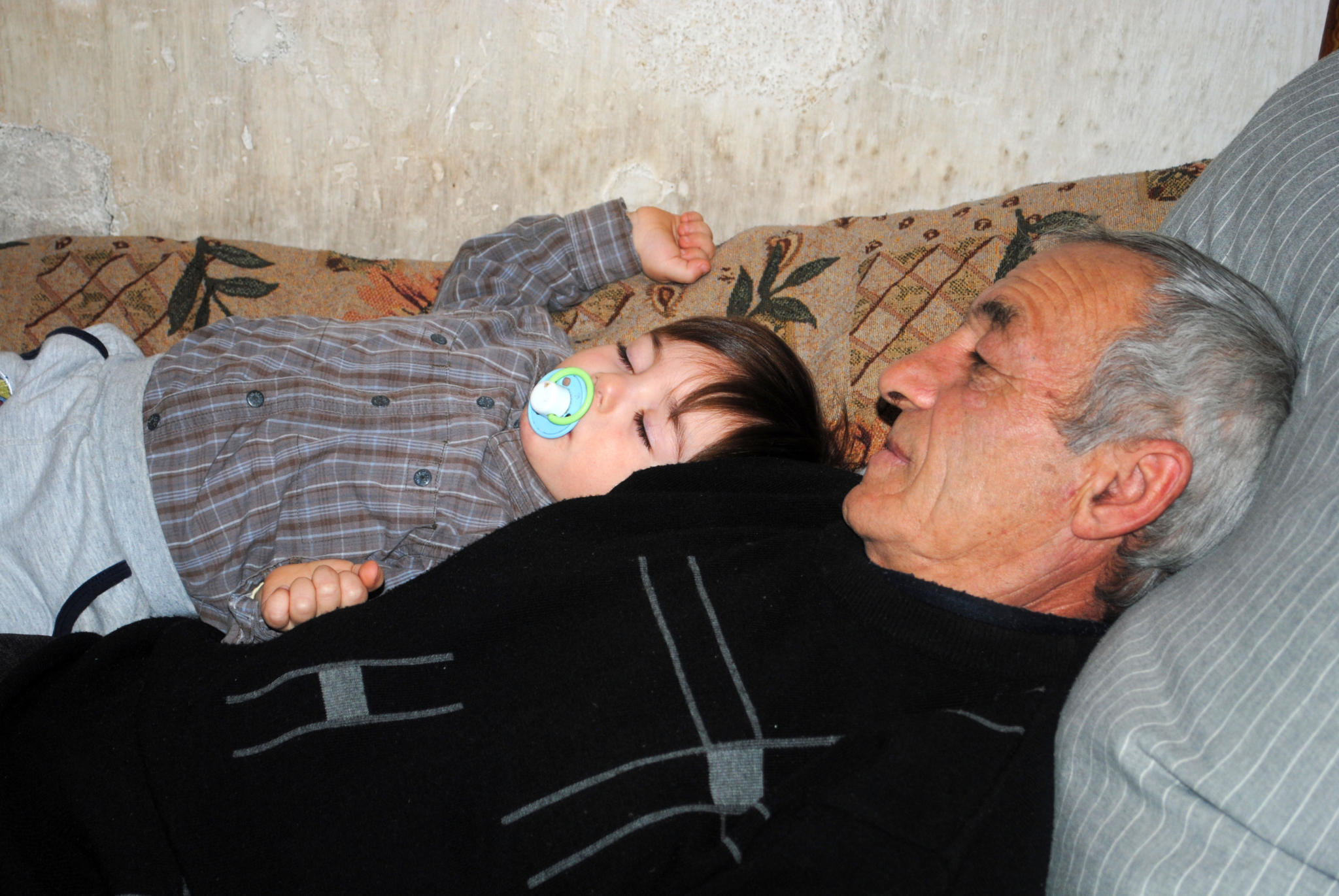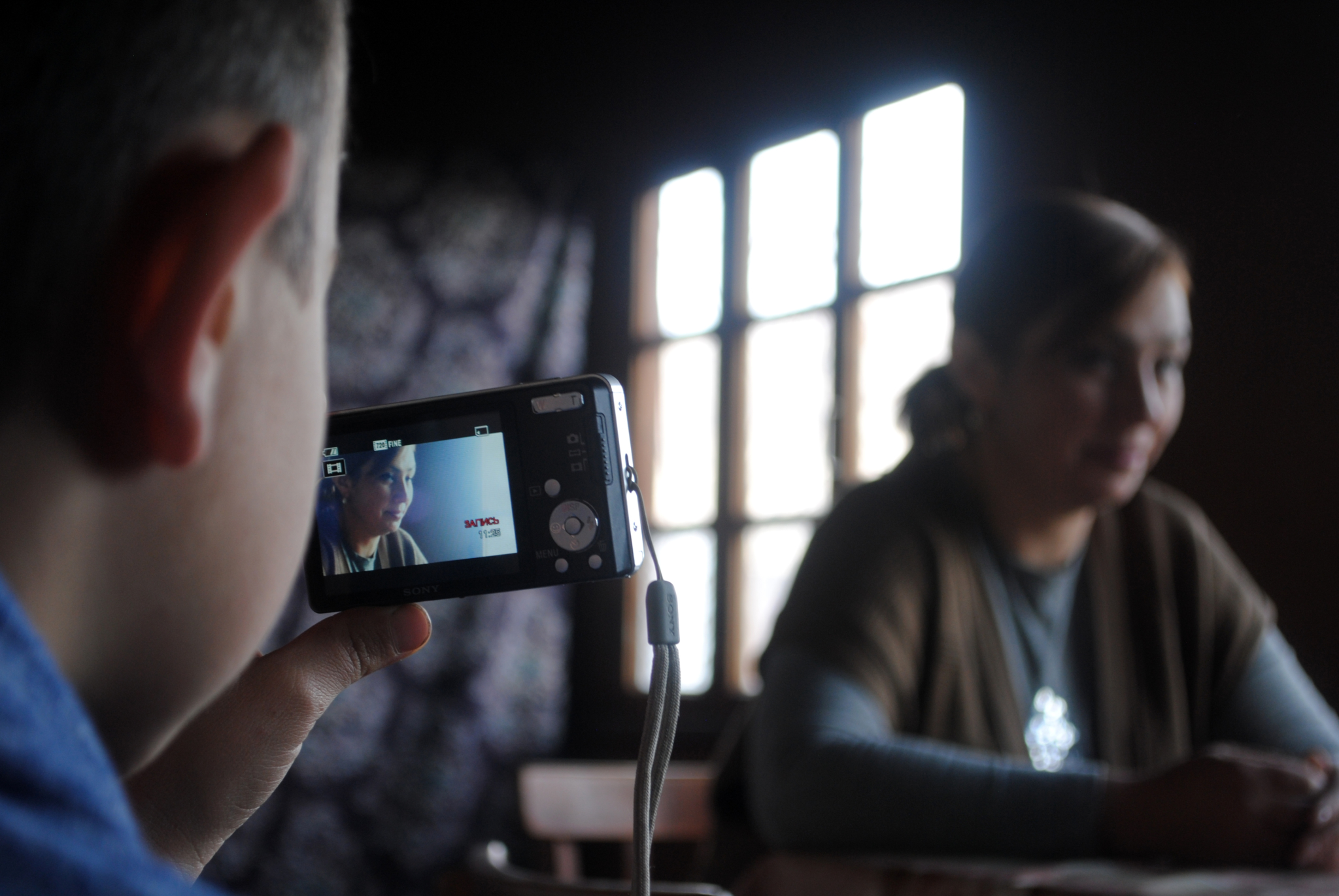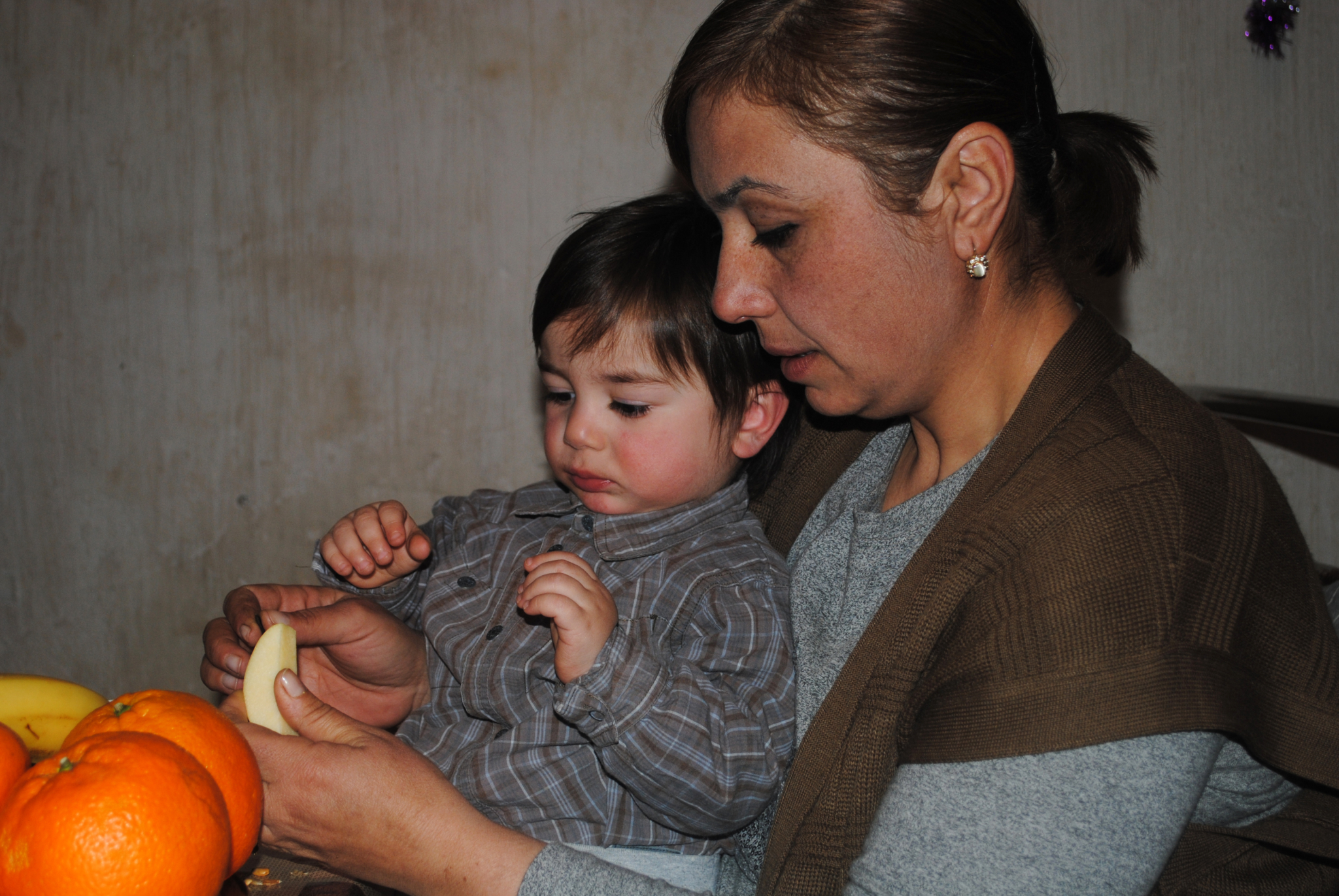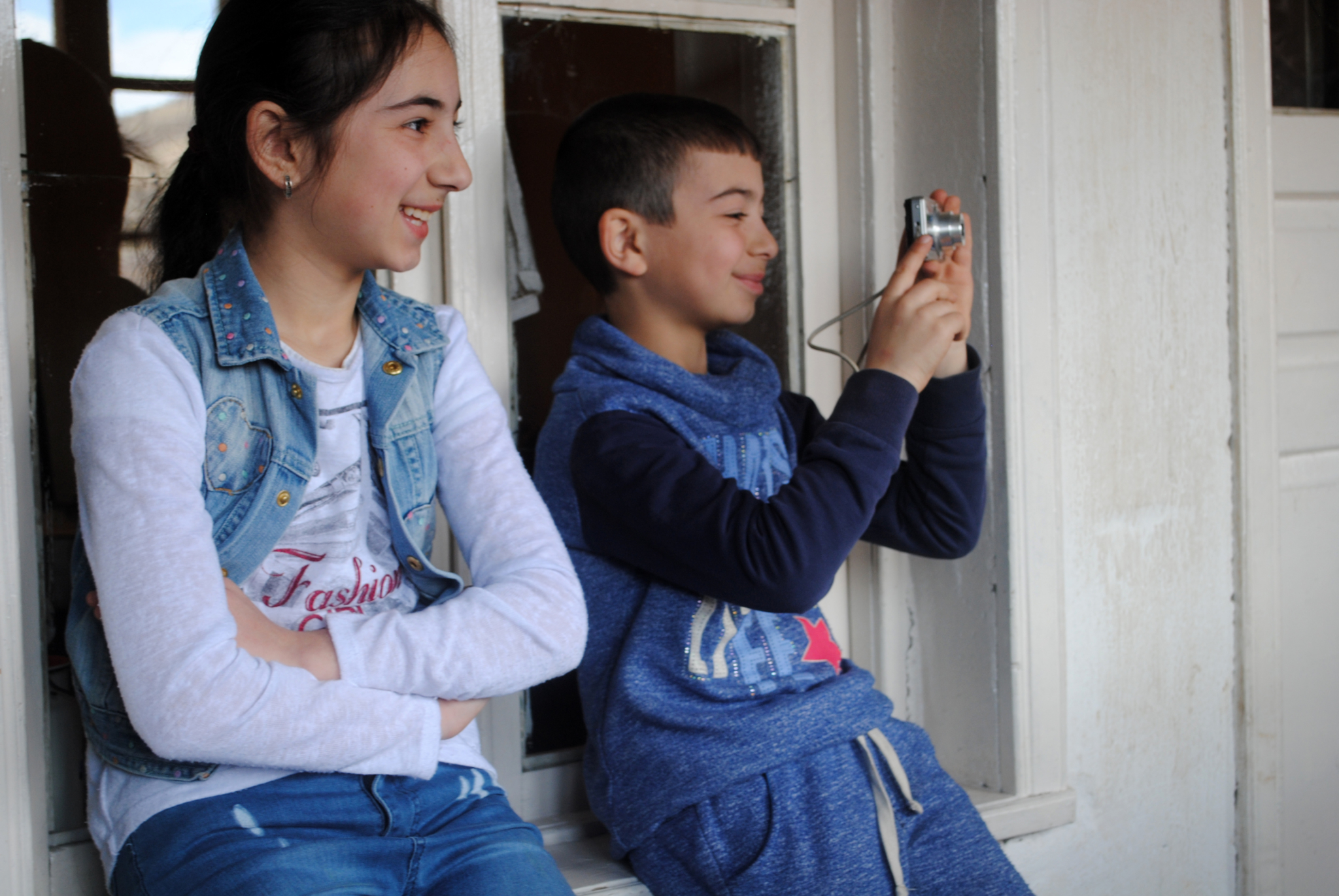 Sirun wakes at 5am, softly kisses her children and sets off for work, knowing she'll be back home again next Saturday.
"I wish my children had a better life and that the burden of bringing them up didn't fall to my parents", she says.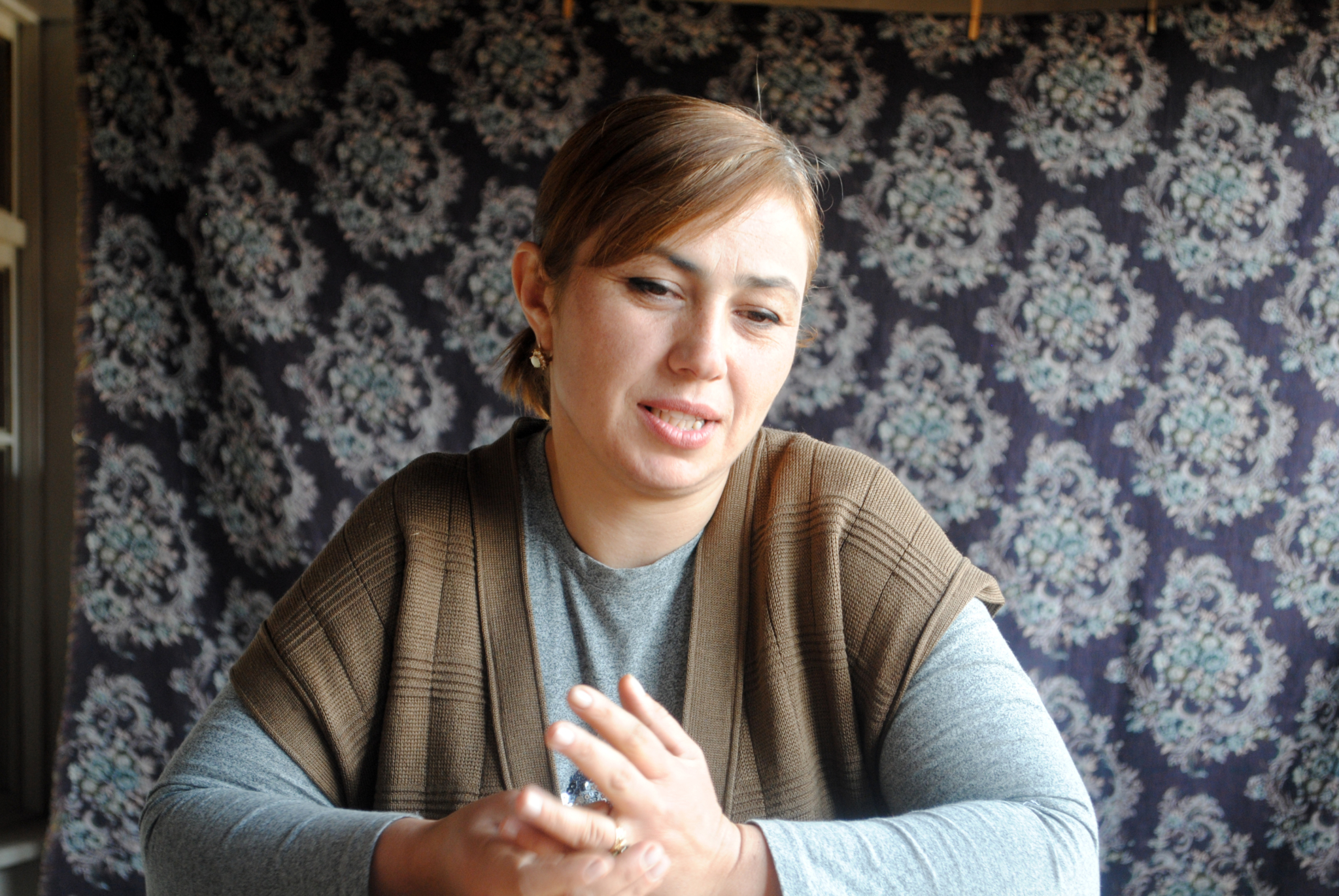 Unheard Voices is part of International Alert's work on the Nagorno-Karabakh conflict. It is the result of work produced with journalists from societies affected by the conflict and their collaborative efforts to highlight its effects on the daily lives of people living in the conditions of 'no war, no peace'. The purpose is to ensure their voices are heard both at home, in their own societies and on the other side of the conflict divide, allowing readers to see the real faces hidden behind the images of 'the enemy'.
This project is funded by the European Union as part of the European Partnership for the Peaceful Settlement of the Conflict over Nagorno-Karabakh (EPNK).

The materials published on this page are solely the responsibility of the journalists and do not necessarily reflect the opinions or policies of International Alert or its donors. All our journalists adhere to a Code of Conduct, which can be found here.