How the Nagorny Karabakh Dialect Became a Brand
'Ek Kez Pend Khtim' ('Let Me Give You a Big Hug'), 'Ek Patar Dindzhats' ('Have a Rest'), 'Lokh Lava' ('Everything Is OK'): the Nagorny Karabakh dialect is turning into a profitable brand.
Merchandise with inscriptions in the Nagorny Karabakh dialect has become especially popular with Armenian-speaking tourists.
To this day, the conflict that broke out between Azerbaijanis and Armenians over Nagorny Karabakh in the late 1980s remains unresolved.
Nagorny Karabakh has not yet received international recognition. People there use a unique Armenian dialect. In recent years, well-known local phrases and expressions have begun to be printed on cups and mugs, used in song lyrics, and even appear in the menus of cafes and restaurants.
Those who have helped the local dialect become a marketed brand insist that the idea to use its popularity in this way came about due to high demand.
The local dialect includes a large number of words with Persian or Turkish roots. It also includes many Russian words, which are pronounced with a distinctive local accent. People who regularly use the Nagorny Karabakh dialect for art or business say that it tends to make things more fun, lively and original.
In 2011, the song 'Alo Alo' became a big hit with Armenian listeners.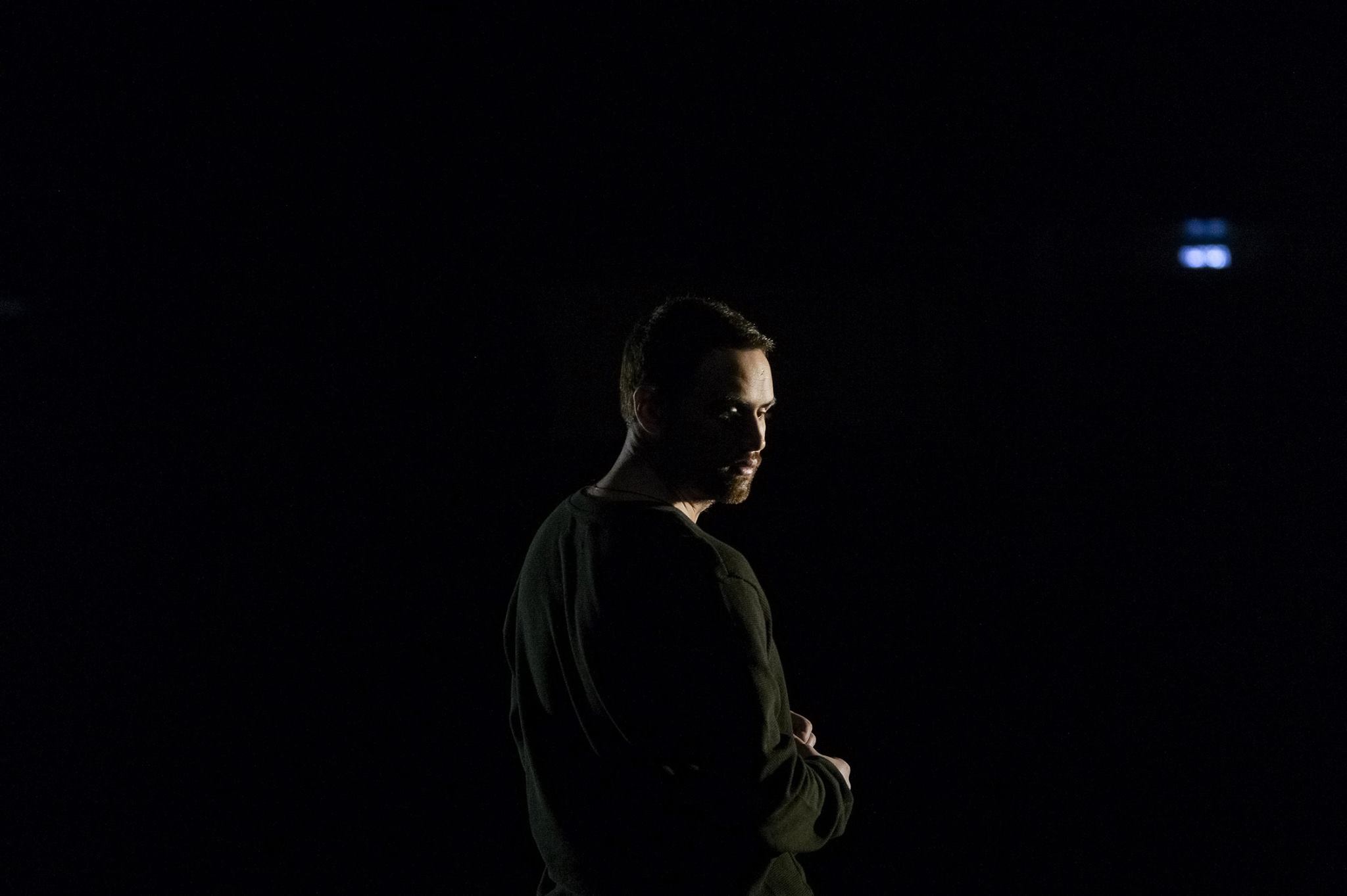 'I see 'Alo Alo' more as a poem written in dialect, than as a song. I spent a long time working on the text, so as no one could criticize it. There is not a single word in it which does not have Armenian roots,' Artem Valter stresses [the author was previously known as Tim De Beatz – Ed.]
The song proved popular and rapidly turned into an Internet hit. YouTube users uploaded several versions of the track to the site, each one quickly gaining large numbers of views. The clip was often reposted by users who didn't even understand the Nagorny Karabakh dialect.
The song that made the Nagorny Karabakh dialect popular is continuing to attract the interest of Internet users.
Artem Valter dislikes the fact that most listeners saw the song as funny. This, he says, was why, as Tim De Beatz, he wrote just three songs in the Nagorny Karabakh dialect, before deciding to switch to something else. The things which he strives to express in his work today are above the ordinary and everyday. As such, Artem says, it is impossible fully to do them justice by using dialect.
The performer says he will never argue about the etymology of words used in the dialect.
'So I manage to prove that the word is one of our own. What difference will that really make?'
The Use of Dialect in the Hospitality Business
During the Soviet period, the Russian language played an important role in everyday life in Nagorny Karabakh. After the fall of the USSR, people continued to use it: certain Russian words have indeed become so common that people cannot always think of the Armenian equivalent.
The idea of opening Bardak ('The Mess') was brought on by a sack of potatoes and onions.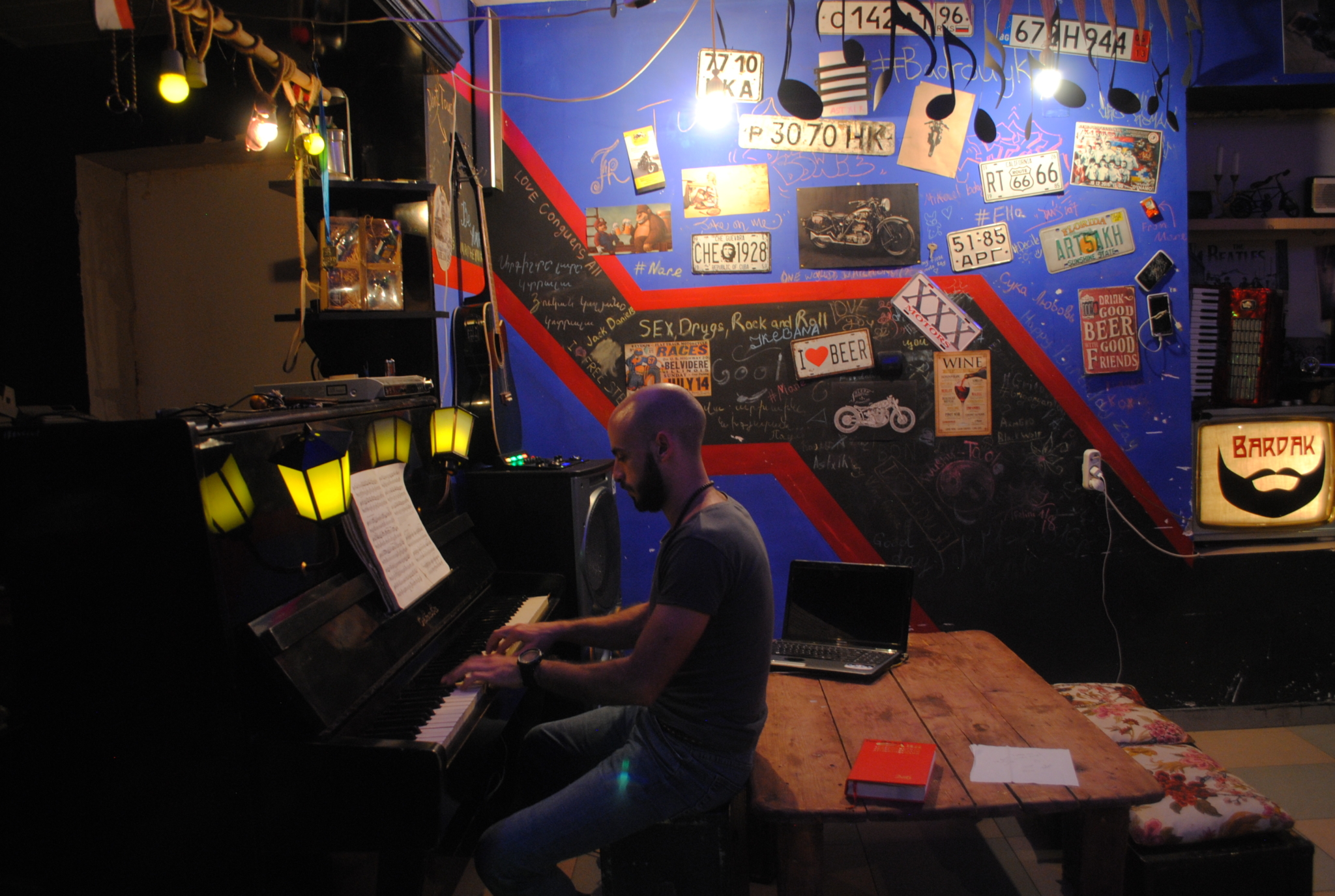 'My friends and I, we would get together, especially on those chilly nights, and bake potatoes and onions on the stove. After a while, I realized that the people in the room weren't just my friends – there were also friends of friends there, and even people I didn't know. So, I had the idea of creating a special place where people could come and forget about their worries and cares,' says Azat, owner of Stepanakert's one and only pub, Bardak.
The name for his establishment came to Azat quickly: he did not spend much time pondering over it. Later, he realized that he had chosen a Russian name, but in any case, Azat remarks good-naturedly, Russian has long become a part of the Nagorny Karabakh dialect.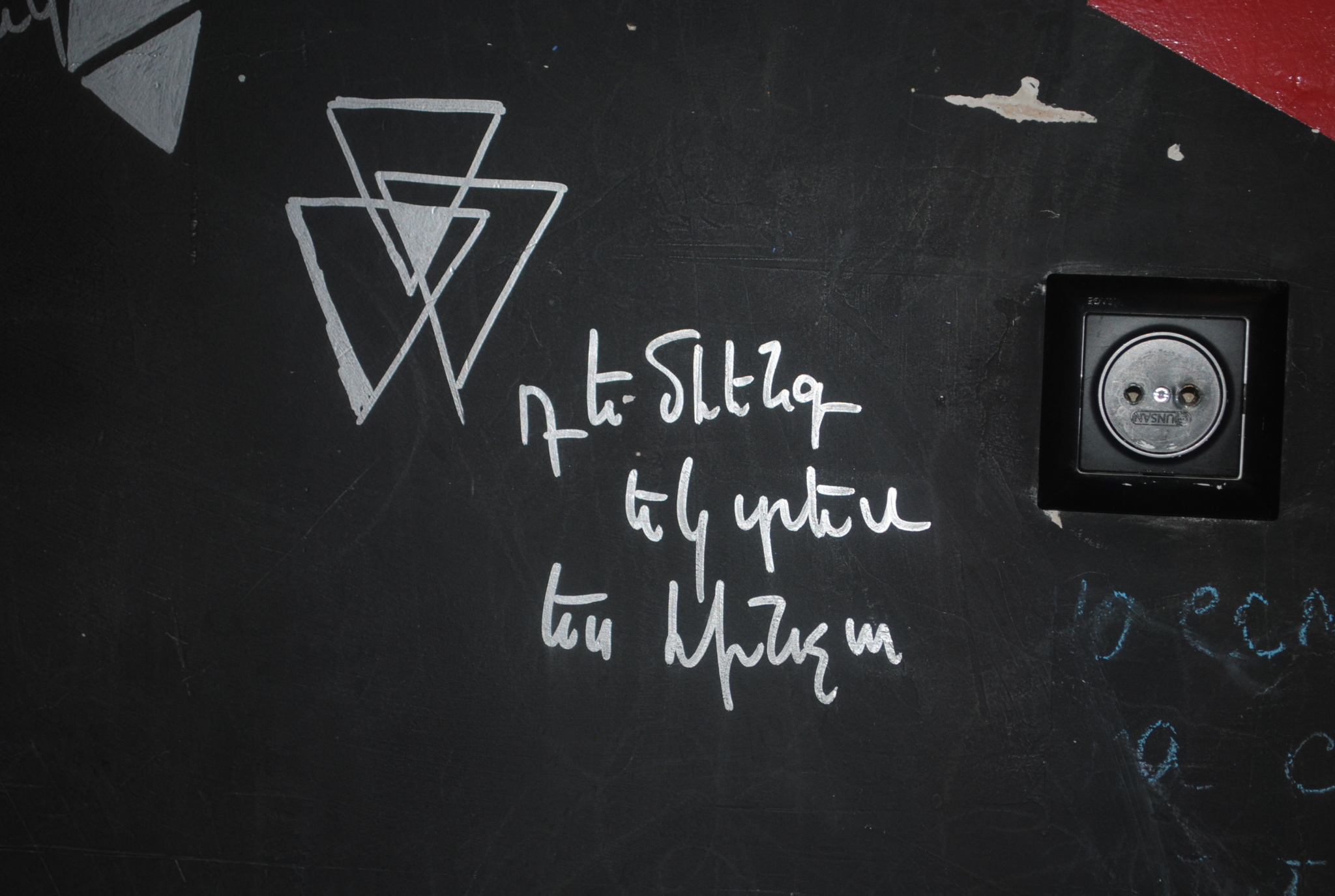 The pub's very first menu only included four bottles of alcohol, Azat recalls. Two of these he brought from his own home, and the other two, he bought specially. Now, almost a year after the pub opened, Bardak offers a wide range of alcoholic beverages – and unique messages on the walls.
From the notes on the walls, one can make out which regions of Nagorny Karabakh this or that visitor came from. [Note from author: The regions of Nagorny Karabakh use slightly different local dialect in terms of intonation and stress]. The owner himself feels that the best place in the pub is the corner by the washstand. This is where one can immerse oneself in thought, do some creative writing, and really feel one has left a little piece of oneself here.
Several months ago, Azat also created a range of T-shirts with unusual slogans. These feature the names of well-known brands, modified to give them local colour.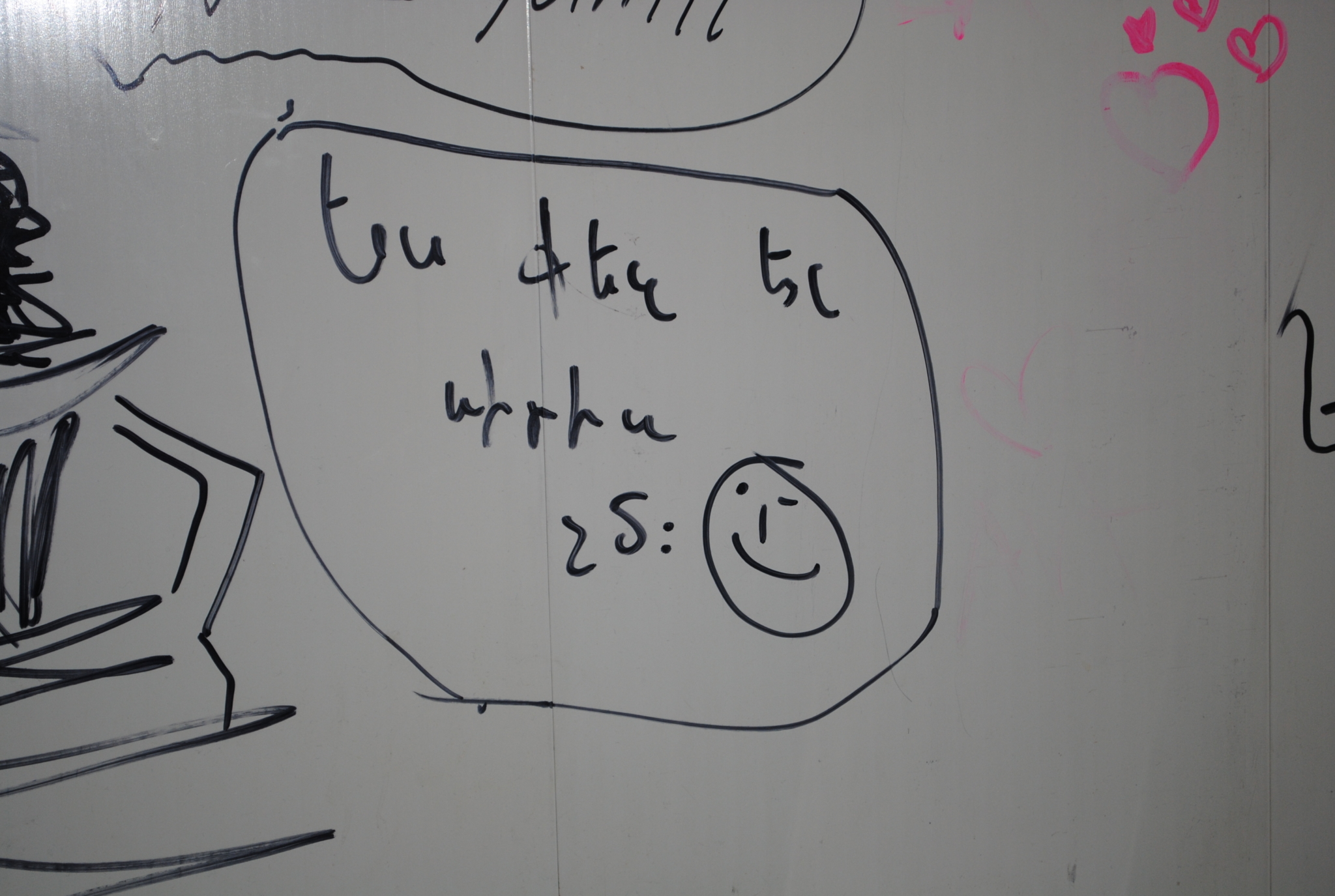 This way, The New Yorker became New Yerkir ('New Land' – author), Levi's turned into 'Lav Ys?' ('How are you?'), and 'Don't Worry, Be Happy' ended up as 'Don't Dilkhor, Be Urakh' (a translation of the English title). Azat, of course, is well aware that the word 'dilkhor', which means 'sad' or 'upset', is also used in Azerbaijan.
The Role of Dialect in Applied Art
Lilit's small business began with a single postcard featuring the message 'Ek Khtim Kez' ('Let Me Give You a Hug'). Very soon, Lilit began to make more postcards, as well as thermos flasks and mugs.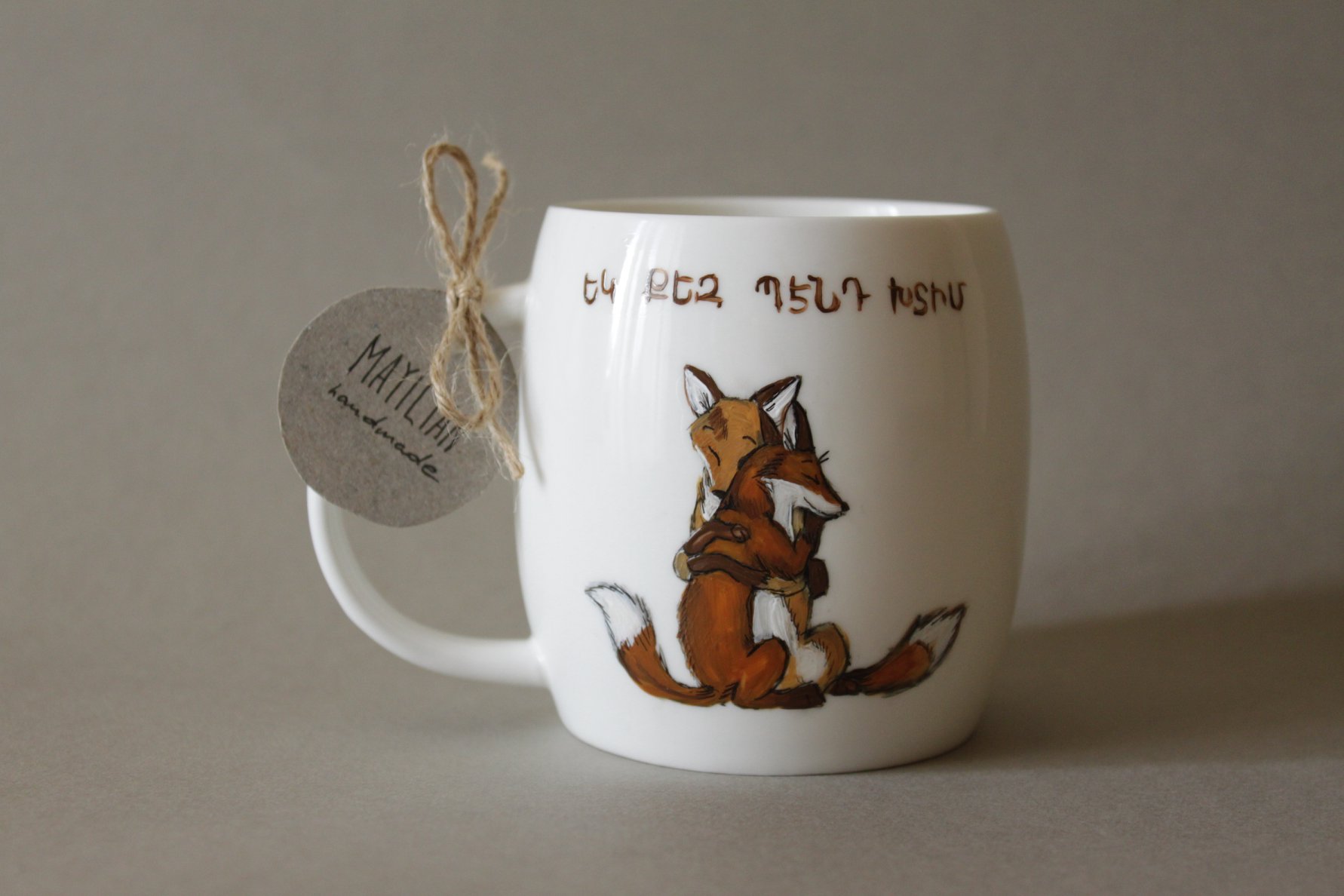 'At first, I kept trying to understand what it was that drew people to these simple slogans. I would ask what language they preferred to see the slogan in: English, Russian or Armenian. The answer was always the same – people liked the use of local dialect, which is what brought them to me in the first place.'
In the last few months, Lilit Mailyan says, she has not had a single day without orders coming in. Altogether, she has now made over a hundred items.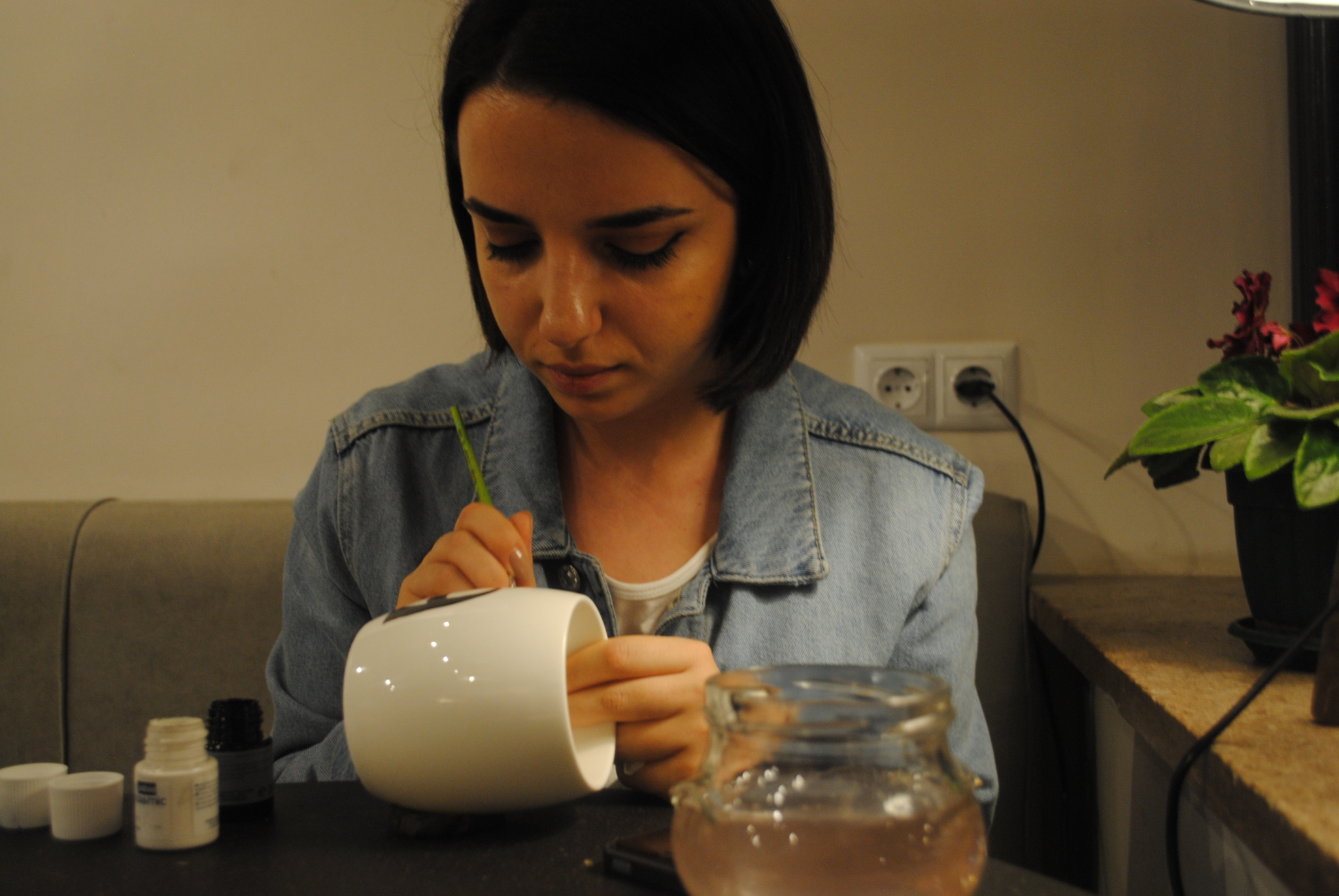 'I get the most orders coming in just before public holidays. Everyone wants to give people an original, unusual gift with an inscription using local dialect,' Lilit explains.
Today, MaYilyan Handmade items have already made their way to Belgium, Ukraine and the U.S. Lilit also receives orders from Kapan, Vanadzor and Yerevan.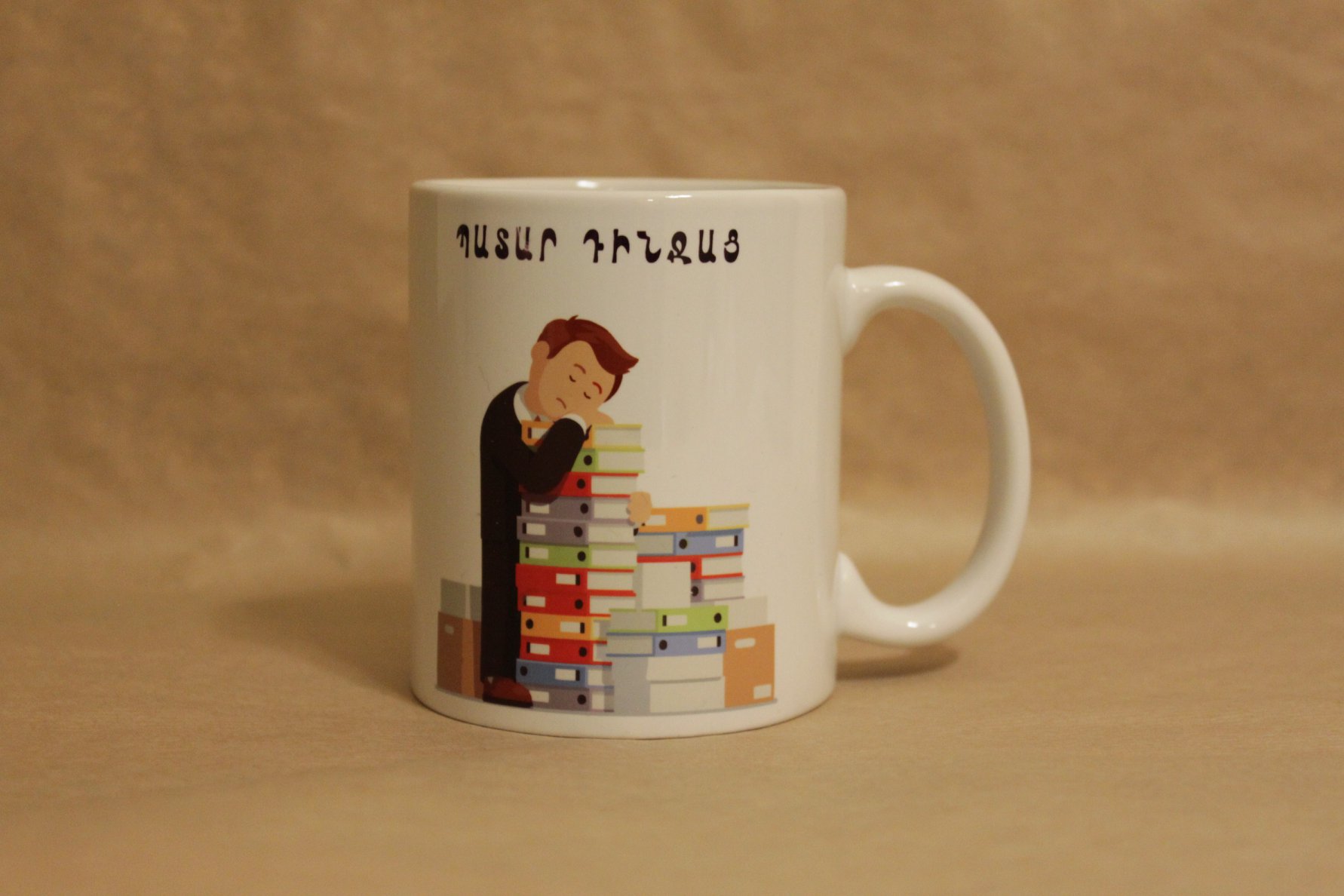 The most popular inscription, Lilit says, is 'Ek Kez Khtim' ('Let Me Give You a Hug'). With each new order, Lilit would always ask herself why this particular slogan was so popular with her buyers.
'Then I worked out that the phrase carries so much warmth. It's something that people can say in any mood – even if they are trying to apologize. I am in favour of people being able to express their emotions, so as they have nothing to regret later.'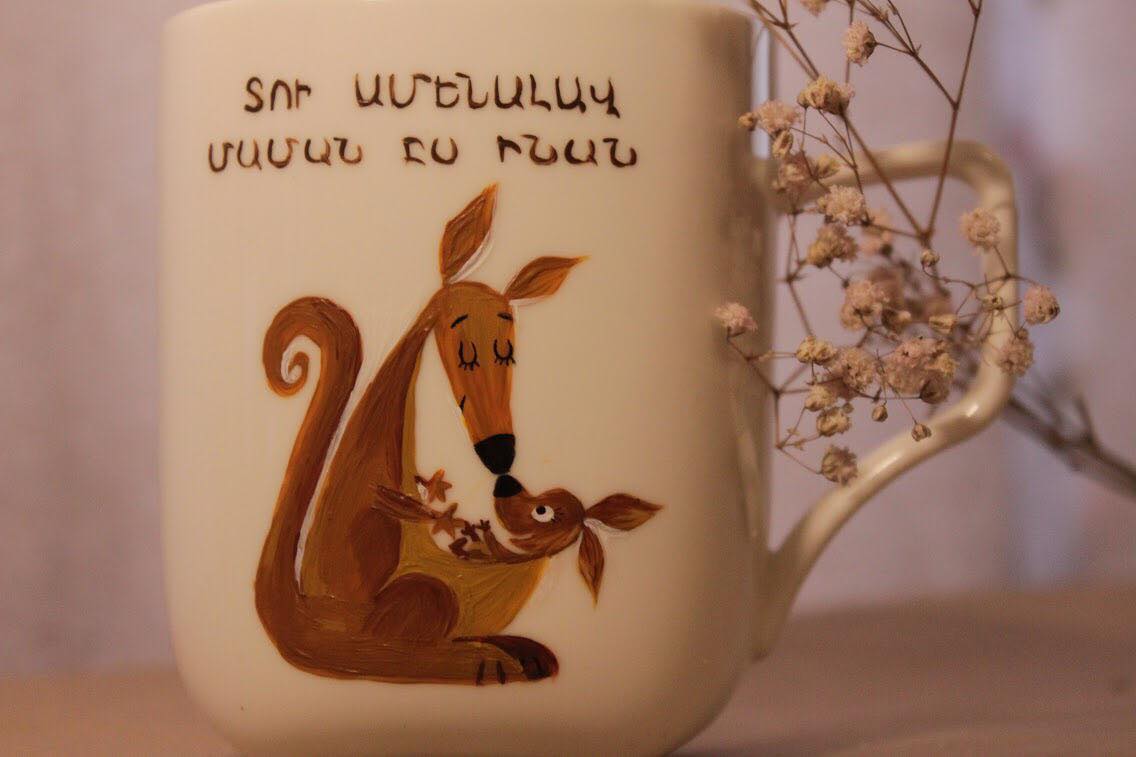 Lilit has a special Facebook page dedicated to her business. The number of her followers is growing every day. This makes Lilit very proud, especially as she set up the page without spending any money.
The Nagorny Karabakh Dialect on Social Networks
Most of Tatevik Khachatryan's works are written in local dialect. Readers, she says, have conflicting opinions about this, with some insisting that all posts on social networking sites should be written in proper literary Armenian.
She herself feels that given the dangers associated with globalisation, dialects could start to die out. For this reason, she says, it is important to use them as much as possible.
The research for this article was carried out by Mariam Sargsyan as part of the project 'Developing Investigative and Analytic Journalism in Artsakh'. The project is being carried out by the Caucasus Institute together with Mark Grigoryan, editor and teacher of journalism, and Knar Babayan, who heads up a team of journalists in Stepanakert
Unheard Voices is part of International Alert's work on the Nagorno-Karabakh conflict. It is the result of work produced with journalists from societies affected by the conflict and their collaborative efforts to highlight its effects on the daily lives of people living in the conditions of 'no war, no peace'. The purpose is to ensure their voices are heard both at home, in their own societies and on the other side of the conflict divide, allowing readers to see the real faces hidden behind the images of 'the enemy'.
This project is funded by the European Union as part of the European Partnership for the Peaceful Settlement of the Conflict over Nagorno-Karabakh (EPNK).

The materials published on this page are solely the responsibility of the journalists and do not necessarily reflect the opinions or policies of International Alert or its donors. All our journalists adhere to a Code of Conduct, which can be found here.