Starting life again: Mission accomplished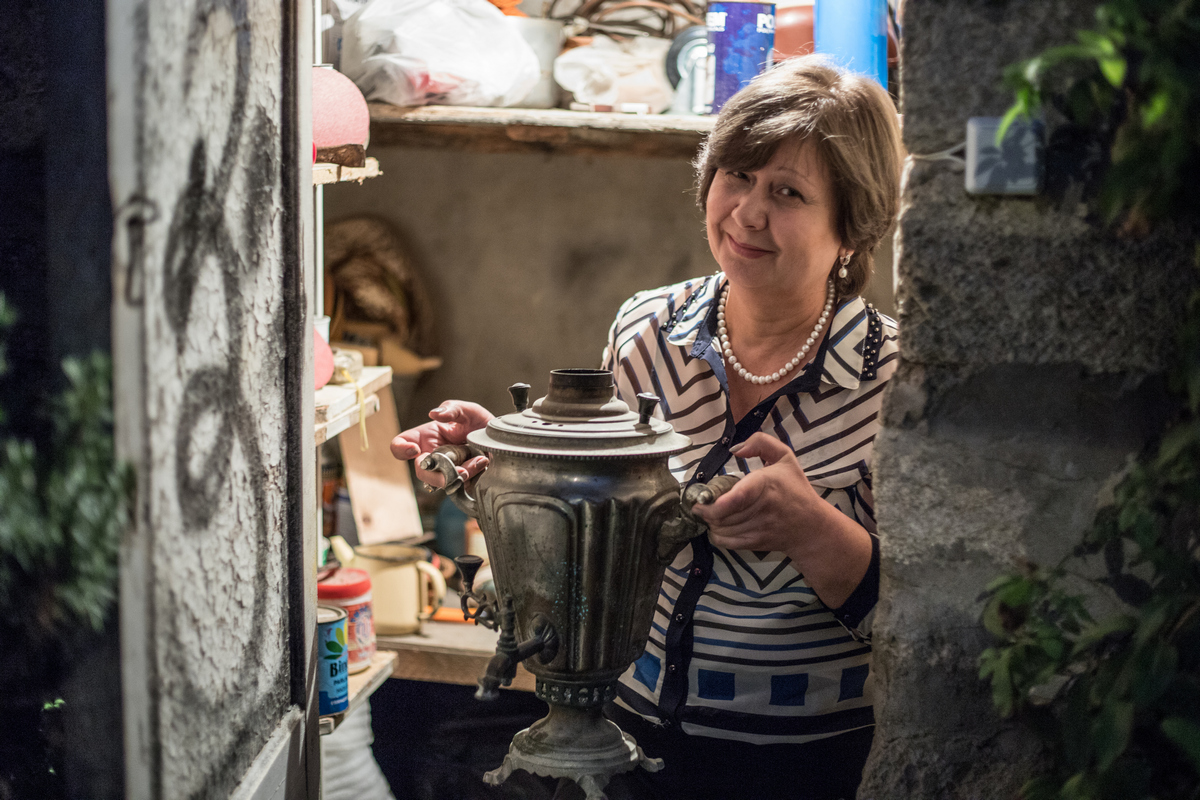 For hundreds of families the Karabakh war meant the end of life as it had been. However, some families managed to begin a new life. Karina Gurbanova's is one of them
"Welcome! And who are you?"
With these words Aunty Karina welcomed me into her hall. She's used to her home constantly being full of young people – friends of her sons, friends of friends of her sons and girlfriends of friends of friends of her sons.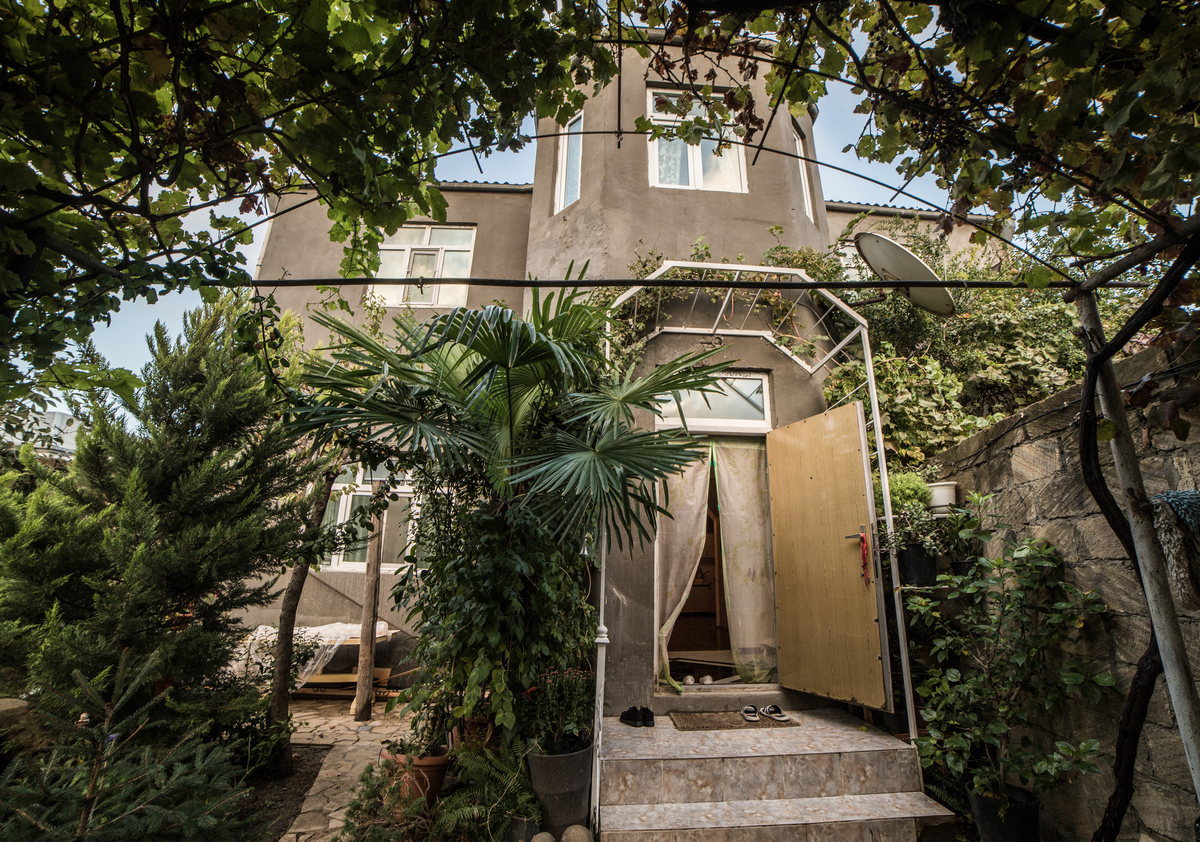 Karina Gurbanova looks after her garden, goes to modern art exhibitions and brings back souvenirs from her travels. A quarter of a century ago her family had to make a new life. Having fled from war-torn Karabakh, they made their way across the dam on the River Aras to Iran and from there they travelled to Baku.
Fizuli rayon – one of the seven Azerbaijani rayons or districts surrounding Nagorny Karabakh. Like Nagorny Karabakh itself, they came under Armenian control as a result of the 1991-1994 war. In Armenia and Nargorny Karabakh these rayons are seen as forming an essential 'security belt'.
---
• Darbnik: A new home for Armenian refugees
• The Women Who Had to Become Very Strong
---
The beginning of the war
"My husband loved his food. He'd be offended if you only served him one dish: 'Is that alllll there is…..?' But that didn't bother me at all. We loved each other, you see. Every day he came home with flowers, even if it was just one flower, he still brought it. We met by chance. He came to Horadiz on holiday and someone told him, 'There's a girl here who's much too big for her boots'."
For Aunty Karina, personally, the war began when her husband stopped coming home at night. Along with other officers from the internal security forces, he was ordered to go on patrol. One time the car he was driving lost a wheel and he arrived an hour late. When he got there, he discovered the whole patrol had been gunned down. Having turned up late to his own death once, he continued to succeed in evading it. Even when the war was over and the family moved to Baku, he continued to serve on the border right up until 1999 when he retired.
"We were so foolish", Aunty Karina keeps saying as she recounts the story of an outing to pick blaBefore the war the family lived in Horadiz in the Fizuli rayon or district, on the banks of the River Aras.
Aunty Karina was a school teacher and her husband worked for the police. Their three sons did all the usual childhood things, falling and scraping their knees as they ran around in the woods and hills. ckberries.
It was summertime, after the beginning of the war. She and two relatives and a clutch of small children went into the woods to pick blackberries. The wood bordered the edge of a ravine and they hadn't got very far when they began to hear shots from the direction of Hadrut.
"We thought, 'What if they don't see that we're just women and children?!'. We thought that if we came out of the woods they would see us and stop shooting."
But the shooting didn't stop and so they had to run back through the ravine under a hail of bullets.
It was difficult for people to understand that the rules of peacetime no longer applied and they had to live under the rules of war.
They also couldn't believe – right up to the very end – that they would lose Horadiz. They only believed it once tanks entered the village from both directions.
Horadiz was taken by Armenian troops in 1993. In early 1994 the Azerbaijani army regained control of the town. It is now a few kilometres away from the line of contact. Horadiz was granted city status in 2007.
Neighbours
I ask about the background to the conflict and receive the reply often heard from refugees: "We lived peacefully, no-one offended anyone".
"There were a lot of Armenians in Fizuli, but not many where we lived. But everyone knew them well, because they were highly skilled – they worked as tailors and hairdressers, for example. I had a good friend, Ofa Safaryan. She lives in Georgiyevsk in Russia now. Her father, Misha, was a hairdresser and everyone went to him to get their hair done, because he was so good."
Admit it!
The name 'Karina' actually came from her Mordvin grandmother, but in Azerbaijan it was always seen as being very Armenian and when the conflict began Aunty Karina had some unpleasant experiences.
"When we were still living in Karabakh, relatives of my husband – a couple of students – were living in our Baku flat. In the late 1980s, when the conflict started to hot up, one of the neighbours complained to the police, saying the owner of the flat was Armenian. The girls had to spend a long time explaining what was what. And once, when I arrived in Baku to see my relatives, the neighbours asked me outright: 'Admit it, your mother's Armenian, isn't she?' I started to argue that it wasn't the case, but then I regretted it. Why should I have to explain myself to them?!"
New home
Aunty Karina's family was more fortunate than most refugees, as they had a flat in Baku. Nevertheless, in 1993 there were 21 people living in it – the whole family, from the oldest to the youngest, from elderly grandparents to small children.
The second piece of 'luck' was that the family at least had one breadwinner, Aunty Karina's husband, who continued to work and receive his salary – the only one in the household. Apart from that they only received small benefits and pensions. For a long time this income supported 21 people in all, until one by one the various family members were able to make lives for themselves and move out.
"At first it was really hard. I managed to bring a few valuables from Horadiz and so, of course, I sold them. Even so, at times there was barely enough money for the children's school things and to buy shoes for them. But we tried to do whatever we could to give them an education. We sent our eldest son to swimming lessons. And for the middle son, the two grandfathers put their pensions together to buy a small violin and he went to a specialist music school. It was so hurtful when our sons were shunned and taunted as 'refugees' when they played out in the courtyard."
A few years later, once the family had moved out, they had to sell the flat to settle their debts. With the money they had left they bought a small, unfinished house in Sabunçu, a suburb of Baku, with a leaky roof and an outdoor toilet. They've now converted it into a two-storey house with a garden with vines, rosemary and lots of other things, as well as five cats and an artificial pond with turtles.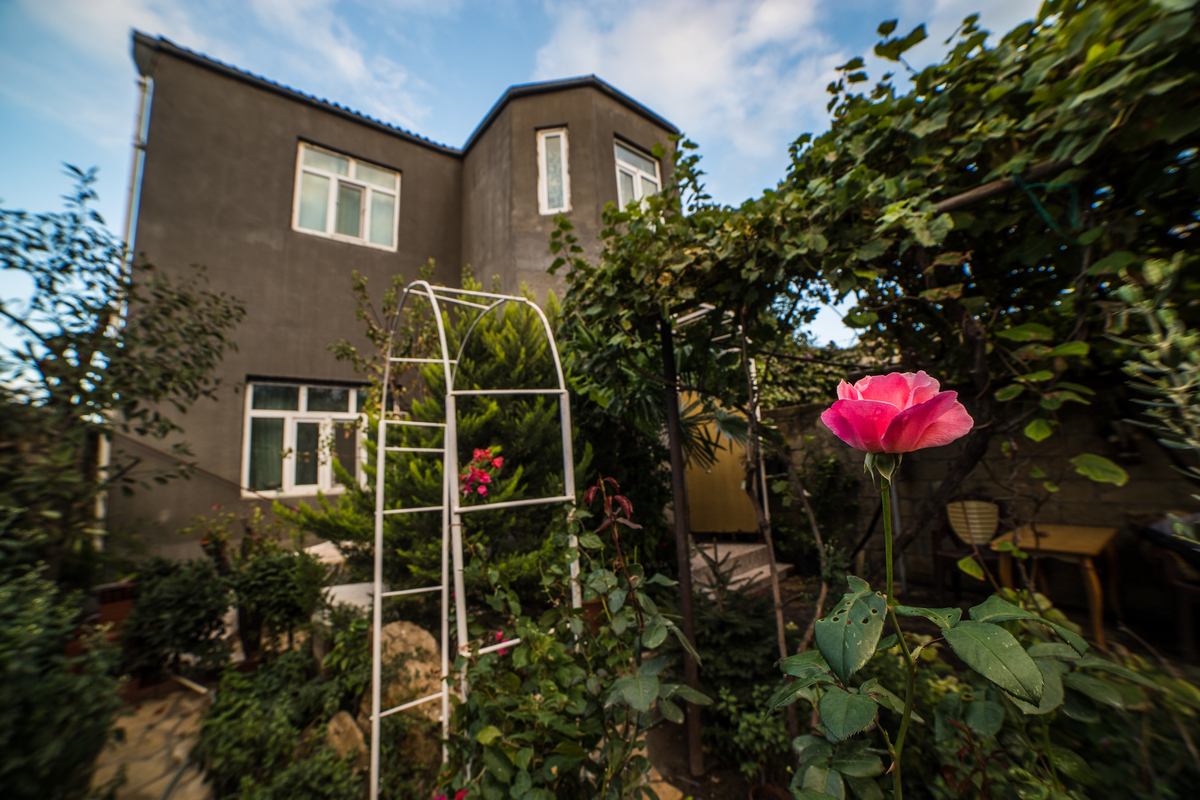 Aunty Karina's husband died a few years ago.
Their older son, Makhir, is a sailor, a first mate. So the swimming lessons weren't in vain.
The middle son, Takhir, the one they clubbed together to buy a violin for, became a composer and now lives in Vienna.
The youngest son, Muslim, is an architect. When the family left Horadiz he was just two years old.
"We had to move a lot, from one flat to another, which meant we couldn't really make friends. It was only later, when the boys had grown up and started studying and working and meeting people, that we started to feel part of the community in Baku.
It was quite easy to get involved in the creative scene because at home we'd been encouraged to value the more abstract qualities like music and beauty. Even when we were living in poverty. That was thanks to my mother."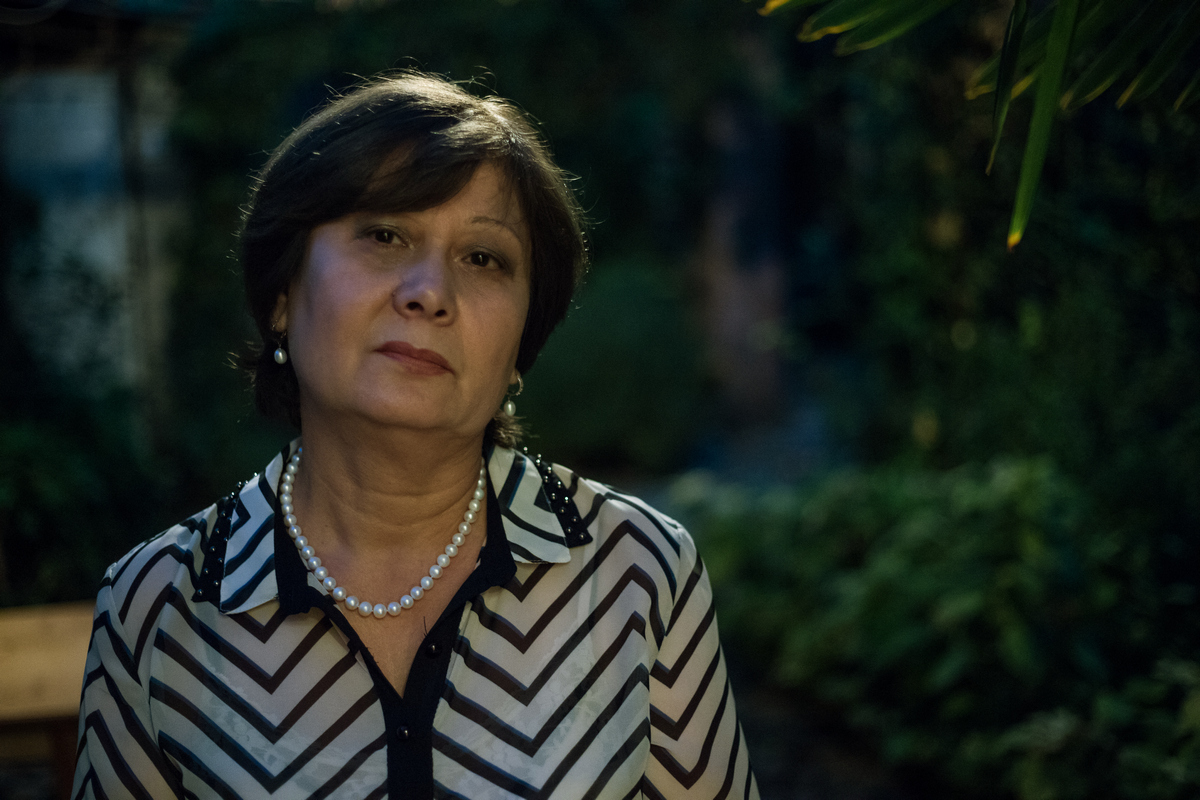 "The grandchildren of my contemporaries are all starting to get married but my sons haven't even married yet", laments Aunty Karina, and then continues: "But that's why I love talking with young people rather than people my own age. People my age are boring. They think once you've reached 60 it's time to sign up to being an old woman. But I only really started to enjoy life once I got to 60. The children were grown up and independent. Then it was high time to do things like go travelling."
Unheard Voices is part of International Alert's work on the Nagorno-Karabakh conflict. It is the result of work produced with journalists from societies affected by the conflict and their collaborative efforts to highlight its effects on the daily lives of people living in the conditions of 'no war, no peace'. The purpose is to ensure their voices are heard both at home, in their own societies and on the other side of the conflict divide, allowing readers to see the real faces hidden behind the images of 'the enemy'.
This project is funded by the European Union as part of the European Partnership for the Peaceful Settlement of the Conflict over Nagorno-Karabakh (EPNK).

The materials published on this page are solely the responsibility of the journalists and do not necessarily reflect the opinions or policies of International Alert or its donors. All our journalists adhere to a Code of Conduct, which can be found here.