Abkhaz FM expects "provocations from the US" and accuses local NGOs of "paving the way"
Abkhazia , "provocations from the US"
Foreign Minister of Abkhazia Inal Ardzinba told the Russian First Channel that he expected provocations from the United States and believed that local NGOs created opportunities for this. The words caused a negative reaction on Abkhaz social media, causing the press secretary of his ministry to say that Inal Ardzinba had been misunderstood.
"Do you want it to happen like it did in Ukraine?"
The West is interested in organizing local conflicts around Russia, and therefore Abkhazia is waiting for provocative actions from the United States, Inal Ardzinba said on Channel One.
"Now NGOs are at the stage of engaging in humanitarian activities – just as it was in Ukraine, when at first NGOs are being used to create a good image, to expand the network of contacts, to attract bloggers, journalists, public figures and politicians to work. Then the work moves on to radical actions," he added.
According to Ardzinba, the Abkhaz Foreign Ministry "is following this very carefully" in order to prevent "risks from becoming threats, and threats turning into war." By war he meant an escalation of the Georgian-Abkhaz conflict.
---
---
"Tired of intimidation by war"
Social networks took the speech of Inal Ardzinba very critically.
Telegram channel "D News Abkhazia":
"Remind me what they called those who traveled outside the country and snitched on their own citizens? It is also noteworthy that in the background of his speech, footage from the May 30 People's Rally in Sukhum and, in parallel, footage of anti-government demonstrations in Georgia were shown. Interesting analogy, isn't it?
Activist of the youth organization "Kh,ara Kh,-Pitsunda" Alexandra Bargandzhia:
"A disgusting aftertaste remains after each speech of the minister on Russian federal channels. Tired of constant intimidation by war, foreign agents, bugs, equating all citizens who disagree with your policy with spies. Nauseous. Employees of non-governmental organizations in Abkhazia have done and are doing more for its good than any ministry. I urge you to unanimously call for the resignation of the minister, the universe may heed us. Abkhazia and its citizens deserve more."
Co-director of the NGO Center for Humanitarian Programs, political scientist Liana Kvarchelia:
"Standing for the preservation of the independence of Abkhazia, for the rights and freedoms of citizens, for the preservation of the most important state assets is "pro-Westernism". Willingness to share sovereignty, curtail the rights and freedoms of citizens, sell off assets – this is "patriotism." Did I understand the Minister correctly?"
"It's not what you think!"

The scandal that broke out forced Inal Ardzinba to correct his words. He did this through the press secretary of the Foreign Ministry, Milan Tsvizhba, though:
"In the minister's speech, there was not a single word about our fellow citizens in the context of the discussion of the destructive activities of international non-governmental organizations in Abkhazia. It was and always is about foreign citizens who carry out their activities on the territory of the Republic of Abkhazia, are official employees and represent the interests of international non-governmental organizations."
However, given that this is not Inal Ardzinba's first attack on local NGOs, the Foreign Ministry's explanation was not very convincing.
Commentary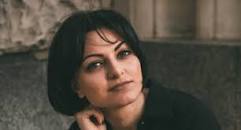 Journalist of the Abaza TV Eleonora Giloyan:
"A big part of my job is listening to people. I turn on the microphone, ask a question, and listen. I don't oppose, I don't interfere in any way.
But very often I listen and think: why do you think that we believe in this? Why do we look such idiots in your eyes? I never say this, of course. I am not allowed to behave this way being a journalist, and I don't want, too.
So, the logic of the officials looks like this: "Let's call an enemy of the nation everyone who doesn't agree with us. Nobody would see that we are just dealing with our own initiatives."
Nothing would prevent them from labelling 'enemies of the people' all NGO workers, then the opposition, then the MPs. And at some point we'll find ourselves facing a situation when everyone is accused of being the enemy of the people.
And then suddenly we'd see that that those who were accused to be enemies of the population – they are the population itself."
---
Toponyms, terminology, views and opinions expressed by the author are theirs alone and do not necessarily reflect the views and opinions of JAMnews or any employees thereof. JAMnews reserves the right to delete comments it considers to be offensive, inflammatory, threatening or otherwise unacceptable