A 'Peace' Under Daily Fire
The large-scale military action that took place in April 2016, 22 years after the ceasefire was reached in the Nagorny Karabakh conflict, forced many residents in the conflict zone to revise their ideas of peace.
Varditer
Twenty three years on, communities on both sides of the Nagorny Karabakh conflict divide have been forced to adapt to a 'peace' which sees the sides continuing to shoot at each other, and to suffer losses.
The locals who were directly caught up in the confrontation say they cannot now imagine how any other sort of peace could take root in the region. The war of April 2016 smashed their hopes of a truly peaceful future.
Forty-nine-year-old Varditer Khachatryan from the Nagorny Karabakh town of Askeran lost her husband and five-year-old son in the war.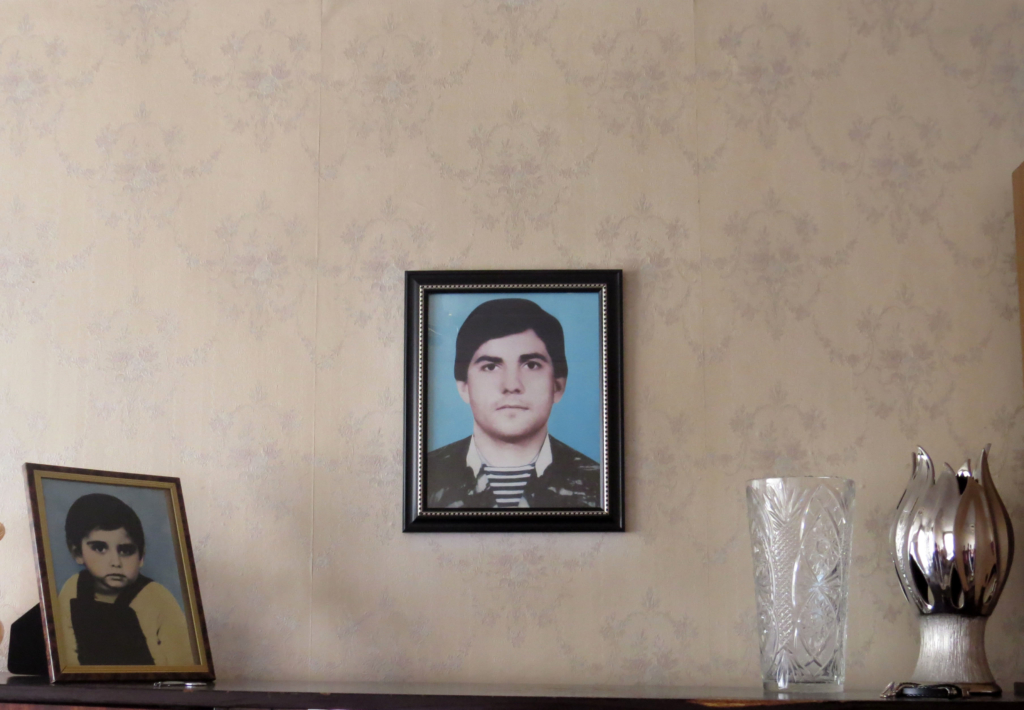 Varditer and her husband were only able to enjoy a few years together. The couple had two children – a girl and a boy. A trained chef, Varditer's young husband had worked as a projectionist. When war broke out, he became a sapper and worked on demining.
'It happened on 10 April 1994. My husband was disarming a mine in the area of Talyshlar when it exploded, killing him and his four colleagues. He was a sapper,' Varditer reminisces.
A month after Varditer's husband's death, a ceasefire was agreed in the conflict, which had broken out in the late 1980s.
But the young Varditer did not merely lose her husband.
'When Valery died, my daughter was five, and my son three. Who would have thought that fate had yet more suffering in store for me after I lost my husband?' Varditer muses.
Her eyes fill with tears as she looks at the photograph of her five-year-old son Vitaly on the shelf.
On 14 January 1996, Varditer recalls, he had been playing with a strange piece of metal. It was his birthday.
'Suddenly, the thing just exploded, and my Vitalik was killed on the spot. I didn't know what that thing was – probably some kind of explosive device left over from the war.'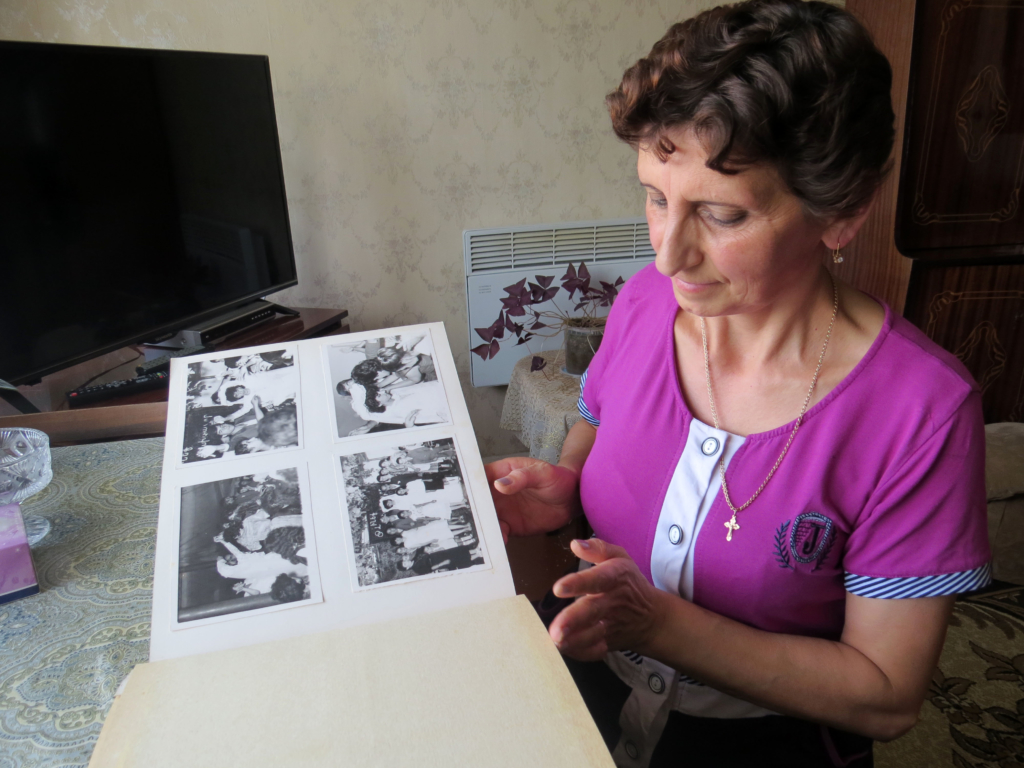 'I could never have imagined just how radically my life would change. We'd dreamed of a peaceful life as a happy family… It was hard to find the will to keep going, of course. But I had to carry on, for my daughter's sake.'
Nowadays, Varditer lives with Kristine, her 16-year-old daughter from her second marriage. Her elder daughter lives with her husband and children in a village near Askeran.
'I realize that if the war hadn't happened, I would probably never have been born, but I still think it would have been better if there hadn't been a war,' Kristine says. 'That way, my mother would have been happy, and would not have lost her husband.'
Kristine's father had left her and her mother when she was just a few months old.
Nowadays, Varditer works as a chef in a local school. Her monthly income, which includes her late husband's pension, is around 110,000 Drams, or $230.
'We manage somehow. We have a vegetable garden. My parents help us – they live in the country. That's how we live. A few months ago, the Red Cross gave us 200 chickens with chicken feed. They're still tiny and don't bring in any money, but I hope one day, they will,' Varditer explains.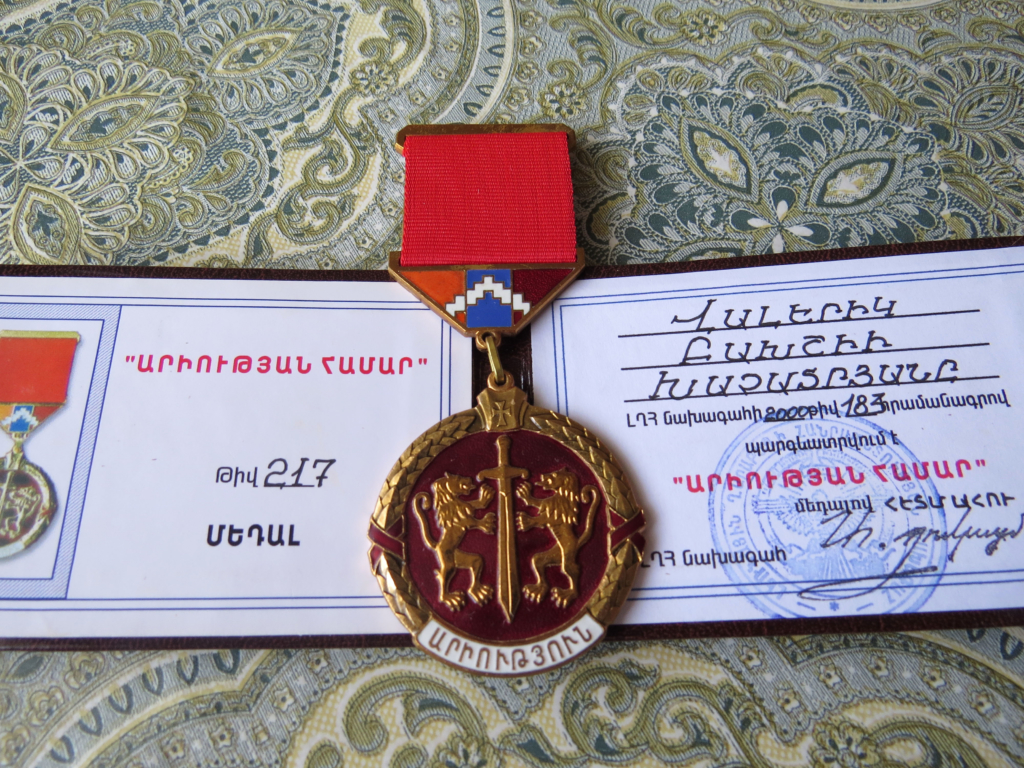 Both Varditer and her daughter feel that they could put up with almost anything, as long as there is peace. Just let there be no war, they keep repeating.
When I ask them what peace would look like, they reply: 'There should be no war, and no people dying.' After the events of April 2016, however, they admit that they feel far less hopeful.
'During that April war, I thought I had got caught up in a time machine. All that suffering returned once again. We… do not want war.'
During those four days, the people who live here realized that everything could flare up, once more.  
'Every day, we see drones in the sky and we hear the sound of gunfire. If a day passes without anyone being killed, we now consider this to be a peaceful day,' Varditer says.
Since the ceasefire of 1994, some 2,000 members of the Armenian army have been killed. This figure includes those killed in action, as well as those who lost their lives in other ways.
During the short war of 2016, which ran from 2 April to 5 April, the Armenians lost over 90 people, including both military and civilians.
Gagik
'Right now, unfortunately, this is the peace that we have. As long as there isn't any large-scale military action happening, we say that the situation is peaceful. An ideal peace between us is simply not possible,' feels 43-year-old Gagik Akopjanyan, whose life was turned completely upside down by the war.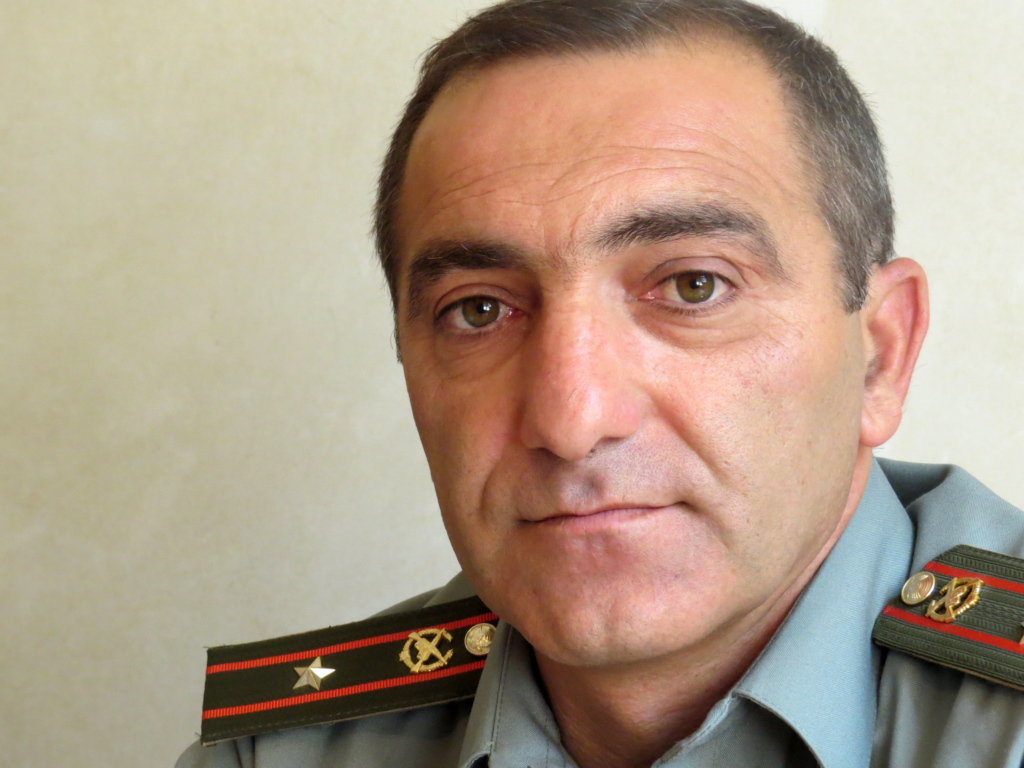 Gagik had dreamed of becoming a wrestler, but had not been able to realize his hopes: the war had got in the way.
After leaving school, he, like many of his peers, had had to go and fight. When Gagik returned, he decided to pursue a career in the army.
'I had done wrestling from a young age, and I'd hoped to go to the Institute of Physical Culture in Yerevan after I left school. I'd really wanted to achieve my goal, but I wasn't able to. Instead, I became a student at the Agronomy Faculty of Stepanakert University. We only studied for three of four months, though,' Gagik explains.
Aged 17, Gagik was forced to defend his native village of Gishi in the Martuninsky Region with other men from the village. After this, he took part in the war.
The war brought losses for him, too. Wounded in a mine explosion, he lost a leg, but this did not prevent Gagik from pursuing a military career. Today he is the Military Commissar of the Martuninsky Region.
His family still lives in his native village of Gishi. Gagik's wife teaches at the local school, his son David is in the army, and his daughter Lilith is at school.
Gagik finds it hard to imagine a peaceful future. If before the four-day war of April 2016, people had still entertained hope of it being possible, nowadays, he says, all such illusions have been shattered.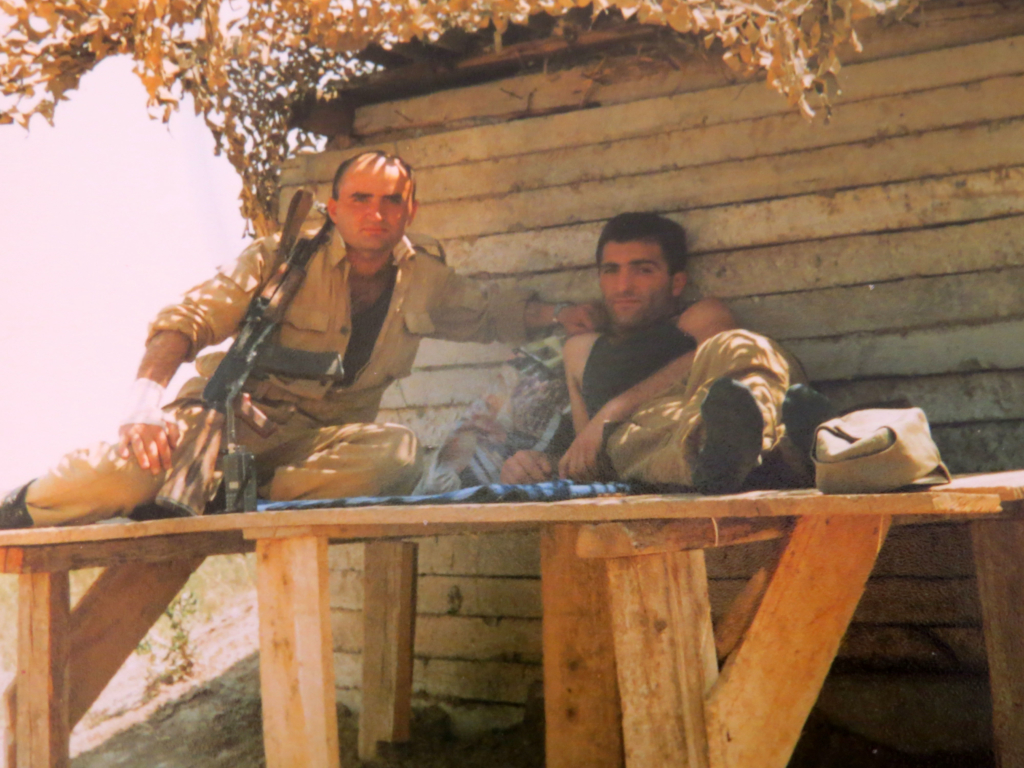 'For 20 years, we believed that the situation would gradually start to improve. After the April war, though, all hope was lost.'
If, before April 2016, their enemies had broken the ceasefire with machine guns, that April and ever since, other weapons had been used. All expectations of a peace deal were dashed.
'It all started with ordinary machine guns, but now, sadly, our enemies are using the Grad system more and more often. If they decide to use Grad today, this will no longer be something out of the ordinary. It will simply become the new norm.' 
According to the Press Service of the Nagorny Karabakh Ministry of Defence, in the period between 1 January 2014 and 31 October 2017, Azerbaijani forces broke the terms of the ceasefire along the line of contact between the Azerbaijani and Nagorny Karabakh militaries around 100,500 times. In the same time period, around 1,400,000 shots were fired. These figures do not include the statistics from the four-day war of April 2016.
The enemy first began to be more active back in 2015. In that year, Azerbaijani forces broke the ceasefire almost twice as often as in the previous year. It was in 2015 that, along with its other weapons, the Azerbaijani army began to use the D-30 howitzer. In 2016, it also started to employ the Grad system, Spike missiles and other arms.
As a man who has lived through the horrors of war, Gagik still finds all news of fresh losses hard to bear. During the war, he says, it had been clear that if one didn't shoot first, one would be shot, and that the enemy would then go after everyone and kill them.
'Today though, it's different: people are killing each other in a relatively peaceful time, not in the midst of war,' he says.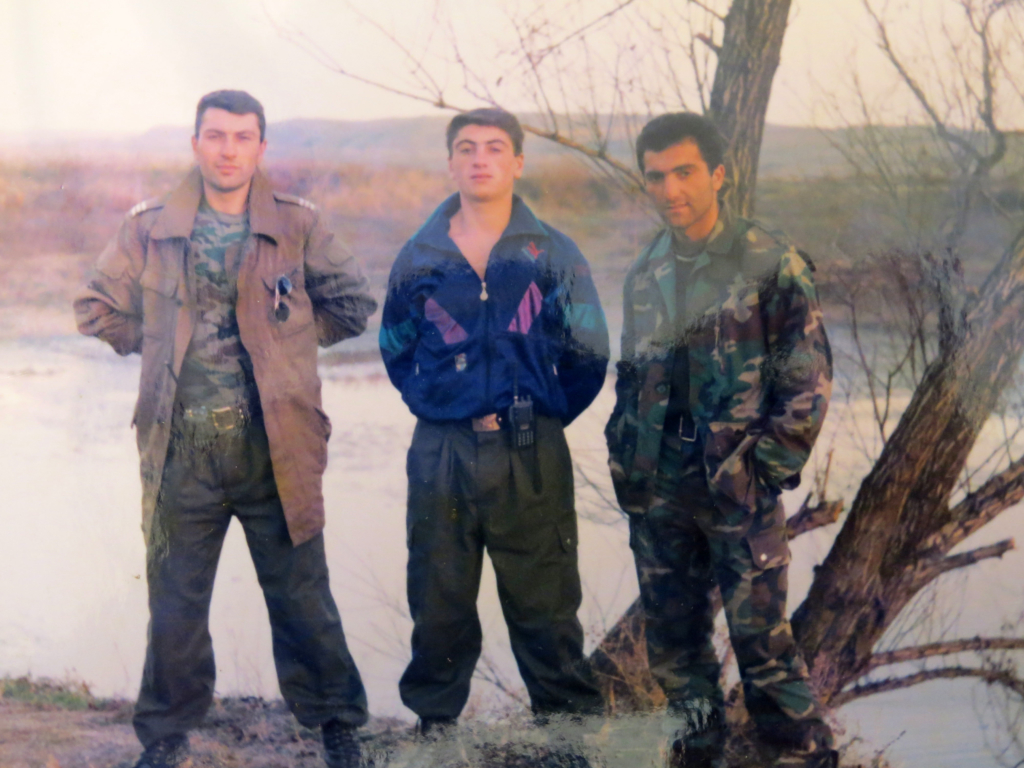 Gagik looks back at the times he was forced to shoot at his enemies. One such incident, he says, was especially difficult, because he had had to fire at close range.
'Whenever I think of that time, I instantly try to forget,' he says. 'I know that I could not really have acted differently, but still…'
'Back then, it was our generation that was under threat. Today, it is our children. The danger is constantly there, hanging in the air…'
Gagik says he tries to live an ordinary life, with his work, his home, and his everyday chores.
'My family do realize that I am a member of the military, of course, but I try not to bring my army ways into the home,' Gagik says.
Today, he has just one big dream: peace. Everyone wants to build a home and make something of their life, but the unresolved conflict is a big obstacle. The danger is high, as is the likelihood of a new war, Gagik feels.
Unheard Voices is part of International Alert's work on the Nagorny Karabakh conflict. It is the result of work produced with journalists from societies affected by the conflict and their collaborative efforts to highlight its effects on the daily lives of people living in the conditions of 'no war, no peace'. The purpose is to ensure their voices are heard both at home, in their own societies and on the other side of the conflict divide, allowing readers to see the real faces hidden behind the images of 'the enemy'.
This project is funded by the European Union as part of the European Partnership for the Peaceful Settlement of the Conflict over Nagorno-Karabakh (EPNK).

The materials published on this page are solely the responsibility of the journalists and do not necessarily reflect the opinions or policies of International Alert or its donors. All our journalists adhere to a Code of Conduct, which can be found here.