The Women Who Had to Become Very Strong
One of the scars inflicted by the conflict in Nagorny Karabakh is that it left tens of thousands of families in Armenia and Azerbaijan without a provider. The fallen soldiers are honoured as heroes, yet this does not necessarily make the lives of their widows and children very much easier.
The stories of our three heroines are very similar. They have similar thoughts – and similar dreams, for which they have had to fight.
All of them have a hatred for the war that took away their most precious people. Each of these women became a widow in her twenties. All of them still love their husbands. And, if they were given a chance to live life over again, not one would choose to marry a different man.
Khoshgedem Aleskerova
'Tomorrow is our son's engagement party. Here – take this money. You will need it.'
'Come in, please, I beg you! Don't just stand in the doorway! Don't go!'
'I can't come in. I'm so sorry. They won't let me. I have to go.'
In her dreams, her husband is just as young, strong and vigorous as he was, the day he went off to fight, exactly 24 years ago.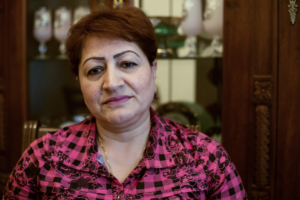 In 1985, seventeen-year-old Khoshgedem moved from her native Armenia to Baku to go to college.
One day, she was paying her neighbour a visit when the neighbour's brother walked in. Razi Balayev was twenty two years old. From that day onwards, he began to court Khoshgedem, and finally won her affection.
After a year, they married.
'What for other people is simply everyday married life, for us was incredible happiness,' Khoshgedem recalls. 'We loved each other so much. We spent eight happy years together.'
Before long, they had a daughter, and named her Aysel.
'Razi was the happiest father in the world. And when our daughter was three years old, her brother Namik was born.'
Around that time, the conflict in Nagorny Karabakh erupted into all-out war. Khoshgedem implored Razi not to leave them, but all in vain.
'There was no convincing Razi, he had made his mind up long ago. "I cannot stand by when my homeland is under threat," he insisted. At the beginning of 1994, he volunteered to fight. For a few months, he was able to return home occasionally between battles. At the end of 1994, he came home for the last time. When he left, he took with him a photograph of his daughter. It was as if he had returned specially, to get it. He took it and left. And never came back.'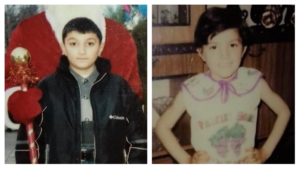 Soon after that, a telegram arrived, announcing Razi's death. His family could not even bury his body. In 1996, they were simply issued a death certificate.
After Razi's death, Khoshgedem was left alone, with two young children to look after. Her life was not easy.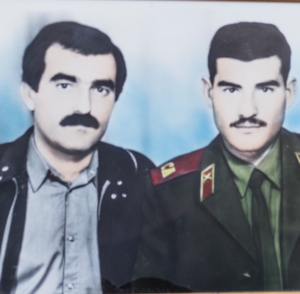 'Raising my children, I saw much hardship. There were men who wanted to marry me, but to each of them I would say, that's impossible.
Razi was a very brave man. He lived for us, for his family, trying to give us all he possibly could. Had he not been killed, I might even have had servants by now. I simply couldn't start all over again with a second family. Not once have I felt regret at marrying him. If I could live my life all over again, even knowing that he will leave me one day, I would choose to marry him again. Because I still love him so much.'
Gonchagul Gurbanova
'Our daughter is 25 now, and our son 26. They have never been to visit their father's grave, and neither have I. I keep thinking that it is not really him that lies buried there. For an entire year after he was killed, I dreamed of him every night, and every night he would tell me, "That's not me. That's not me."
Gyzyetar Gadzhiyeva
'I named my youngest grandson after Rafik. This was a real inspiration for me – it felt as if I were doing something for him.
I often dream of him. Whenever I am struggling, he always comes to me in my dreams and says, "Don't worry, everything will work out."
Unheard Voices is part of International Alert's work on the Nagorno-Karabakh conflict. It is the result of work produced with journalists from societies affected by the conflict and their collaborative efforts to highlight its effects on the daily lives of people living in the conditions of 'no war, no peace'. The purpose is to ensure their voices are heard both at home, in their own societies and on the other side of the conflict divide, allowing readers to see the real faces hidden behind the images of 'the enemy'.
This project is funded by the European Union as part of the European Partnership for the Peaceful Settlement of the Conflict over Nagorno-Karabakh (EPNK).

The materials published on this page are solely the responsibility of the journalists and do not necessarily reflect the opinions or policies of International Alert or its donors. All our journalists adhere to a Code of Conduct, which can be found here.