The secret of wines from Armenian producers
Armenian wines and producers
'Handwritten' wines from a female winemaker
Her products are known for their unique flavour, aroma and taste. Zaruhi Muradyan, 39, says winemaking is not a business for her, but rather an art that gives her "professional joy." She is confident that with women's hands and new ideas, wine can become a drink impossible to resist:
"Today, many wineries produce quality wines, but they all seem to be made in one way. You can try Areni [a popular Armenian table red vintage wine from Areni grapes – JAMnews] from ten different producers and discover that they are not original. I have my own style; my wines are distinguished by unique flavours – fruity, berry, and, ultimately, their producer is a woman."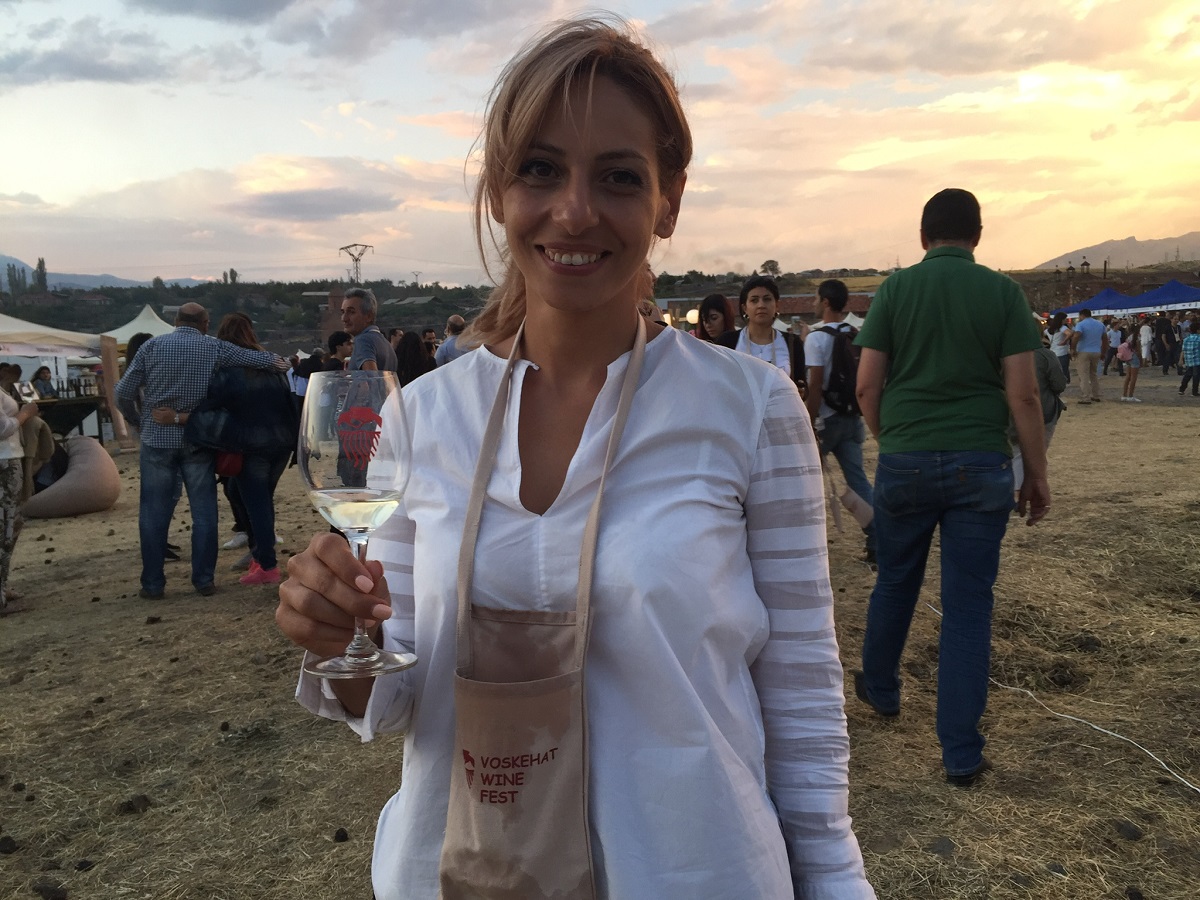 Zaruhi is the only woman winemaker in Armenia who has her own production. She is also the Executive Director of the Fund of Viticulture and Winemaking of Armenia and the Head of the Wine Academy.
---
• Women-only factory tackles unemployment in vulnerable Armenian families
• Order up: Armenian cafe serving opportunity for the disabled
• Indians in Armenia – why they're coming and what they're doing here
---
From the very beginning of her work, she was especially interested in grape varieties that were on the verge of extinction and were not used to produce high-quality wines.
"There is such a tendency in Armenia – if they know that this grape variety is good and has already gained recognition, such as Areni, Voskeat, Akhtanak, then everyone starts to grow it. There are grape varieties that are used only in blends, that is, to improve the colour, aroma and other qualities of the wine. However, they have never been studied or used as components of high-quality wine. My goal was to work with these uncommon grape varieties and get good wine," says Zaruhi Muradyan.
Today, she produces five thousand bottles of wine annually, purchasing three to four thousand tonnes of grapes. She talks about the problems with the process that she tries to solve together with other manufacturers:
"We needed to develop a culture of wine consumption in the country, wine tourism, and improve education, while developing the production of high-quality wines. Armenia was previously not known for the production of high quality wines. With a long history of winemaking, excellent natural and climatic conditions for growing excellent grapes, we did not have quality wines. In recent years, that has changed."
Path to popularity
The Fund for Viticulture and Winemaking of Armenia periodically organises some events so that more people in the world learn about Armenian wines.
"We invite world experts in the field, reporters of reputable media, bloggers, and buyers to Armenia. We organize tours for them in areas where grapes are grown, and where we have wineries, cultural and historical places.
They publish articles in famous magazines, referring to Armenia as a wine-making country. Then experts and importers from these countries turn to us. This year we conducted a study: 10 percent of tourists visiting Armenia came to see wineries – factories, cultural and historical places, "says the head of the Fund.
Over the past two years, Armenian manufacturers have brought home 45 gold and silver medals from international wine making competitions.
An expert on food quality, David Pipoyan considers the last five years as an "era of revival" for Armenian wines:
"Our wines delight the most demanding wine connoisseurs from around the world – this is a great achievement. So many gold and silver medals at so many competitions in the world? Everyone is surprised that Armenia, being a small country, has entered the world market with such wines that even win over Italian and French wine. I would be happy if we had the same successes in all sectors of the food and drink industry in the country."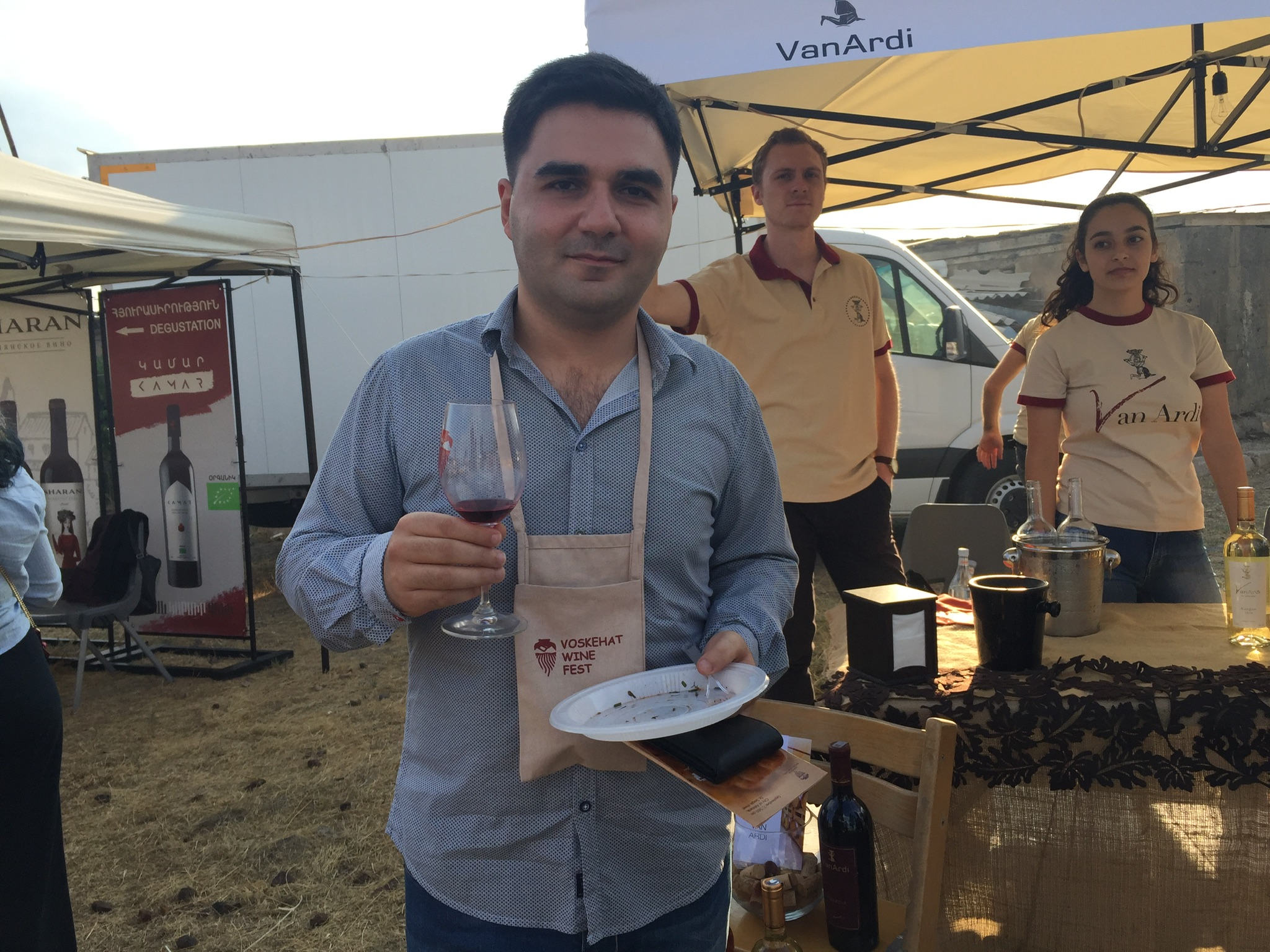 Pipoyan believes that Armenia should position itself as a country of wine making, and not cognac production:
"Cognac is a French brand. Sooner or later, we must abandon this name. It would be much better if we promoted our Areni, our Armenian grape varieties. We can really make a name for ourselves this way."
Now 80 percent of the grape harvest goes to brandy production, and 15 percent – to wine production. The remaining five percent represent table varieties and those from which raisins are made.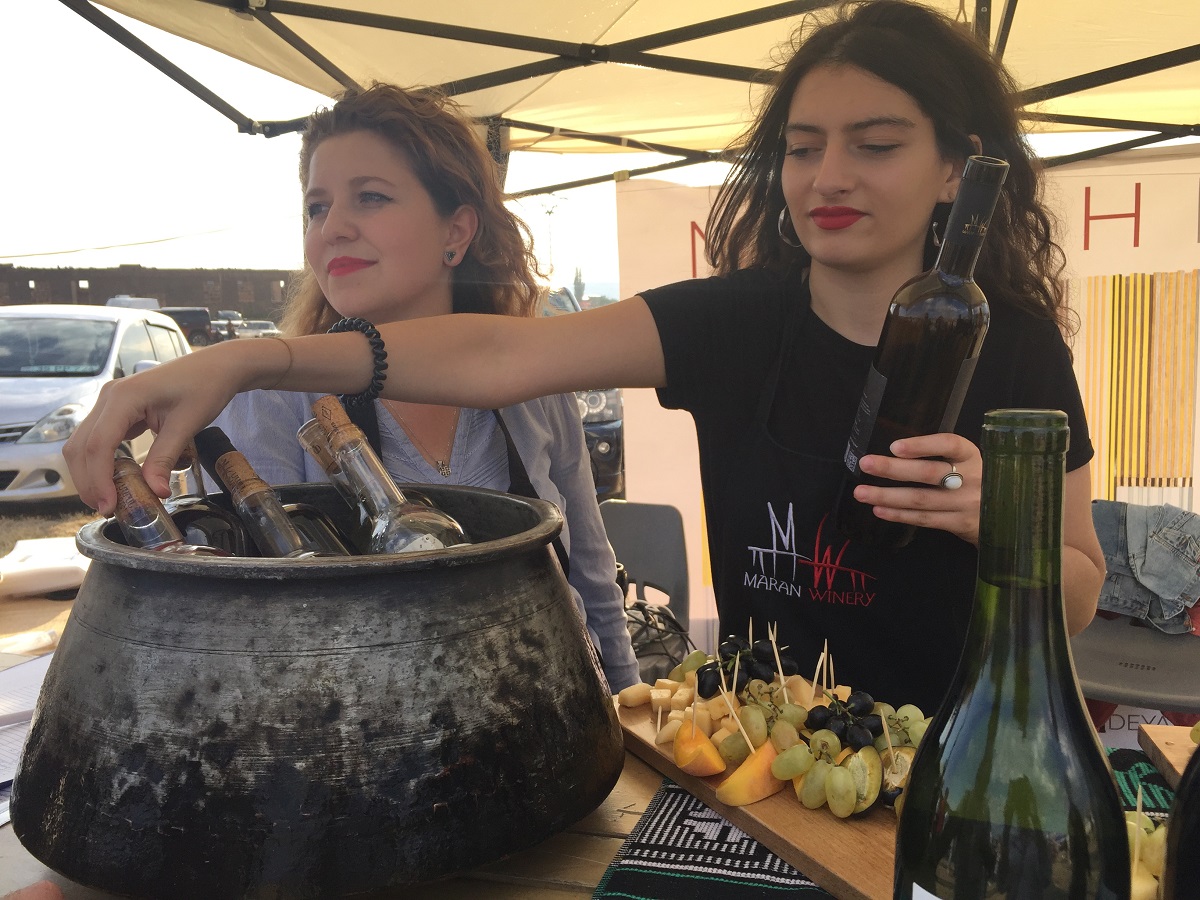 However, Zaruhi Muradyan says that the percentage is growing, investments are increasing and new vineyards for wine production are appearing. Each year, four to five new companies join the ranks of wine producers:
"An interesting and satisfactory fact is that there are companies focusing on organic winemaking. Over the past two years, 100 hectares of organic vineyards have been planted. Investors are mainly from abroad, brought to Armenia by respected international experts who come, get acquainted with Armenian varieties, climatic conditions, and then focus on organic winemaking."
The head of the winemaking fund explains that exports also contribute to the popularity of Armenian wines:
"As a business card, we present our endemic grape varieties, focusing on wines made from local grape varieties, which is of interest to importing countries. Our new fruit wines are also of great interest."
Prime Minister Nikol Pashinyan recently wrote about the volume of fruit wine production on his Facebook page:
"During the first seven months of this year, the export of fruit wines from Armenia increased by 41 percent: fruit wines were exported at $6.3 million. To be honest, in the past I was unsure of this product. But this year, at the wine festival on Saryan Street [the festival was held for the third year in a row on one of the central streets of Yerevan – JAMnews], I found that Armenian winemakers have managed to improve their production, particularly of pomegranate wine. And this product has every possibility to become a new Armenian brand."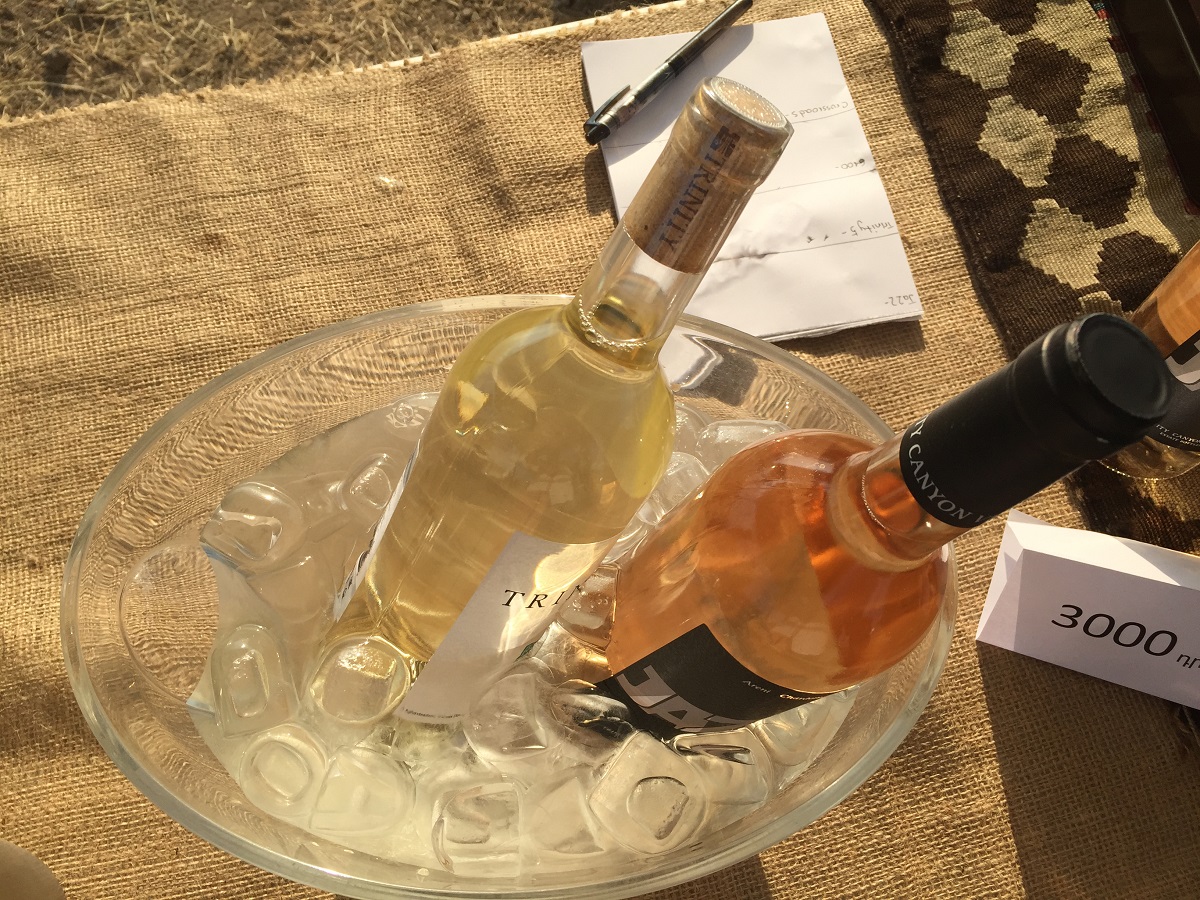 Zaruhi Muradyan says that Armenia's exports of wines are growing:
"Russia is in the first place, where the export of fruit wines increased by 50 percent this year. In second place is China, followed by the USA, Sweden, Switzerland, Lithuania, France, the Netherlands, Korea, Kuwait, Canada …"
According to the State Statistics Committee, from January to June 2019, 5,744 thousand litres of wine were produced in Armenia. Compared to 2018, wine production increased by 42.8 percent.
Wine festivals
Festivals are often organised in Armenia, both in the capital and in the regions, which contribute to the spread of wine culture, the popularisation of Armenian wine, and the development of wine tourism. The organisers believe that Armenia's six-thousand year history of winemaking can become an attraction for visitors to the country.
Initially, 'wine days and festivals attracted several hundred visitors, but now thousands of people participate in them, many of whom are tourists.
"Our sales are growing, including abroad. People have become interested in wine – and there are more and more winemakers. Competition is growing, and basically it's good, because the quality of wine is getting better, "says Henrik Poghosyan, head of marketing for one of the local wine companies.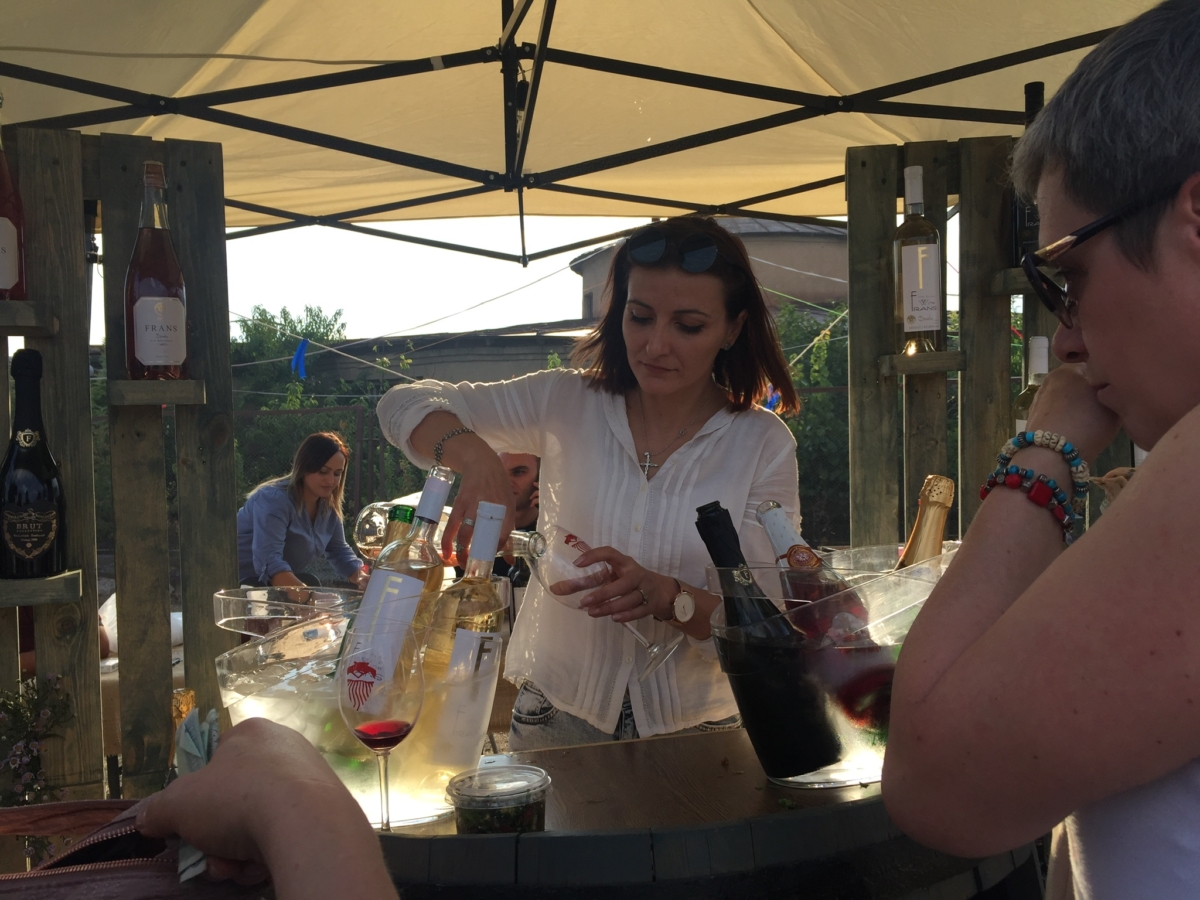 As for the domestic market, in 2016 per capita consumption of wine was 1.4 litres, and today it is 2.6 litres.
"This, of course, is not enough compared with such wine producers as France, Italy and Chile. However, the figures show that in a short time, domestic consumption in Armenia doubled, which is facilitated by the spread of wine culture. Overall, 40 percent of production is exported and 60 percent is consumed domestically," according to Muradyan.
Vineyards
The fame of Armenian wines has also spread with the so-called "vineyards" and "gastro yards" that have opened in recent years in different regions of Armenia.
A winemaker with 30 years of experience, Artsrun Mnatsakanyan lives in the village of Byurakan. He converted his house into a vineyard. This was made possible with the support of the UN Development Program under its programme "Development of Integrated Rural Tourism," which is being implemented jointly with the Ministry of Territorial Administration and Development.
"I make wine at home. Every year I get a tonne or more of wine. I grow grapes myself, and I have about five thousand metres of land. If necessary, I buy some grape varieties, because I have only one variety, and I make ten varieties of wine and fruit vodka. I don't see any reason to compete with large companies, because home winemaking is one thing, and large production is a completely different matter," he explained.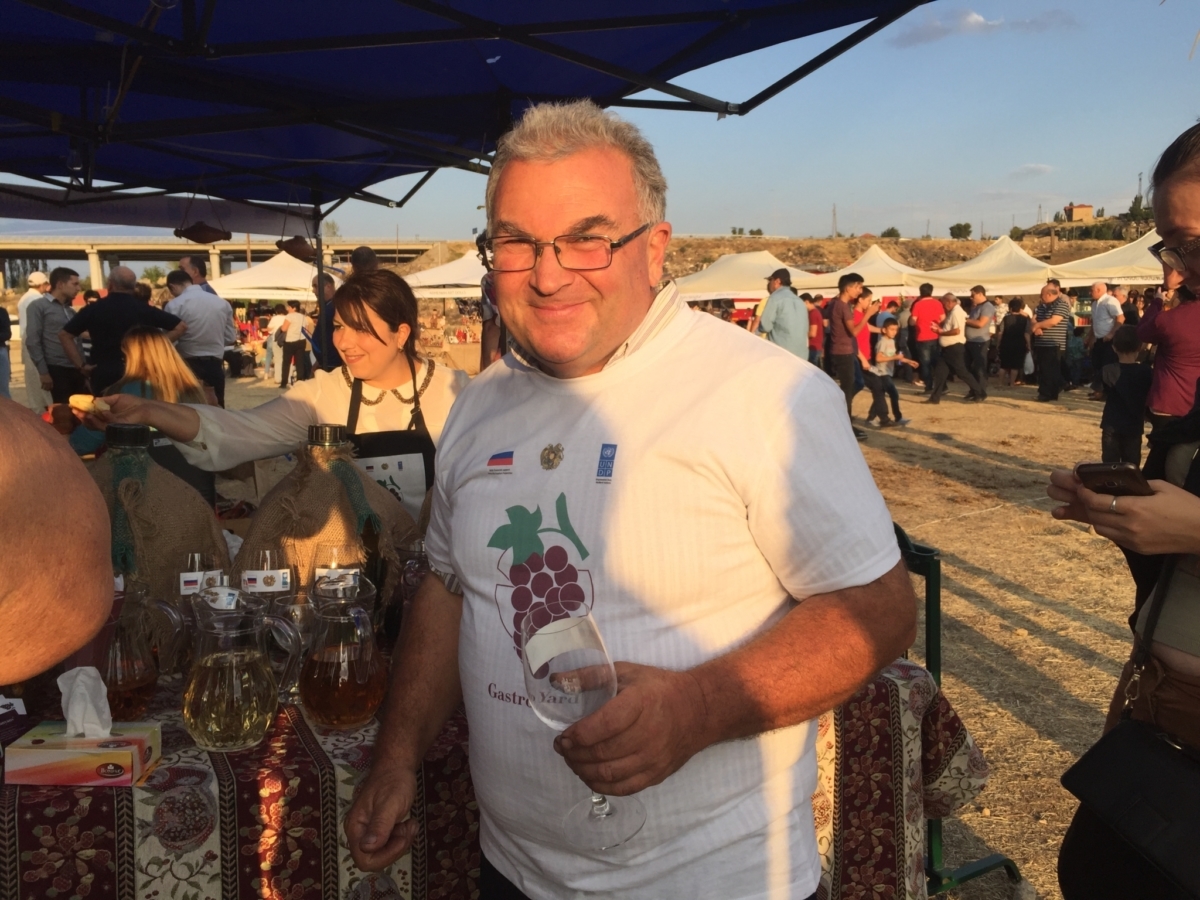 He says that as a part of the programme he was given the necessary equipment for winemaking and the opportunity to gain special knowledge in the field of winemaking. As a result, he produces better wines.
Zaruhi Muradyan says that wine and gastro yards are extremely attractive for tourists:
"They sample wine, get to know the kitchen, stay overnight. They are interested in how these people started their businesses. The UN programme selects those manufacturers who have the opportunity to provide tourists with all services, including overnight stays. We ultimately benefit from this and see the results."