Work for people with disabilities – photo report from a cafe in Armenia
In Gyumri, the second largest city of Armenia, not far from the central square, a cafe called "Aregak" ("The Sun") appeared a little over a year ago. Literally 'sun' in Armenian, Aregak employs people with a number of disabilities such as Down syndrome, autism and motor and hearing problems.
They prepare a variety of breads, rolls, croissants, sandwiches and different types of coffee, which they serve to customers.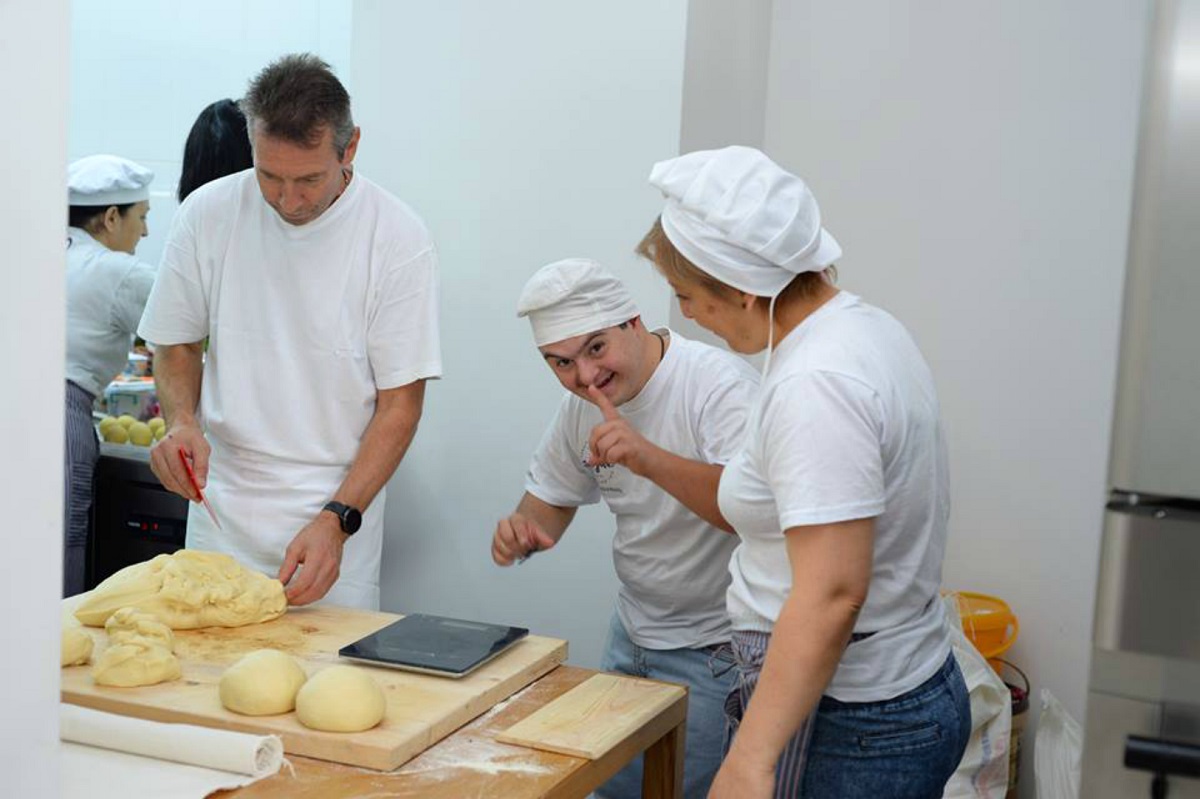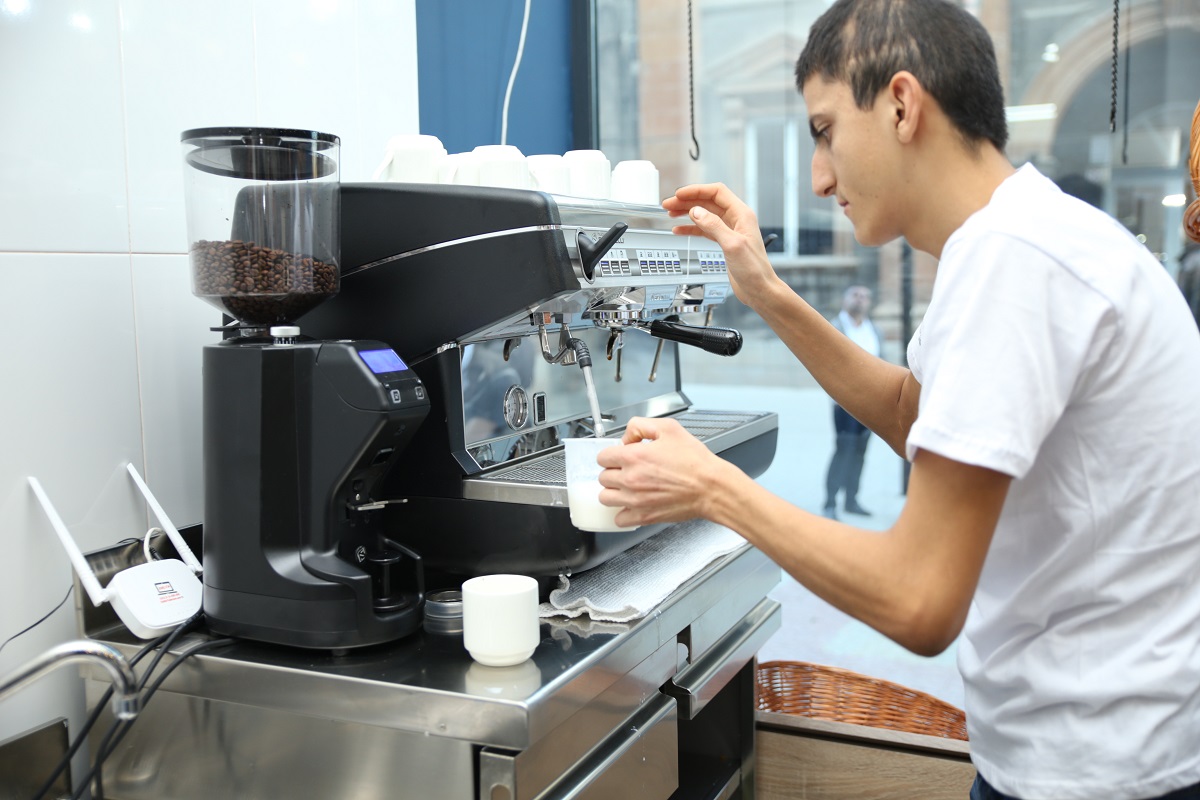 They work together with four mothers who also have children with disabilities.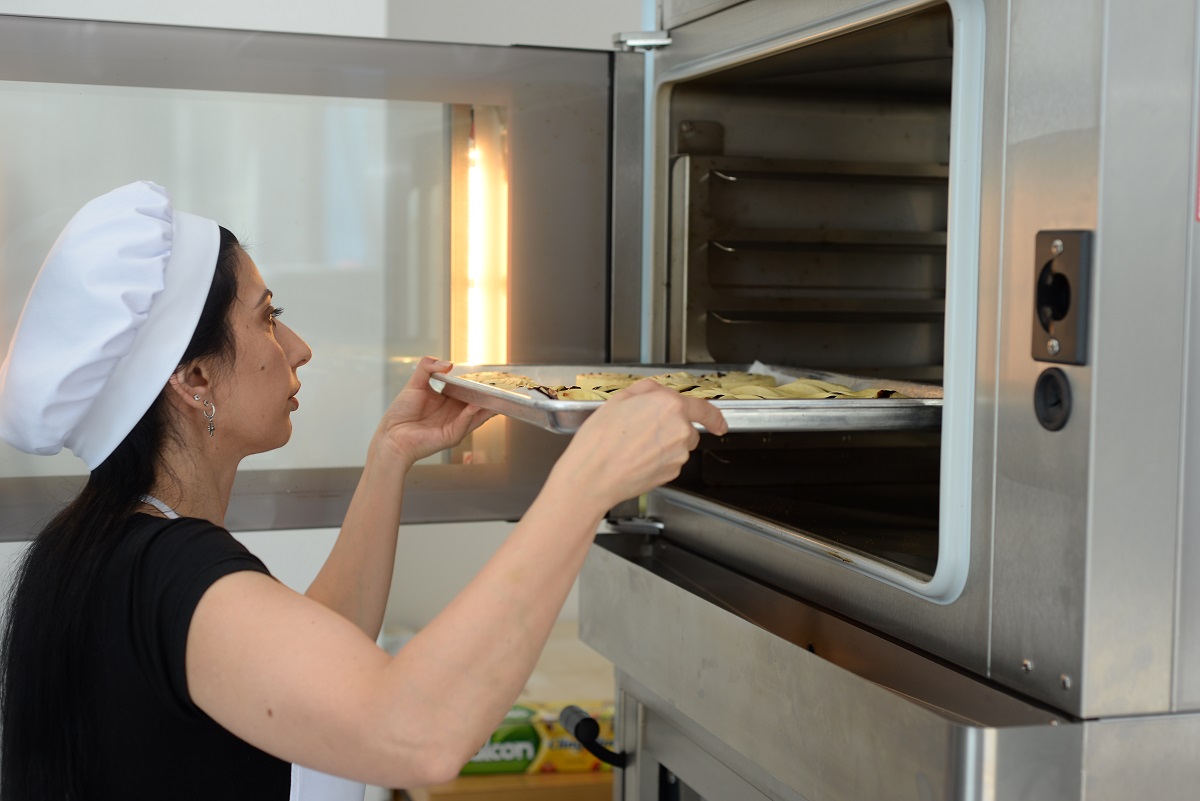 ---
• Women-only factory tackles unemployment in vulnerable Armenian families
• Entrepreneurial Dutch couple stimulates tourism in rural Armenia
• Separating business from state: a look at Armenia's economy during Pashinyan's first 100 days
---
Many in Armenia know of Aregak, as its doors are open to all – everyday citizens, celebrities, ambassadors from different countries and others. Some come here just to see if the cafe actually exists, while others come to help. Some even visit after hearing about the cafe's menu.
Cafe staff on themselves and their friends
Mikael has Down syndrome. He is an assistant baker, and boasts that he has become a star at the cafe and that everyone wants to take a picture with him. He says they'll soon start asking for autographs.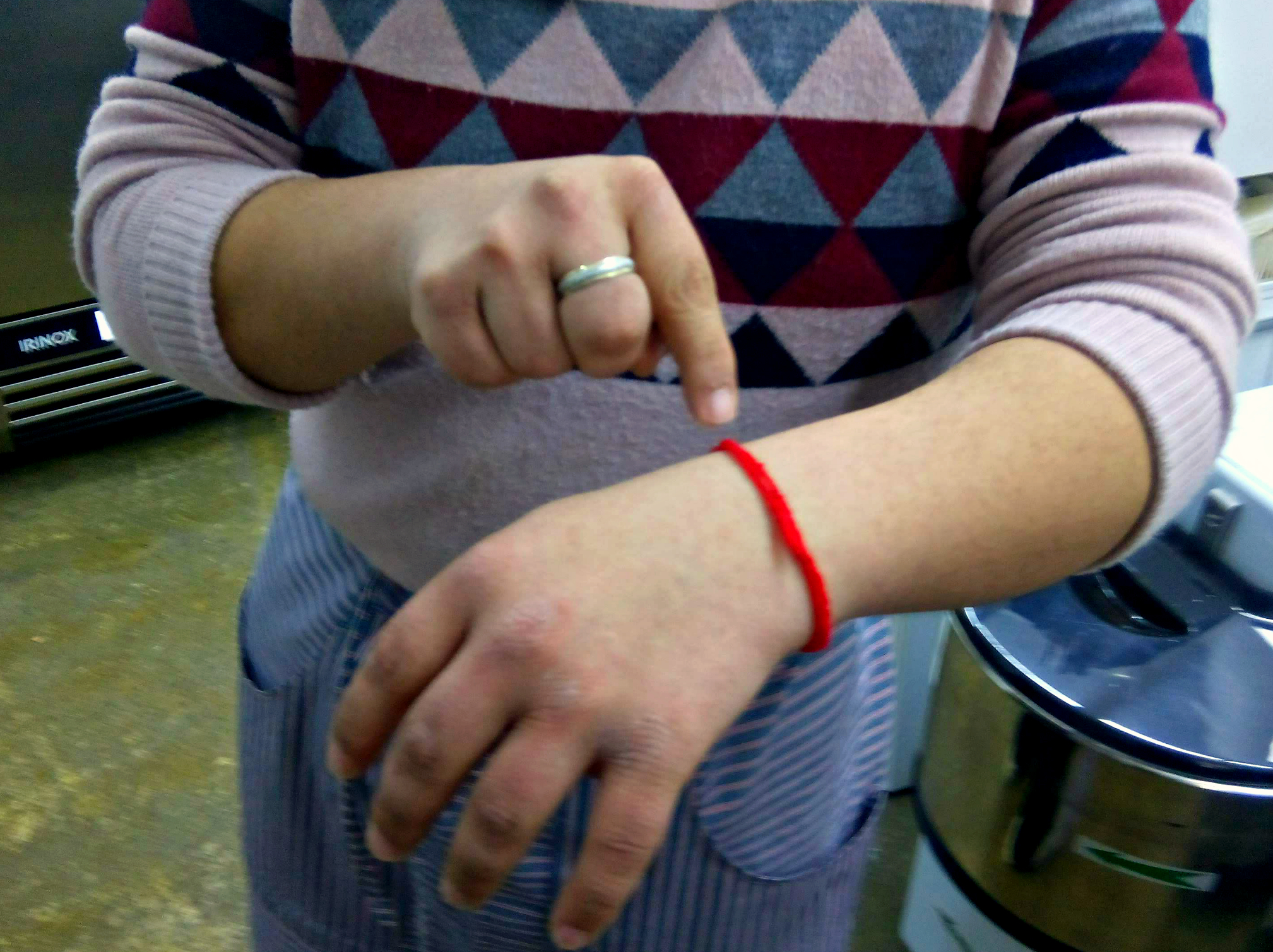 He is 22 years old. He had dreamed of going to work for a long time. He tied a red thread around his wrist so that the dream would come true. Since the thread seems to have worked, he has tied another one. Now he wants to start a family:
"When I have a family, I will bring my child here. I will be congratulated on the birth of my baby, for becoming a father. And then, when the child grows up, I will teach him to bake bread."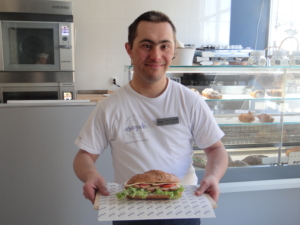 Assistant bartender Hovhannes also has Down syndrome. People at the cafe say he is almost always smiling and good-natured, but every month when he has to sign his payslip, he finds himself in a different state:
"Every time, tears come to my eyes. When I signed it for the first time, I fell to my knees and began to sob. And then we celebrated my birthday here, and I blew out the candles," says Hovhannes, hugging his best friend and bartender Razmik.
"People with disabilities are very touching and vulnerable. When working with them, you can't help but smile, and you can't be angry with them during work either. It is impossible to get angry with them in general, because they cause only positive emotions," Razmik says, and hugs Hovhannes even more tightly.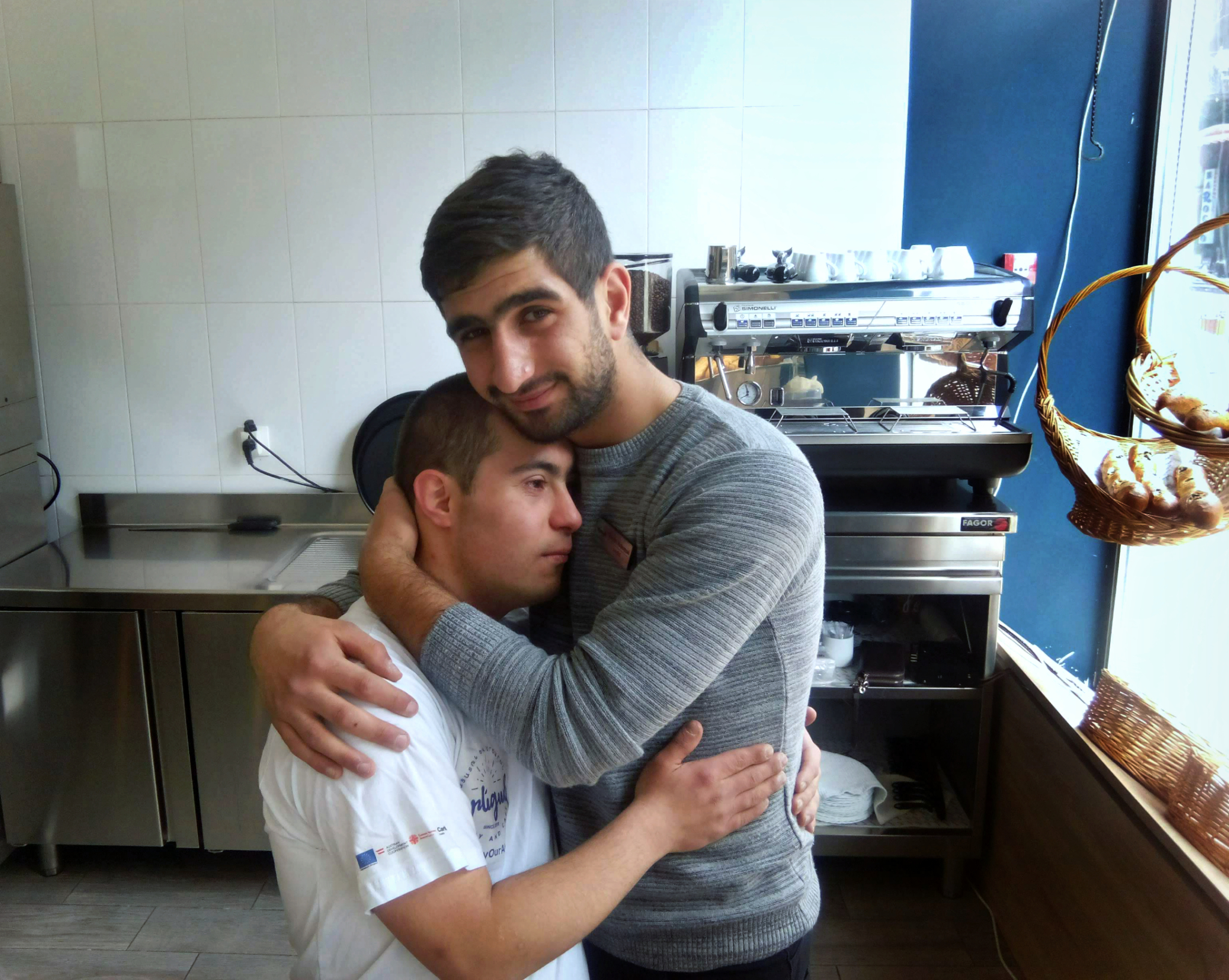 "My child has had a disability for 18 years. And when I thought about coming to work here, I wondered how hard it would be. But at home you deal only with your child, and here there are several of them. And you need to work with them. It is very difficult, but at the same time it is great because I understand just what sort of achievement this is," says Anahit, wrapping a croissant.
Anush is responsible for the cleanliness of the bakery, and shares her observations:
"Some of the visitors think that others work for people with disabilities here. But then, when they are already here and they see that we ourselves are doing everything, they are very surprised."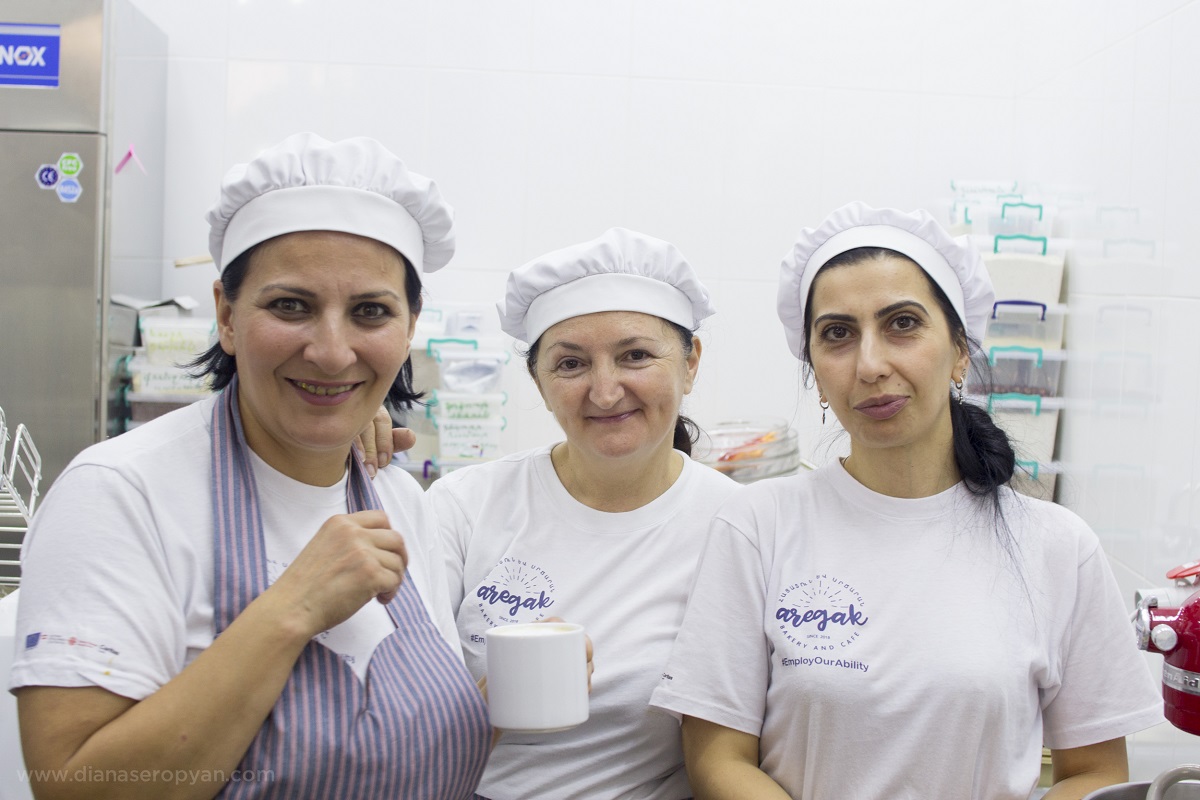 How Aregak came to be
This is the second Aregak in Gyumri.
First Emili Aregak (Emil's sun) was opened in 2008. It is a resource centre which supports people with disabilities. It was founded through the support of the Armenian Caritas and Caritas Austria organizations.
These days, about 70 children with disabilities attend the centre. The youngest is just two years old and the oldest is 18.
The centre helps them to develop their physical and mental abilities. They receive physiotherapy as well as speech, music, psychological and art therapy.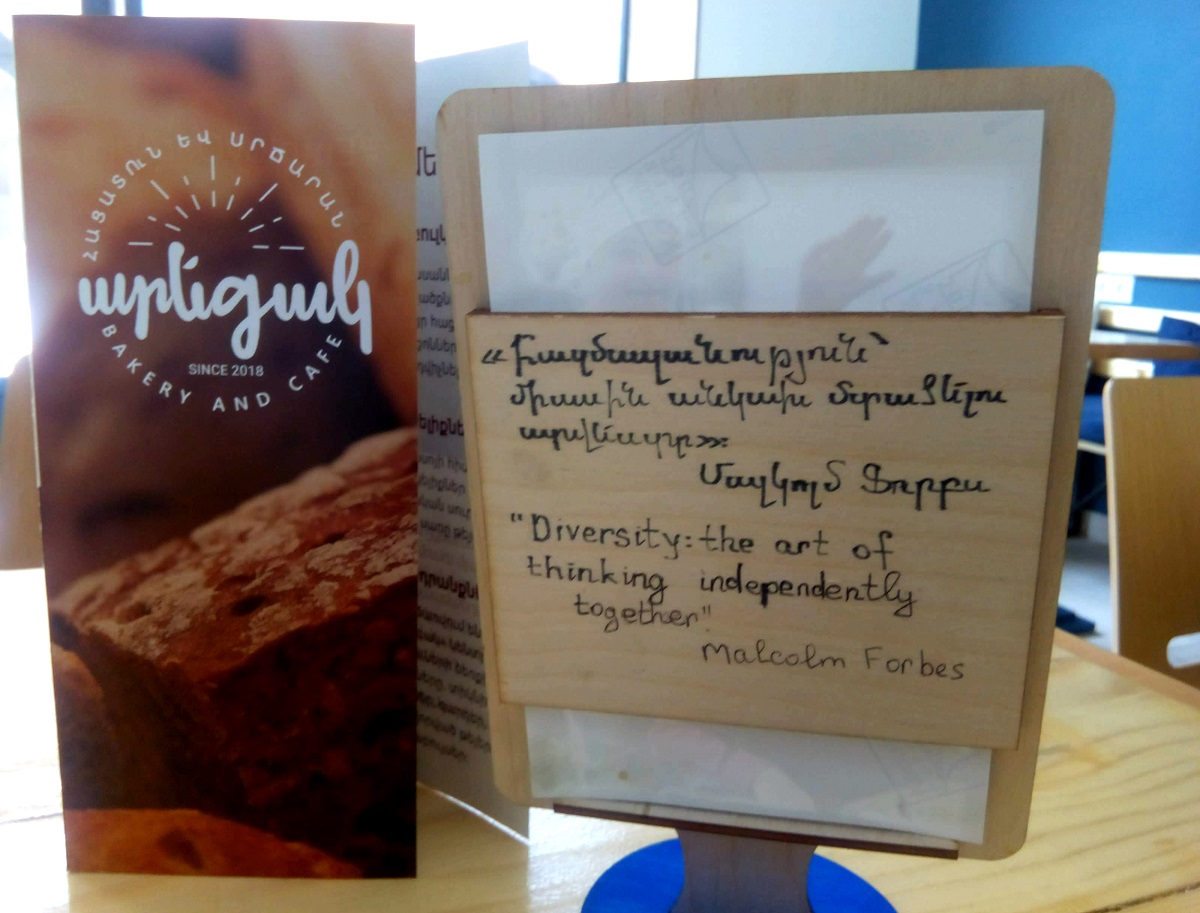 The purpose of the centre is to make their wards more independent and able-bodied. They also take care of children's nutrition, hygiene and provide essential medicine.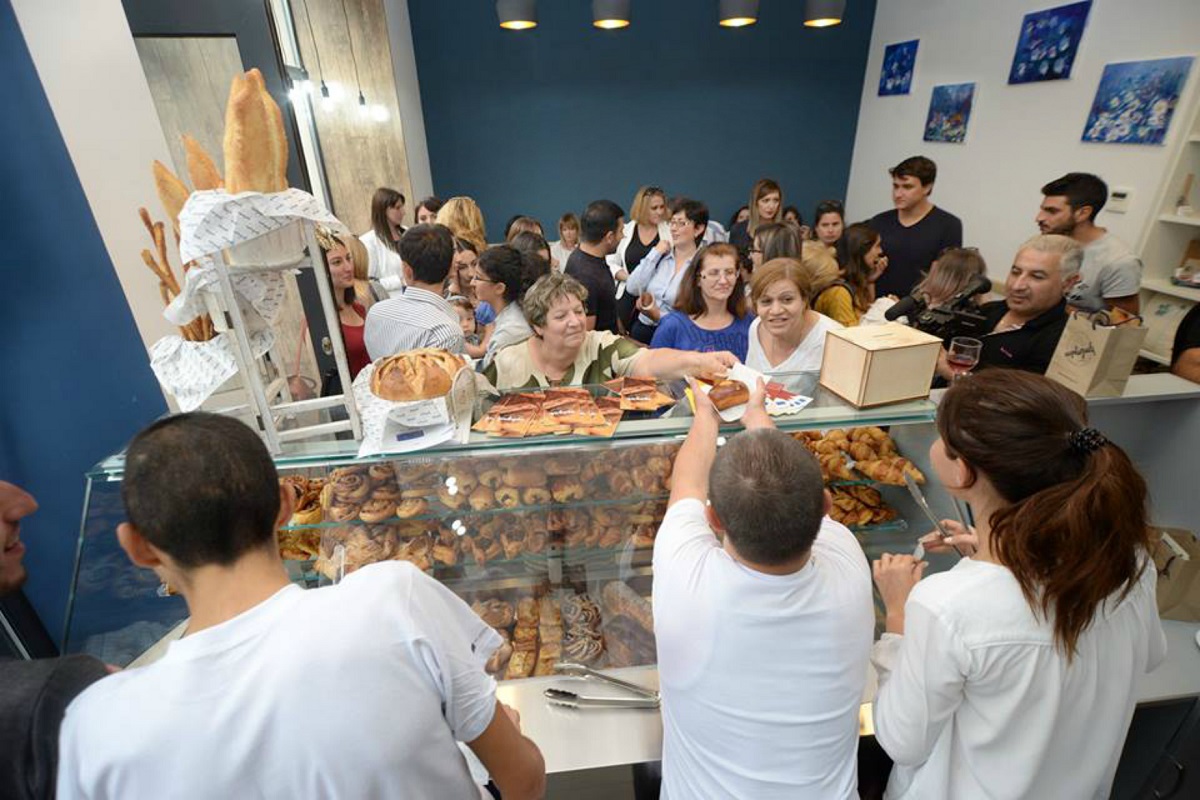 The resource centre established the Aregak bakery and café in 2016. Pupils cannot stay at the centre after the age of 18, and this means that they, by and large, are deprived of the opportunity to leave home altogether and communicate with anyone:
"We tried of course to do something to ensure the work of the pupils who were 18 years old, but we could not include everyone.
"The European Union announced a competition for a grant for the implementation of a social entrepreneurship project. We decided to involve our 18-year-olds in this business and founded the Aregak bakery for them. We bought a large garden near Emil's Aregak, the tools necessary for work, and started our business," says project manager Tigranuhi Hakobyan.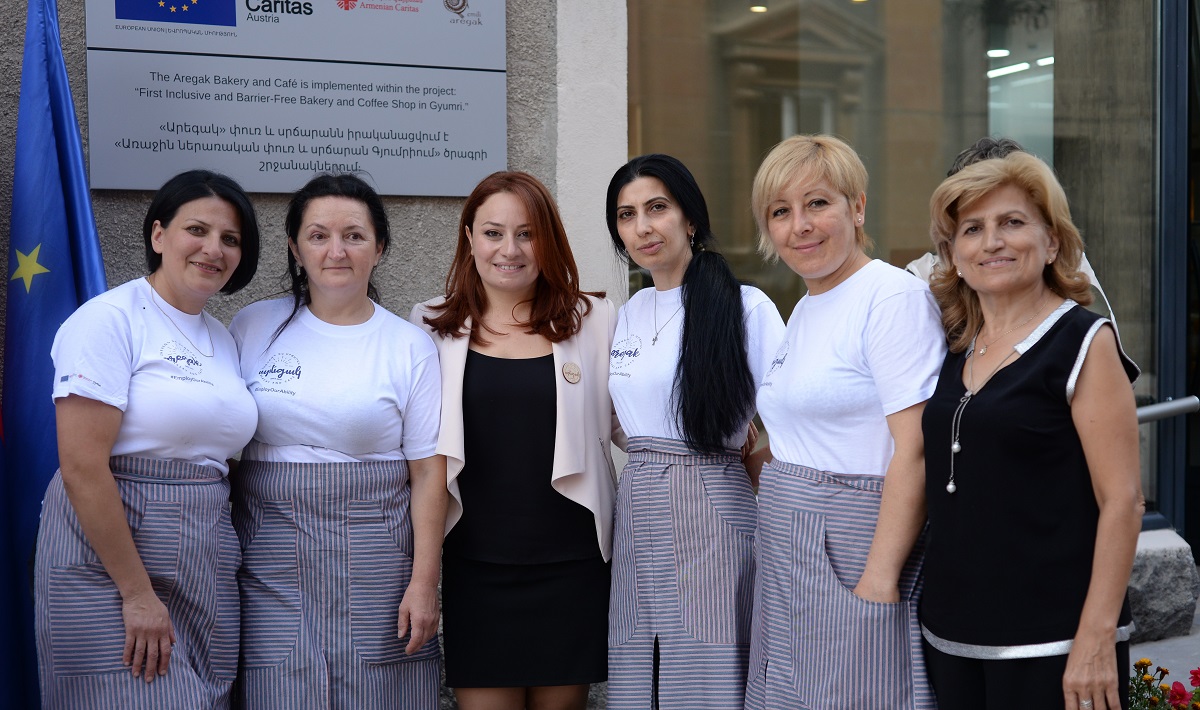 Recently, a large number of social enterprises have appeared in Armenia. While ordinary businesses rate their success in terms of income, social enterprises rate their success in the number of social problems solved. Although profit is important for a social enterprise, 50 per cent of the income goes towards the development and improvement of the business. The other half is for solving social problems.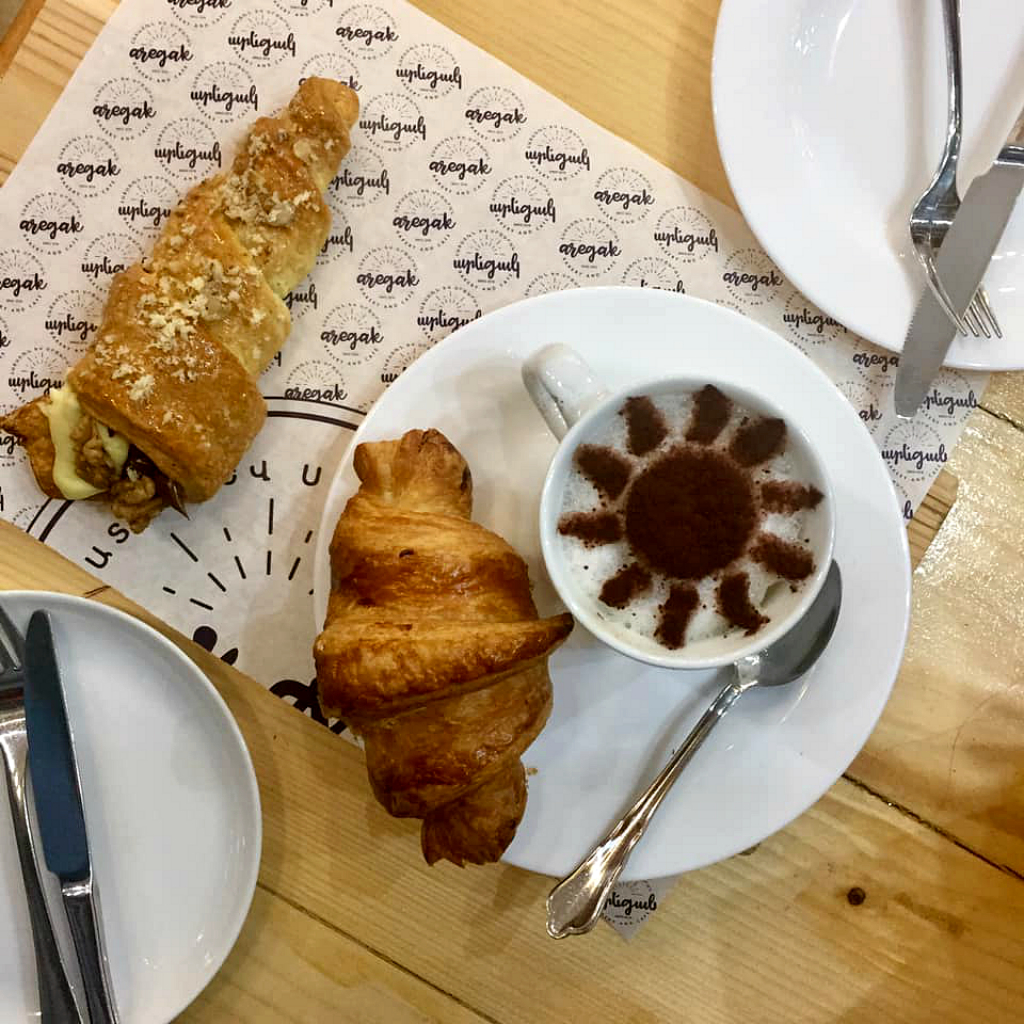 What customers have to say
"Children come to us to buy breakfast to take with them to school. Young people have coffee, and adults buy bread for the house. At first, visitors were frightened off by the relatively high prices, but then people realized that they were paying for natural organic materials and high quality," said Hasmik Topalyan, public relations manager of the Aregak cafe.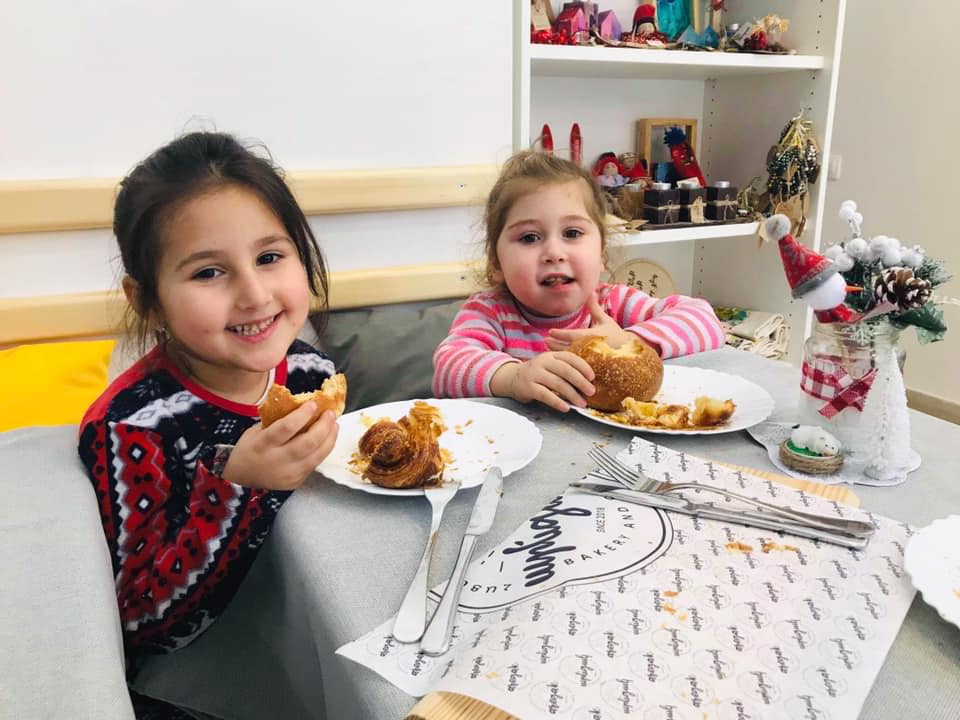 But visitors don't just come because everything is tasty and of high quality:
"People who work here should feel they are full-fledged members of society. I take great pleasure in shopping from the bakery. We need to make a small contribution to the success of this business," says Stepa's grandfather from Gyumri.
"We came with a friend when we found out who works here. That's why we came. We like that these people are not isolated, but on the contrary, they are involved in a business," customers Ani and Suzy say.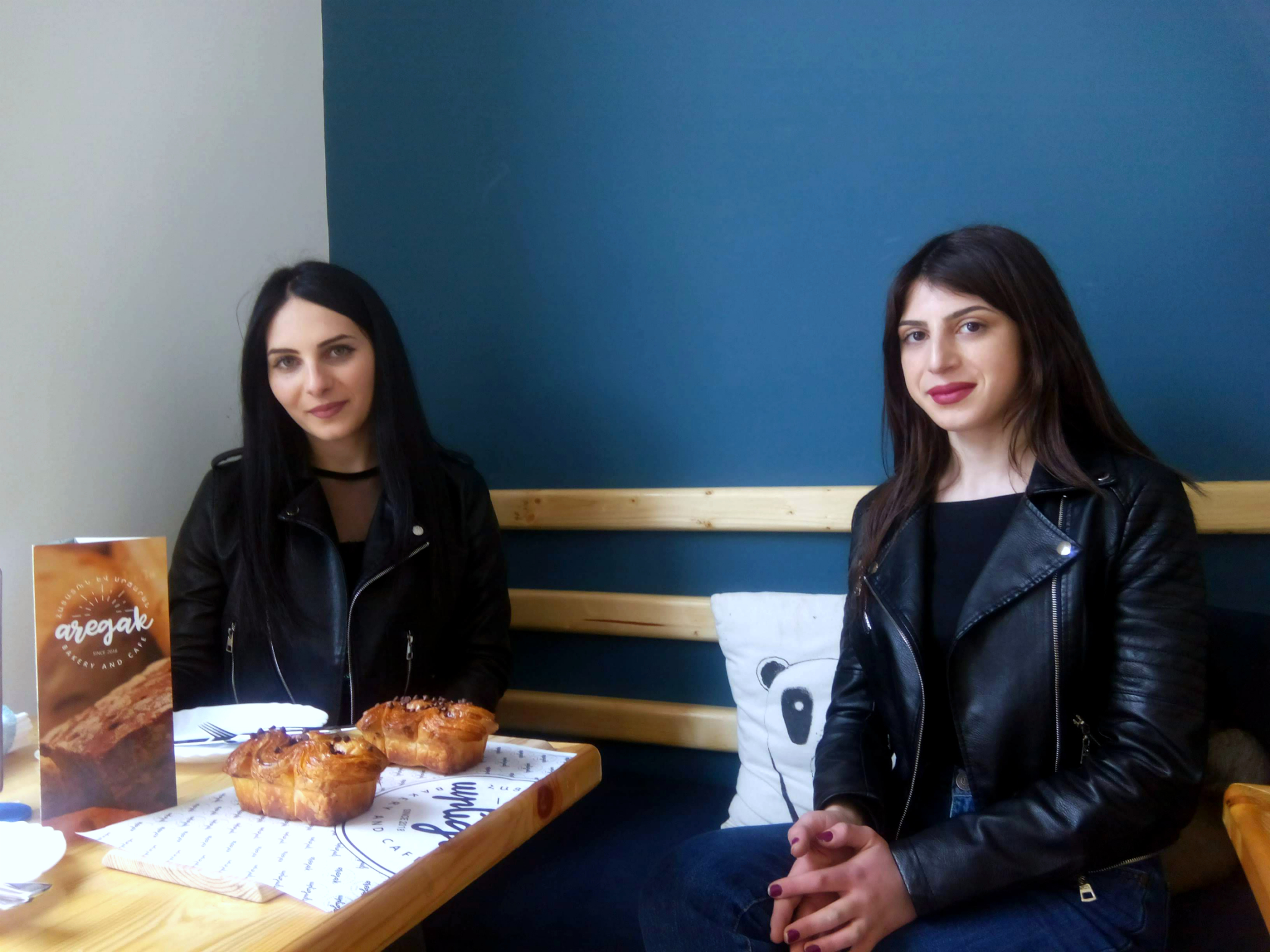 "There aren't many cafes in Armenia with their own bakeries. The idea is very good, and the atmosphere here is warm and sweet," adds Perch from the next table.
"I learned about this cafe from the news. I tried the coffee here – and now I always come here. The staff is very friendly and always welcomes visitors with a smile. I know many who specially come to Gyumri to visit the cafe," says Ivan, who came from Vanadzor.
Stocking up
"We used to pour coffee on ourselves and even on guests. Now, however, we rarely break dishes and don't spill things that often," says project manager Tigranuhi Hakobyan with a smile.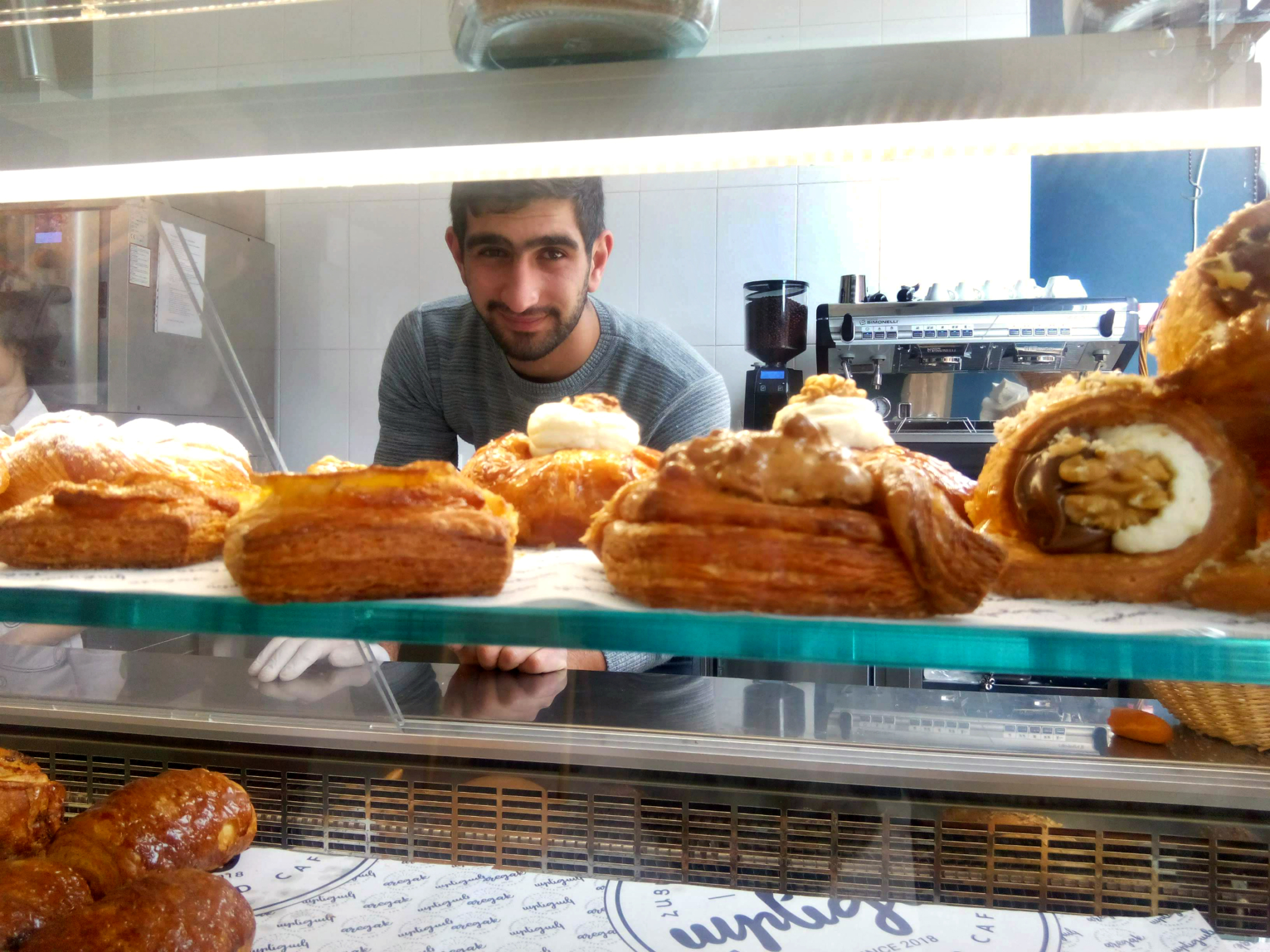 She says that working for several months with people with disabilities has shown her just how responsible they are.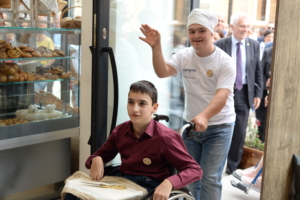 According to Armenian legislation, people with disabilities may not work for more than four hours a day, but many want to stay for longer in Aregak. At present, 20 people work in the cafe-bakery, and the average salary is 100,000 drams ($205).
Profit is gradually growing, and the project manager says that they will soon begin to think about expanding the cafe.