Salome Zourabichvili: it's not the time for Georgia to cooperate with Russia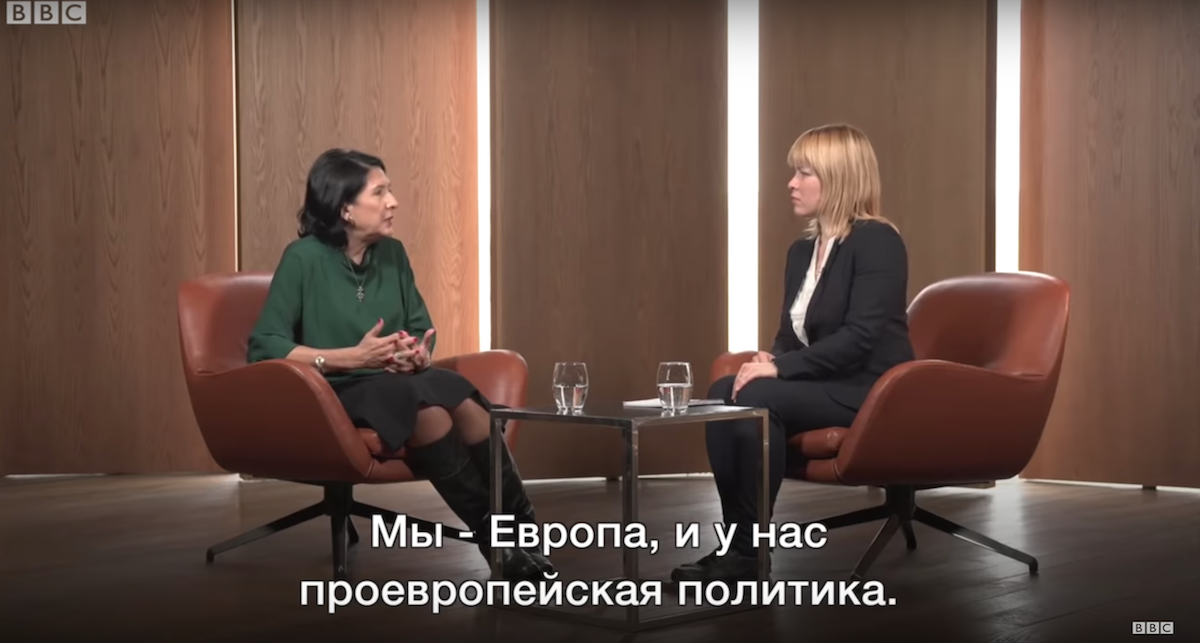 "Georgia is not ready to cooperate with Russia, which is conducting itself [poorly] at the occupation line," newly elected Georgian President Salome Zourabichvili said in an interview with the BBC's Russian Service.
"Until Russia changes its activities at the occupation line, where people are abducted on a daily basis, and as long as this line is a constant danger, as long as the creeping occupation is taking place inside our territory, moving closer and closer to Tbilisi, I do not think that cooperation with Russia is possible," Zourabichvili said.
She also pointed at Russia's policy in Ukraine as a factor that hinders the restoration of a dialogue between Moscow and Tbilisi.
• Who is Salome Zourabichvili, Georgia's new president?
• United opposition refuses to recognise election results in Georgia, calls for public to go out onto the streets
• International observers: Georgian elections were competitive, but not fair
• Georgia goes back to the polls: all you need to know about today's elections
Zourabichvili says Georgia is ready to hold a dialogue with Russia, but with the participation of the West:
"If the West – Europe and our American partners – start a dialogue with Russia in some form, then we will be there, and we will closely monitor the situation so that our principles, sovereignty, and territorial integrity will not suffer."
"We are the West, we are Europe," she emphasized, saying that as president of Georgia, she will be pro-European and is not going to alternate between Russia and Europe.
About Vladimir Putin
Zourabichvili says that Russia and Putin have changed, and that they are not the same as in 2005 when Georgia negotiated with Russia regarding the closure of its military bases and withdrawal of troops.
"I don't think that today Putin would have agreed to withdraw [their troops from] the bases. After the 2008 war, everything changed. Russia recognised two occupied Georgian regions as independent states, and this hampers any opportunity for dialogue with Russia," she said.
Moreover, Zourabichvili noted that in 2005, when she headed the Georgian Foreign Ministry, conditions for Tbilisi were more favorable than they are now.
"In today's conditions, given the aggressive attitude of Russia, Georgia cannot come face to face with it. We need to be even closer with our partners and feel their support," Zourabichvili stressed.
Doing away with the 'Soviet mentality'
Zourabichvili told the BBC she is going to be active not only outside Georgia, but also within the country.
She sees foreign affairs as her main priority. "My goal is to make Georgia more visible on the world map," says Zourabichvili.
"These six years of my presidency will become very important from the standpoint of Georgia's integration with Europe and NATO. During this period, we should be as close as possible to Europe. I frequently remember how the President of Latvia, Vaira Vike-Freiberga, brought his country to the European Union and NATO from 1999–2007," she said.
In addition to this, Zourabichvili noted that her activities will be important within the country as well. First of all, she says that the Soviet mentality should be done away with and replaced by a European one.
"I grew up in Europe. For 30 years I worked as a French diplomat. I know well how to unite society and move towards Europe," Zourabichvili told the BBC.
She says the most difficult period for a president is the first weeks and months until society calms down after a noisy and, to a certain extent, humiliating election campaign.
The fifth president of Georgia was elected on 28 November 2018 in the second round runoff.
Zourabichvili received 59.52 per cent of the vote, and her opponent, Grigol Vashadze, received 40.48%.
The opposition, led by Mikheil Saakashvili, does not recognise the election results, and has demanded early parliamentary elections. He asked supporters to come out and protest on Sunday on Freedom Square in downtown Tbilisi.
According to the new constitution, the president of Georgia serves for six years. These elections were the last in which a president is elected through a direct vote. In 2024, an electoral college of 300 deputies of the Georgian parliament, representatives of the Supreme Councils of the Ajarian and Abkhaz autonomies, and local self-government bodies, will elect the president.