Op-ed: the third coming of Saakashvili to Ukraine
Ukrainian President Vladimir Zelensky has finally clarified whether he plans to appoint the former Georgian President Mikheil Saakashvili onto his team, who returned to Ukraine only last week.
Georgian journalists waylaid Zelensky in Brussels, where he went on his first foreign visit, to ask about the possible appointment of Saakashvili:
"Saakashvili is in Kyiv. I returned the passport to him. Not now, now we are not thinking about this [appointment] , " said Zelensky.
The new president's position was explained by his press secretary, Julia Mendel, who confirmed Zelensky would not be appointing a former Georgian president to any position. She mentioned Saakashvili's successful reforms in Georgia and the fact that the new president plans to work with anyone who can help him make changes. However, according to her, "it is not only about Saakashvili, but also about cooperation with [the Georgian government]*".
•  How to make Georgia great again: Thomas de Waal vs Mikhail Saakashvili
• Six things about Mikhail Saakashvili you wanted to ask the Georgians
• Georgia's Saakashvili in Ukraine
Saakashvili returns
Former Georgian President Mikheil Saakashvili returned last week to Ukraine, where he had been denied entry for more than one year. He returned with a visible triumph: at the airport he was met by the reporters of leading international news agencies, and greeted by the cheers of numerous supporters.
For Sakaashvili, the tables have turned in Ukraine. President Petro Poroshenko, who oversaw Saakashvili's humiliating deportation from the country just last year, was defeated by actor and comedian Vladimir Zelensky in a groundbreaking election.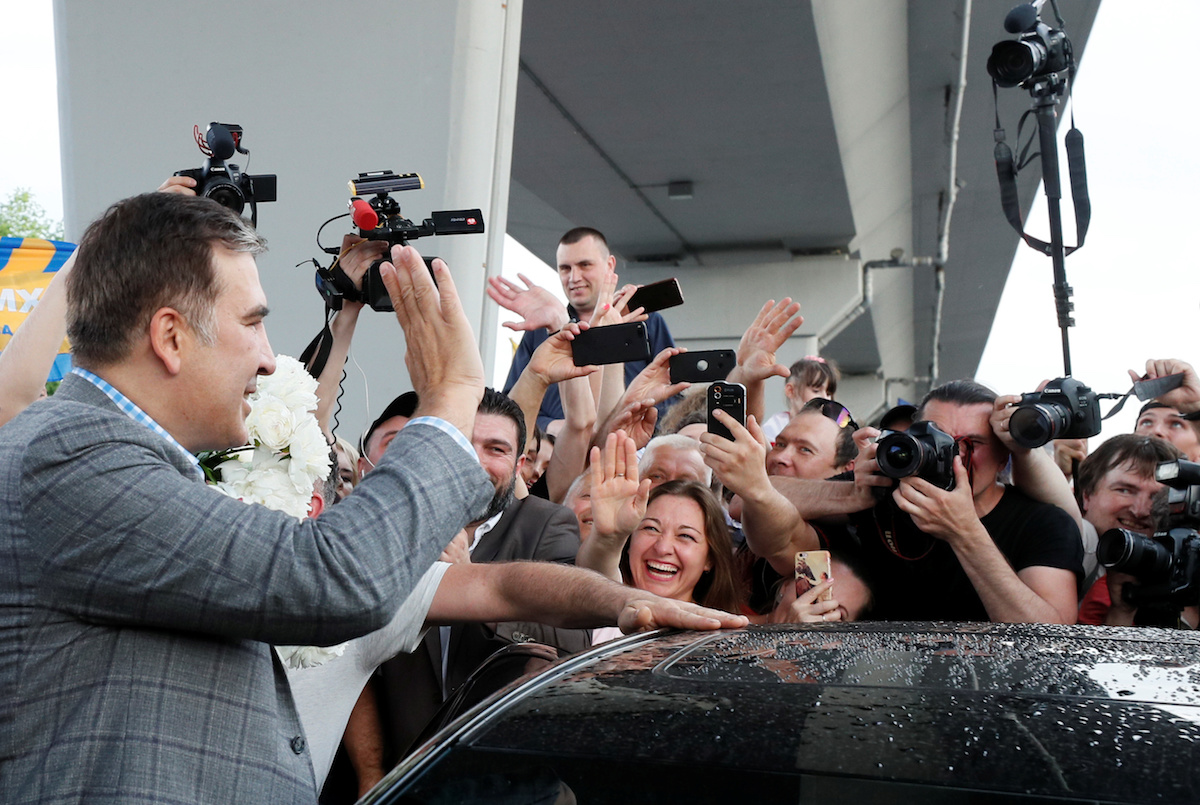 Supporters of Saakashvili in Georgia and Ukraine warmly welcomed Zelensky's decision to return Saakashvili his citizenship, believing Zelensky would appoint him to a position on his team.
Though Zelensky holds a favorable opinion of Saakashvili, this will not be the case. The appointment of Saakashvili to any team position poses a serious threat for Zelensky. Though he was rose to right Poroshenko's questionable deportation of Saakashvili, his obligations to Saakashvili seem to have ended.
Who is not happy about the return of Saakashvili
Saakashvili himself called the decision of Zelensky a bold one, because, according to him, "many in Ukraine do not want to see [him there]." This includes, notably, friends of Zelensky.
For example, oligarch Igor Kolomoisky, whom Zelensky himself calls his business partner, is hardly friendly towards Saakashvili. At one time, while serving as governor of the Odessa region and a member of the Poroshenko team, Saakashvili entered into a very sharp confrontation with the Kolomoisky team.
Then there was the public skirmish between Saakashvili (then still the governor) and Interior Minister Arseny Avakov at a government meeting. Unfortunately for Saakashvili, Avakov is still the head of the Ministry of Internal Affairs. He was neutral at the elections and maintains friendly relations with the Zelensky team.
Despite the defeat of Saakashvili's main enemy, Poroshenko, other powerful oligarchs of course remain in power.
However, these people are well aware that Saakashvili, even if he proclaimed his main goal to fight the "huckster" and the oligarchic system, does not pose much of a threat alone.
With neither the support of the oligarchs, nor significant financial or media resources, Saakashvili can do little in today's Ukraine. His previous attempts to organize a movement in Ukraine in opposition to Poroshenko are case in point.
Has Saakashvili learned his lesson?
Saakashvili's return to Ukraine means his new, far from being the first reincarnation in his life as a politician. (?) However, in his statements on future plans, Saakashvili did not say anything concrete about how he (imagines) his role in Ukrainian politics. By limiting ourselves to general statements that he has returned to build a new Ukraine and that he very much hopes for a new president. (?)
So far Kiev Mayor Vitali Klitschko is the only Ukrainian politician to openly offer a position to the former Georgian President: in this case, to become the head of UDAR, his own political party.
"I will remain the leader of the party, but I propose the post of head of the party to Mikhail Saakashvili," Klitschko said.
At first glance, this is a tempting offer for Saakashvili. However, the trouble is that, according to the latest opinion poll of the Rating group, only 0.3 percent of voters are ready to support the Klitschko party in the elections.
Despite the fact that the leaders of Saakashvili's party "Movement of the new forces" hinted at independent participation in the upcoming parliamentary elections in July, Saakashvili called on UDAR members to support the Zelensky party at a recent meeting.
This move is not without reason. Recent forecasts show Zelensky's "Servant of the People" party can very well count on a majority in the future Verkhovna Rada.
And this time Saakashvili put on Zelensky and his team.
Though Zelensky has received unprecedented voter support in Ukraine, there is no guarantee that the people's hopes will actualize in reality.
Ukraine still remains a country with oligarchic rule, where any processes and decisions are the result of the "agreement" of oligarchs. Even with 70 percent voter support, it will be very difficult for Zelensky to break this system.
Maintaining voter support will be difficult in a country where major TV channels are under oligarchic control. Love is easily spinned into hatred by the media. Saakashvili knows this very well.
Though Saakashvili is an unpredictable politician, his recent statements indicate he has learned to abstain from Ukrainian political affairs. It is one thing to be a political consultant and quite another to make commitments to people in a political arena as corrupt as Ukraine's, where the will of one politician is dependent on the next man up.
Indeed, the former president has himself said in an interview he intends to return to Georgia in three months. Most likely, nothing will change in Georgia in three months, (why three months?) and his return will also be impossible.
However, this serves as a strong hint that Saakashvili is not going to seriously participate in Ukrainian political life.