Georgia's Saakashvili in Ukraine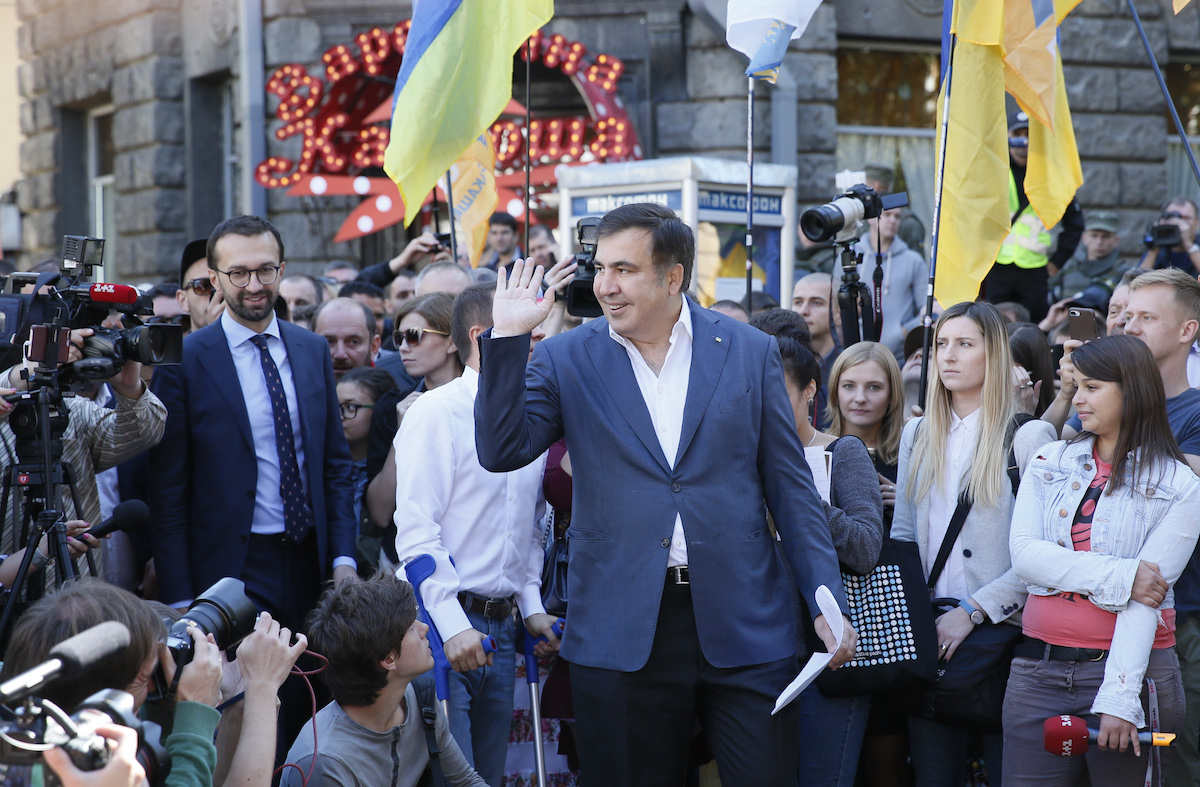 More than a month after tents were first set up outside of the Ukrainian parliament, the protests started by Mikheil Saakashvili and a number of Ukrainian opposition parties are still ongoing. Ukrainians have even coined a word to describe the process – "Mikhomaidan" [from Mikho, which is short for Mikheil, and "maidan", a reference to Maidan Nezalezhnosti (Independence Square), where Ukraine's largest protests took place in recent years].
At first the protesters demanded reforms to curb corruption. Now they want a law passed that would allow for the impeachment of the president. As the protesters' demands change, so do their protest forms. Several weeks ago they held an anticorruption 'veche', a popular assembly, in front of the parliament and later they announced they would be creating a bootcamp at their 'tent city' to teach non-violent resistance skills to their supporters. Furthermore, on 3 December they are starting to collect signatures for a petition to impeach Poroshenko. Georgia's former president hopes the protests will bring him into power in what is the biggest country in Europe.
What are his chances of achieving it?
______________________________________________________

The rally in front of the Verkhovna Rada [Ukrainian Parliament] building in the centre of Kiev had been underway for an hour when Mikheil Saakashvili finally stepped up to the rostrum.
"I've got some bad news for the thieves who've inserted themselves comfortably in the government. People from all over Ukraine have come here to demand a change," he started his speech in the Ukrainian language, before switching to Russian moments later. "We are not caving in, we are not taking it any more!"
After president Petro Poroshenko had stripped Saakashvili of his Ukrainian citizenship, no one had expected the former governor of Ukraine's Odessa Region to be able to come back to the country in any capacity – not even as a tourist, let alone as a protest leader.
Yet, there he was, standing in front of the Rada, calling out his main political opponent and demanding that he step down.
"Ukraine has no future under Poroshenko, he must go!" he shouted, clumsily flailing his hands, easily outspeaking everybody who'd taken the stage before him, prompting a long and loud ovation from the crowd.
"Mikho! Mikho!" the rally participants chanted, flags of different political parties fluttering above them.
The 17th of October was a decisive day for Mikheil Saakashvili. His fortunes had turned once again, giving him  perhaps the last chance to re-assert himself and prove his political career was not yet over. However, the rally that had been meant to become the beginning of a major political face-off had not attracted many people: the area in front of the Rada was only filled with half the protesters it can accommodate.
Of the dozens of Georgians who had been brought to Ukraine by president Poroshenko in 2015 to work the 'Georgian miracle' in the country [to emulate Georgia's effective reforms], only one – the former Deputy Prosecutor General of Ukraine David Sakvarelidze – was now standing beside Saakashvili on the stage next to the other speakers – two mildly popular young members of the Rada and three clergymen.
As I approached him with a camera, asking him in Georgian to share his plans for the future, he said:
"I only speak Ukrainian here. I will speak Georgian when I come to Georgia."

 Williamsburg hipster
Coming to Georgia is something he has not been able to do for four years now. In his home country, he has been charged with multiple offences including abuse of power, the use of disproportionate force against peaceful protesters, a raid on the offices of a TV station as well as assaulting a member of the Georgian parliament and embezzlement of public funds.
Nowadays, he has no citizenship of any country.
Georgia's government has threatened to arrest him, while Ukraine has dangled the prospect of having him extradited – but both have taken their time to fulfil their threats.
"Personally, I need no respite, but maybe the time has come for you to take a breather from me," he said as he bid his farewell to Georgia shortly before leaving for New York, after the 2013 October presidential election that had marked the end of his nine-year-long presidency.
According to The New York Times, he spent his time in the USA making speeches at different conferences, delivering – for an exorbitant fee – lectures, luxuriating in posh cafés and cycling around Brooklyn, quite a Williamsburg hipster in his red shorts, dining with Bill Clinton, and, as some friend of his said, catching up on sleep. Saakashvili himself told The New York Times he was leading a 'normal life'.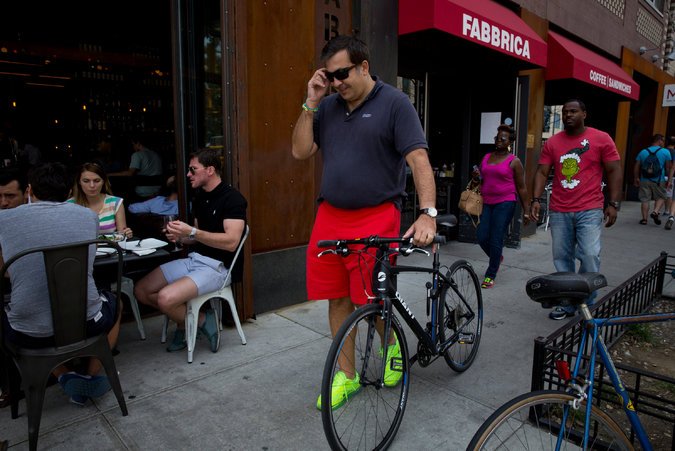 Governor and President
What was it that prompted President Petro Poroshenko to bring Saakashvili to Ukraine and then to make him governor of the Odessa Region in May 2015? What made the two's friendship, dating back years to when they were fellow students at a university in Kiev, turn into a fierce feud?
Russian media wrote at the time that appointing Saakashvili as the leader of what they said was a 'controversial' Russian-speaking region was tantamount to a slap in the face of Russia's Putin who saw it (the region), and still does, as loyal to himself.
Saakashvili himself said that one of the front lines in 'the struggle against Putin' now, with his appointment, ran through Odessa.
Bringing Saakashvili into play in Ukraine may have also been projected to boost the international image of Poroshenko, still a new president at the time. Indeed, what other country could boast having another country's president as one of its governors?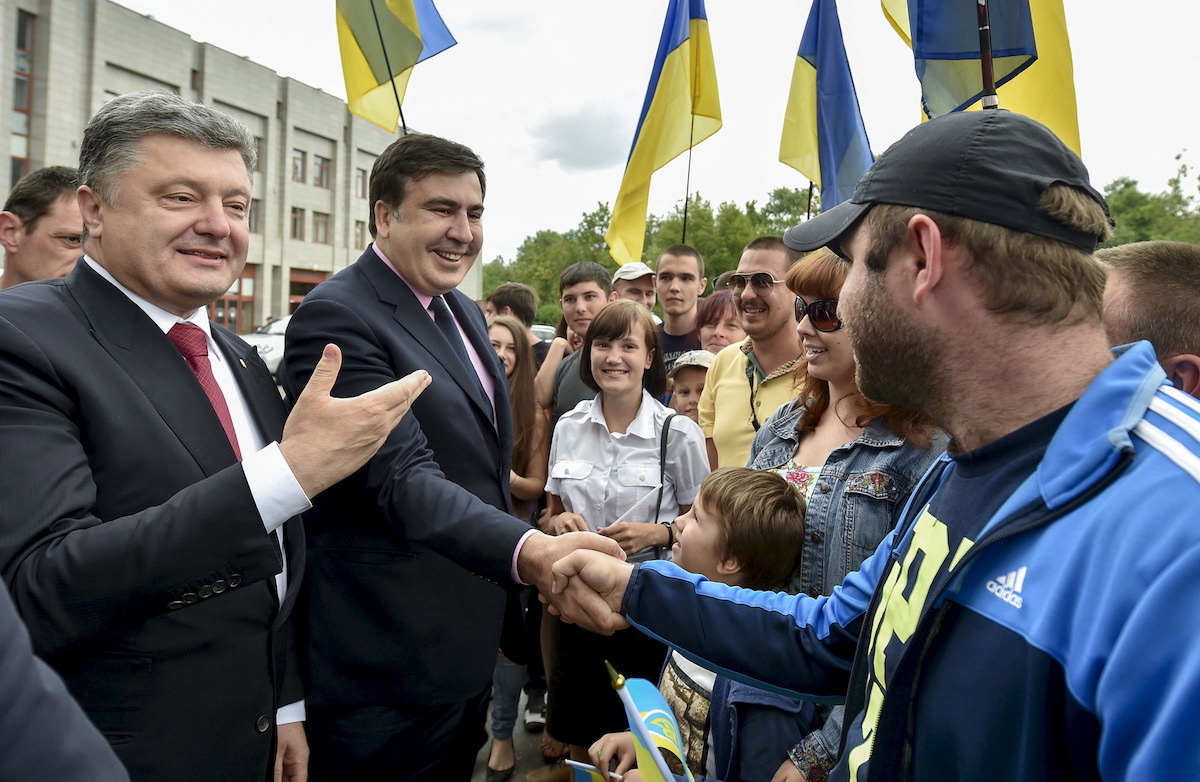 "Saakashvili was meant to become a hammer of sorts, something to break [Ukraine's] corrupted system with," said Matvei Ganapolsky, a Ukraine-based journalist who has kept an eye on Saakashvili's political career for years.
In the end, Saakashvili's Odessa project turned out a complete failure.
His vision for it as a region free of corruption and oligarchs had never materialized. He blamed Poroshenko for that, saying the man had interfered with his work and obstructed his reforms.
"This is the way it really was," said Yevgeny Kiselev, a well-known Russian journalist who used to work for Russia's NTV back when it was still an independent television station. He is now a news anchor at Pryamoi, a pro-Poroshenko TV channel located on the twelfth floor of a business centre in Kiev. "It's a fact that they did everything to thwart him. In reality, no one wanted him to succeed."
"It may sound cynical, but what Poroshenko actually did was use Saakashvili to get rid of the government of Yatsenyuk [Ukraine's ex prime minister whom Saakashvili had accused of corruption]. As soon as this had been achieved, Saakashvili lost [whatever value they had placed in him]."
And so Saakashvili, once a successful reforms president, became a governor who'd failed.
There are several reasons for his failure. One is that when Saakashvili came to Odessa he was a far cry from the Misha [a hypocorism of Mikheil] he was when he first came into power in Georgia in 2004. Misha had at his disposal 97% popular support, a one-party parliament, a team of reform-minded aides, loyal media and an obedient judiciary. In Ukraine, Saakashvili found himself having to deal with a completely different given – powerful business clans, oligarchs, and a president who didn't support him.
"The moment when Saakashvili moved to attack the interests of businessmen close to the president, was the moment Poroshenko turned his back on him, and expectedly so," said Ganapolsky.
While in Ukraine, I heard many say that Poroshenko's campaign against Saakashvili was irrational and looked more likely to have been driven by some personal grudge.
"Saakashvili failed to obey the Ukrainian political rules. For instance, one should keep their mouth shut when the president talks, or one must take every hint he drops and act accordingly," Ganapolsky said. "Saakashvili chose to believe this was not what he'd come to Ukraine for."
After he stepped down as the governor of the Odessa Region a year ago, his life in Ukraine has changed dramatically. All of the country's central television stations are now off-limits to him [as, except for a few local TV channels, the whole sphere has been bought up by Poroshenko and his oligarchs], and a massive campaign has been rolled out against him, spreading a new narrative: Saakashvili is not as cool as we thought he was, and his achievements in Georgia are little more than a fib trumped up by an effective PR effort. Ukraine only interests him as a stepping-stone towards what is, at the end of the day, his primary goal – returning to Georgia.
As part of the campaign, Ukraina, a TV station owned by Renat Akhmetov who is an oligarch from Poroshenko's inner circle, has run a subtitled version of 'HEROcratia', a hyperbolized anti-Saakashvili parody TV-series by Georgian director [and a former member of Saakashvili's team in Georgia] Goga Khaindrava.
After leaving Odessa, Saakashvili threatened Poroshenko saying he'd join the opposition ranks and continue fighting against his government.
And, no sooner said than done, he set up his own political party called Rukh Novikh Sil [Movement of New Forces]. In his new capacity as an oppositionist, he toured the country holding meetings with ordinary Ukrainians, delivering fiery speeches and lambasting top government officials.
At one point he even started to host a talk-show on a small and little-watched local TV channel. One episode featured a female war veteran [from Ukraine's war in the east with Russian-led separatists] who sang a song called Shokoladna Dupna, meaning "chocolate ass". The reference was unmistakable: Poroshenko is the owner of the local chocolate mega-producer, Roshen.
But Saakashvili's efforts bore little fruit. His party's polling numbers remained low – just about two percent, and his campaigning in different Ukraine regions failed to attract many people.
It was obvious that his political career was drawing to a close. Oblivion – the most dreaded of prospects for an ambitious politician – was now looming large.
"In just a month, he gained a lot of weight and became terribly depressed," said a Georgian member of Saakashvili's team who is currently not with him in Ukraine. "It became impossible to talk to him, as he would snap at everyone."
"He cannot physically live without politics."
Windfall
On 26 July 2017, while Saakashvili was briefly visiting New York, Petro Poroshenko gave him what was for that moment the best present he could have wished for – he learnt his Ukrainian passport had been cancelled.
The move had been meant to close Ukraine's doors on the former Odessa governor, but what it did was open a window of opportunity for his political comeback.
Comeback
Toma Chagelishvili, a Georgian filmmaker, has been working on a documentary about Saakashvili for several years now.
"When are we going to see your film?" I asked him.
"I don't know yet," he said. "I'm still waiting for a logical denouement."
"When he was stripped of his [Ukrainian] citizenship, I thought: there, the finale is close. And so I went to Poland to film an interview with Saakashvili, expecting to see a politician whose career was, by all appearances, going downhill. Ordinarily, he is not one to show how he really feels, which is why I was worrying I wouldn't be able to capture on camera his true state of mind."
"And I was having my doubts about the prospect of him going back to Ukraine. In Poland however, I was surprised to find a Saakashvili who was full of enthusiasm, who worked out for several hours a day and was agog for a new battle," said Toma. He was among those who accompanied Saakashvili when he forced his way into Ukraine across the border from Poland in September.
Ever the showman, Saakashvili had switched from one scenario for entering Ukraine to another, changing his mind repeatedly, before finally choosing one that would turn out to be quite a spectacle.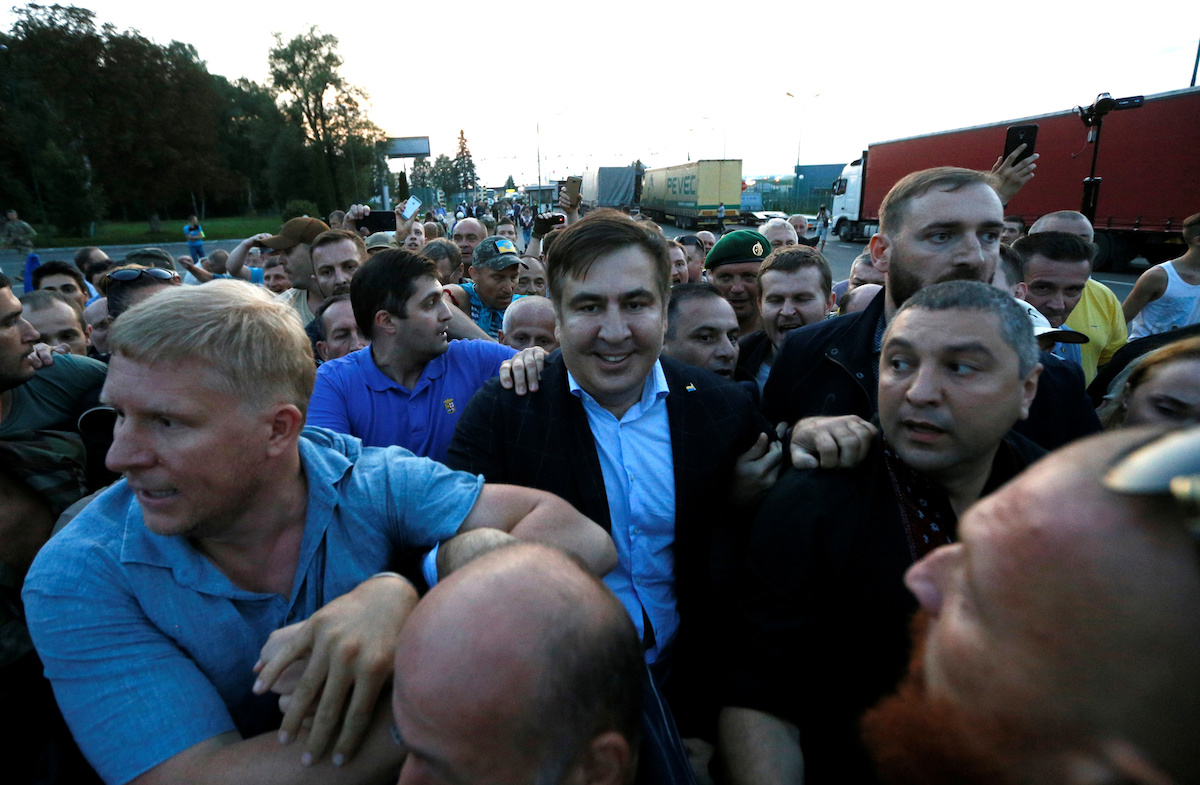 "He was, in those moments, in full control of the situation: he had a role assigned to everybody around him – Yulia [Timoshenko, one of the leaders of the Ukrainian opposition], the parliamentarians, the journalists. We were all part of his plan. We were dazed and hustling about. It may not be a correct description, but I think we all were his 'hostages' at the time," Toma said, describing the hours before the group crossed the Polish-Ukrainian border.
"He'd make a decision only to go back on it an hour later. He was permanently on the phone, receiving updates on what was happening on the other side of the border. Incessantly, he scrolled through his Facebook feed. His show was on."
"I saw Yulia's face, she looked frightened," Toma said, recalling the moment the crowd of Saakashvili's supporters started moving towards the border.
-Миша, а что дальше? [Misha, what now?] Yulia asked.
-Yes, Yulia, yes! He shouted back, his face irradiating joy.
"And this is one of the best scenes I've managed to capture for my film so far," said Toma.
Tea and roses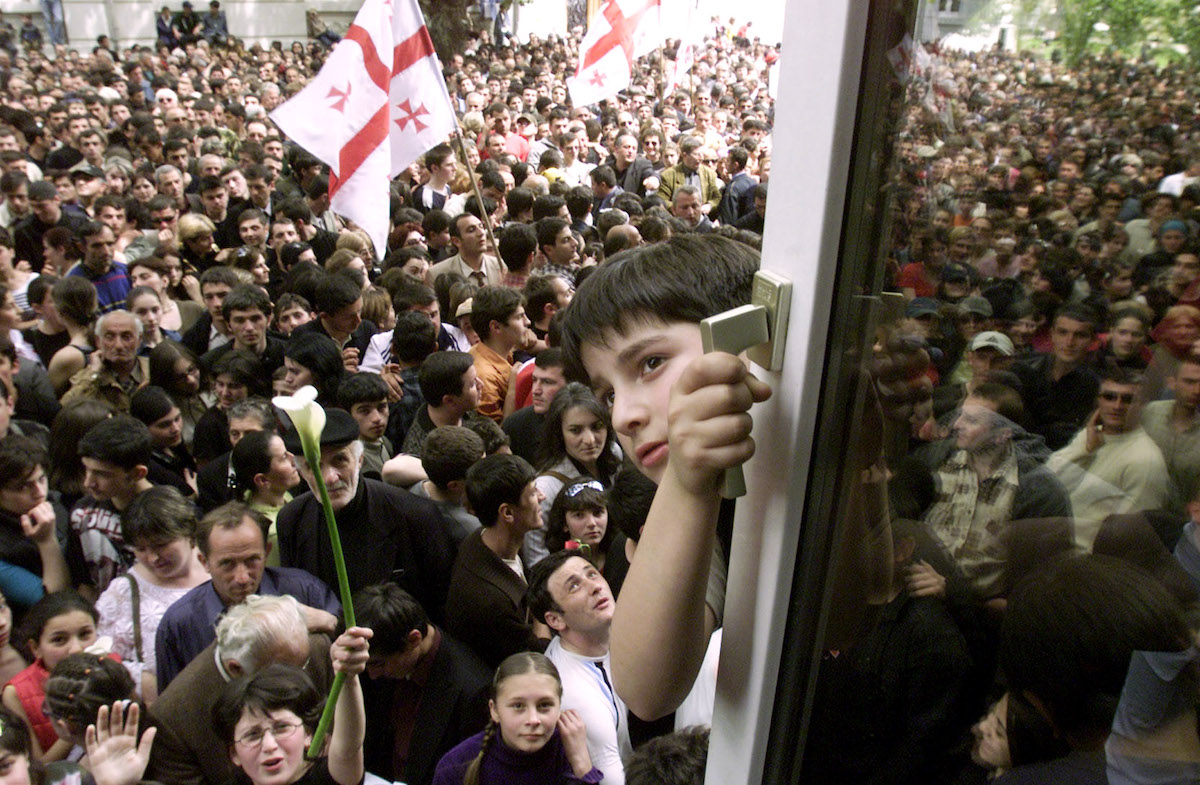 Fourteen years have passed since Mikheil Saakashvili swooped down on a Georgian Parliament meeting on 23 November 2003, sending the then president Eduard Shevardnadze running out the door, took his place behind the lectern and, famously, drank his tea. As he did this, Saakashvili, 36 years old at the time, was holding a rose in his hands, to signify he'd come in peace.
A broadly shared view is that he hopes to do the same in Ukraine.
Country of two revolutions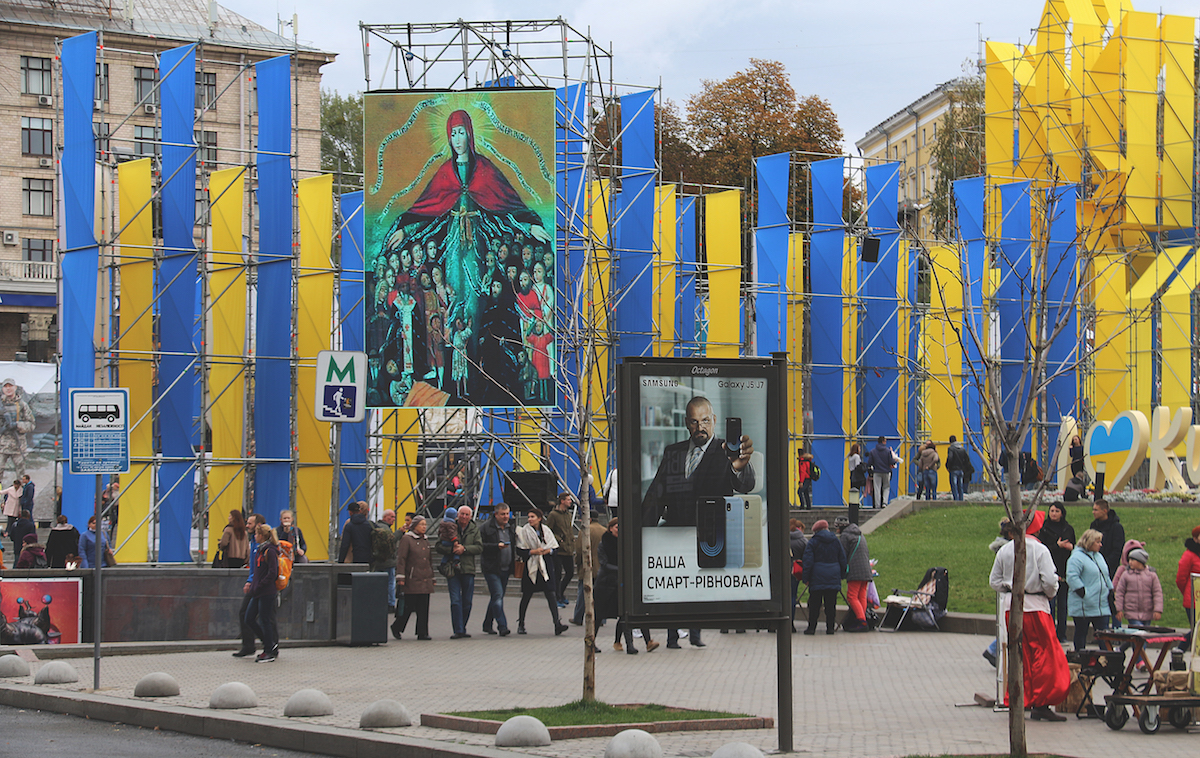 Today, Ukraine is one of the most corrupt countries in the world, ranking 131st out of the 179 countries on Transparency International's Corruption Perceptions Index for 2016.
Over the past ten years, it has experienced two upheavals that came to be remembered as the Orange Revolution (2004) and Euromaidan (2013-2014). In both people took to the streets to call out the corrupt government.
Soon after Euromaidan, Russia annexed Crimea. Then a war between the Ukrainian government and Russia-backed separatists broke out in Ukraine's east that is still ongoing today. In 2014, Petro Poroshenko was elected president – promising he'd lead Ukraine out of the crisis. He'd vowed to carry out reforms, to reduce corruption, to put an end to the war and bring Ukraine closer to the EU.
On 11 June this year, Ukraine did get a visa waiver from the EU. However, it was more a generous concession on the part of the EU than a well-deserved reward for implemented reforms.
Today, more than three years into Poroshenko's presidency, Ukraine continues to be plagued by corruption.
"Just imagine – I bribed guardsmen in [Kiev's] Boryspil airport so that they would let me sneak a knife on board the plane," a Georgian who lives in Ukraine told me when I asked him about his experience of corruption practices in the country.
Still, however many its problems are, Ukraine is far better off today than Georgia was in 2003 when Saakashvili's ascent to power began – amid permanent power outages, soaring crime rates and omnipresent corruption.
The failure of two revolutions has left Ukrainians disillusioned. They've stopped believing in street protests as a means of bringing about change. And this scepticism is one of Saakashvili's greatest enemies in Ukraine.
The country's political system is eclectic and amorphous, just as its oligarchy is.
The most popular opposition party is Batkovschina (Homeland) led by Yulia Timoshenko, Ukraine's ex prime minister who was one of the leaders of the Orange Revolution in 2004. Some polls have placed Batkovschina ahead of the Petro Poroshenko Bloc, while others show it as only lagging behind the president's party by 1-2%.
Mikheil Saakashvili's party has failed to garner the three percent support it potentially needs to gain entry into the Ukrainian Parliament. 1-1.5% is as far as it gets.
Saakashvili will need better approval ratings quite soon as in 2019 Ukrainians are due to hold both presidential and parliamentary elections – in the spring and autumn, respectively.
Theoretically, in a country as volatile and unpredictable as Ukraine, everyone has their chance to change things drastically. Saakashvili has his chance too. The question is: has he got all the resources for making good use of the chance?
Political partners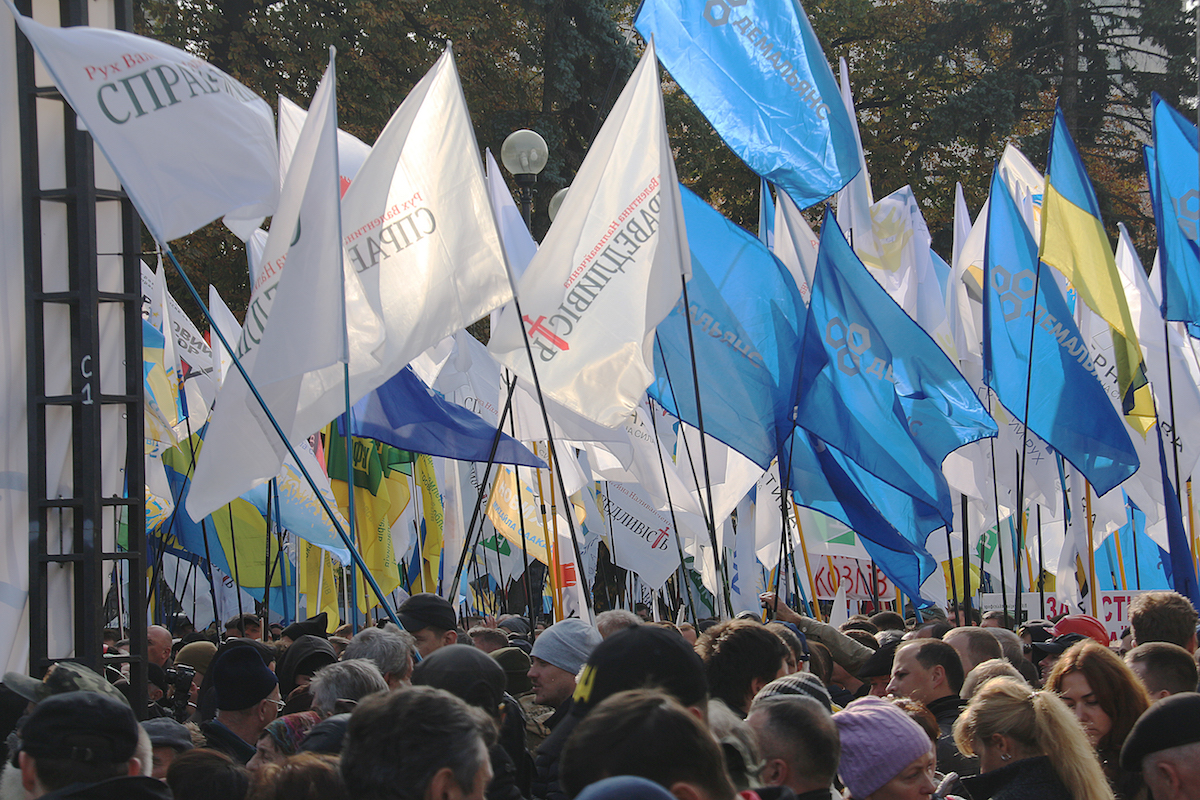 The rally in front of the Rada was the first time I had seen flags of so many different parties being waved all in one place.
Standing side by side were nationalists who'd famously told the mayor of Kiev that he 'shouldn't dress like a gay person', and liberals rooting for Ukraine's greater integration into Europe.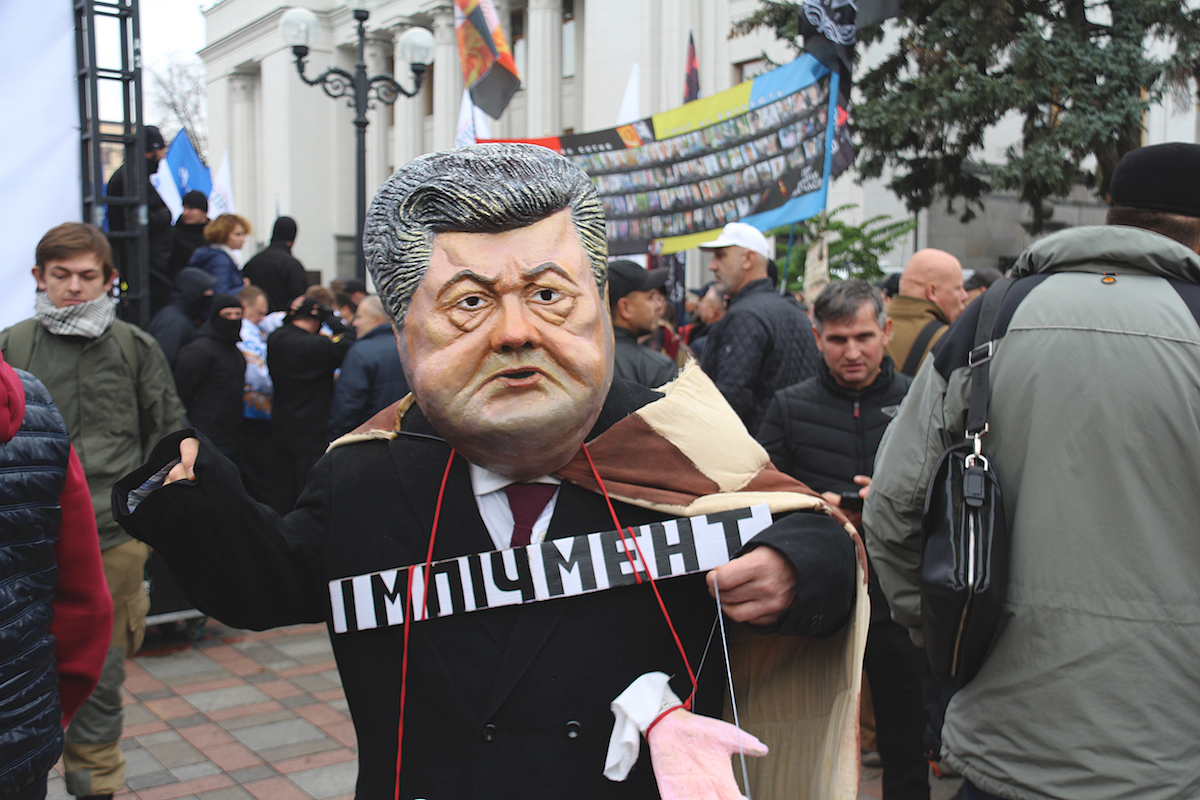 Today there are several young MPs flanking Saakashvili outside parliament who have been broadly dubbed 'Euro-optimists' in Ukraine. They may not be overly experienced politicians, but theirs is an ambitious plan – they want to create a new political establishment in Ukraine. They are the ones that Saakashvili is betting on.
For now however, none of them stands any chance of success in the 2019 presidential election – polls probing approval ratings for potential candidates make no mention whatsoever of their names.
As for Saakashvili himself, he cannot run for parliament, let alone president. According to local legislation, one is only eligible to stand for election in Ukraine if they have lived in the country for the past ten years.
One way for Saakashvili to come into power in Ukraine could be to join forces with some major political party. The very fact he's been seeking out such an alliance with Timoshenko means he's in dire straits.
Timoshenko's party may participate in his rallies in front of the Rada, but surely he understands that this politician's loyalty is a transient thing. He can't have possibly forgotten how, during the August 2008 Georgia-Russia conflict, her party refused in parliament to support a statement denouncing Russia as an aggressor; or how, at a press conference with Putin, Timoshenko, the prime minister at the time, cracked jokes [about a much-publicized incident in which Saakashvili had been caught on camera nervously chewing on his tie].
It's obvious that these two ambitious politicians won't be able to co-exist.
As for other political partners of Saakashvili's New Forces Movement, few are ready to embrace him as the leader of the opposition.
Ukrainian politician and former journalist Mustafa Nayem, who is often credited with sparking the Euromaidan protests in 2013 with a Facebook post, said that talking about Saakashvili's 'special mission' in Ukraine was premature.
"Personally, I think that he is a Ukrainian politician, a leader of his own party," Nayem said. "Whether or not the people start to perceive him as a Ukrainian politician depends on how many Ukrainian politicians he manages to rally around himself. By the look of things, Mikheil has had a hard time achieving this so far."
"There's a big difference between Georgia and Ukraine. Ukraine has a lot of regional leaders and numerous political parties, groups and movements. Back when Mikheil set up his movement in Georgia, there was no alternative to it there. Here, on the contrary, we have healthy competition. He's going to find it difficult here."
"It's no coincidence that Saakashvili has not been able find a common language with many young Ukrainian politicians," Yevgeny Kiselev said. "They have their own ambitions, while he has his. They feel uncomfortable around him, because he's too bright a star for the lot of them. But he really needs them now. Some dead-end, indeed."
Georgia or Ukraine
Journalist Sergei Scherbina was drawing a diagram on a napkin in a café in Kiev, as he tried to explain to me the inner workings of Ukraine's oligarchic system – who controlled whom, who were each other's partners or opponents and so on.
When he'd finished, the drawing looked, effectively, like an intricate electric circuit blueprint.
"Do you see now what he has to deal with?" Sergei asked. "Saakashvili thinks he is a big political player in Ukraine. But in reality they have all used him in their own games. Presently, he is right in the thick of a confrontation between the clans led by [Interior Minister Arsen] Avakov and Poroshenko."
But while the crackdown on Saakashvili, i.e. the cancellation of his Ukrainian passport, deportation of his supporters and, most recently, the detention of his son in the Kiev airport has been eating away at Poroshenko's image and reputation, Saakashvili himself has little to lose.
The processes in Ukraine may be his chance to survive, to stay afloat in the seas of international politics.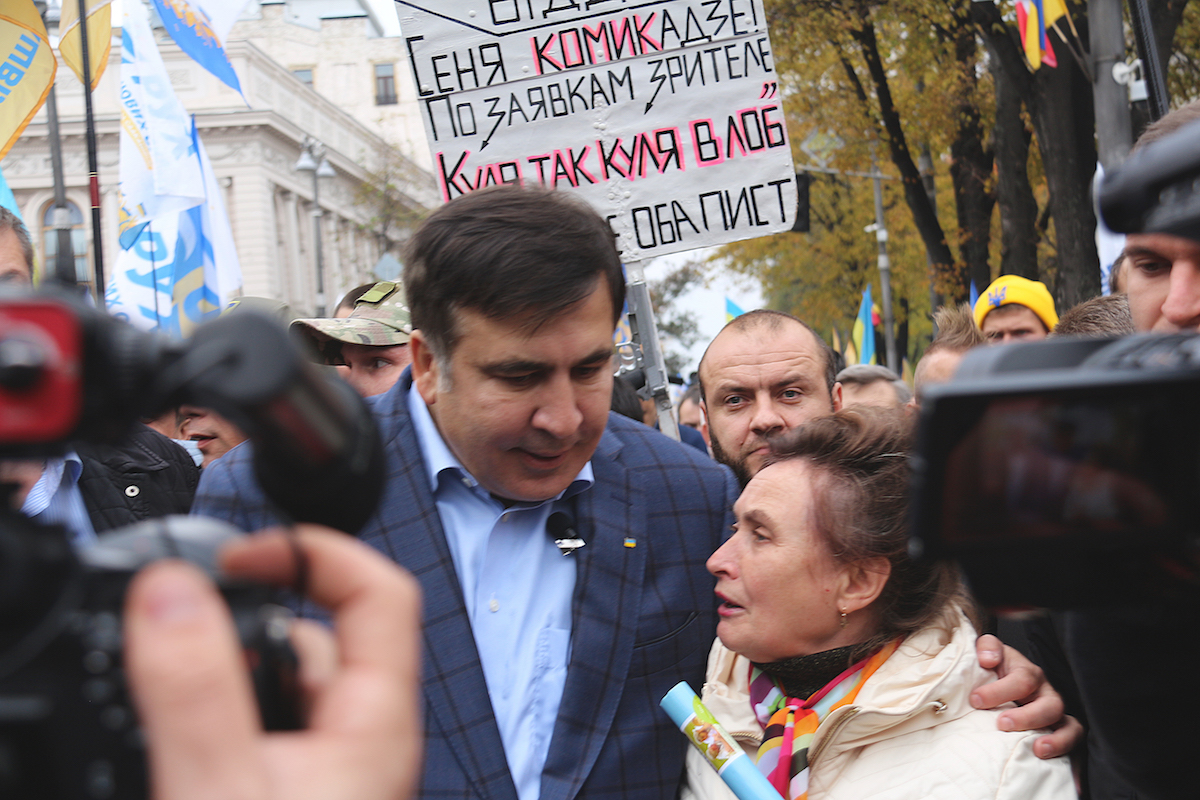 What is his ultimate plan? Is he going to stay in Ukraine or return to Georgia?
Only he can answer these questions.
Georgia as it is today has little promise of good to hold out to him, and his prospects of going home will only become bleaker if he fails in Ukraine. A defeat in Ukraine will be the death of his party in Georgia – the United National Movement. It's already been disintegrating fast, hit by a massive exodus of its members, with many who have left it saying the reason they have is because the party is too dependent on Saakashvili.
He continues to be a pain in the neck for the Georgian government as well.
The ruling party, Georgian Dream, does not want him in Georgia, not even as a prisoner. A vivid illustration of this is an audio of a phone call released by Russian pranksters some time ago. In it, the now ex Interior Minister of Georgia, Giorgi Mgebrishvili [removed from the post as part of a recent cabinet reshuffle] can be heard talking to a prankster who he thought was Ukraine's Avakov, almost pleading with him not to extradite Saakashvili to Georgia. This might disrupt the order and stability in the country, he said.
"Mikho is a down-to-earth guy"
The protests in the Grushevski Street in Kiev have been ongoing for more than a month now.
A tent camp has been put up, and a cult Russian song by Tsoi [a late Soviet rock star] is blaring out of a few speakers, calling for "changes". Field kitchens are busy cooking soup and buckwheat porridge, ladling out tea and coffee to the protesters to keep them warm in the cold weather.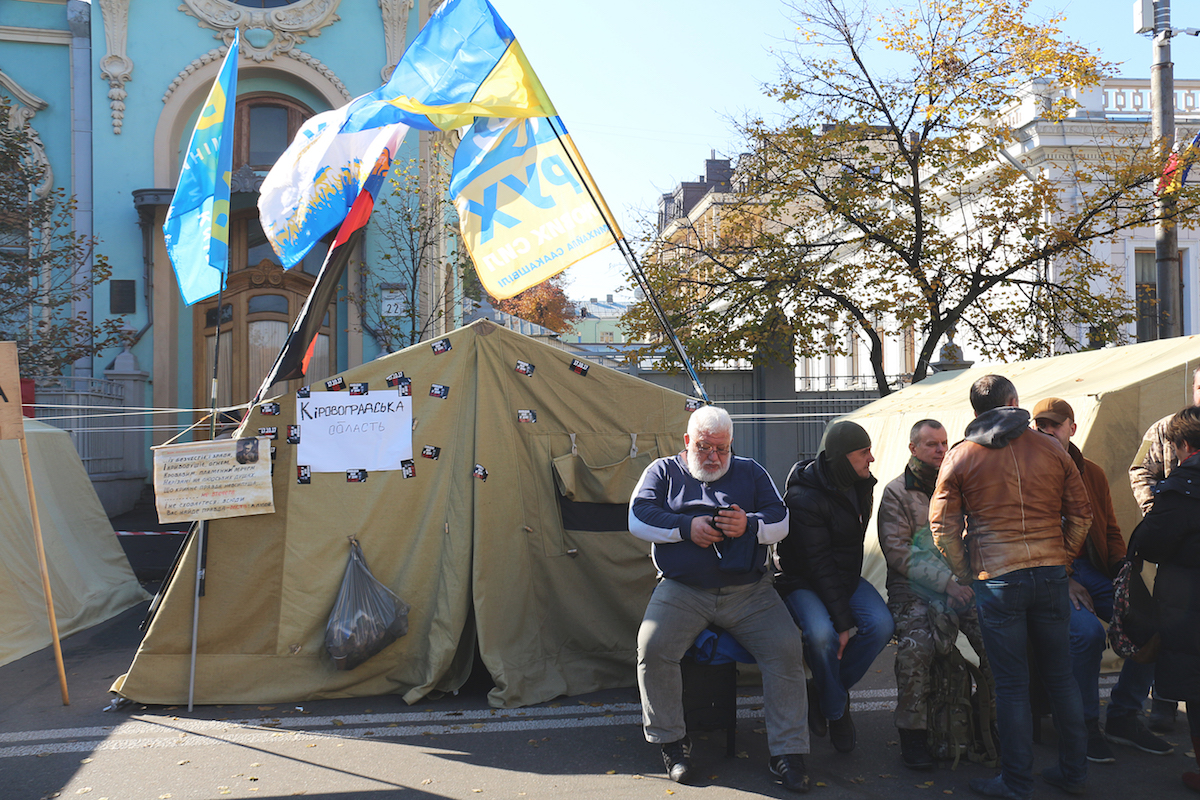 "Mikho is a down-to-earth guy. He's nothing like the local officials," says Vitaly who, like many other protesters here, is wearing a military uniform, a reminder of the ongoing war in Ukraine.
On Khreschatik, Kiev's main street, just several hundred meters away from where the protesters have set up camp, pedestrians stroll leisurely. Many have a very hazy idea of what is going on outside of the Rada.
"To tell you the truth, I don't know what their [the protesters'] demands are," says Irina, the owner of a souvenir shop near Independence Square. "I've only heard that Saakashvili is there, along with some other guys."
Several minibuses are parked nearby, their drivers hailing passers-by, offering to take them on a tour of the immense luxurious estate that used to belong to the former president Viktor Yanukovich before he fled the country in 2014, following months of anti-government street protests.
"Yanukovich's residence is all we've gained from [the protests]," Irina says. "I've never been there myself, but the tour is quite popular, and people who've taken it say his toilet bowl is made of gold."
Meanwhile, the situation outside of the Rada building is constantly changing: demands have been voiced only to be replaced by other demands, and parties have joined the rally only to later withdraw from it, and a campaign to collect signatures for the impeachment of Poroshenko has been scheduled to start on 3 December.
It's obvious that Saakashvili has no clear action plan, and his only goal now is to stay in the spotlight for as long as he can and to prevent his "tent camp" rally from turning into a drab, unnoticeable routine the way the protests outside the Georgian Parliament by nationalist supporters of [Georgia's first president] Zviadi Gamsakhurdia did in the early 1990s.
Saakashvili's political future depends, to a great extent, on his former friend, or, to be more specific, on how good a job he can do of turning Poroshenko's mistakes to his own advantage.
Saakashvili is well aware that he's racing against time. With each passing year, the legend of a young Georgian president who changed his country loses more of its lustre.
Fourteen years have passed since the Rose Revolution that brought him to power in Georgia. Four years have passed since he stopped being the president. It's a lot of time. More than enough for the 'Georgian miracle' to have started turning into a mundane thing.
* Author: Sopho Bukia, editor of JAMnews in Tbilisi