Russia and Ukraine swap prisoners
Russia and Ukraine have finalized the "35-for-35" prisoner swap, Tatyana Moskalova, Russia's commissioner for human rights, told TASS.
A plane carrying released Ukrainian citizens landed in Kyiv's Boryspil airport several hours ago, as did an aircraft with released Russian citizens arrived at the Vnukovo airport in Moscow.
The Ukrainians' families had gathered on the Kyiv airfield to greet them; president Vladimir Zelensky was there to meet them, too.
Українські політв'язні повернулися додому. Олег Сенцов, Олександр Кольченко, Павло Гриб, полонені моряки та інші змогли обійняти родичів pic.twitter.com/y0GJ0x8nAh

— hromadske (@HromadskeUA) September 7, 2019
24 Ukrainian sailors were the first to come out of the plane. They were detained during a battle between Ukrainian and Russian warships in the Kerch Strait on November 25, 2018. They had been accused of border trespassing.
Those who have been freed include: Aleksei Sizonovich, Oleg Sentsov, Alexander Kolchenko, Pavel Grib, Nikolai Kapruk, Stanislav Klikh, Vlodymyr Balux, Roman Sushenko, Edem Bekirov, Artur Panov and Evgeni Panov.
• Oleg Sentsov ends hunger strike
• The 'transportation war' between Russia and Ukraine is becoming more intense. What can be expected?
• Ukraine and Russia: enemies at war or trade partners?
On September 5, a court in Kiev released Vladymyr Tsemakh, a key witness in the case of the shot down Malaysian Boeing.
He was the chief of air defense of the rebel forces in the Donbass at the time the tragedy happened in 2015.
Later, Tsemakh was abducted by the Ukrainian intelligence service and taken into custody.
Presumably, Russia wanted him to be included in the list of prisoners to be exchanged, and negotiations over this were the reason the swap was delayed.
The foreign ministry of the Netherlands have said they will keep an eye on all the circumstances surrounding the release of Tsemakh. The country is in the process of investigating the Malaysia Boeing crush case and has repeatedly asked Ukraine for the permission to interrogate him.
_________________________________
11.30, 7 September
After a week delay, the exchange of held persons between Russia and Ukraine began.
Russian President Vladimir Putin gave amnesty to Ukrainian producer Oleg Sentsov and ten other Ukrainians, Russia's Interfaks reported.
On the morning of September 7, war prisoner lawyer Nikolai Polozov officially announced that 23 Ukrainian sailors who had been imprisoned since November 2018 had been taken out of the detention centre in Moscow, Ukraine's Hromadske reports.
З московського СІЗО "Лефортово" виїхали два автобуси у супроводі поліцейського кортежу, передає наша журналістка з місця подій pic.twitter.com/PgGaf6tQu5

— hromadske (@HromadskeUA) September 7, 2019
Who else will be transferred to Ukraine is still unclear.
However Hromadske reported that the relatives of political prisoners who were in prison in Russia: relatives of Pavel Hryb, Oleg Sentsov, Alexander Kolchenko, Evgeny Panov and others, have left the ombudsman's office in Kiev.
As for the prisoners in Ukraine, the Russians, who will be transferred in exchange for Ukrainians, according to preliminary information, will depart from Boryspil military airfield.  Among those freed by the Ukrainian side is journalist Kirill Vyshinsky, his lawyer claims.
An airplane is expected to land from Kyiv shortly at a Moscow airport – otherwise there are no direct flights between the two countries.
And to Kyiv, according to the Flightradar website, an airliner from the presidential flight squad of the President of Russia is approaching.
Who are Ukrainian political prisoners in Russia?
• 24 Ukrainian sailors. They were detained during a clash between Ukrainian and Russian warships in the Kerch Strait on November 25, 2018. They are accused of illegally crossing the border.
• Ukrainian film director and writer Oleg Sentsov. He was arrested during Russia's annexation of Crimea in 2014. In August 2015, he was sentenced to 20 years in a maximum security colony on charges of terrorism.
Sentsov pleaded not guilty. A number of international human rights and cinematographic organizations spoke in support of him.
In May 2018, while in prison, Oleg Sentsov went on a hunger strike, demanding the release of all Ukrainian political prisoners in Russia. The hunger strike lasted 145 days.
• Crimean farmer and pro-Ukrainian activist Vladimir Balukh. Following the annexation of Crimea, he renounced Russian citizenship and remained a citizen of Ukraine. On November 29, 2016, he hung a sign "Street of Heavenly Hundred Heroes" on his house.
On December 8, he was arrested for illegal possession of weapons. He was later accused of violence against a government official and sentenced to 5 years. The Memorial Human Rights Center recognized him as a political prisoner.
• Nikolay Karpyuk, Ukrainian public and political figure and former deputy chairman of the UNA-UNSO party. In March 2014, he was detained at the entrance to Russia on charges of crimes against federal troops committed during the first Chechen war.
He was later sentenced to 22.5 years in prison. The Russian human rights organization Memorial recognizes Nikolai Karpyuk as a political prisoner.
• 19 year old Ukrainian student Pavel Grib. In 2017 he visited a female friend in Belarus and was detained and imprisoned in Russia on charges of terrorism. Russian authorities allege he had incited a female friend in Belarus to detonate a bomb at a school in Sochi.
In total, according to Kiev, in Russia there are up to 70 citizens of Ukraine detained or convicted for political reasons.
Russian citizens imprisoned in Ukraine
Sources approximate there are around 33 to 35 Russian prisoners in Ukraine. All prisoners, with the exception of one, took part in the armed conflict in southeastern Ukraine and were detained there, most of them armed.
The only civilian is journalist Kirill Vyshinsky, who is head representative of the Russian news agency RIA in Kiev. He was arrested on charges of high treason after disseminating propaganda in support of the conflict in Donbass.
Several days ago, Vyshinsky was transferred from prison to house arrest under the personal guarantee of an unknown person.
The first attempt to exchange prisoners and prisoners between Russia and Ukraine was made on the night of August 30.
August 30
In the early hours of August 30, Russia and Ukraine began a large-scale prisoner exchange.
Hromadske reports several Ukrainian prisoners are already on their way to Ukraine.
The new Prosecutor General of Ukraine Ruslan Ryaboshapka was the first to issue any statement.
"The exchange has ended. Sentsov, Karpyuk, Balukh, Grib, the sailors – all are coming home," he says.
Meanwhile the Office of the President of Ukraine and the Security Service report that "the process continues."
"The exchange will need time so that the necessary paperwork can be completed" says a source at Interfax, a Russian state agency.
The lawyer of imprisoned Ukrainian sailor Ayder Azamatov confirmed to Gromadsky that a number of imprisoned Ukrainian sailors were transported to Kiev in the early morning.
Secretary of the National Security and Defense Council Oleksandr Danilyuk informed correspondents from Gromadsky that he hoped for an exchange of prisoners between Ukraine and Russia, but added that they would comment on this only when it was all over.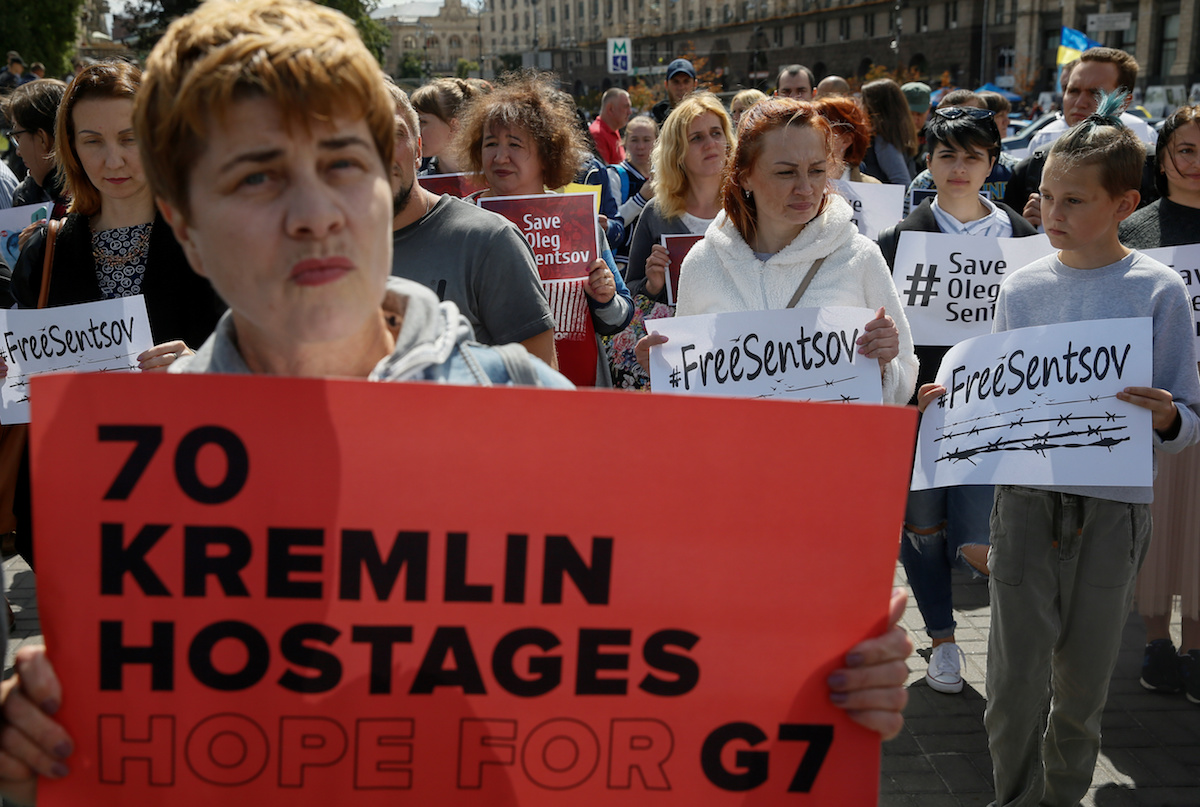 REUTERS/Valentyn Ogirenko