Ilham Aliyev: "Does Armenia want peace? I think not."
Aliyev on September 19-20 military actions
The President of Azerbaijan listed the reasons for the military actions of the Azerbaijani army in Karabakh on September 19-20. According to him, groups of Armenian armed formations are still hiding in the territory. "Does Armenia want peace? I think not… Armenian Prime Minister flies 6 hours to Granada, participates there in an incomprehensible meeting where Azerbaijan without Azerbaijan is discussed, and he cannot fly 2-3 hours to Bishkek, he has important things to do."
---
---
On October 11, Aliyev received participants of the 53rd session of the Council of Heads of Security Bodies and Special Services of CIS member states.
On the causes of September 19-20
"A question may arise: what happened three weeks ago? So, despite the fact that the declaration [Trilateral Statement of November 10, 2020 – JAMnews] was signed, Armenia did not fulfill its points, namely, one of the most important points said that all Armenian armed forces should be withdrawn from the territory of Karabakh. This was not done, and it was not done demonstratively.
Moreover, in the two years from 2020 to the beginning of 2023, when Azerbaijan did not control the border in the Lachin region, huge amounts of ammunition were brought there, which amounted to millions, and which was revealed quite recently. Mines were brought in, the territory was additionally mined. All this led to the fact that Azerbaijanis continued to die on their land. Since the end of the second Karabakh war, we have 315 dead and severely maimed military and civilians, and unfortunately, the number is growing every week.
Repeated calls to Armenia to put an end to territorial claims against Azerbaijan have received a very strange reaction, which I would also like to inform you about. A year ago, last October, at the meeting with international partners of the leaderships of Armenia and Azerbaijan a statement was adopted, in which both countries recognized each other's territorial integrity and commitment to the 1991 Alma-Ata Declaration, which confirmed the territorial integrity of all our countries. We considered this an important step on the part of Armenia, which would finally give up its territorial claims to Azerbaijan. But, unfortunately, our hopes were not realized. Recognizing the territorial integrity of Azerbaijan in words and on paper, the Armenian leadership in fact did everything in the opposite direction. Azerbaijan's repeated appeals to stop provocative actions, unfortunately, were not taken seriously. The situation became even more acute when on September 2 of this year the Armenian Prime Minister sent a letter of congratulations on the anniversary of the establishment of the so-called "Nagorno-Karabakh Republic". This was a crossing of a red line, which Azerbaijan, naturally, could not tolerate. It was a clear claim on our territory. On September 9, the so-called authorities of the so-called Nagorno-Karabakh held elections, chose a new leader, which was a complete disregard for the existing realities and left Azerbaijan no choice but to conduct an anti-terrorist operation, which was held on September 19, and fully restore our sovereignty".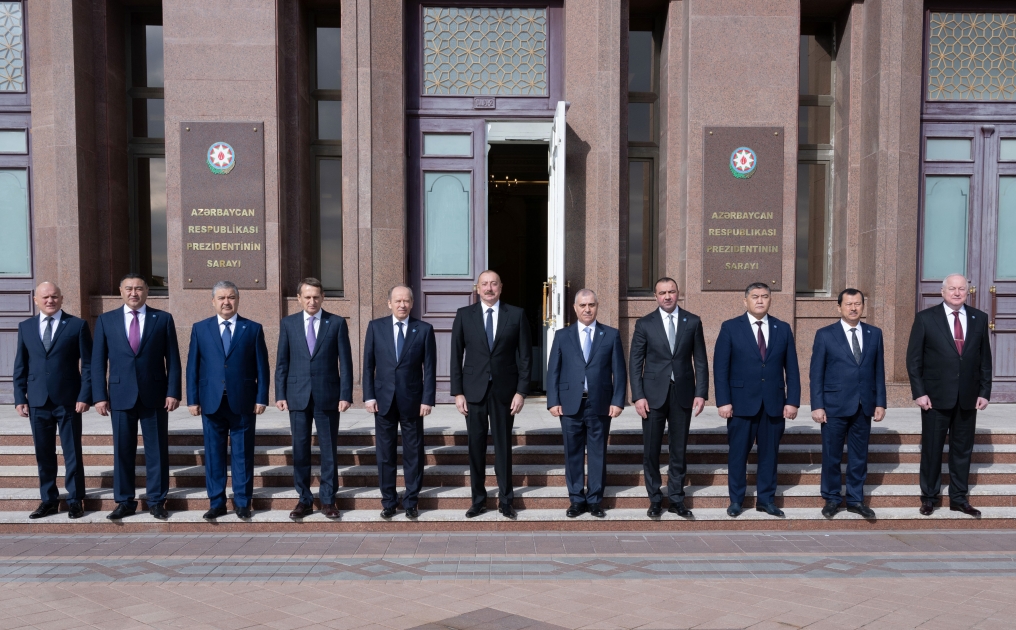 "Certain groups are hiding in this territory."
The President of Azerbaijan also said that there are still groups of armed Armenian formations in Karabakh:
"As a result of the operation, which lasted less than a day, the Armenian army in Karabakh was completely disarmed, a contingent of many thousands, and there were from 10 to 15 thousand of them, was disarmed, and full control over the territory was established.
At the same time, we have publicly published a plan for the reintegration of the Armenian population of Karabakh, which is also available on the Internet. And an appeal was made to the Armenian population to stay in their homes, because our operation was very targeted. Civilian infrastructure, civilian objects and civilians were not harmed and, as I said, the whole operation lasted less than 24 hours. It was enough for the illegal armed formations of Armenia to be completely demoralized and, in fact, to surrender.
Today, the process of cleansing the territory of these gangs is underway. According to our data, there are still certain groups hiding in this territory. After September 20, there were armed provocations in Karabakh. The territory is quite large, mountainous, forested, so we will need time to completely clear the territory."
"We were fighting on our own territory."
Aliyev touched upon the issue of accusations against the Azerbaijani side after the military actions of September 19-20 in some international political circles and world press:
"The recent statement of the French President that Azerbaijan has problems with international law can only cause laughter. Since Azerbaijan did not violate international law. We fought on our territory, we suppressed separatism, we observed all humanitarian norms, all Geneva Convention rules.
But international law has been violated for 30 years by France's protégé and today's main ally – Armenia, occupying the territory of another state. And as the saying goes, one should cast out the beam from one's own eye before the mote in the eye of one's brother.
One and a half million Algerians were exterminated by the French regime just because they were Algerians and were Muslims. That is genocide. Not to mention France's bloody crimes in Africa, in other parts of Africa and around the world. And the fact that today France still retains its colonies is incomprehensible. Azerbaijan, as the Chairman of the Non-Aligned Movement, has repeatedly, and I personally have raised this issue at the summits of the Non-Aligned Movement.
And this country which has a bloody colonial past, which even today some African countries, no matter how hard they try, cannot get rid of, accuses us of violating international law. This is absurd."
"Does Armenia want peace? I think not."
"I would also like to inform you that on October 12, a day later, at the suggestion of the Russian side, a meeting of the Foreign Ministers of Russia, Azerbaijan and Armenia was to be held in Bishkek.
We took this proposal positively, and our Foreign Minister was ready to meet with his Russian and Armenian counterparts. Unfortunately, the Armenian side refused this meeting.
Now the question arises: does Armenia want peace? I think not, because if it wanted peace, it would not have refused this opportunity. The Armenian Prime Minister flies 6 hours to Granada, participates in an incomprehensible meeting there, where Azerbaijan without Azerbaijan is discussed, and he can't fly 2-3 hours to Bishkek, he has important things to do. This is what we all have to say openly. Everyone sees it, but we should say it and proceed from it.
…As for normalization of relations between Azerbaijan and Armenia, we are ready to go for it. We are ready to continue working on the peace treaty. In case the mediation of the Russian Federation is rejected by the Armenian side, I think the alternative is direct negotiations between the foreign ministers of Azerbaijan and Armenia. Any other platforms will be analyzed by us taking into account the attitude of those countries that offer their services to the truth – not to Azerbaijan, but to the truth and international law."