Hot alcoholic drink for Baku winter
Background
One does not have to go on the booze to overcome Baku winter, with its humid winds. Yet, some specific winter alcoholic drinks are still required. In due time we will say some cordial words about the pomegranate vodka and Azerbaijani wines, but now let's talk about the local version of a famous hot cocktail.
Grog under a conventional name – 'Khazri' (Baku's so-called bothersome, north wind), is a modification of a traditional 'sea' grog. If Wikipedia is anything to go by, it seems that on board of the British Navy ships, rum for this drink was diluted in the proportion of half a pint to one quart of water (1:4). "Khazri' originated in the bowels of Baku's near-literary Bohemia, in 2012. This drink is designed to help one deal with the common cold – it also heals despair and apathy. Consequently, rum is diluted in proportion of 1:2.
Ingredients
White Rum – 0.5 l.
Water – 1 liter
Lemon – 1 pc.
Cardamom, cloves, sugar, honey – to taste.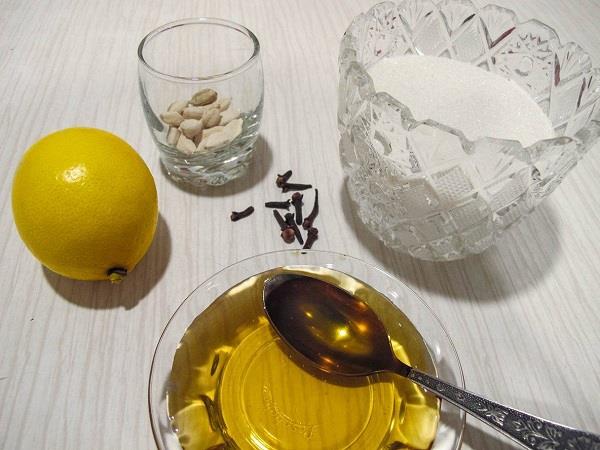 Cooking method
Water with addition of twist of lemon peel (one lemon), cloves (3-4 heads), and cardamom seeds (4-5 pcs) is heated slowly in a saucepan. Sugar, honey and lemon juice of a small lemon are added when the water is almost boiling. If you put much honey and sugar, add another cup of water, then you will get the 'ladies" grog. Everything is brought to boil, then rum is poured, a little bit heated, but not boiled. Then the drink is cover, removed from fire and let infuse for 5-10 minutes. It is served with lemon.
Taste
'Khazri' is a rather 'hard' drink. It should be drunk very hot, because its purpose and essence require inhalation of the alcoholic vapors. It has a slightly bitter spicy taste and to fully appreciate it, one should see how it changes as it gets cool. It is better to drink 'Khazri' in the close friends' circle, but do not get distracted by conversations until you finish drinking the first glass.
Effect
First and foremost – zeal. At first, you will be talking much with inspiration about everything. If nothing could be changed or organized within the aforesaid close company, then you are most likely to be willing to have a walk. Dress warmly. One usually does not get hangover from grog, unless one drinks two liters at once. Thus, everything will end in a pleasant stroll through the city and a deep sleep.