Fiery exchange between Armenian PM and Azerbaijani blogger-intelligence officer
At a meeting of Nikol Pashinyan with representatives of the Armenian diaspora in Milan on November 20 in the Armenian Church of the Forty Martyrs, Azerbaijani Ata Abdullayev, posing as a blogger, asked questions of the Armenian Prime Minister.
Later on social networks, and then on Armenian media, information appeared that Abdullayev was not a blogger, but an employee of the Azerbaijani special services.
Details – what exactly happened in the Armenian church and how Armenia and Azerbaijan have reacted.
• Armenian PM lists impressive long-term development goals at opening of Pan-Armenian games
What happened in the Armenian church?
After Pashinyan's speech, representatives of the Armenian community began to ask questions to the Prime Minister. An Azerbaijani who introduced himself as a blogger, Ata Abdullayev, also wanted to ask a question.
At first they wanted to bring the Azerbaijanis out of the church, but Nikol Pashinyan asked Abdullayev to calmly deliver his question.
Abdullayev stated that "the whole world has recognized the genocide of Azerbaijanis by Armenia." After that, he called for an end to the war and the liberation of his homeland.
Nikol Pashinyan began by saying that he couldn't even imagine that an Armenian could enter any similar event held by Azerbaijani ask such a question to any Azerbaijani official. He commented on the remark about the genocide as follows:
"This is an ordinary lie, because even the former president of Azerbaijan, Ayaz Mutalibov, said in an interview with Nezavisimaya Gazeta that the Azerbaijani opposition had organized the events in Khojaly in order to carry out a coup."
Nikol Pashinyan recalled the "peace formula" that he had previously proposed to Ilham Aliyev, which consists in the fact that any solution to the Nagorno-Karabakh issue should be acceptable to the peoples of Armenia, Karabakh and Azerbaijan.
Then the "video blogger" began to interrupt the prime minister, which caused a stir in the hall.
"Karabakh will always be Azerbaijan," Abdullayev left the church with these words.
Азербайджанский блогер задает вопросы премьер-министру Армении в Милане

🔴 Азербайджанский блогер пришел на встречу премьер-министра Никола Пашиняна с армянской диаспорой в церкви в Милане. Он обратился с серией вопросов к армянскому премьеру и начал с заявления: "весь мир признал геноцид азербайджанцев со стороны Армении". Потом он обратился к Пашиняну с просьбой: "Умоляю вас, прекратите эту войну. Нам эта война не нужна. Мы хотим свои земли. Освободите наши земли, пожалуйста"🔵 Никол Пашинян, отвечая, вначале подчеркнул, что не может даже представить, чтобы армянин смог войти на какое-либо подобное мероприятие, которое проводил бы премьер-министр или любой чиновник Азербайджана. «Вы сказали, что весь мир признал геноцид азербайджанцев – но это обычная ложь, поскольку даже бывший президент Азербайджана Аяз Муталибов в интервью российской «Независимой газете» сказал, что события в Ходжалы организовала азербайджанская оппозиция, чтобы добиться смены власти в Азербайджане», – сказал Пашинян. Также премьер-министр Армении заявил, что нельзя говорить с народом Нагорного Карабаха на языке угроз. Впрочем, вы можете посмотреть всю историю на видео

Posted by JAMnews on ხუთშაბათი, 21 ნოემბერი, 2019
Information from Yerevan
After the meeting, Armenian social media users wrote that there are serious problems in the work of the Prime Minister's security.
To this, the press secretary of the Prime Minister Vladimir Karapetyan replied:
"There can be no talk of any failures or errors in the work of Pashinyan's guard. As in all churches, the entrance to the Armenian church is free. I do not consider the incident as such [an issue]. There was an opportunity to ask a question, and the prime minister eagerly and thoroughly answered this question."
The topic of an Azerbaijani's participation in the meeting with the Armenian diaspora became the most discussed on social networks on the day of the meeting – November 20.
Here are some of the comments:
"It is difficult to imagine that an Armenian would be able to walk in uninvited and ask a question of you-know-whom. Although probably one of the 30,000 people living in Baku will be found and will be asked to ask some kind of question with a prepared answer … "
"If Armenian journalists do not know how to ask sharp and complex questions, then at least the neighboring bloggers should do it – a good opportunity to learn how to hold a punch. "
"I had no doubt that he was not a blogger. He clearly knew what was going on. It's good that they did not succumb to provocation. But! There are big questions surrounding security."
"Bravo my people, bravo prime minister, how calmly and sweetly he cut down this 'blogger of woe.'"
"They asked questions, the answers to which pricked their ears, and without hearing the answer they ran away."
"Such a funny guy, he he yells, provokes and takes off from his own performance. Honestly, I was once again convinced how patient and kind we are. One must always win with kindness. And it's even very good that he came and asked this stupid question, but at the same time received a decent answer without aggression."
Information from Baku
Response of the Azerbaijani opposition
Although Ata Abdullayev introduced himself as a "famous video blogger" at the meeting of the Prime Minister of Armenia with Diaspora compatriots, he is known in Azerbaijan for helping police detain people at opposition rallies and praising the government.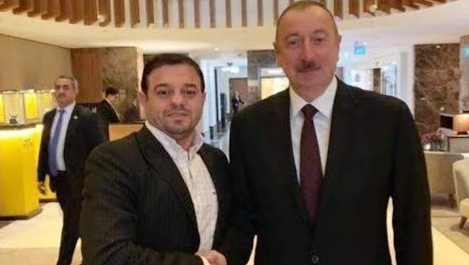 Accordingly, Azerbaijani journalists and oppositionists do not like him and rightly consider him a pro-government troll and a provocateur. And the "Milanese trick" of Abdullaev was also perceived by many as a shameful provocation.
"First, we gave our territories to the Armenians, and now we ask them questions. But we ourselves need these questions, we shouldn't give them away," Ilgar Mammadov, the leader of the Republican Alternative opposition party said, reacting to the incident.
Public activist and blogger Bakhtiyar Hajiyev perceived the incident as a way to "annoy" him personally and all other Azerbaijani bloggers and activists.
A week ago, at the Paris Peace Forum, Hajiyev also asked Nikol Pashinyan a question about Karabakh.
Later they wrote and talked about this a lot, many praised Hadjiev.
So, according to Hajiyev, the incident in the church was organized in order to divert attention from himself, to make him forget about his success and, in general, to discredit the activities of independent activists.
"Ata Abdullayev and those who sent him dealt a severe blow to Azerbaijan, its people, prestige and future," Hajiyev said.
Reaction of the authorities
Ali Hasanov, the presidential aide, said the Azerbaijani authorities did not send Ata Abdullayev to Milan, Axar.az reports.
"The Azerbaijani government is not at such a level that it sends someone like Ata Abdullayev to an event organized by the Prime Minister of Armenia, Nikol Pashinyan, to arrange such miserable dialogues."
Azerbaijani Foreign Ministry commented on Nikol Pashinyan's speech in Milan:
"The words of the Prime Minister of Armenia can be described as an attempt to mislead his people. It's impossible to evaluate it in any other way," said Leyla Abdullayeva, head of the Foreign Ministry's press service.
In response to Pashinyan's statements about the Khojaly tragedy, Abdullayev recalled the well-known statement of the former President of Armenia, at that time – Minister of Defense Serzh Sargsyan:
"Before Khojaly, Azerbaijanis thought that … Armenians are not able to raise a hand against a civilian population. We managed to break this stereotype."
Azerbaijan social media reaction
Social networks also largely agree that:
firstly, Atu Abdullaev was sent;
secondly, whoever did is now terribly ashamed of what he arranged there.
Some comments:
"How much can you take! This guy has dishonored Azerbaijan all over the world."
"Not even this fool is to blame, but those who stand behind him help him travel the world and arrange such shameful shows."
"What a shame. He cannot connect two words. If they sent him there, then at least they should have chosen someone more educated."
As regards the Azerbaijani media, many of them generally kept silent about this incident, but some have presented it in a distorted light.
Musavat.com website calls Ata Abdullaev "a famous blogger who impressed Pashinyan and everyone present."
And Haqqin.az claims that "Nikol Pashinyan was confused when he saw an Azerbaijani in the Armenian church."