Drugs Disappear
In November, social networks have literally exploded with outraged comments: almost half of medicines, used by Azerbaijani citizens for treatment, vanished from the drug stores.
"What country are we living in? I have been visiting all drug stores in the city for two hours, trying to get Nixson and Dicloberl, but I can't find them anywhere. I have already visited 20 drug stores! The explanation is that the government has reduced prices for these medicines and it is not profitable for the deport to bring them! Nobody thinks of people, of patients, what should they to do?!!!'
"A week ago an old man argued with the senior doctor in the outpatient department, saying the doctors had allegedly prescribed him medicines that were not available in drug stores.
The reason I have remembered this incident is that he shouted loudly with anger in the outpatient department: "What am I supposed to do? These medicines are not available, shall I die or go and kill the doctor?
I was really scared, since an ill pensioner could go any length in a desperate state. I do not blame them, but this situation should be dealt with.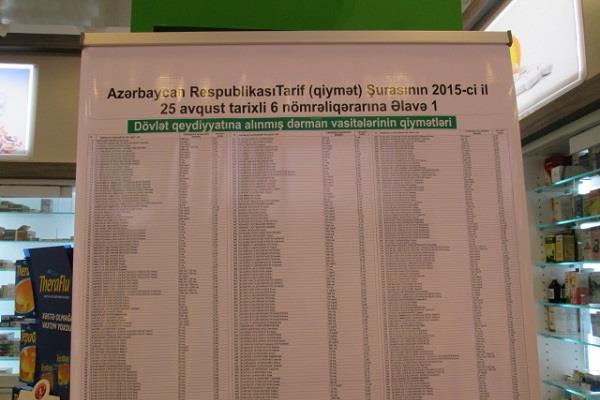 The point is that Azerbaijan's Tariff Board is now busy approving prices for medicines that are sold on the territory of the country. There is already a list, comprising 3010medicines. Prices for the rest of medical preparations are to be approved by the end of 2015. Prices for many medicines have been reduced twice and even trice in the new list.
It has become unprofitable for the drug stores to sell these medicines at such prices and they have disappeared – they simply have not been imported. Social network users and forum visitors name, among disappeared medicines, those that are of vital importance for people with chronic diseases. Now, people will have to go to the neighboring countries to buy them.
Ali Masimli, Azerbaijan's Milli Mejlis (parliament) member, told trend.az, a drop in medicine prices would have positive impact on all spheres of economy and citizens' family budget. "It is a common knowledge, that elderly people are spending the bigger part of their salaries, and if they are retired – their pensions, on purchasing medicines. Regulation of medicine prices by the government will result in considerable reduction of prices for large number of necessary medical preparations that, in turn, will have a positive impact on family budget of Azerbaijani citizens with low incomes.
Judging from the discussion on disput.az, the population is obviously far from being delighted with such methods:
"The government has decided to reduce prices to demonstrate care of citizens. Regrettably, it has "forgotten to take into consideration certain standards, according to which medicines are produced. Not all producers observe these standards. It has "forgotten that medicine producer countries should not be divided into the first, second and the third and the prices are not to be set according to the country's level. There are many other aspects and one does not know whether to laugh or cry. Many best sellers are leaving the market. The rest could barely stay up. Distributors demand from producers to reimburse the difference between the initial price and that, set by the government. The plants somewhere in Germany, France, Slovenia, Ukraine, Hungary – it does not matter where, wonder why they should reimburse "mind games (or its lack) in Azerbaijan? That's why many producers are closing up their business here.