Cars Were Horning and Everybody Stared After Them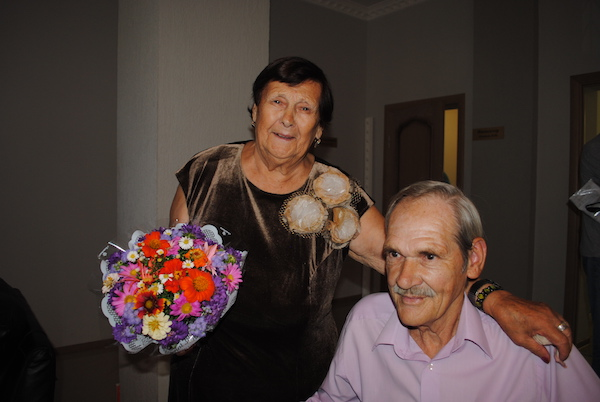 Gennady Redkozubov, 71, and Elena Gvasalia, 85, got married. It is probably the only married couple in Abkhazia that is the youngest and, at the same time, the oldest one.
The bride was wearing a velour dress with hand-made flowers, while the bridegroom, was in a smoothly ironed shirt. "That's the whole preparation for the wedding, the said smiling.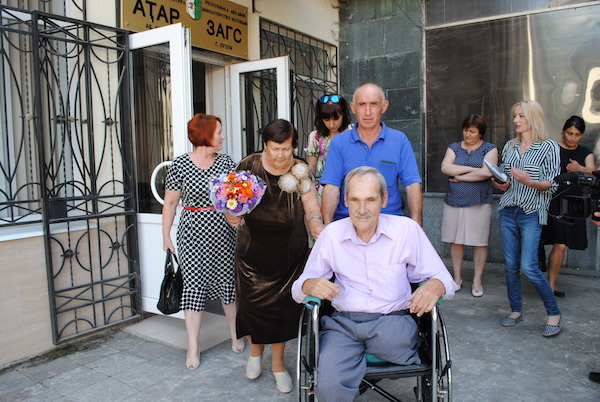 Mendelssohn's Wedding March did not sound. It seems that a solemn registration in the Grand Hall with an emblem requires extra funds. The reporters were even not even allowed to enter the office, where the bride and the bridegroom underwent registered.
Here they are returning to the elderly home. Everything is as it should be: horning cars with blinking signals. The people in the bypassing cars were looking with surprise and did not understand what was going on in the elderly home.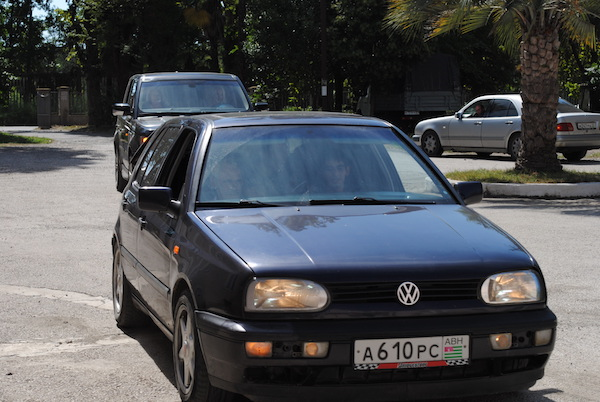 Doctors from the whole vicinity gathered to have a look at the newlyweds. Not only the elderly home personnel, but also the doctors from the neighboring Infectious Hospital, gathered to have a look at them.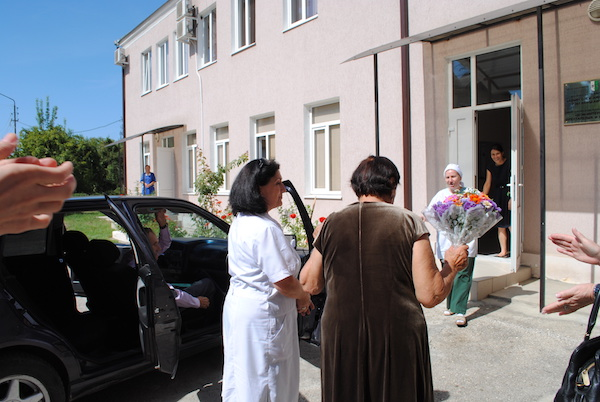 A warm-hearted banquet, balloons, flowers and congratulations were waiting for the happy couple in the elderly home canteen. There were different tasty meals and splendid dishes on the table.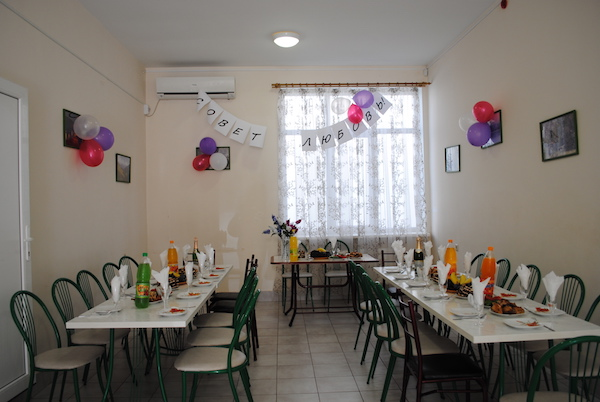 Here is a separate table for the bride and the bridegroom, as it should be.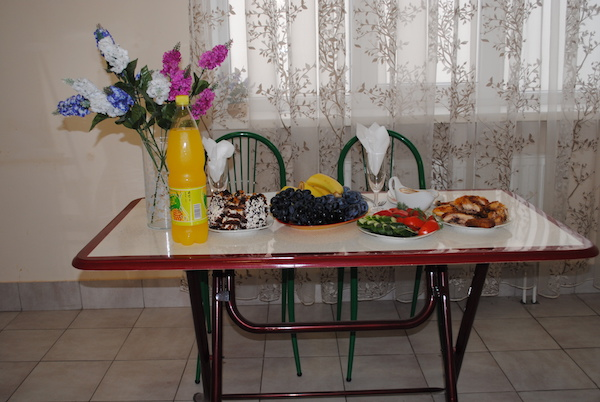 Elena Gvasalia says, crying: "I had a hard life. We lived in Ganakhleba village, my mother suffered from illness and I had to quit everything and take care of her. Her husband took her by the hand and began calming her. She got calmed down!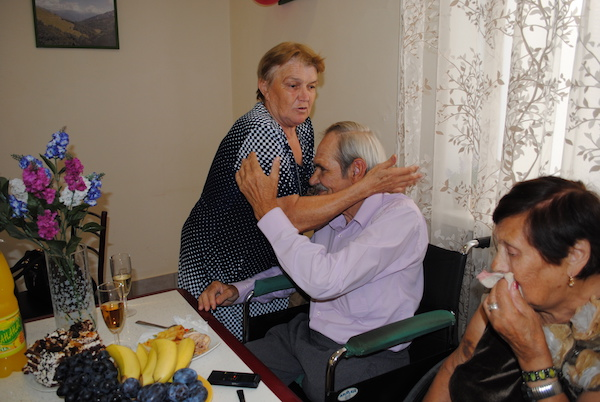 "Then I got married. My husband and I lived together for twenty years, but he died of illness. I was left alone. Some time passed and I got married again, but unfortunately, he also died. I have no children.
"I was taken to the elderly home three years ago. I have known Gennadiy Anatolyevich for about half a year. We used to go for walks in the street and met there, sat and talked. One day he proposed to get married. He said he had never met such women as I am for the whole time he had been in the elderly home. I was nervous before the wedding, I thought what if he would change his mind and did not want to marry me?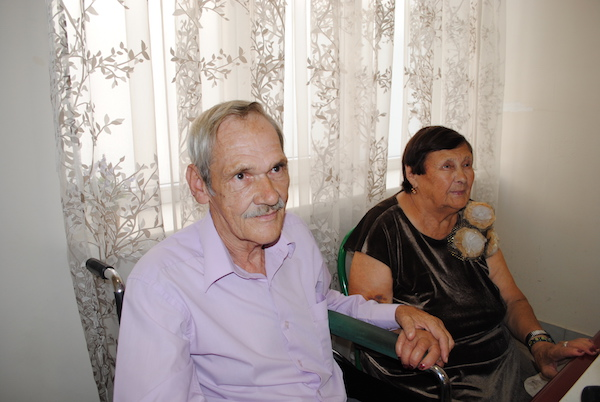 "There was no wedding party when I married for the first time, as my husband had a large family and we had money problems. Today I have a real wedding party and I am very happy.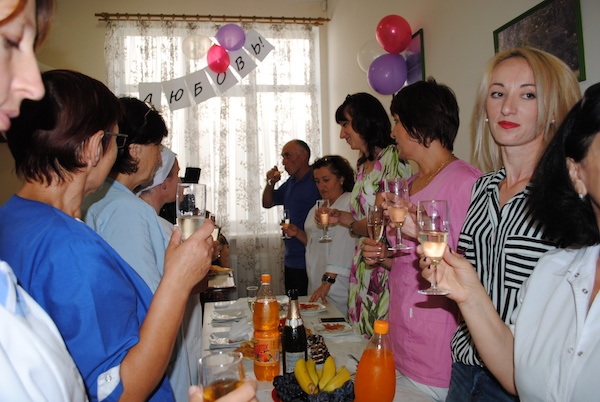 Gennady Redkozubov: "I am happy. I have found my woman late in life. I had wives, but those marriages were unhappy. I had a son, but he died in a car accident.
"I remember the first time I saw her. Once I went to the balcony to smoke and saw her sitting on a bench and feeding pigeons. I felt attracted to her immediately. I kept an eye on her and understood that she was a good woman. Both of us were lonely and I proposed her to marry me and to live together. We will not have any children and therefore we will live for ourselves. Loneliness has united us. "
These are our friends and neighbors in the elderly home.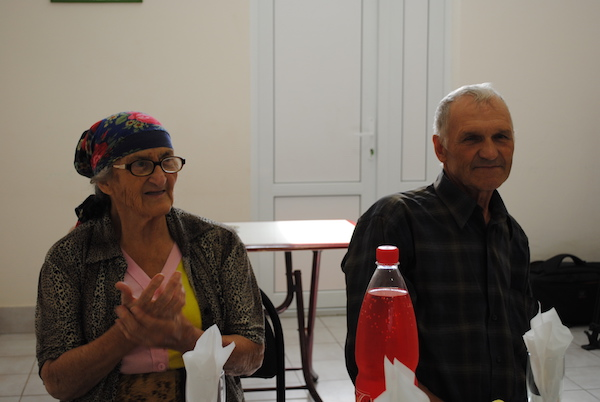 The newlyweds came to the elderly home director and asked to allocate a room for them. Fortunately, there was a separate and rather spacy residential room. Everything is cozy and there is even a TV set. The elderly home director, Anna Poskannaya, has created this comfort. In her words, the elderly home administration has paid half of the sum for the wedding, as it could not cover all expenses.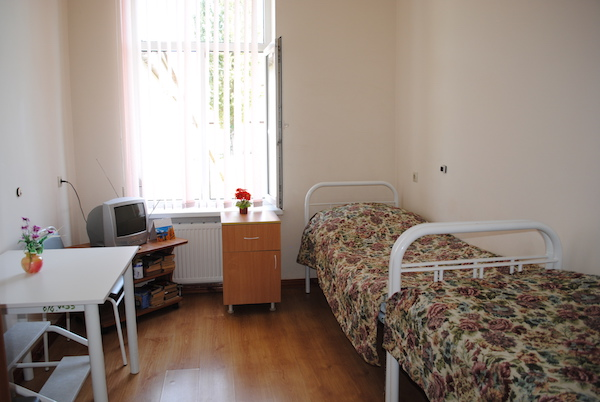 Everybody congratulated the newlyweds and wished them love, health and prosperity for their family. There was a lot of champagne and all the guests drank and merrily spent the time. Traditionally, the bride and the bridegroom took care of each other and treated each other with a cake.
That's the love-story.