Azerbaijani journalist charged for "insulting headline"
A trial is going on in Baku in the case of journalist Sevinc Vaqifqizi, who stands accused of "insulting honour and dignity" for her headline in a video about the presidential elections in Azerbaijan, which she shot in 2018.
• Who was who and who was nobody in the presidential election of 2018 in Azerbaijan
• OSCE observers criticized presidential elections in Azerbaijan
• Red line for Azerbaijani journalists
The subject of the video story – the deputy director of a school in Baku – considered the title of the video offensive, and Vaqifqizi may face a 2,500 manat (about $1,500 fine). The journalist denies the charges against her.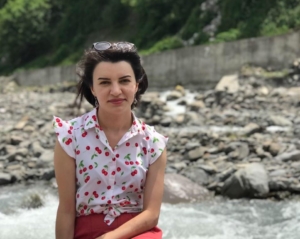 Sevinc Vaqifqizi is a freelance journalist. In her articles she often criticizes the authorities.
During the elections in 2018, Sevinc Vaqifqizi shot a two-minute video entitled "Elections 2018: the deputy director controlling the 'carousel' at the elections."
Electoral carousels are a method of falsifying voting results. Before entering the polling station, a voter is given an already filled-in ballot paper that he puts it in the ballot box, and a new, clean, ballot box is delivered and given to the organizer.
The "scene" of the video was school No. 251, where the polling station was located. The frames show how the deputy director of this school, Elmira Alandarova, periodically enters and leaves the building and communicates with some people.
Elmira Alandarova promised to withdraw the application if the journalist apologizes to her. Sevinc Vaqifqizi did not agree.
The journalist's lawyer wanted to request in the central election committee recordings from surveillance cameras from polling stations, but the judge refused. The next meeting is scheduled for the fifth of August, the Caucasian Knot says.
The early presidential elections in 2018 ended in victory for Ilham Aliyev. OSCE observers have reported numerous violations during the voting.