Where is the red line for Azerbaijan's journalists?
JAMnews spoke to journalists in Azerbaijan to learn about their lives in a country that hit the very bottom of the World Press Freedom Index in 2018. Read their answers and stories below.
"If you want to become a real journalist in Azerbaijan you should understand that it'll cost you. In the best-case scenario you won't get work. In other cases, your life, freedom and family members will all be endangered. You'll have to survive at the cost of conscience or compromise," says one journalist working at a pro-media organisation in Azerbaijan.
[su_pullquote align="right"]They praise state policy, the president, the members of his family and their deeds."[/su_pullquote]
"I'll say this: when I got into journalism, I started working at an independent newspaper. They didn't pay us much, but it was enough to get by. The main thing was that we could write what we wanted to. Nobody told us to "write about him!" or "praise her!". The media organisation where I work now is supposedly independent, but is in essence no different from any state agency. We pay special attention to news about the state policy, the president, the members of his family and their deeds. Nothing is published without a go-ahead from the leadership.
"Of course, we can't really touch on issues that concern the public. Viewers are only allowed to see the prosperity and multilateral progress that reign in our country. It's gotten to the point where the leadership has even gotten involved in our personal lives: there have been cases of people being fired for criticising the government, officials or their relatives on social media."
Azerbaijan ranks 162 out of 180 countries on the Reporters Without Borders world press freedom index of 2017.
The authorities claim that journalists in Azerbaijan enjoy complete freedom in the country. Furthermore, they also point out that two residential complexes were recently built, of which the apartments were given out for free to journalists and their families.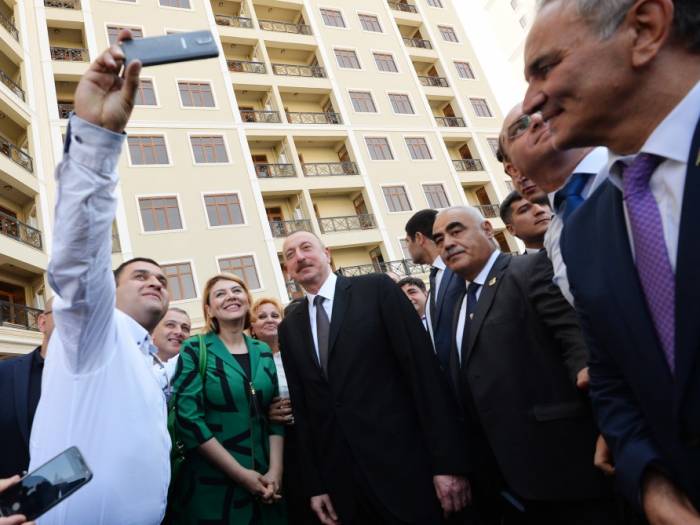 [su_pullquote align="right"]Ah, more journalists? How much do you want?[/su_pullquote]
One journalist working in a pro-government media organisation [who also asked to remain anonymous] says that one of the unpleasant aspects of his journalistic activities in the country is the existence of journalistic racketeering: when journalists extort money in exchange for not covering certain topics or issues. Because of this process, people begin to fully lose their faith in journalists:
"Sometimes you can even hear people say things like: 'Ah, more journalists? How much do you want?'"
Another annoying factor is self-censorship in publications.
"It's just sad when an article published on a site is deleted after a call, or isn't published for a similar reason. Moreover, one has to remind oneself that you're a journalist in Azerbaijan after all, and you have to adapt to this."
[su_pullquote align="right"]"Ten years ago, journalists were more free."[/su_pullquote]
"Ten years ago there were critical articles coming out in the Azerbaijani press, but nowadays you don't see that. I cannot name a single independent Azerbaijani media organisation because all of them have to be careful not to cross a certain red line. Though I haven't been subjected to violence, I have had several experiences of being pressured by people about whom I've written.
"Three or four years ago I went to do a report about the demolition of homes around the railway. When I spoke with the residents of these homes, the police detained me. At first they thought that I was working for a foreign media outlet. Then they saw my journalism accreditation and let me go, warning me not to write about this topic."
[su_pullquote align="right"]"They ended up in prison because they crossed the line."[/su_pullquote]
"It's not good when people are arrested for their articles and point of view. Among the arrested journalists that I respect are Afgan Mukhtarli and Seymur Khazi, who in my opinion have been unjustly imprisoned. But my choice is to work here in Azerbaijan and to grow old as a free person here. I have no reason to cross the line."
Journalist Afgan Mukhtarli, well-known in Azerbaijan for his investigative journalism, was arrested on 30 May 2017. A court accused him of illegally crossing the state border, smuggling money and resisting police. He is currently in prison.

Other bloggers and journalists in prison include Mehman Huseynov, Fikret Faramazoglu, Rashad Ramazanov, Elchin Ismailli, Nijat Aliyev, Araz Quliyev, Ziya Asadli and Seymur Khazi.

The Committee to Protect Journalists (CPJ) reports that there are currently 10 unfairly imprisoned journalists in Azerbaijan.

Another nine have been grounded and are unable to leave the country.

The authorities say that no journalists have been punished for their professional activities.
Western journalism says a journalist must always be a journalist, and that one's civil position is of secondary importance.
Board member of the Press Council Azer Khasrat says that it is difficult to be a journalist in Azerbaijan because of the Nagorno-Karabakh conflict, which at times might call on journalists to not cover certain issues or present them in a certain light so as to maintain an image of national unity and military prowess.
"One of the things that hinders us journalists is that a part of Azerbaijan's lands are occupied, and about half a million people are living as IDPs and refugees. We often have to choose who we are: professional journalists or citizens? Western journalism says a journalist must always be a journalist, and that one's civil position is of secondary importance. But we understand that our civil position cannot remain overshadowed by journalistic activities."
[su_pullquote align="right"]"When these people are released from prison, they must decide whether they are politicians or politicians."[/su_pullquote]
Azer Khasrat on journalists currently in prison:
"Some of those who are now in prison present themselves on the one hand as journalists, and on the other as politicians. The government has reasons for why they're in prison and why they've been convicted – for concrete crimes. Naturally, the government propagates its version of events and puts whatever evidence it has forward. The fact that these people are in prison does not mean that all journalists in Azerbaijan face being arrested. These people, in my opinion, will have to think about whether they are journalists or politicians when they leave prison."
Two of the most well-known news sites that are blocked in Azerbaijan include Radio Free Europe/Radio Liberty (RFE/RL) in Azerbaijan and Meydan TV. Security agencies in the country have deemed their activities "dangerous for society and the state".
Meanwhile, another large media group, ANS, was closed down after it announced it would be airing an interview with Fethullah Gulen, whom the Turkish government accuses of organizing the 2016 attempted coup d'état.
Another, pro-government outlet, APA, was shut down after it incorrectly translated a fragment of the president's speech.
[su_pullquote align="right"]"People who trust us end up fired or behind bars."[/su_pullquote]
Islam Shikhali, who used to work at one of the now blocked sites mentioned above, says that people do not trust journalists because they think they will be too afraid to publish articles about their problems and issues. When they find out that they work for a non pro-government site, they calm down and believe that an article or report might actually be published.
However, there's another problem that pops up after the article has been published, and that is danger for the main characters involved:
"I recently did a report about a person who had a well-paying job and who still needed to take out a dollar-denominated loan. After the manat devaluated, his loan increased two-three times. I later wanted to ask him a few things about this topic, and it turned out he had been fired for the interview he had originally given me. That is, people that trust us and open up later end up behind bars or fired, or they face enormous pressure. Such situations sometimes force us to have a good long think about what we're doing.
"And of course, it's not quite right to always write about people and not give their names. The material becomes less trustworthy. Moreover, if you don't provide names, its harder to get a comment from officials."
[su_pullquote align="right"]"As far as the police are concerned, I'm just someone filming the beauty of Baku."[/su_pullquote]
"Sometimes I run into problems with the police. They tell me that our site was blocked and then ask me how I am still able to work. Or officials refuse to give me an interview, saying that our site has been closed down and that we're nobody now and that they aren't obliged to answer us. In our country, if you say that you work for Turan news agency, they won't really have many problems with you. But if you mention Meydan TV or Azadliq (RFE/RL), then you will have many more problems and sometimes they might even take you in. It's better to present yourself as a freelancer.
"When a policeman comes up to you on the street and asks what you're filming, you have to lie. For example, I just let the police think that I'm filming the beauty of Baku."
[su_pullquote align="right"]"In a normal society, an independent journalist lives off of advertising revenue."[/su_pullquote]
Media rights expert Khaliq Agaliyev sees a connection between the lack of independence of local media structures with their lack of financial freedom:
"In a normal society, an independent journalist lives off of advertising revenue. Companies advertise with publications that are trustworthy and that have large audiences. These publications can thus stay afloat and, if need be, confront the government.
"In Azerbaijan, business and advertising, be it direct or indirect, are under the control of politicians. In these conditions, an independent journalist remains poor, which makes the profession unattractive."