Georgian street art - art or social protest?
For several years now in Georgia, both in Tbilisi and in other cities, gray, nondescript walls and other dull places have been suddenly brightened up and become objects of art and…attention.
On the streets, one can see more and more works in the style of graffiti or stencil. They are various in content – humorous, ironic, protest or simple colorful drawings and inscriptions.
Street art, also called urban art, is gaining popularity in Georgia. You can talk with most artists without any intermediaries right on the street, and with the public, and at the same time see their reaction or get their opinion on the works going up before their eyes.
JAMnews looked into what Georgian street artists want to say.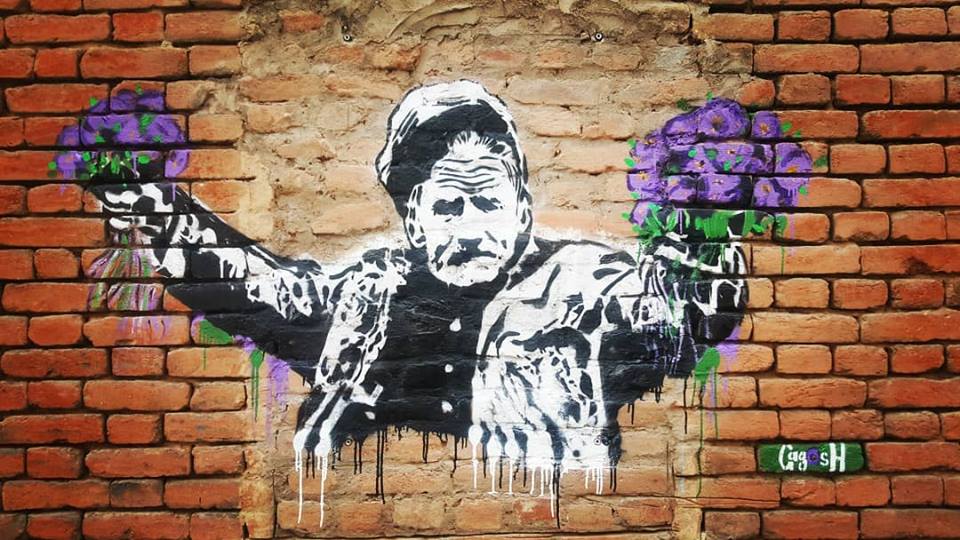 One of the nights of the first week of spring, Gagosh quietly collected his paints and materials and headed for Tbilisi's Ketevan Tsamebuli Avenue. It was there that the wall he had chosen for work was located. He was in a hurry, so his friends helped. The drawing began the same night.
At dawn on March 8, passers-by were greeted by a picture – in the middle of a highway, overloaded with cars, a crack arose, from which violets sprouted, towards which a child, drawn in black and white, was drawn.
The child has to swallow dust, to suffer the burning sun and whipping wind in order to get to the violets. In such a fashion the artist decided to remind passers-by in Tbilisi about the entry of spring into their everyday life in a somewhat acute form.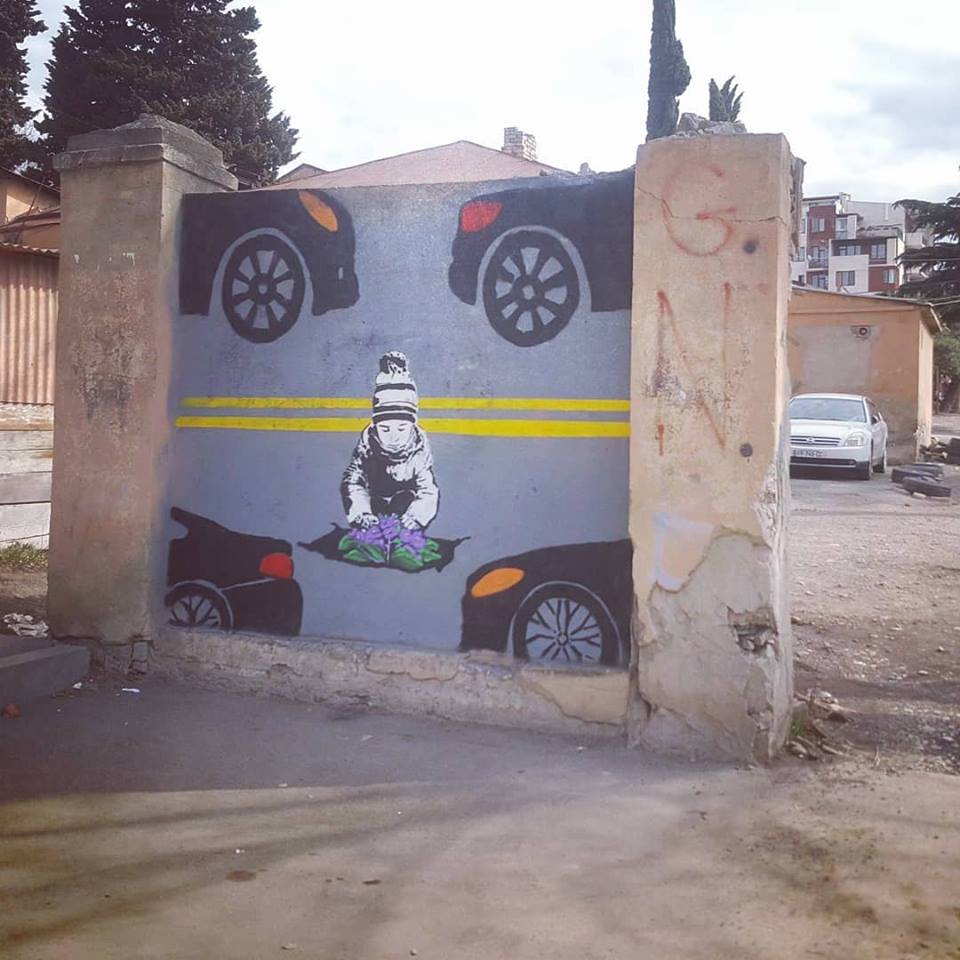 Gagosh (Gagosh) – Giorgi Gagoshidze, is a Georgian artist that works mainly in street art.
"I prefer to express my feelings or attitudes towards events in this form rather than to write comments on Facebook. My Facebook 'wall' is on the streets, not on a social network … I protest on them", says Gagosh and leads us to a wall on Mazniashvili Street. There is his work: a pink pig in a jacket walking dogs.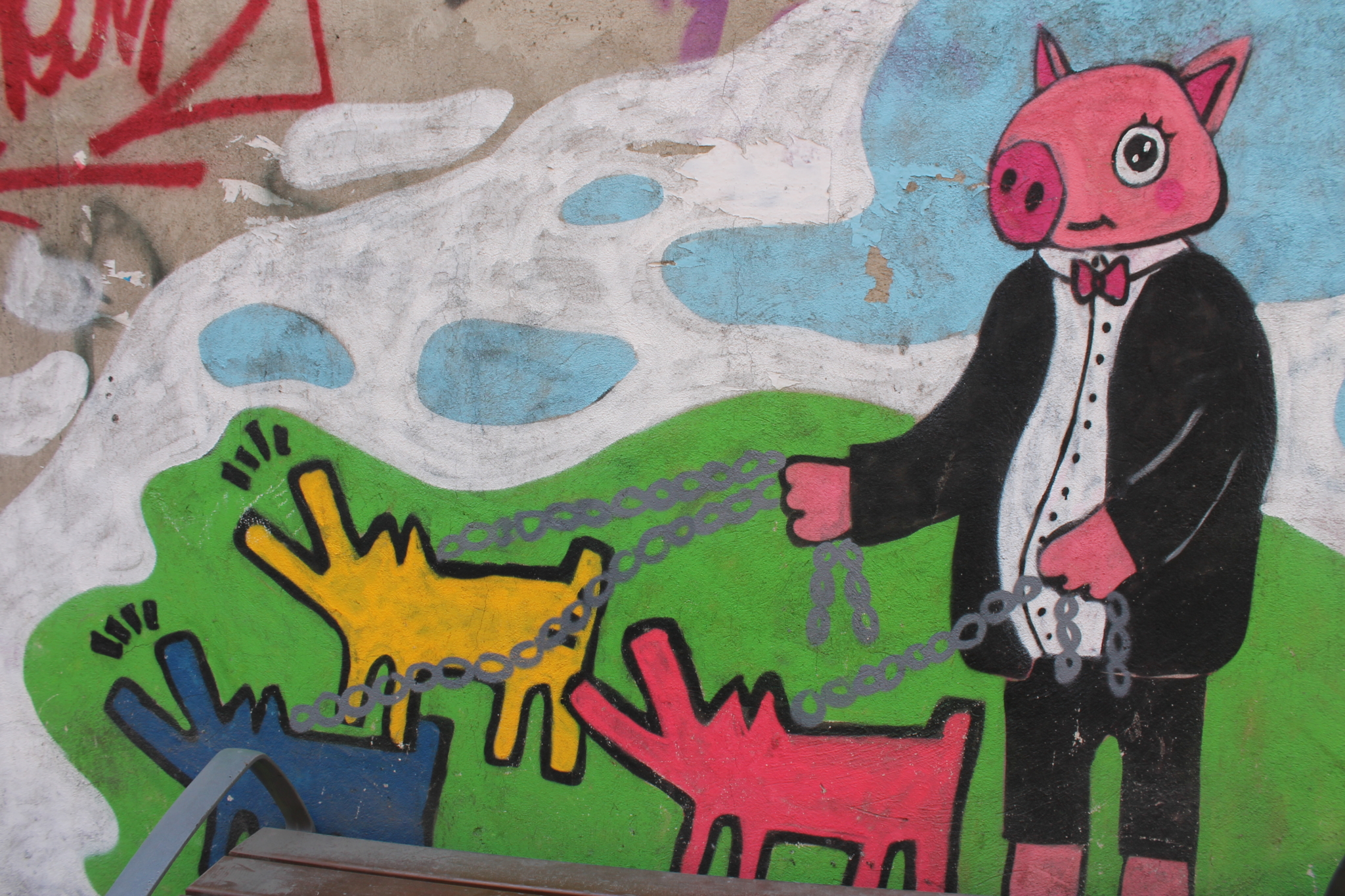 "I have never been indifferent to the work of Orwell. He has very strong allegories. Almost all administrations are led by pigs and have barking dogs to protect them", says Gagosh.
The rights of workers, corruption, elections, the occupied territories, the court, the environment – the work of Gagosh echoes all current issues and current social and political processes. He is a social street artist. And street art for him is not only art, but also a way of civil self-expression
However, for a considerable number of Georgian street artists, this style is a kind of protest platform and the reaction of the audience to what they do is important to them.
But not for everyone. Some of them consider street art merely an opportunity to embellish an ordinary place, while others believe that self-expression in contemporary art should be free from any framework and restrictions on space and form.
•Film about an Ossetian artist living in a Georgian village in the conflict zone
•Contemporary China in Tbilisi: Georgian National Museum hosts Chinese artists' exhibition
"Everything is somehow interconnected"
"The salt of street art is that it is completely independent," says artist Gameza, whose works can be found in Tbilisi, Kutaisi and other cities.
"What to write, what to draw is solely your idea. This is the main charm of street art … Everything is somehow connected."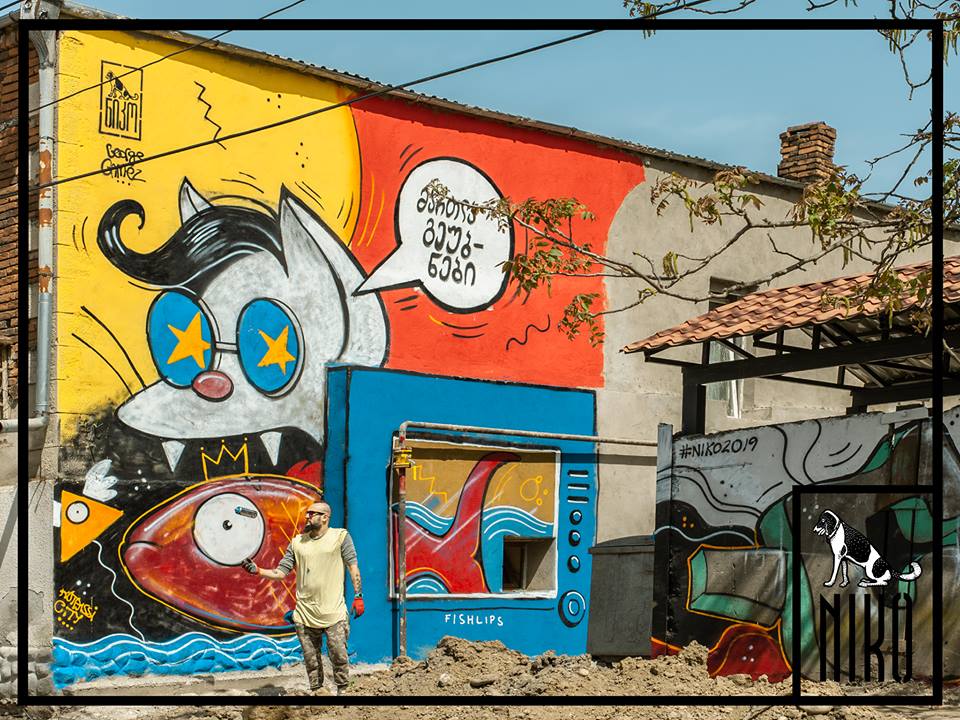 Gameza shows us one of his most large-scale works on Chorokhskaya Street in Tbilisi – a fisherman in the style of Pirosmani and at the same time resembling the hero of the animated series "The Simpsons" stands in a basin of water and holds a three-eyed fish.
Behind him, an alien spacecraft targets the Georgian parliament with a beam.
– Is the parliament being carried away or, on the contrary, being placed on the ground?
– Carried away. Is this a good or bad thing that is being carried away? This is up to you.
Gameza prefers not to "decipher" his work, but for others to see something in it, or … not see it. Therefore, he doesn't share the idea from which the work originated.
"The process itself is the result," says Gameza, a supporter of spontaneity, who starts painting right during the interview. On Chorokhskaya SStreet there is a house with an old staircase. And soon a mouse head starts to appear on it.
"All mediums have equal opportunities in expressing ideas. It all depends on the idea, intent. I choose either stencil, or a phone call, or even a performance, for my messages", says Mariam Natroshvili.
Despite the fact that most of her works are placed on the streets, Mariam does not consider herself a street artist.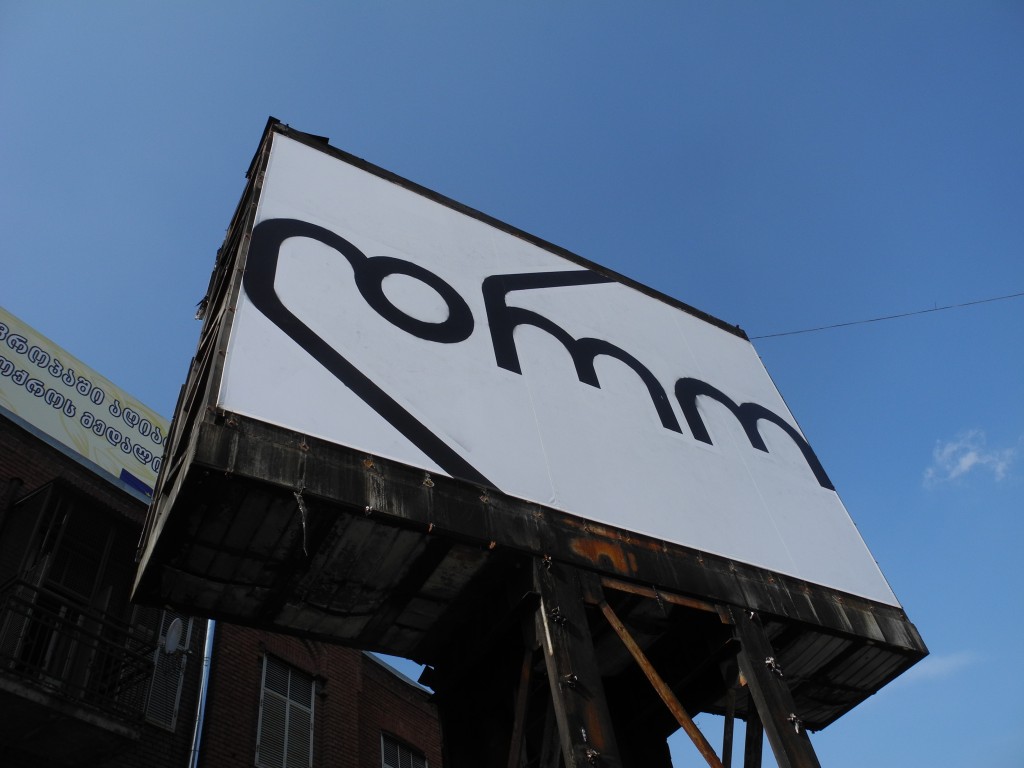 Her works often contain various inscriptions. For example, she is the author of the famous installation "Tomorrow" and the graffiti piece "Lead in the air", which appeared on the bicycle path of the renovated Beijing Street. Mariam works together with Dutu Jincharadze.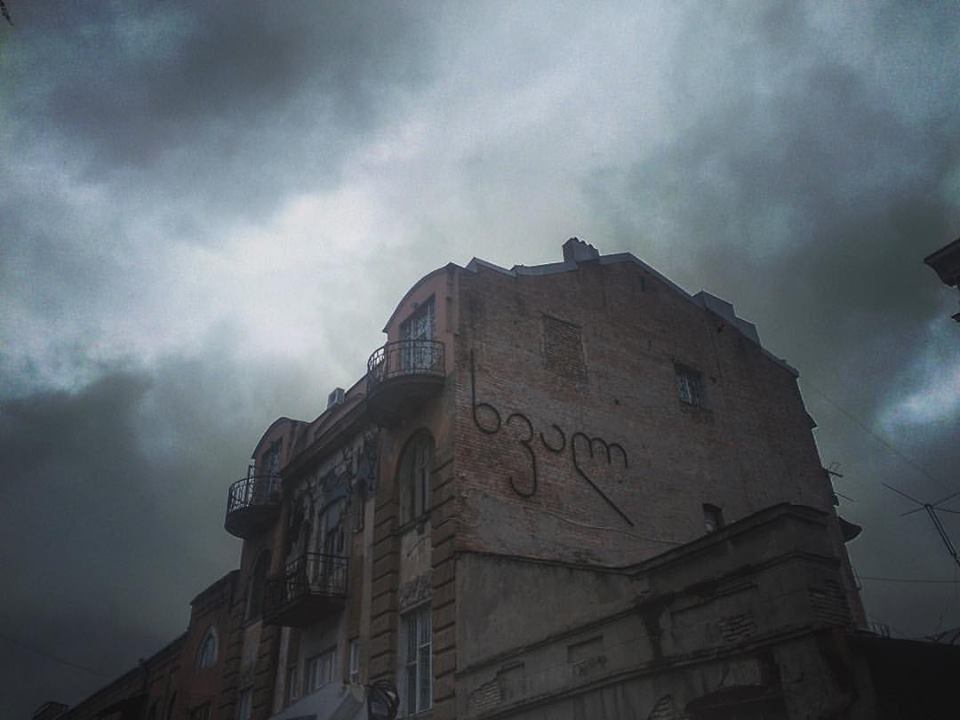 "What in general drives artists, I don't know. I do what I do to have fun", says Mariam.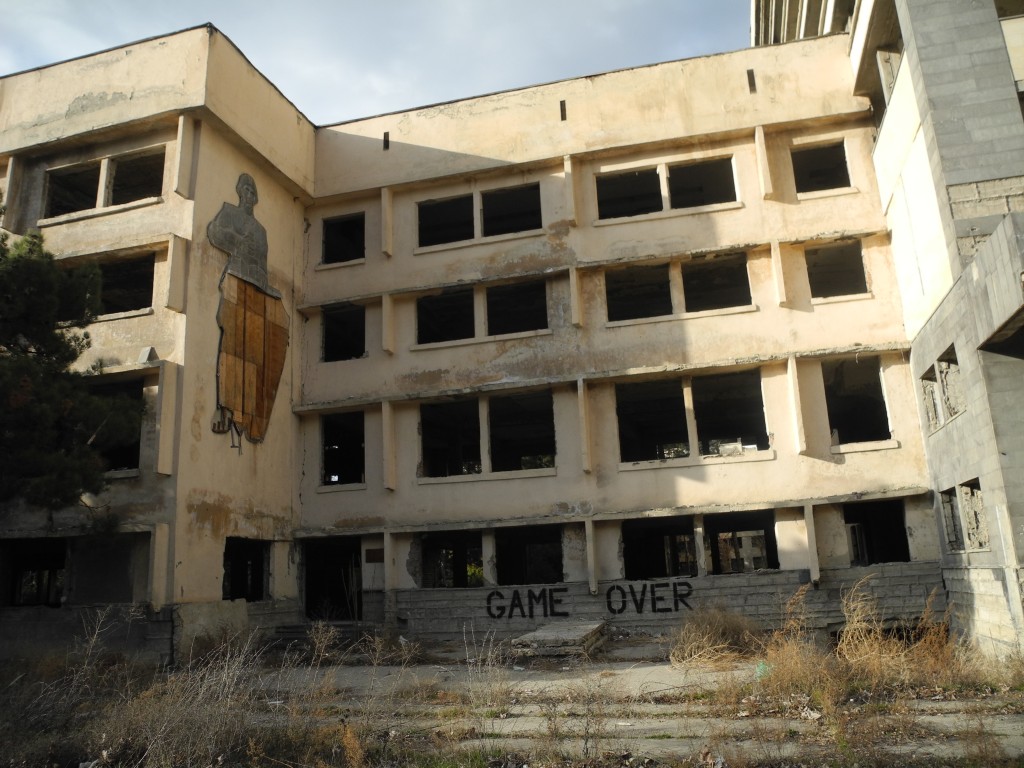 From the streets to galleries and back
Street art as a genre of art originated that in the 1960s. To this day, it is considered the most rebellious medium. In some circles, even controversy continues as to whether it is art at all or vandalism, since works are often put up in unauthorized places.
"Initially, street-art was associated with self-expression of marginal groups (residents of ghettos, etc. – that is, with populations that couldn't afford to get into art institutions or elite galleries", says art critic Khatuna Khabuliani.
"Postmodernism made various mediums and styles equal."
The themes are inexhaustible, although street art most often offers social and political protests. Jean-Michel Basquiat, who was one of the first in the 1980s to leave his unique autograph on the streets of New York, played an important role in expanding its popularity.
Then there is Keith Haring announced as "the king of street art" – his sharp social and political messages remain examples of art to this day, and they can also be found on the streets of New York.
The most mysterious works of the influential Banksy are recognized as classics. His social and political messages today awaits the whole world.
Examples of Banksy and other contemporary artists demonstrate well the scale and possibilities of street art – to awaken a public reaction to topics that concern us all personally.
How does Georgian society accept the challenges of artists, what kind of power does street art currently have in the country?
Fear and censorship in Georgian street art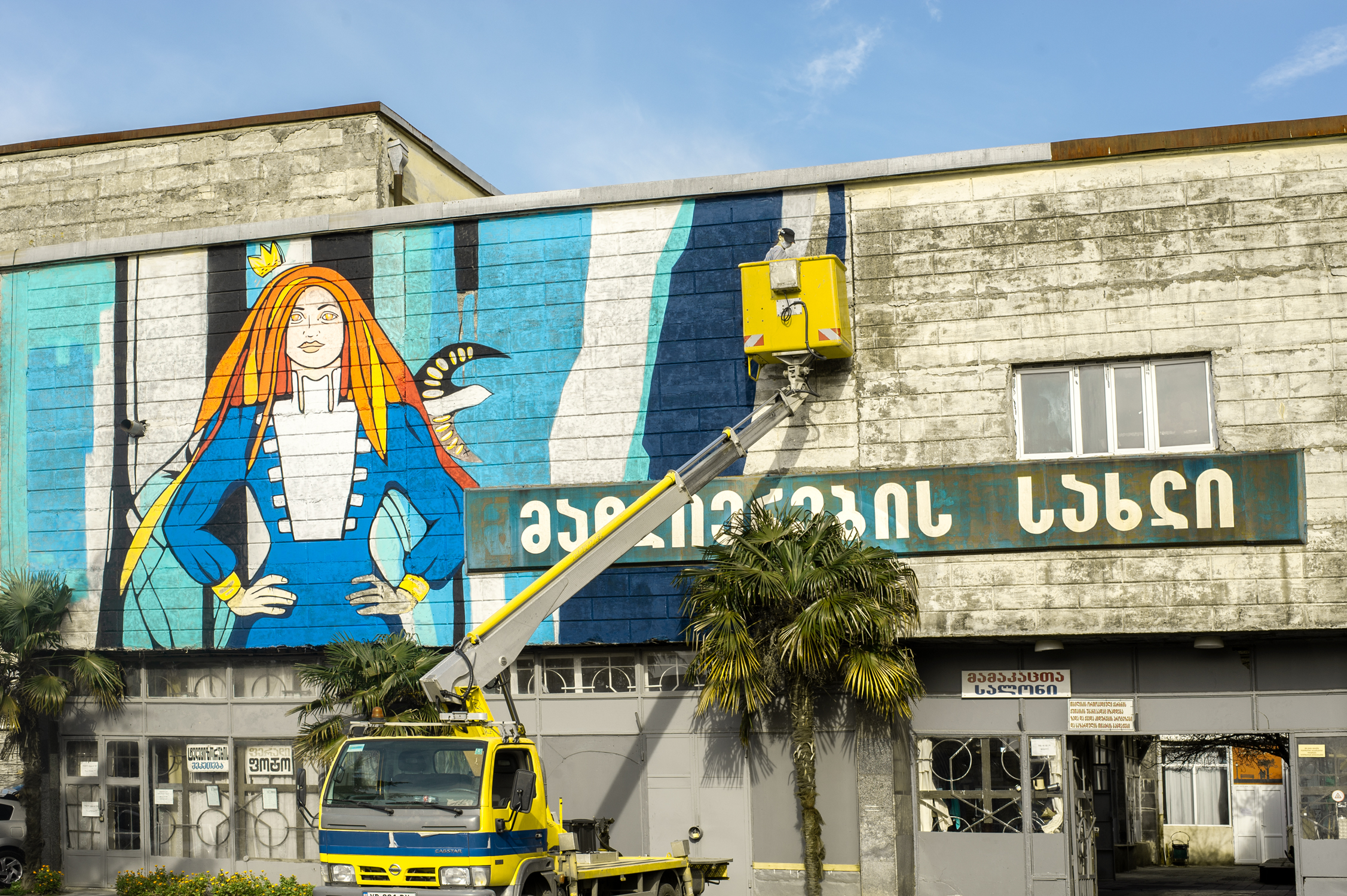 For Tina, street art is a platform for protest, but on one condition: it should not be aggressive, it must protect animal rights and extend the rights of women. Along with various social themes, Tina conceived of a new project two years ago – about love and LGBT individuals.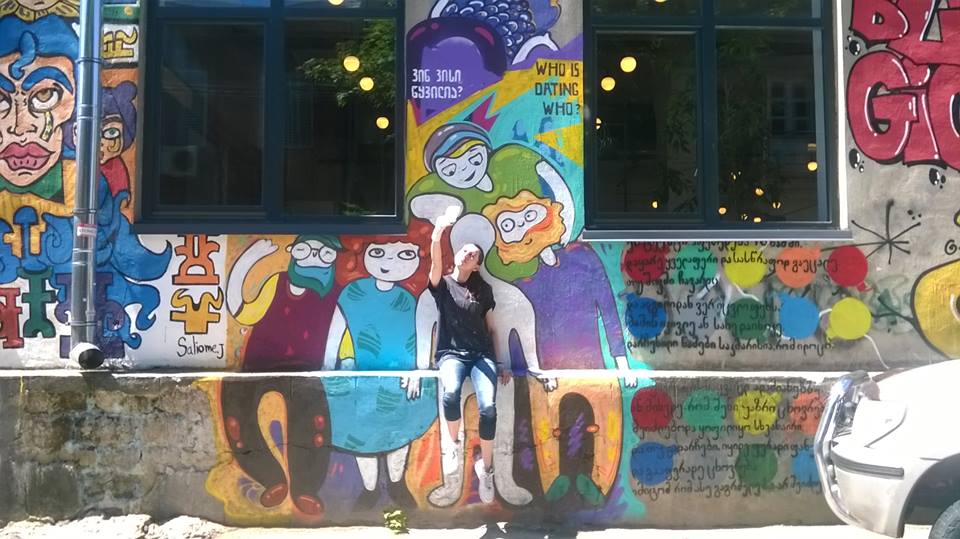 "This is not a provocation … I want to show love between people. Gender does not matter, we all love the same way", says Tina. "Five walls were supposed to be painted as part of this project."
But for these works in Tbilisi, even one wall was barely found. The reason was the subject.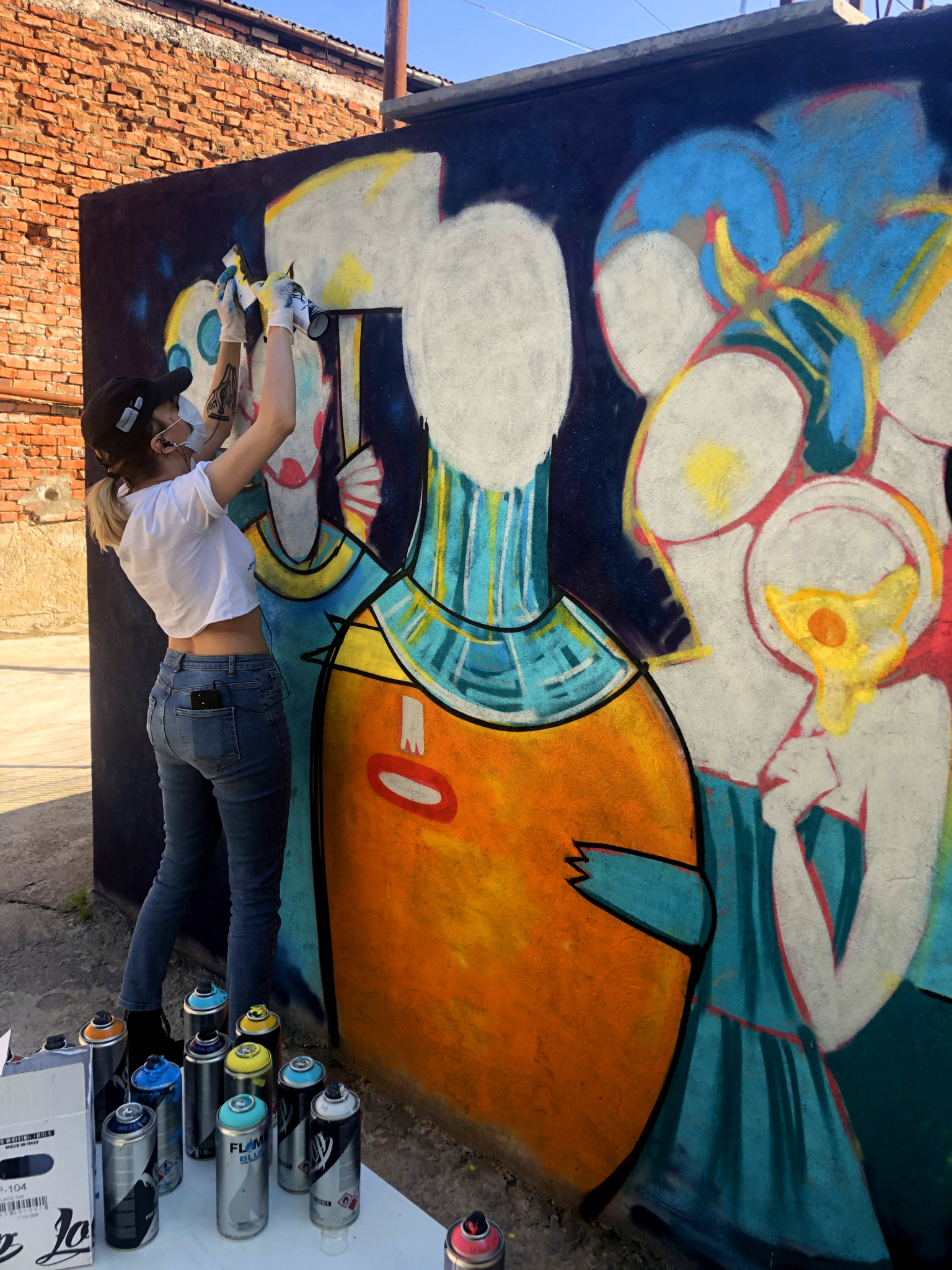 Tbilisi City Hall, the Academy of Arts, cafe-restaurants, a neighbor's garage – in search of the needed walls, Tina turned as far as possible. She remembers that everyone initially liked the work, but when they "got to the bottom" of what was being spoken about, they refused to cooperate directly or indirectly. Tina had to look for an alternative way – for the implementation of the project she ordered movable walls.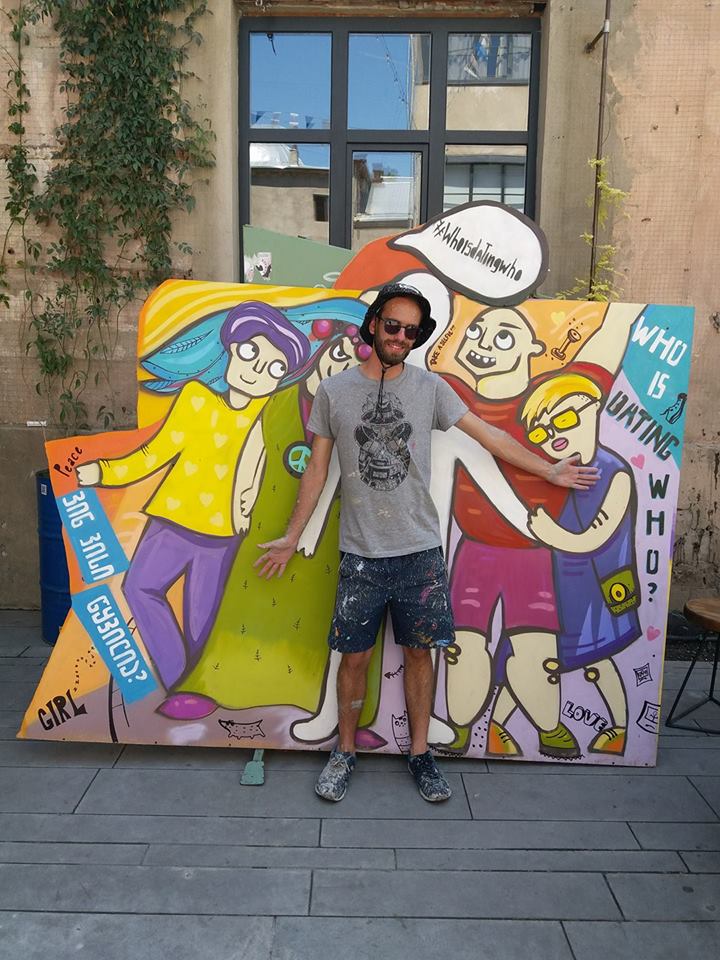 While Tina Chertova's initiative was interfered with indirectly, the work of the young artist Sandro Pachuashvili was 'corrected' by organizers of the Tbilisi Street Art Festival for political reasons.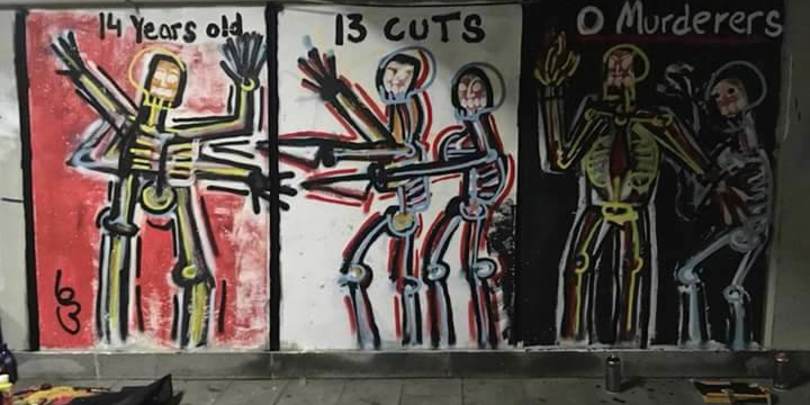 "14 years, 13 wounds, 0 murderers" – with this inscription and graffiti, the author protested the investigation into the sensational case of the murder of a student of the 51st Tbilisi School. The next day, the inscription was erased.
Because of this inscription, it became associated with various political groups, which is why it had to be overwritten, said media organizer and president of the Street Art Federation Vasil Shuradze.
The deputy mayor of Tbilisi and the head of the city culture service, Sophio Hongzaria, told JAMnews that the mayor's office wasn't involved in the story of Pachuashvili's work, because the mayor's office doesn't interfere with such details, whether street art or any other cultural event.
According to Gagosh, 90 percent of almost two hundred of his works no longer exist — they have been overshadowed for political, religious and simply incomprehensible reasons. As a rule, on the second day after the completion of work, anti-government work disappears. Such a fate befell, for example, Gagosh's graffiti about corruption on the wall of the State Chancellery, about the "carousel" at the elections, about the courts.
Mariam Natroshvili is well aware of who and why "pursued" her work, who was called to the police for an informal interrogation after the following inscription appeared on the gates of the patriarchate: 25,000,000,000.
In 2015, with this inscription Mariam Natroshvili and Gvantsa Dzhishkariani protested against the allocation of large sums from the budget to the patriarchate. In the police, activists received verbal warnings and suggestions not to continue such actions.
Basically, the reaction that Georgian street artists have caused during their short existence is fear and control. When street artists recall an example of a particular audience reaction, they usually talk about positive comments on their posts in social networks.
Why did the discussion on sharp topics not get around social networks, or why does street art not get more extensive feedback? According to art critic Khatuna Khabuliani, this is the case with art in general in the country – it "does not have a serious impact, it does not cause turbulent intellectual processes".
"We really haven't shown such a form of protest that would be really spectacular. At the same time, our society is rather indifferent. Perhaps because it has sunk into its own problems", says Khabuliani.
Along with the immaturity of society, art itself, and street art in particular, have not reached the level to influence public consciousness. According to the artists themselves, in Georgia, street art, with a single exception, lacks conceptuality and depth.