Aliyev on Armenian-Azerbaijan border, Nagorno-Karabakh status: We are in our territory
President of Azerbaijan Ilham Aliyev expressed his opinion on a number of pressing regional problems in an interview with the state AzTV channel. Among them was the definition of the state border between Azerbaijan and Armenia, as well as the status of Nagorno-Karabakh.
---
---
Minefield maps
"First of all, we must and are engaged in demining. This is time-consuming and expensive. Unfortunately, after the war, about 150 Azerbaijani citizens died or lost their health because of the mines", Aliyev said while talking about the work carried out in the territories that came under the control of Azerbaijan.
"The war is over, we won. Armenia suffered defeat, reconciled to it, had to reconcile, we forced it to. What is the purpose of not providing minefield maps now? So that more Azerbaijanis die and become disabled. If this is not enmity, then what is?", he added.
State border with Armenia
Speaking about the issue of determining the state border between Azerbaijan and Armenia, President Aliyev recalled the statements of the President of the European Council Charles Michel which he made during his visit to Armenia:
"While in Yerevan, Charles Michel called the border territories controversial. To be honest, I also disagree with this expression, because we believe that these are our territories. I believe that this is the territory of Zangezur. And Zangezur is the land of our ancestors, and we are in our territory.
Naturally, this issue was discussed during the visit, and I tried to clarify that we had reached our border. Why did we come out in May? Because the snow has melted. The snow was two or three meters thick. It was impossible to get out there. As soon as the snow melted, we went out, occupied the necessary points, settled down, strengthened our positions and we will stay there".
Status of Nagorno-Karabakh
"… After the end of the war, the settlement of the conflict, of course, it is inappropriate to talk about Nagorno-Karabakh. Therefore, I said that there is no such territorial unit in Azerbaijan. If someone doesn't like these words, then I don't mind, let them create a region called Nagorno-Karabakh in their countries, or call some region that way, or let them create a republic, that's their business.
That is, there is no administrative territory on the territory of Azerbaijan called Nagorno-Karabakh", Ilham Aliyev said, answering a journalist's question about talks about the status of Nagorno-Karabakh.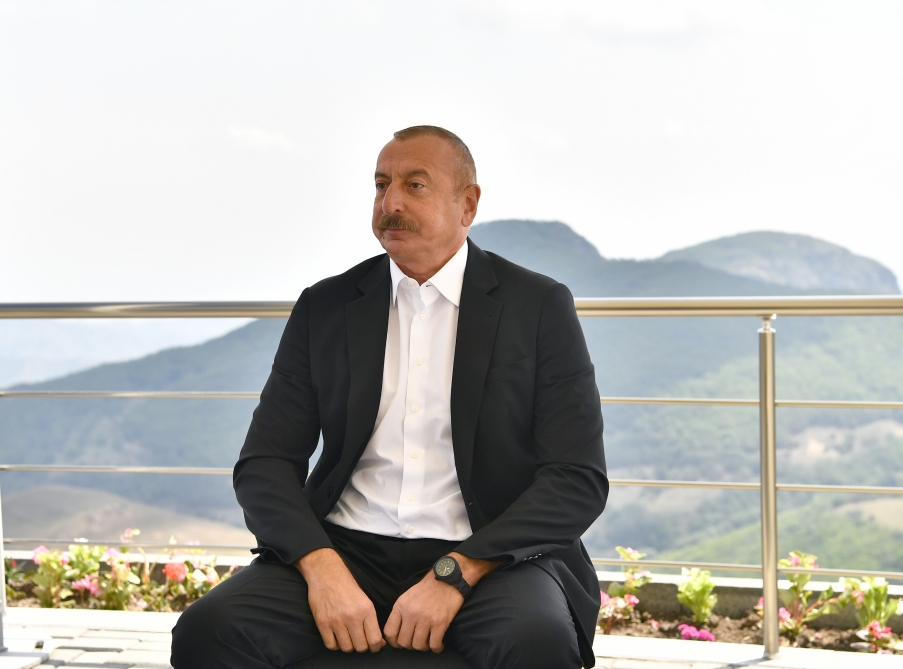 The President of Azerbaijan touched upon the data on the residents of the part of Karabakh where the Russian peacekeepers are stationed and the status of this territory:
"As for the status, 25,000 people live there today. We have fairly wide and varied information about the processes taking place there.
The real number of residents there is 25,000. Other figures were also mentioned. They say that after the war more than 50,000 people returned there. Perhaps, but returning does not mean staying there. One may have returned and then drove back. Secondly, we have various technical means, a satellite. We know the number of cars there. We see the movement of people. As they say, there are other objective means, we know exactly how many people live there – a maximum of 25,000.
The number of cars leaving from there every day significantly exceeds the number of those entering. What is the logic behind creating a status for 25,000 people? "
"They can create five more Nagorno-Karabakhs, I don't mind"
Continuing his words about the status of Nagorno-Karabakh, Ilham Aliyev said:
"I say, I am the President of Azerbaijan – I say that I have resolved this issue, that's it! There is no Nagorno-Karabakh, no status of it. There is Eastern Zangezur together with the Karabakh economic zone, this is reflected in my order on July 7, 2021. On July 7, 1923 – a century ago – the Nagorno-Karabakh Autonomous Region was formed. On July 7, 2021, the East Zangezur and Karabakh economic zones were created.
So this is not the case, and if someone, I repeat, wants to grant the status to it – there are about a million Armenians living in America, more than 500,000 in France, more than 100 thousand Armenians in Marseille and around it – why is the status not granted there? Why should it be provided in Azerbaijan? What are the legal, political, historical grounds for this? None!
Armenians began to live there earlier than on our territory. They began to be resettled to our lands in 1828 – after the 12th, 28th year. They have no historical basis for living there. Now we just show humanism, we say that we do not mind it, we say that they are our citizens. If the leaders of this junta allow, then, I am sure, they will live and work with great pleasure as citizens of Azerbaijan, they will come and leave, including for work, they will come to Agdam and Fizuli, they will even ask us to. Therefore, the question of status should merit this assessment.
If not, then as many as five Nagorno-Karabakhs be created in other places, I don't mind. I recognize them. But not in Azerbaijan".