Yerevan declares war on illegal construction and property seizure
Recently elected mayor of Yerevan Hayk Marutyan has appointed composer Arthur Meschian as the chief architect of Yerevan.
Meschian is best known in Armenia as a musician and civil activist.
Until recently, only some residents of Yerevan knew that Meschian designed the Matenadaran building – the country's repository of ancient manuscripts. However, many people pin serious hopes on his appointment.
Arthur Meschian's plans
Meschian elaborated on his plans for Yerevan today.
He stated that he would not allow the destruction of a single monument in Yerevan.
He also promised to restore dilapidated cultural monuments and intends to preserve all buildings included in the Old Yerevan project.
"If necessary, we need to change some design solutions so that these buildings are preserved. I have already agreed with an architect [regarding the details], so let's consider the matter dealt with," Meschian said.
He further said that many buildings have been dismantled barbarously, and that only 30 per cent of them could be restored.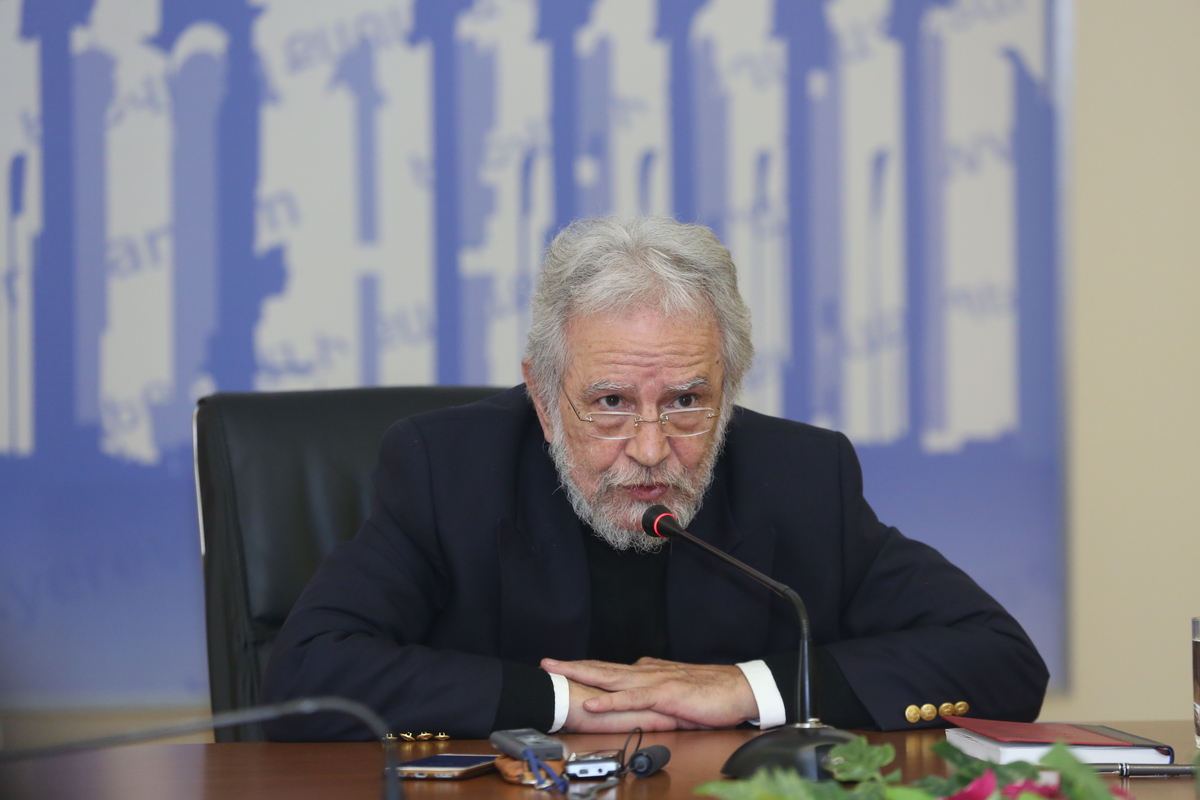 Meschian also announced his intention to fight illegal construction in Yerevan:
"Illegal construction is at an end! Illegal seizure of territory is at an end! Instead, I promise you that if you decide to implement your construction projects in a legal way, we will try to make your life as easy as possible. You won't have any problems."
He stated that the chief architect of the city had acted for many years at the whim of the mayor of Yerevan, and his functions need to be clarified:
"If the mayor said: 'Give this land to this person in such and such a place because he is building a building there,' there is nothing for the main architect to do … You will remember under what mayor and under what authorities he worked … when everything was decided by a phone call."
• Popular actor begins term as mayor of Yerevan
• A photo-story on Yerevan's painted arches
• Yerevan's unknown statues – photographs and commentary
Colleagues' reaction to the appointment of Meschian
Artur Meschian's appointment has largely been welcomed in Yerevan.
Meschian's predecessor, Tigran Barseghyan, considers the appointment to be logical:
"A talented person is talented in everything. I have already spoken to him and expressed my willingness to be there [when needed] and help. It will be difficult, but I think that Arthur Meschian will be able to organise everything correctly and respond adequately to all challenges."
The head of the Union of Architects of Armenia, Mkrtich Minasyan, thinks that Arthur Meschian must act decisively:
"He should be respected and listened to as a specialist. We had very good chief architects who did not want to have what we have today. Not a single architect could deliberately make the city ill, but, unfortunately, they were often forced to take certain steps."