Why do Iranians need Armenia?
Armenia, Iranian tourists' favorite destination
It's no secret that the Armenian economy, as well as that of other countries in the region, is facing hard times. The year 2016 turned out to be far from successful for Armenia, and that's mostly due to the negative outside impulses. There was a decline in the country's all key indices: economic growth made 0,5% instead of projected 2,1; remittances (money transfers) from abroad and foreign investments dropped throughout the year, whereas the national debt, by contrast, increased.
• Armenia to become a transit area between Iran and EEU states
• Where worlds collide: a far-off Armenian village bordering Iran where Azerbaijanis used to live
• Armenia-Russia: Feelings, warmed up by gas
The only thing that was not affected is the dynamics of Iranian tourist arrivals in Armenia. Over 160,000 Iranian tourists visited Armenia in January-September 2016, and this rate will come around 190,000 in annual terms. It's a record result. Iran has become Armenia's second largest partner in tourism sphere, outperforming the USA and firmly catching up with Russia.
Iranian tourism picture
A growth in the number of Iranian tourists visiting Armenia could be observed over the past 15 years. By comparison, 7,000-8,000 Iranians visited Armenia in early 2000s; over 140,000 – in 2015; and, to reiterate, 160,000 in January-September 2016.
A chart below shows the number of tourists from Iran who visited Armenia in 2009-2016.

At the same time, as could be seen from the following graph, the dynamics of the Iranian visitors' inflow doesn't match the change in total number of tourists visiting Armenia.

So, the total tourist arrivals in Armenia in 2010 increased by 19,5%, while that of Iranian tourists – by 37,9%. Whereas in 2012 and 2013, the inflow of Iranian visitors dropped by 17,2% and 15,3%, respectively. Meanwhile, the overall rate of tourist arrivals in Armenia increased at the expense of visitors from other countries. Such passiveness of Iranian tourists in 2012-2013 was conditioned by the economic sanctions imposed on Iran.
The second stage of growth started in 2014: an inrush of Iranian tourists increased by 17%, while the overall tourist influx increased by 16%.
There was an intensive growth in the number of Iranian visitors in 2015-2016, by 30% each year. At the same time, the overall growth of the tourist rate slowed down and made 3,6% as of January-September 2016 (as compared with January-September 2015).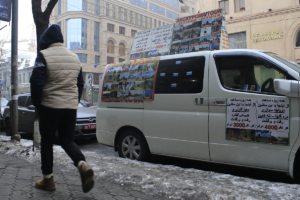 As a result, Iran's specific weight makes 18,2% of the overall tourist inflow. If such growth rate is maintained, Iran may become Armenia's top tourism partner, overriding Russia.


Peculiarities of Iranian tourism
Nowruz-Bayram (New Year) is the main reason for Iranians to travel to Armenia. It starts from the 4th Saturday of March and lasts 13 days. Armenia hosts about 20,00-25,000 Iranian visitors throughout these 2 weeks. The matter is that there are numerous religious bans in Iran, whereas in Armenia there are no such restrictions. In these days, Iranian tourists could be found everywhere in Armenia, be it the museums or the night clubs. The European countries would certainly be more preferable, but Armenia is at a closer distance and many Iranians travel here by their own cars.
However, Iranian tourists visit Armenia in others months too. Tour operators believe, there are several reasons for such a growth that has been recently observed. For example, 'Tatev' tour agency official, Nrev Davtyan, believes that increase in the number of Iranian tourists is related to the Turkish factor. A lot of Iranians traveled to Turkey in the past, up to 2 million per year.
However, aggravation of the Iranian-Turkish relations, on the one hand, and frequent terrorist attacks in Turkey, on the other hand, gave grounds to Iranian tourists' concerns. According to the tour operators, some Iranians substituted Turkey by Armenia, Georgia and Azerbaijan, because they prefer closer and safer countries. Georgia is certainly Armenia's competitor in terms of attracting Iranian tourists. The sea is the main advantage of Georgia compared to Armenia. However, Armenia also has its attractive sides. First of all, it's closer. Secondly, the Iranian-speaking service is better developed in Armenia, and the Iranians feel more comfortable here.
Increase in Iranian tourist arrivals in Armenia in 2016 was conditioned by 2 factors. First of all, lifting of economic sanctions against Iran allowed the country to attract additional financial inflows (in foreign currency). The second factor is abolition of visa travel rules between Armenia and Iran starting from August 2016 (a corresponding memorandum was formalized on June 5). This implies that Armenian and Iranian citizens no longer require entry visas provided that they stay in the neighboring country for no more than 90 days.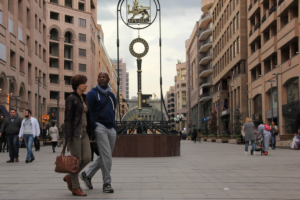 However, there are also certain obstacles. For example, due to the sanctions Iranians still can't book rooms in Armenian hotels online, using Visa and Mastercard credit cards. Ashot Nazaryan, director at armhotels.am website that is engaged in hotel booking, pointed to this problem back in early 2016.
Having talked to the Iranians we've found out that the problem is still there, but there could be certain improvements in the near future. Iranians, who preferred to be anonymous, complained that Armenian banks refused to open accounts to the Iranian nationals in fear of facing problems. Mellat Bank CJSC, which is operating based on Iranian assets, is so far the only bank in Armenia that provides services to the Iranian nationals.
There are also some other claims related to infrastructure. Iranian visitors travelling to Armenia by their own cars complain about poor quality of Armenian roads and road signs that are not suitable for international visitors. So, tourists find it hard to navigate the terrain (in Georgia the situation is much better in this regard). The Iranians who don't travel by their own cars are concerned about the taxi drivers' attitude, who may charge an amount several times exceeding the actual travel fare.
All the aforesaid claims may seem very trivial, but the Iranian tourism is so important for Armenian economy and it holds such a potential, that even the trivial matters like this are worth being addressed.