Armenia-Russia: Feelings, warmed up by gas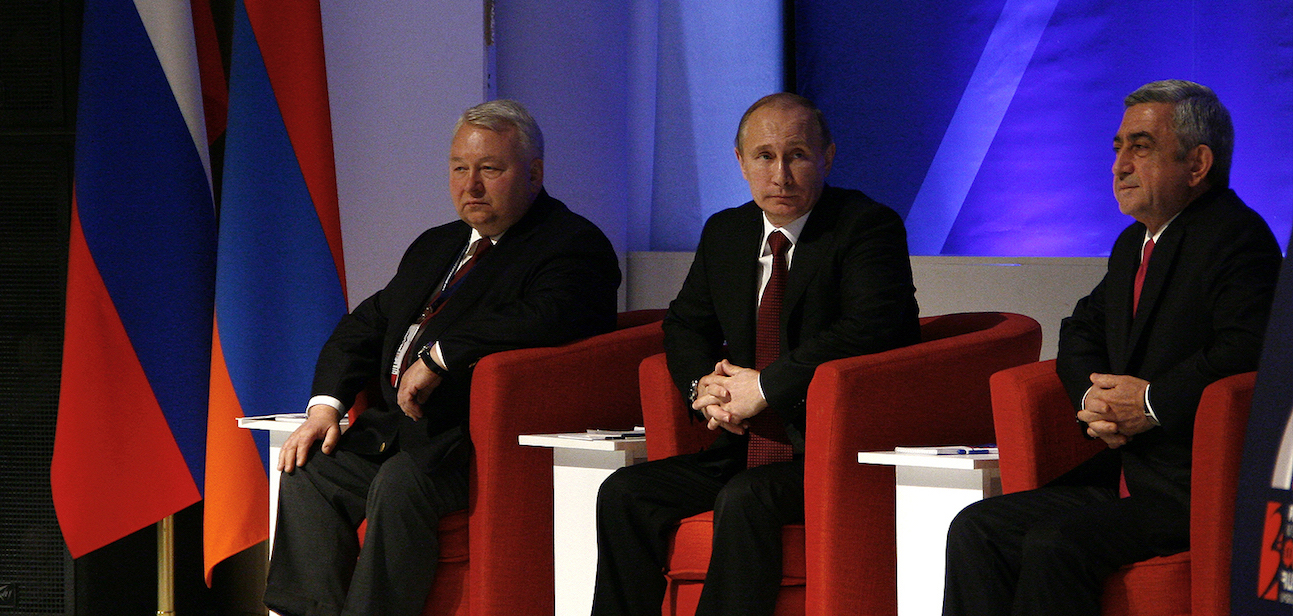 Management is an amazing science, especially when it comes to the energy sector and gas, in particular. One and the same circumstances could be a justification for both, reducing and increasing the gas prices.
A new, lower tariff on natural gas took its effect in Armenia from January 1, 2017.
[yes_list]
or ordinary subscribers, who consume up to 10,000 cub.m. of gas per month, "Gazprom Armenia" set the tariff at AMD139 [approx..US$0,29] per cub.m., instead of the former AMD146,7 (US$0,30);
for the underprivileged layers of the population -AMD100 [approximately US$0,20].
huge consumers, for whom tariffs are calculated in US dollars, also have cause to rejoice. They now pay US$242,1 per 1,000cub.m. of consumed gas, instead of the former US$257,56.
whereas for the processing companies and greenhouses, this tariff is even lower – US$212.
[/yes_list]
Reduction of the natural gas tariff for the Armenian consumers was initiated by the 'Gazprom Armenia' company, the only supplier of natural gas to Armenia. The subsidiary of the Russian 'Gazprom' company submitted a corresponding application to the Armenian Public Services Regulatory Commission (PSRC), on November 2, 2016.
Why did 'Gazprom Armenia' intend to reduce gas tariff on its own initiative?
It was preceded by the story that is worth telling.
Runaway market
No matter how strange it may sound, but the main justification for this initiative was the reduction of consumption volumes and, consequently, the reduction of company's revenues. Speaking at a news conference in Karabakh, Armenian Prime Minister, Karen Karapetyan, stated, there was a problem of shrinking market.
The government held talks with 'Gazprom Armenia' and following them a conclusion was made: reduction of gas prices may lead to increase in its consumption and, consequently, increase in profits.
It's a classical law of demand that even the Economics Faculty first-year student should be familiar with. The surprising thing is that individuals, responsible for Armenia's energy block, hadn't remembered about that law some few months before that.
For example, in early September 2016, 'Gazprom' reduced Armenia's natural gas supply costs, setting the price at US$165 (instead of former US$189) per 1,000cub.m. However, 'Gazprom Armenia' refused to pro tanto reduce gas tariffs for the population, claiming it had hardly recouped losses, caused by the Dram devaluation.
Gas consumption has been really reducing over the past two years. Consumption in Armenia made 1billion 117,6million cub.m. of natural gas in the first 9 months of 2016, whereas in the same period of 2013, this index made 1billion 317,1cub.m.
Will the tariff cut down bring the expected effect – increase in consumption rates?
This question is still to be answered.
It could possibly further reduce the company's financial flows, because gas consumption depends not only on the price, but also on numerous other factors (population size, purchasing capacity, gasoline prices, weather conditions and etc.).
Gasoline price dropped by approximately 8% within a month and a half after Karen Karapetyan's appointment as country's Prime Minister.
The price for Regular type gasoline dropped from AMD380 [US$0,80] first to AMD360 [US$0,76] and then to AMD350 [US$0,74] per liter.
If gasoline price continues to drop at the same rate, the demand for natural gas at the filling stations will decrease, consequently leading to reduction of "Gazprom Armenia" 's incomes.
Is the only free cheese in the mousetrap?
'Gazprom Armenia' apparently takes on a risk. The company claims, it possesses all resources necessary for cutting down the tariff. For example, at the exchange of reduction of costs for gas transit through the territory of Georgia.
As a result of the recently concluded 2-year talks between Georgia and Russia, starting from 2017, Georgia will be paid for transit services in cash rather than in kind, which is supposed to reduce the cost of gas supplied to Armenia through the territory of Georgia.
JAMnews analysis: Georgia-Gazprom. A new page in the history of relations?
In addition, "Gazprom Armenia" is going to restructure its loan obligations, so as to facilitate debt payments.
Moreover, if this is not enough, Russian "Gazprom" stands ready to take risks and finance possible losses.
That's exactly what makes Armenian population feel concerned, not allowing it to wholeheartedly rejoice over gas cheapening.
The matter is that Armenia has yielded to 'Gazprom' it's most important energy facilities in exchange for cheap gas on the number of occasions.
[yes_list]
Hrazdan HPP 5th energy unit

;

Iran-Armenia gas pipeline
as well as Armenia's share in now-former "ArmRosGazprom", as a result of which the company was renamed into "Gazprom Armenia".
[/yes_list]
People, who regard themselves as experts in the behind-the-scenes processes and who are endowed with analytical skills, just smile meaningfully when asked about reduction of gas prices. They advise to look at the results of a survey by the Eurasian Development Bank's Centre for Integration Studies, published in same November 2016.
According to the survey findings, the number of Armenian citizens perceiving Russia as a friendly country has sharply dropped – by 17 points.
Armenian government has recently appealed to the EU with the proposal to discuss possible conclusion of the Association Agreement on specific conditions.
As it turns out, it's not Russia that has started liking Armenia more, but rather Armenia has started liking Russia less. So, now, Russia is trying to warm up the feelings that have cooled down. Mostly by means of gas.