Trump and Georgia
"Russia's going to pay the price for supporting Trump
Donald Trump's unexpected victory has baffled Tbilisi-what will the new U.S. President's foreign policy be like? Is he going to change the attitude towards Georgia, which, until now, has been the USA's key strategic partner and friend in the Caucasus region?
JAMnews has picked up Georgian experts' most interesting comments:
Batu Kutelia, Georgia's ex-envoy to the USA: "At the initial stage, we will probably see an attempt to mend ties with Russia, but what this relationship is likely to face is the difference in principal value, that makes democratic and non-democratic world different from each other.
For example, we can recall the recent period, when all U.S. presidents first sought to mend ties with Russia, be it George Bush looking into Putin's eyes or Obama's reset policy. Afterwards their attitudes changed due to Russia's aggressive policies.
US-Georgia relations have been developing fast for already a quarter-century, despite the change in administrations, each of them having different attitude towards Russia, or even one and the same administration at its different stages.
U.S. President is a very powerful institution and, to a certain extent, he determines the security and foreign policy priorities. Thus, the policy of Donald Trump's administration will naturally depend on him and his team's visions.
Nodar Kharshiladze, senior fellow at Alexander Rondeli Georgian Foundation for Strategic and International Studies (GFSIS): It's unlikely that there will be any changes in the short run, since it will take Trump time to formulate a foreign policy strategy. Though, in the long run, I think, under any scenario, Trump will have a far more active policy than Obama had. If you look at his pre-election program, it is a traditional one, typical for the republicans, in general, which mainly focuses on defence. Thus, as far as Georgia and the region, in general, are concerned, we should expect intensification of cooperation in security and defence programs.
As for Russia, in the short run, there will be some statements somewhat hinting to a 'thaw' in relationship with Putin's government, but, in the long run, Russia is going to pay the price for supporting Trump. He will become the most negative president from those, who could have been there today. Clinton was predictable, she would have been rationally rigorous, whereas Trump won't yield anything to Putin and Russia has false illusions about that. I think we all agree that Trump doesn't seem to be a concessive person. He will, in no way, give up on the U.S. strategic interests. He is a skilled tradesman and no less strong than Putin.
We should differentiate Trump's campaign from Trump himself. He was campaigning on an anti-establishment platform. His statements about Putin were also part of it. While Clinton and Obama were making anti-Putin statements, Trump was praising him. It was part of his role.
Tengiz Pkhaladze, Georgian President's Foreign Affairs Secretary: 
The USA has a long-term interest in Georgia. For 25 years, since Georgia gained its independence and until now, we've never lacked the attention and support on part of both, the Republicans and the Democrats. How we are going to benefit from all that solely depends on us.
No one knows, what kind of President Trump is going to be. This person has never worked as a public official. The election campaign and actual political moves oftentimes differ from each other. I would just say that a person, who managed to get back on his feet on a number of occasions and who won the U.S. presidential election, surely deserves respect. Trump's victory is one more lesson for us to learn: if we want to be elected by people, we should be with people, should hear and understand their problems and speak their language, yes, exactly their language, rather than to look down on them in an intellectual, all-knowing manner.
Gia Khukhashvili, a political analyst: A politician with an ordinary, smoothened image, couldn't have shown such a revolutionary result. Throughout his campaign, Trump has had to be sort of eccentric in order to break the stereotypes.
The most important thing is that the world is changing, in general; people are regaining power and saying 'no' to the globalist project –that's the biggest revolutionary U-turn, which completely changes the world.
As to how the U.S.-Georgia relations are going to develop during Trump's presidency, I don't think, the U.S. policy and attitudes are going to change, though it depends more on us rather than on the United States. It depends on how much they will need us, so that they will continue strategic partnership with us.
Trump in Georgia
"Georgia is a little wonder. It's one of the most amazing places in the world right now, U.S. President-elected, Donald Trump, stated when visiting Georgia back in 2012.
Donald Trump, the U.S. billionaire and real estate mogul, arrived in Georgia in April 2012, on the invitation of then-President of Georgia, Mikheil Saakashvili. He participated in the presentation of the Trump Tower project in Batumi (Ajara).
Although the project was thwarted, but his visit still turned out to be a historical one:
When in Georgia, Trump saw around Tbilisi, visited the presidential palace, travelled to Batumi and was even awarded the Order of Glory by Mikheil Saakashvili. Social media users were joking yesterday that Trump is the first President with Georgian order in the modern US history.
Therefore, no one has been surprised that despite the ongoing vote count in some of the U.S. states, Mikheil Saakashvili already published his photo with Donald Trump on his Facebook page. The photo caption in Ukrainian language reads as follows:
"I've known him for over 20 years; we've been friends. I have foreseen that. He is a strong personality with unpredictable policy. We should be careful and organized more than ever.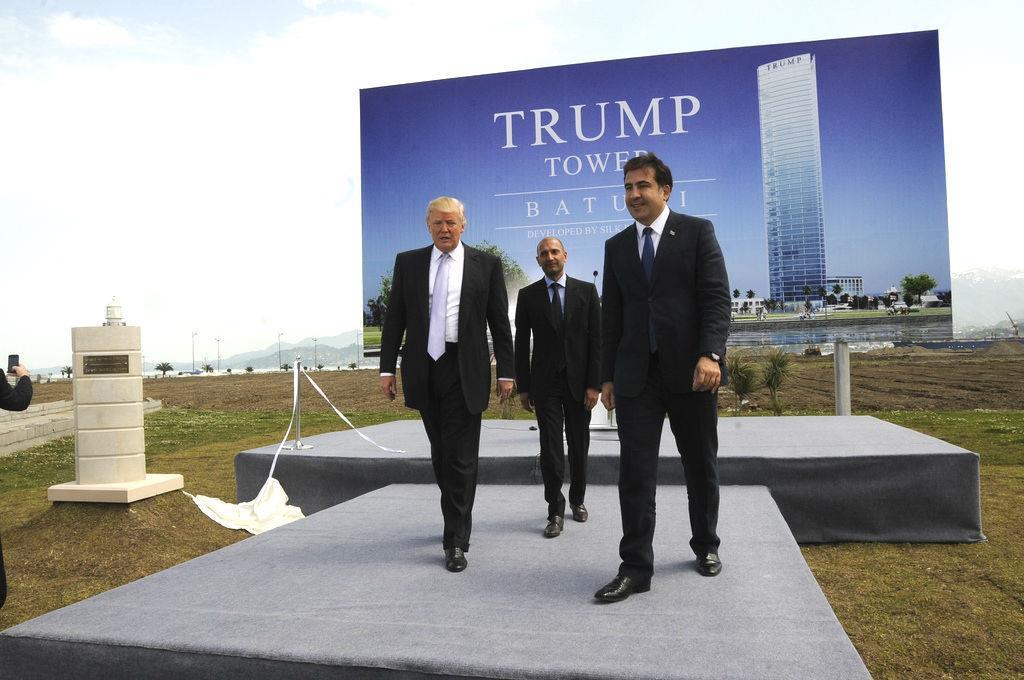 In Saakashvili's words, Trump is detail-oriented and interested in any subtle thing.   
"When in Batumi, he got interested in the palm lights. He inquired in detail about it, requested the company's name, all the parameters and did exactly the same thing in Florida…Saakashvili recalled in an interview to Rustavi 2 TV, yesterday.
"A few months ago, I wrote in my book that Trump was very likely to win the presidential election. Trump is a very talented and intelligent man, whose intellect isn't appraised at its true worth, he noted.