Abkhazia's pelmeni saga
No laboratory in Abkhazia where food products can be tested
Abkhazia has launched a process of certifying homemade products sold in stores and markets.
But there's not much of a point to this process – the certificate doesn't really guarantee the quality of food items, or much of anything for that matter.
The problem is that there is no laboratory in Abkhazia where food products can be tested.
And this applies not only to homemade meatballs and pastries. In the absence of a laboratory, no products are tested at all – either locally produced or imported.
For that reason, a product's certification in Abkhazia has no say about its quality or safety.
• When and why did bottled wine culture disappear in Georgia
• Tourism: Abkhazia's informal business sector
S
ix white caps in a row, and twelve weathered hands hover over a table, making pelmeni, or Russian dumplings.
Homemade convenience foods from the company Ubiriya lie in the refrigerators of almost all the shops of Sukhum. The company was set up by Aida Panosyan seven years ago.
"I started it myself. I made the first batches at my kitchen table. The first earnings were reinvested into expanding the business," says Aida.
"I did not succeed in bringing production into the courtyard of my own home, but now there is at least a separate workshop."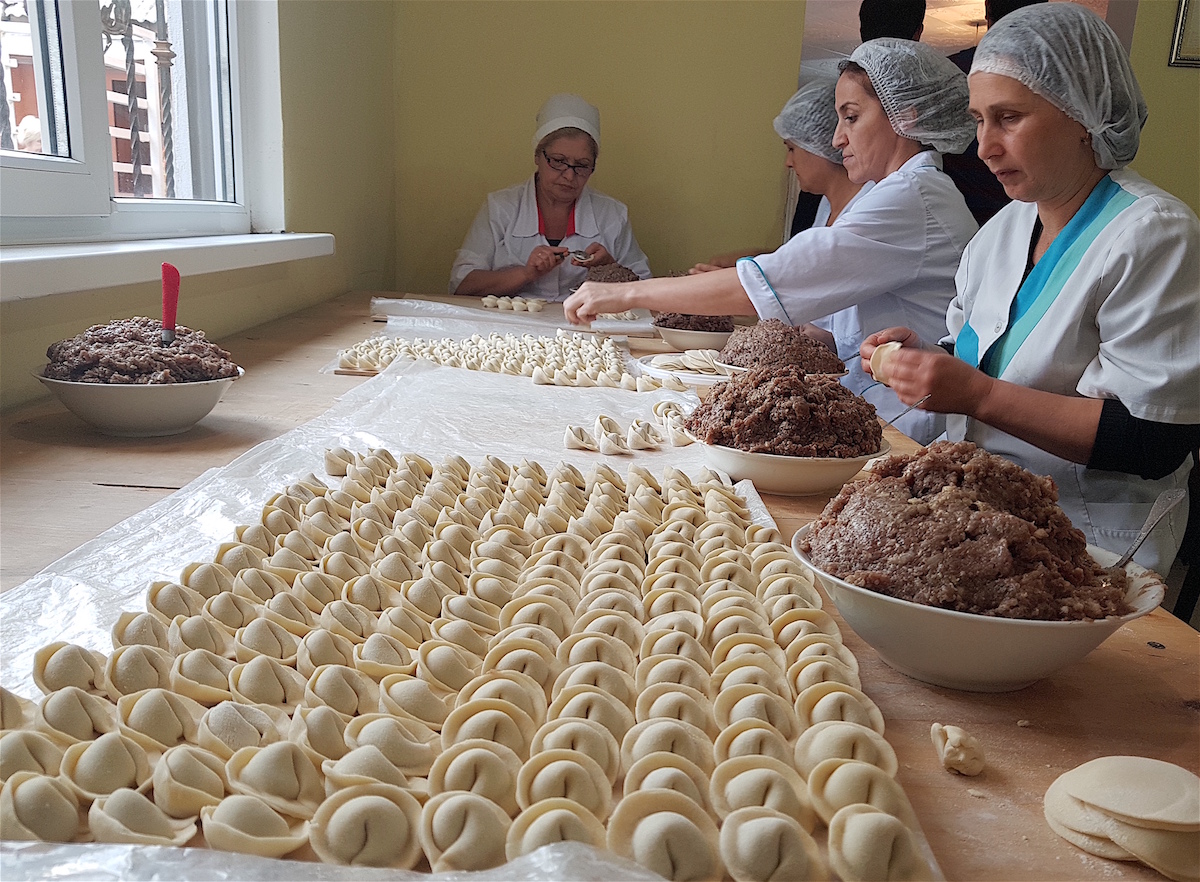 Homemade products are a fairly common business in Abkhazia.
By approximate calculations, every fifth housewife sells products or services. Some bake cakes, and others sweets, while others sew and provide cosmetic services.
The tax service could not answer the question of how many people in Abkhazia earn their livelihood with such businesses. What is not surprising, is that almost all "home" entrepreneurs hide their activities from the tax authorities.
Only this year did Ubiriya products begin to be packaged in factory-made packages – before, they were packaged in ordinary household polyethylene.
Aida Panosyan says the production of such goods in Abkhazia is not a very profitable business.
"The income is just enough to survive on, but not for expanding one's business. And the demand for goods is seasonal," says Aida.
There are months when working is not at all profitable, because costs exceed income.
"You have to pay more in winter for the packing and delivery of goods, although my husband delivers the goods to convenience stores. The price of raw materials in winter is also usually higher than in summer," says Aida.
To start such enterprises, it is necessary to obtain a certificate from the Committee for Standards and Technical and Energy Supervision.
But not many people receive this certificate in Abkhazia.
"People are used to simply baking cakes, making dumplings and selling them, without any documents," said the deputy chairman of the committee, Temur Bigvava.
"The standards committee is a young organization. We actively started operations just six months ago. Not all small entrepreneurs know that they are obliged to certify their products. Therefore, we do not fine them yet, but we warn them and order them to receive a certificate within a certain period of time."
The certificate, as already mentioned, will be issued without checking the quality of products in a laboratory – this is merely the regulation of the market and tax payments, and not about quality assurance.
Periodically, committee staff conduct technical condition checks. Without warning, they come and study the conditions in which products are manufactured.
JAMnews witnessed the activities of the commission.
The experts went to the address indicated on the label enclosed on a package of pelmeni.
The workshop turned out to be an extension of a private house. There was a dirty sink, tables, knocked out old boards, rusty tools, cobwebs on the walls and flies.
"You can put together bicycles here, but not food products," said one of the inspectors.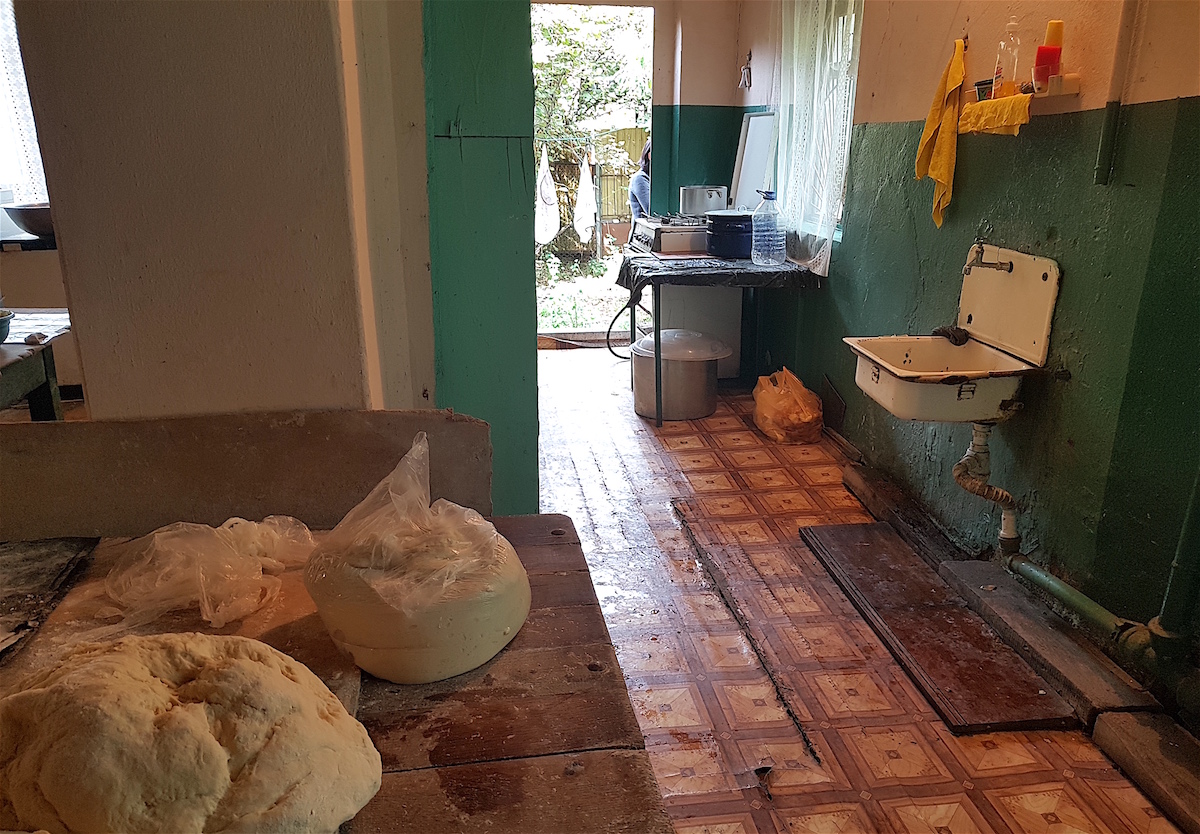 Following the audit, a warning was drawn up, and the shop owner ordered to bring the place into order. However, the fine only indicated that the refrigerators did not work and there was no proper grounding.
"O
nly the sanitary and epidemiological department can assess how dirty the room is, but not us," says Timur Bigvava.
"Now, if they do not correct the situation with the refrigerators and grounding, we will be able to fine them, and the next step will be to contact the prosecutor's office."
"We can only judge the quality of a product by looking at it," says Temur Bigvava. He does says that all products sold in official places should be checked for bacteriological safety, for radiation levels and for pesticides. However, this isn't possible.

"But the equipment is very expensive, and we ourselves are not able to buy it," says Bigvava.
The atmosphere in the workshop that JAMnews got to see for itself is the exact opposite of what you can find in Aida Panosyan's workshop. But on the market, they compete on equal terms. There is no quality certificate, and buyers mainly pay attention to the price.
And keeping the price of a product lower is easier when you spend less on its quality.
"I buy homemade ravioli more often," says Marina, a regular customer of the Sukhum-Market store.
"You get the taste of real meat. I choose the ones that are cheaper. What's the difference? Our people make them all."
This is how most customers who JAMnews asked in several stores responded.
Now, if only instead of a business card in a bag of dumplings, it was possible to oblige manufacturers to put photos of the shops in which they were made…
Toponyms and terminology used in the article, and views, opinions and strategies expressed in it do not necessarily reflect the views and opinions of JAMnews or any employees thereof. JAMnews reserves the right to delete comments it considers to be offensive, inflammatory, threatening, or otherwise unacceptable.