South Ossetia opposition unites around new leader, former KGB officer
Who is Alan Gagloev, Nykhas in South Ossetia
The main opposition force in South Ossetia, the Nykhas party, has a new leader, 39-year-old Alan Gagloev.
Below: who is Gagloev, and what does it mean that the opposition has already begun preparing for the presidential election which is to be held in 2022?
Who is Alan Gagloev?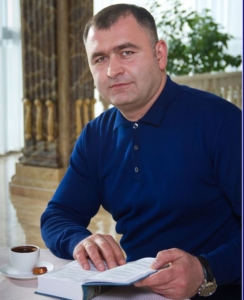 Formerly a low-profile KGB officer of South Ossetia, Alan Gagloev appeared on the political field in 2017 during the presidential election campaign.
"Gagloev was a new person in politics, but in the presidential election in 2017 he was able to get a good result – 11 percent of the vote," says political commentator Roland Kelekhsaev.
After the presidential election, Alan Gagloev tried to convert his success into a more solid political foundation and created the political alliance, the Alan Union. However, the Ministry of Justice refused to register him.
• President and king under democracy conditions
• South Ossetian public outraged over case of police violence and indifference of state
The unified group was to come together around the old Nykhas party of South Ossetia, the other two members of the alliance were ex-Foreign Minister David Sanakoev with the New Ossetia party and Alan Gagloyev of the Alan Union itself.
At the same time, it was stated that creating a coalition is not difficult, since their programs are not very different: the main points are allied relations with Russia and an emphasis on socio-economic issues.
What is the Nykhas party
Until then Nykhas had united the main opposition forces in South Ossetia. David Sanakoev disbanded his party and became the leader of Nykhas after the parliamentary elections in 2019. The party then received four MP seats. While Sanakoev was in parliament in the position of the most prominent opposition figure, Alan Gagloev remained in the shadows, was engaged in business and stayed away from journalists.
And on February 2, the party held the election of a new chairman, and Gagloev's candidacy was approved unanimously.
At the same time, the former head of the party, David Sanakoev, did not attend the meeting at all.
Presumably, it was he who was nominated for the presidency by Nykhas as a presidential candidate in South Ossetia.
Gagloev's ties with the current government
The refusal to register the opposition alliance in the elections in 2019 was considered by many as the decision of the President of South Ossetia Anatoly Bibilov to block the political prospects of his opponent.
However, now Bibilov defiantly congratulated Alan Gagloev on his election as chairman of Nykhas.
"Your potential, of course, should be used for the good of the republic," he wrote to him.
The opposition regarded these words as the fact that the president ceased to see a competitor in Gagloev, possibly because of some backstage ties between Gagloev and the current government.
Alan Gagloev himself still considers it premature to talk about his participation in the presidential election.
Toponyms, terminology, views and opinions expressed in the article do not necessarily reflect the views and opinions of JAMnews or any employees thereof. JAMnews reserves the right to delete comments it considers to be offensive, inflammatory, threatening, or otherwise unacceptable