South Ossetia and Syria establish diplomatic relations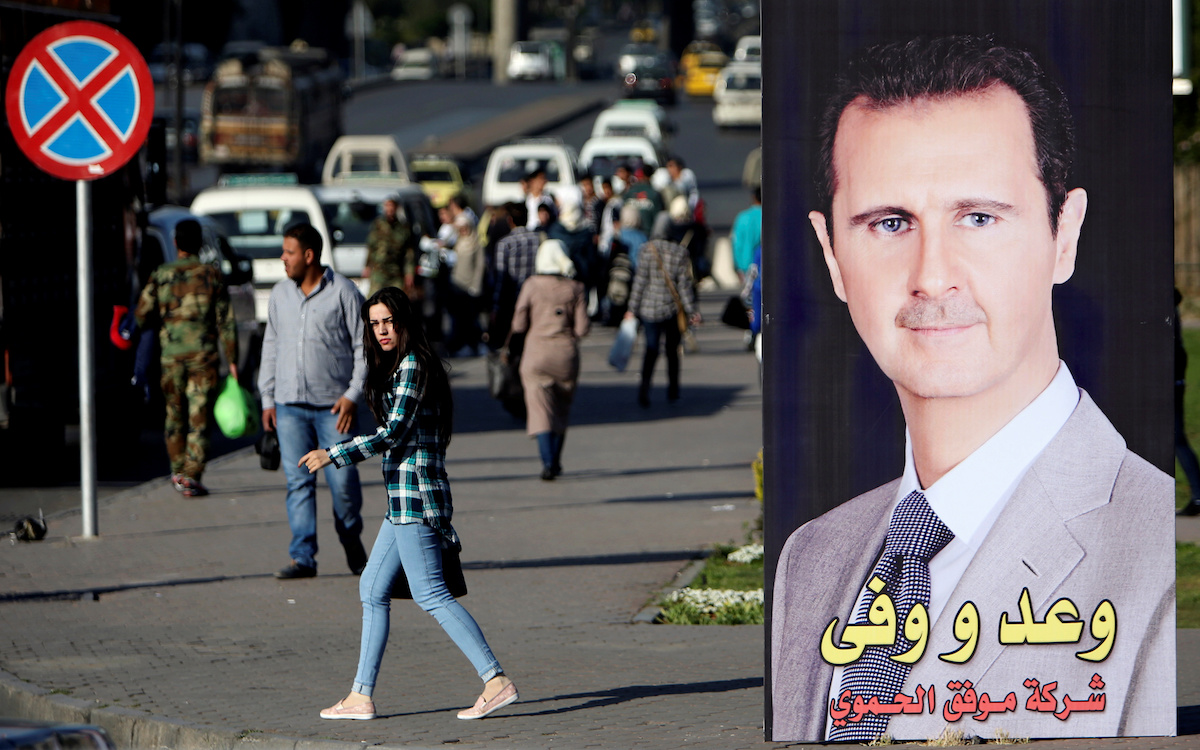 The South Ossetian foreign ministry's press office has reported that South Ossetia and Syria have signed an agreement at a ceremony in Damascus on establishing diplomatic relations.
"The head of the foreign ministry of Syria, Walid Muallem, expressed his gratitude to the Russian Federation for supporting the Syrian people in its fight against international terrorism," said the press office.
Muallem is also reported to have described Syria's recent recognition of South Ossetia as an independent state as 'a well-thought-out step by the leadership of Syria'.
The foreign minister of South Ossetia, Dmitry Medoyev, said in turn that: "South Ossetia fully supports … the collaborative actions of the Russian Federation and the legitimate Syrian government."
On 23 July, the president of South Ossetia Anatoly Bibilov arrived in Syria. As part of his visit he is expected to meet with president Bashar Assad.
•  Opinion: Syria recognized Abkhazia as independent out of gratitude to Russia. But how is it going to help Abkhazia develop?
•  "Syria depends on Russia so heavily that there is no chance the Georgian authorities could have influenced the situation," Georgian politicians and experts comment on Syria's decision to recognize Abkhazia and South Ossetia as independent states.
Comments :
Nikolay Silayev, a senior researcher at the Centre for Caucasus Issues and Regional Security in Moscow, said in an interview with the Ekho Kavkaza online portal:
"Even if Bashar Assad comes to South Ossetia, Georgia won't be able to do anything beyond what it has already done – broken its diplomatic relations with Syria."
"Georgia already has a law about occupied territories in place. It has seen sanctions imposed that restrict the issuing of European and American visas to the citizens of Abkhazia and South Ossetia. In a very confrontational manner, Georgia has raised the issue of Abkhazia and South Ossetia at international platforms."
Tornike Sharashenidze, Professor at the Georgian Institute of Public Affairs (GIPA):
"Recognition of Abkhazia and South Ossetia's independence by Syria is in fact not pleasant news for Tbilisi: the period of successful non-recognition has been interrupted for the first time in several years, and interrupted not by some kind of an entity like the island state of Nauru, but by one of the leading countries of the Middle East.
We can say that the recognition was carried out by 'Assad's criminal regime' and, accordingly, this recognition is illegitimate. However, no matter how criminal this regime might be, it is fact that he has won the civil war and already controls a significant part of the country, and such things are far more important in politics than appealing to the image of a regime or morality.
There are several reasons for this recognition. Georgian diplomacy was clearly not active enough and could not establish contact with Assad's government. Clearly this would not have been a simple matter. But let's remember that Georgian diplomacy had solved a no less difficult task in the recent past – to get Belarus to change its mind after it had already decided to recognize them as independent states. So, this task was not an impossible one either.
It is also clear that the Abkhaz Diaspora played its role in Syria, and Sukhumi did not spare a single effort either. They argued that the Abkhazians are allies of Russia and that the Georgians are allies of the United States, and the Georgian foreign minister who welcomed the bombing of Syria by the Americans on his Twitter account.
The decisive word, however, belonged to Moscow. At the very least they decided not to interfere with the recognition of those states, since they likely thought that certain positiveness is needed in relations with Sukhumi and Tskhinvali.
It is worth noting that this step of Moscow was criticized even in the Russian nationalist-conservative environment. For example, Maxim Shevchenko called the recognition a big mistake against the backdrop of the normalization of the recent relationship between Moscow and Tbilisi and dumped everything on the 'anti-Georgian lobby'.
With regard to the long-term consequences of such a recognition, I observed that this event did not raise such enthusiasm in Sukhumi and Tskhinvali as Venezuela's did at the time. They probably understand that the process of their recognition has come to a standstill and in this regard little will change.
Moreover, Syrian recognition would not have happened if the very existence of this regime was independent of Russia. Accordingly, the recognition once again did not go beyond the scope of the Russian clientele and, perhaps, never will.
There can be no domino effect of this recognition, even in the scale of the region – Syria has no allies except Iran in the Middle East. And even if it did, no one needs a headache from Sukhumi and Tskhinvali. By headache I mean the encouragement of separatism on their own territory (such a problem does exist in Iran) and the deterioration of relations not only with Tbilisi, but also with its Western allies.
Therefore, Syria's recognition will remain an isolated case, with the exception of two scenarios:
1. Russia will save the regimes of several other countries, and then decide to give Sukhumi and Tskhinvali the recognition of these regimes;
2. Abkhazia and South Ossetia are recognized as independent states by Tbilisi.
It's clear that this is nothing but a fantasy, though this fantasy is seriously considered in Sukhumi and Tskhinvali which is why I decided to mention this option."
• There used to be about 2 500 ethnic Ossetians living in Syria before the armed conflict broke out. They were descendants of those who migrated from Ossetia to the Middle East during the Caucasian War in the middle of the 19th century. Another wave of immigration to Syria occurred at the turn of the 20th century.
Syria recognized South Ossetia and Abkhazia as independent states on 29 May.
Toponyms and terminology used in the article, and views, opinions and strategies expressed in it do not necessarily reflect the views and opinions of JAMnews or any employees thereof. JAMnews reserves the right to delete comments it considers to be offensive, inflammatory, threatening, or otherwise unacceptable