South Ossetia: all charges dropped against activist Tamara Mearakishvili
Two years of trials against journalist and civil activist Tamara Mearakishvili in South Ossetia have come to an end in favour of the journalist: all charges against her have been dropped.
• Those who spoke about Tamara Mearakishvili weren't the right ones
• South Ossetian public outraged over case of police violence and indifference of state
Tamara Mearakishvili lives in the Akhalgori district of South Ossetia, which is largely settled by ethnic Georgians.
After the August 2008 war, Russia recognised the independence of South Ossetia. Georgia is supported by the majority of the international community in its claims to the territory.
Two criminal cases were opened against Tamara Mearakishvili: she was accused of slandering the ruling United Ossetia party and of illegally obtaining the citizenship of South Ossetia.
On July 10, the Tskhinvali District Court finally dismissed both charges. For two years, Tamara Mearakishvili was not able to leave South Ossetia, because the police had confiscated all her documents. Now, she has been given back her passport.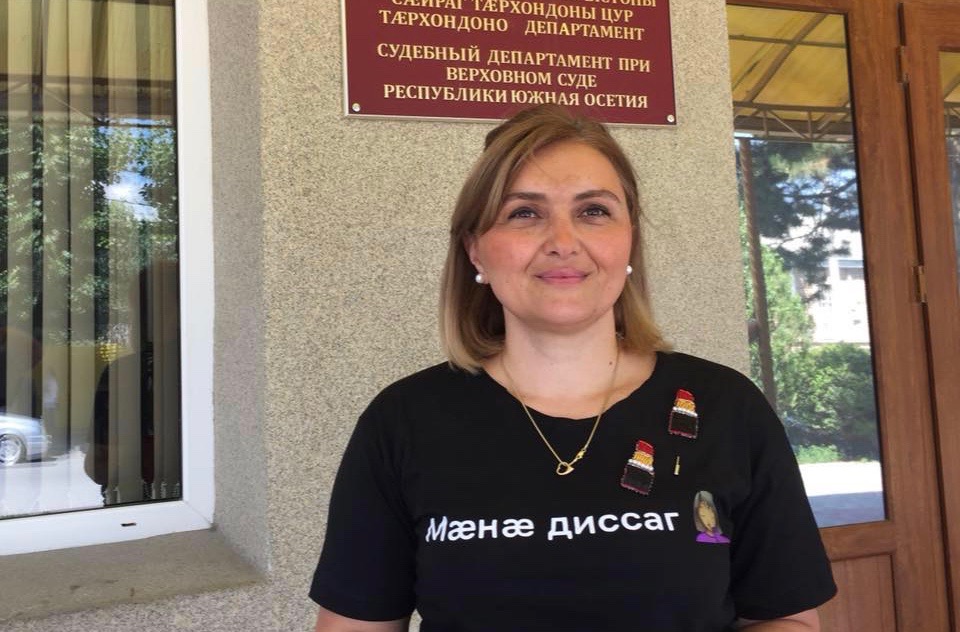 JAMnews contacted her by phone.
"The prosecutor's office has 10 days to appeal this court decision, and I know that they are already preparing an appeal. I still have to wait for the moment when all the courts will confirm the current decision of the court. But this is the first big victory", Mearakishvili told JAMnews.
The charges against Mearakishvili
The Akhalgori Prosecutor's Office officially accused Tamara Mearakishvili of slander in 2017, after she criticised the ruling United Ossetia party in an article for RFE/RL – Echo of the Caucasus.
In the second case, Mearakishvili was accused of producing false documents and illegally obtaining the citizenship of South Ossetia. Local police claimed that during the search two passports were confiscated from Mearakishvili – South Ossetian and Georgian. According to the legislation of South Ossetia, dual citizenship with Georgia is prohibited.
During the past two years, she was detained several times and interrogated. She has also gone through several searches of her apartment, and she said that they were looking for "extremist literature."
"These were two years of fear, constant danger and anger," Tamara Mearakishvili told JAMnews.
Her acquittal, Mearakishvili says, is due to the fair and honest decision of Judge Tamara Parastaeva.
"I relied on her honesty, fairness and qualifications. The human factor is of great importance, even in closed systems, like this one," said Mearakishvili.
But the struggle is still ahead, she says: most likely the case will go to the court of appeals, and then to the Supreme Court.
"It's not at all easy, they don't like to lose – neither in the prosecutor's office, nor in the ruling party. I've already been told several times: who is this little woman, and who does she think she is?" said Mearakishvili.
"I did not receive any support from the Georgian authorities"
All these two years, Tamara said, only her friends have supported her. Funds for court proceedings were earned through Facebook campaigns, in addition to trips from Akhalgori to Tskhinvali and the cost of a lawyer, all of which ran her several thousand dollars.
"I did not receive any support from the Georgian authorities. It was easy for them to use my case as an illustration of the dire humanitarian situation in the Akhalgori district where Georgians live. But they did not do that," said Mearakishvili.
In early October 2018, Tamara appealed for help to the Prime Minister of Georgia, Mamuka Bakhtadze. She wrote that she was in practical captivity. But the prime minister did not respond to her letter at all.
Some time ago, a journalist from netgazeti.ge, with whom Tamara Mearakishvili collaborates, asked the prime minister about her at a press conference.
 "It became clear from the Prime Minister's response that he was hearing about me for the first time. It was very disappointing," Tamara told JAMnews.
When JAMnews called her, she had friends from Tskhinvali with her, who celebrated her victory in court.
"Please write it down," she said, "I have a lot of friends in Tskhinval, and many support me there. Because of all these trials, sometimes I was left completely without money. And then the taxi drivers drove me for free, and they didn't take money from the store. Everyone asked me how my trial was going. I feel a lot of support from the locals."
"I hope that this whole story will help many other people speak out loudly about their problems," said Tamara Mearakishvili.
Toponyms, terminology, views and opinions expressed in the article do not necessarily reflect the views and opinions of JAMnews or any employees thereof. JAMnews reserves the right to delete comments it considers to be offensive, inflammatory, threatening, or otherwise unacceptable