"To clarify what happened to my brother, I want Balasanyan arrested" - Nofel Gasimov
"Son" – movie about Natig Gasimov
A screening of the documentary film "Son", anout an Azerbaijani soldier who was captured during the first Karabakh war, and whose ultimate fate remains unknown, has been held. The hero of the movie, Natig Gasimov, became famous in the 90s after his photo, taken by an Italian reporter, showing him with the flag of Azerbaijan and surrounded by armed men, was published in the Russian magazine "Ogonyok". The photograph depicts the moment of his capture by the Armenian military.
---
---
British-Azerbaijani movie "Son"
On October 18, Baku's Nizami Cinema Center hosted a screening of the film produced by British company Broken Pot Media.
It took three years to create the movie. On the process of making the film, producer of the tape Eckart Sager said that he was impressed by the scenes where Gasimov puts his weapon on the ground, is captured and interrogated by Armenians.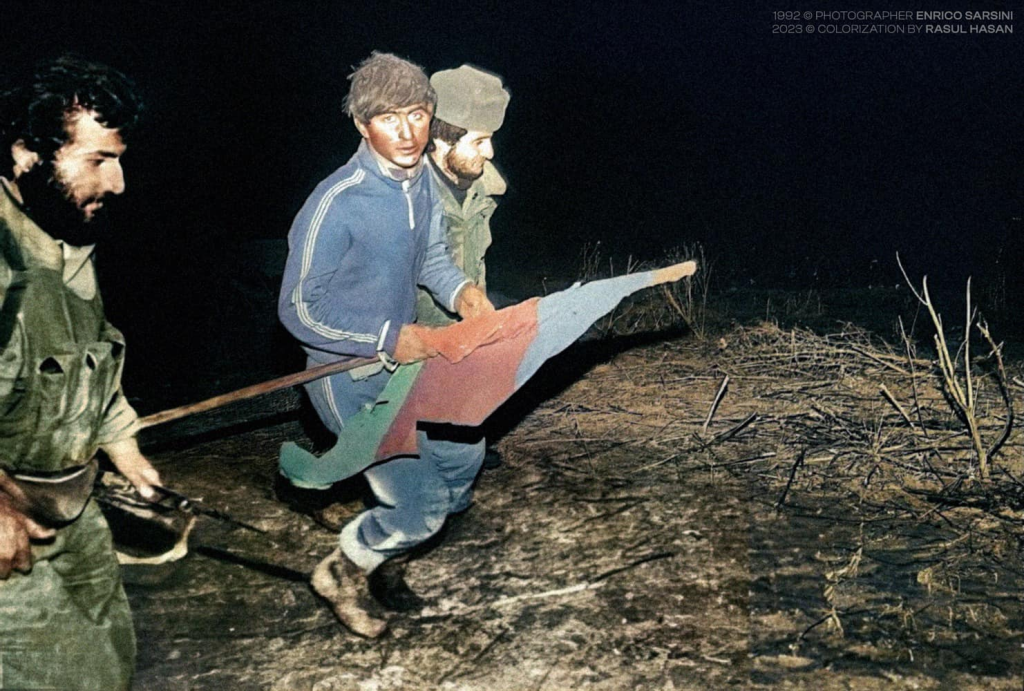 Sager said that at the time the movie was made, even after 25 years there was still no information about the fate of Natig Gasimov, which is why he launched an investigation into what happened to him:
"Given the relations between Azerbaijan and Armenia, it was very important for us to approach this issue objectively and with restraint. This tragic event epitomized the Karabakh war."
Nofel Gasimov, Natig Gasimov's brother, noted in a conversation with AzerTAJ that nothing was known about Natig's fate at all before the filming of the documentary began in 2016. "We only knew that he was taken prisoner. Then we found out that he fought alone in the church and then agreed to surrender so that the Khojaly hostage takers would not be massacred."
What's happened?
In 1992, 21-year-old volunteer Gasimov was captured by Armenian military near the village of Askeran in the Khojaly region. In the movie, Jafar Jafarov, a forced migrant from Khojaly, says that during the brutal fighting, Natig lost six comrades and took refuge in the church of Grigoryan. For five days he held this position alone.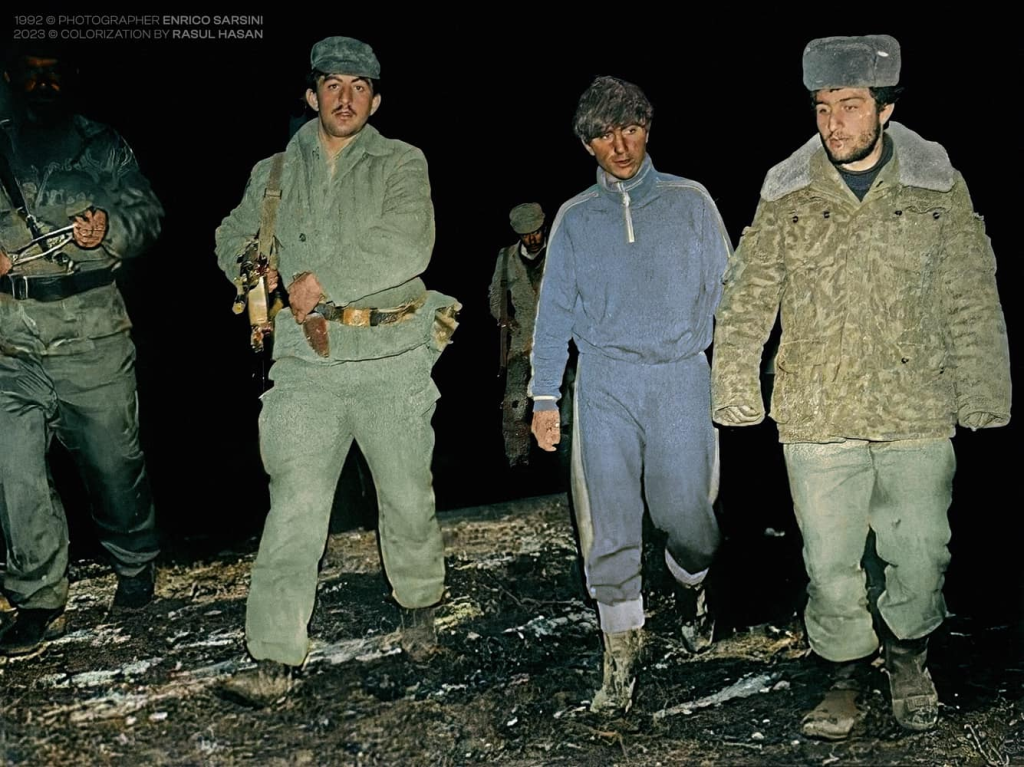 "There were 23 of us from Khojaly. We were held captive. The Armenians approached us, said that one of us should go to the Azerbaijanis in the church and offer them to surrender. In return they promised to release all of us. They chose me. I went to the church with a white flag, and shouted that I was unarmed, don't shoot. And when I went in, I was very surprised, he was there alone," Jafarov says.
Natig accepted the condition and surrendered to the Armenian military. All 23 Khojaly residents in captivity were handed over to the Azerbaijani side.
When all this was happening, war reporter Enrico Sarzini and Russian journalist Konstantin Smirnov were present. They were witnesses to Natig Gasimov's capture and his interrogation. Sarzini captured all this on film.
These photos show Natig Gasimov surrounded by Armenian military, and Vitaly Balasanyan interrogating him.
"First they said he was burned, then they said he was dismembered."
"The only thing I want is for Balasanyan to be arrested too and brought to Baku. This is the only way we can find out exactly what happened to my brother. If my brother was killed, let him tell us where he was buried. We want him to have a grave at last," Nofel Gasimov says.
Balasanyan was declared a hero of the unrecognized NKR after the first Karabakh war. He was also a member of parliament and chairman of national security of the self-proclaimed republic.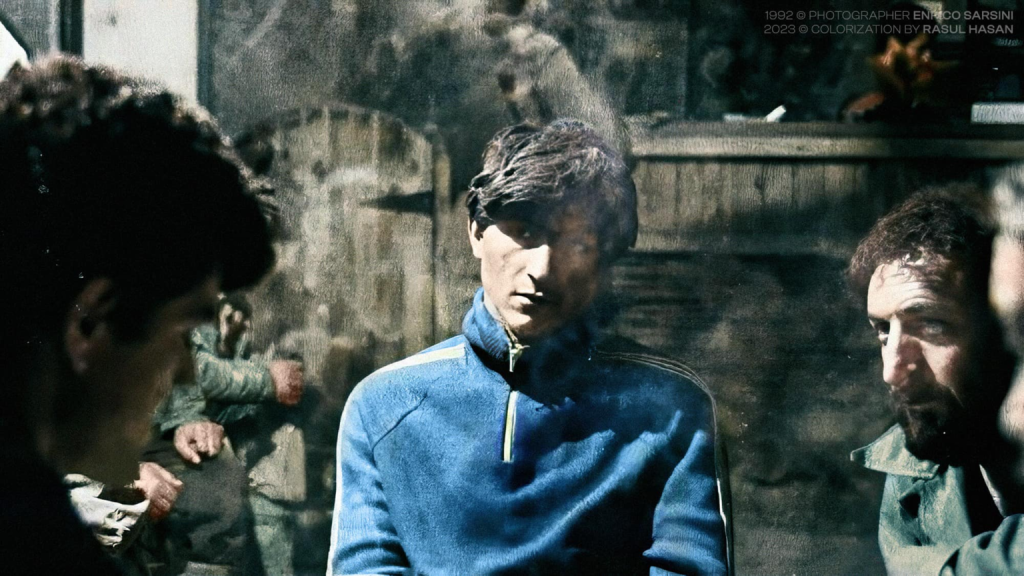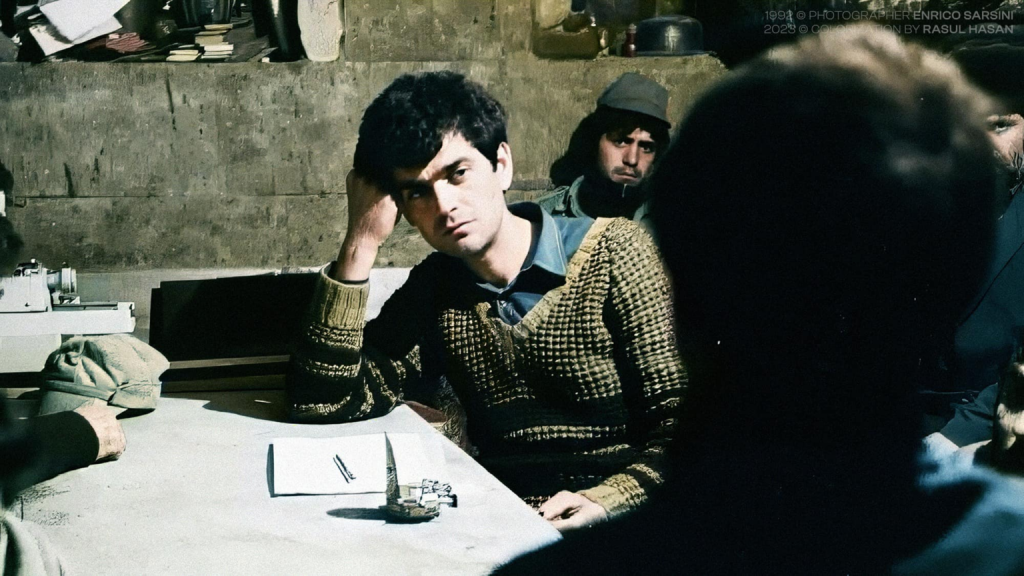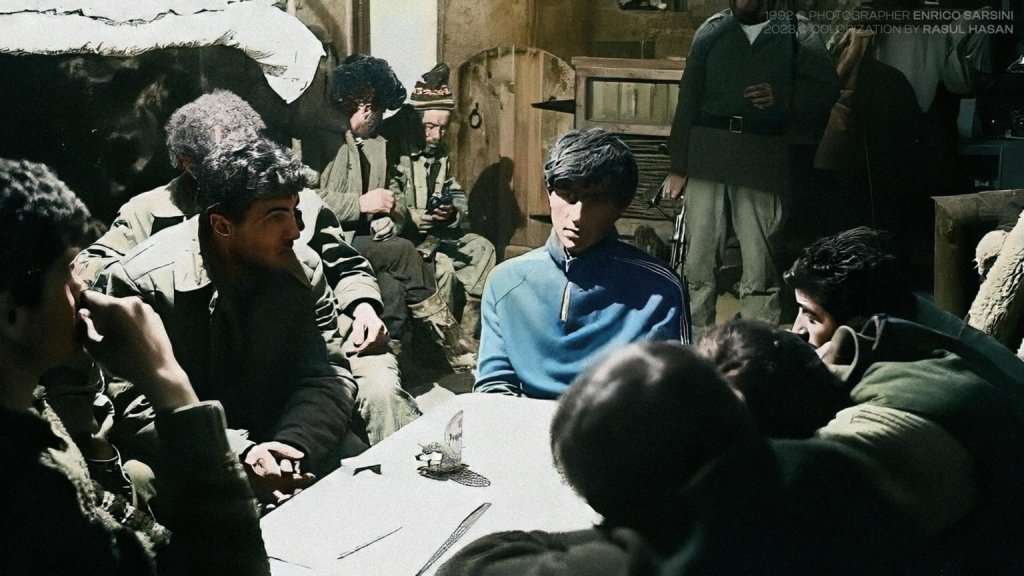 According to Nofel, he appealed to different authorities for many years with a request to find his brother.
"I met Allahverdi Bagirov (national hero of Azerbaijan, negotiated the exchange of prisoners during the first Karabakh war). He said that he met Balasanyan, the latter said that Natig killed many of our soldiers, that's why he was killed.
He applied to the International Committee of the Red Cross, but got nowhere.
In the movie, an Armenian says that he was interested in Natig's fate and was told that he was dismembered. This is the latest information about his brother's fate, Nofel Gasimov told Abzas Media.
Nofel still hopes that his brother's fate will become clear and he will find Natig's remains:
"I don't believe he was burned or dismembered. But he is no longer alive, it is obvious. I want his remains to be found so that we can bury him in Shehid Alley in Mingechevir – his hometown.
We have gone through a lot of things in 31 years. My father passed away with Natig's name on his lips, my mother has been bedridden for many years. I myself have had several strokes. All this is because of the stress of losing Natig."