Russia, 8 September: elections or political crisis?
Elections for local legislative assemblies and governors in a number of Russian regions will be held tomorrow on September 8.
The most important of them are for Russia's two largest cities – Moscow and St. Petersburg.
However, the words 'elections' and 'campaign season' do not accurately define what has been happening in the last few months in Moscow and St. Petersburg.
For various reasons, local authorities have refused to register independent candidates, and this caused massive protests.
• Moscow: opposition supporters face long prison sentences for tweets and participation in protests
The first large-scale protest rally took place on July 20 – the authorities gave permission to the organisers and it was attended by more than 20,000 people.
Since then, protests have been held in both cities every Saturday. The following demonstrations were largely not given permission by the authorities, and were accompanied by police beatings and arrests.
The most massive protest took place on August 10, when more than 60,000 people came to the rally in Moscow.
Several protesters have already received prison sentences of two to five years for  offenses such as "posting an offensive Tweet," "throwing a ballot box at a policeman," "touching a policeman's helmet."
In several other cases, sentences have not yet been passed.
• Op-ed: Growing protests in Moscow will lead to increased repression – but the public is ready
Why are the Moscow parliament elections so important?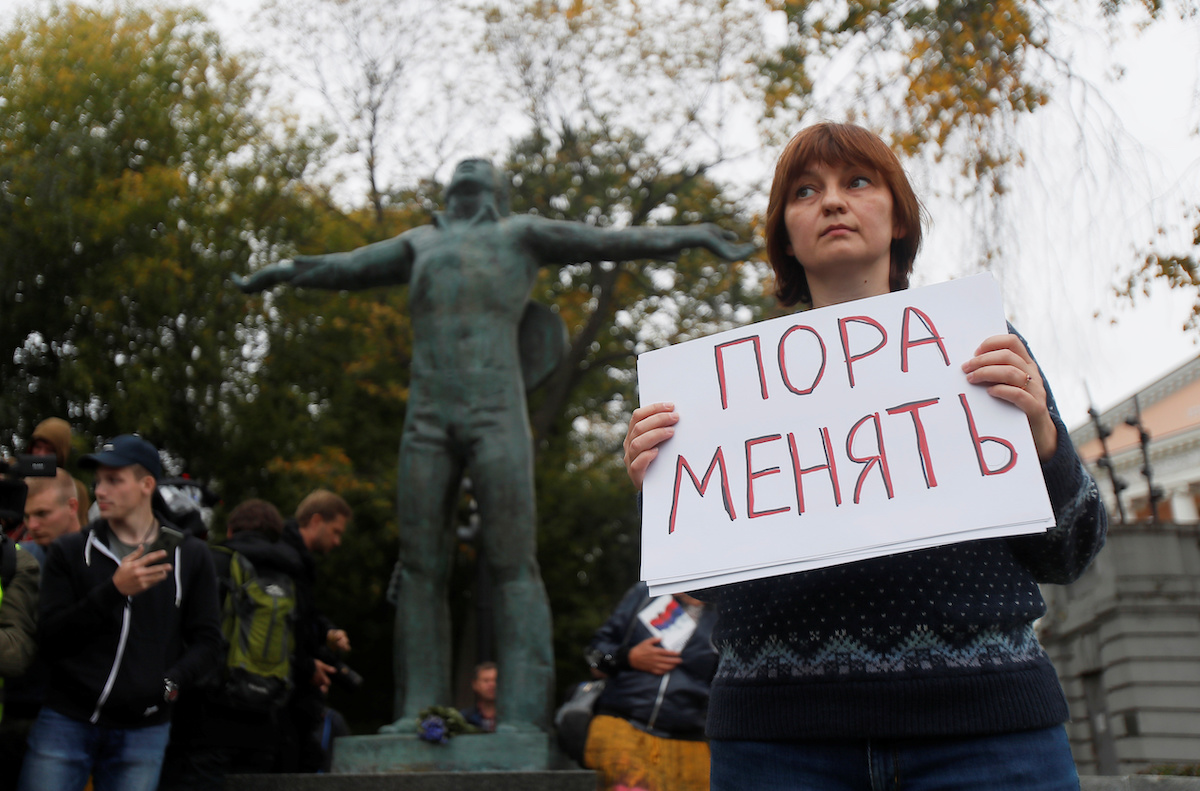 The Moscow City Council is not an ordinary legislative body.
According to the Russian constitution, Moscow is a subject of the federation, on par with other republics of the Russian Federation. The Moscow Parliament has the right to pass legislative bills for the city.
The appearance of independent legislators in the Moscow parliament would change the local political situation.
First, it would strengthen the possibility of holding legal mass protests.
Secondly, it would give independent candidates access to the Moscow budget and opportunities to launch anti-corruption investigations. This is one of the main tools of the opposition in confronting the authorities.
The budget of Moscow is about two trillion rubles. Numerous media publications indicate that corruption in the Russian capital has reached incredible proportions. Moscow officials openly register tens of millions of dollars worth of property under their relatives' names.
• "A very humane person" – Russian TV channel launches programme about Putin
• 20 years of Vladimir Putin: from head of the Russian security service to president
Moscow
For almost two months, protests unprecedented in size for Russia have been taking place in Moscow. They have been attended by tens of thousands of people.
Authorities have responded with repression: hundreds of people have received administrative arrest up to 30 days and huge fines, six people were convicted on criminal charges for a term of two to five years.
The reason for the unrest is the authorities' refusal to register independent candidates in the Moscow Duma elections.
Non-parliamentary party candidates (mostly the opposition) were required to collect several thousand signatures from voters. They collected them. But, according to opposition politicians, a massive falsification occurred during registration.
According to the authorities, members of election commissions specifically made mistakes when entering voter data into the electronic system, in order to later invalidate their signatures on this basis.
Russian opposition leader Aleksey Navalny's response was:
• He called for peaceful protests, to which people avidly responded.
• He organised on his Youtube channel a display of investigations into the illegal enrichment of Moscow officials and deputies. The investigations feature cases concerning hundreds of millions of dollars – the number of views exceeded 5 million.
• He called on the election to vote for any candidates who are not associated with the current government.
The authorities are reacting standardly: searches have been conducted in Navalny's office, he and his associates are regularly arrested.
The most egregious case was the arrest of the journalist Ilia Azar, whom the police took from his apartment in which one of his two-year-old daughter remained alone.
Society is reacting to what is happening with growing bitterness: increasingly, protests have slogans such as "Fascists, occupiers!", "Putin is a thief!" And "Police officers are a disgrace to Russia!"
All this is no longer reminiscent of regional elections, but a full-fledged political crisis.
Petersburg
The second largest Russian city, St. Petersburg, will elect a governor. should elect a governor.  The pro-government candidate, Acting Governor Alexander Beglov, is not popular among the local population. And his PR campaign has regularly been the subject of ridicule.
In winter, when traffic in St. Petersburg was completely paralysed due to poor public infrastructure, the governor went out to remove snow from the streets with a shovel in his hands.
Journalists drew attention to his shoes – expensive Italian summer shoes.
Then Beglov stopped his motorcade to personally transfer an elderly person across the road. But the old man whom he took care of turned out to be an actor from a local theatre.
Just before the election, the governor opened two metro stations.
But passengers were not allowed on them – it turned out that they were not ready yet; they were still unfit for operation.