Racist rally provokes bloodshed in the US
REUTERS/Stephen Lam
The city of Charlottesville was engulfed by violence on Saturday as white nationalists and counter-protesters clashed in one of the bloodiest fights to date over the removal of Confederate monuments across the South, New York Times reports.
White nationalists had long planned a demonstration over the city's decision to remove a statue of Robert E. Lee. But the rally quickly exploded into a racial and anti-Semitic taunting.
Counter-protesters clashed with white nationalists. On Saturday, a car bearing Ohio license plates plowed into a crowd of counter-protesters near the city's downtown mall, killing one and injuring 19. James Alex Fields Jr., 20, of Maumee, has been arrested and charged with second-degree murder.
The overall number of injured in the clashes has reached 34.
The events prompted the governor to declare a state of emergency and the National Guard to join the police in clearing the area.
Saturday's protest was the culmination of a year and a half of debate over the Lee statue. A movement to remove it began when an African-American high school student started a petition there. The City Council voted to sell it, but a judge issued an injunction temporarily stopping the move. The white nationalists' rally was meant to celebrate the move, provoking violence.
REUTERS/Stephen Lam
The violence in Charlottesville was the latest development in a series of tense dramas unfolding across the United States over plans to remove statues and other historical markers of the Confederacy. The battles have been intensified by the election of Mr. Trump, who enjoys fervent support from white nationalists, American experts claim.
A former imperial wizard of the Ku Klux Klan told reporters on Saturday that the protesters were "going to fulfill the promises of Donald Trump" to "take our country back."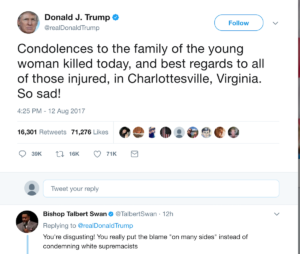 The president came under criticism from some who said he had not responded strongly enough against racism and that he failed to condemn the white nationalist groups by name who were behind the rally.
The situation in the town has calmed down. But Richard Spencer, one of the white nationalist leaders, made a promise online to be back.
"We are going to make Charlottesville the center of the universe," his statement says.
REUTERS/Jim Bourg