Opposition TV Rustavi-2 supporters rally in Tbilisi
Dozens of thousands turned up outside the former parliament building in Tbilisi on Sunday, following opposition TV channel Rustavi-2's calls for a rally to protest against what it said was the government's attempt to sway justice ahead of a supreme court ruling on its dispute with the company's former owner.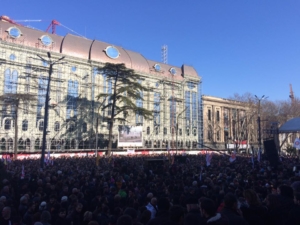 Rustavi-2 journalists, presenters, managers made speeches at the rally. They thanked their supporters for coming and urged the supreme court to stay impartial.
Members of various political parties joined the protests, however none of them got political as they took the floor to address the crowds.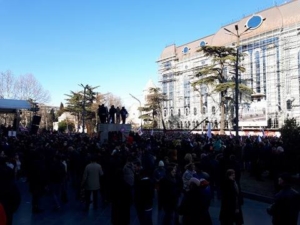 • The litigation over who Rustavi-2 belongs to has been going on for a year. Its former owner Kibar Khalvashi wants the channel back, saying he was pressured by the previous government into selling it.
• After the appeals court ruled in Khalvashi's favour in June last year, Rustavi-2 took the matter to the supreme court.
• The case is now being considered by the supreme court's upper chamber.