Opposition demonstration in Baku: dummies, confrontation with police and 30 detainees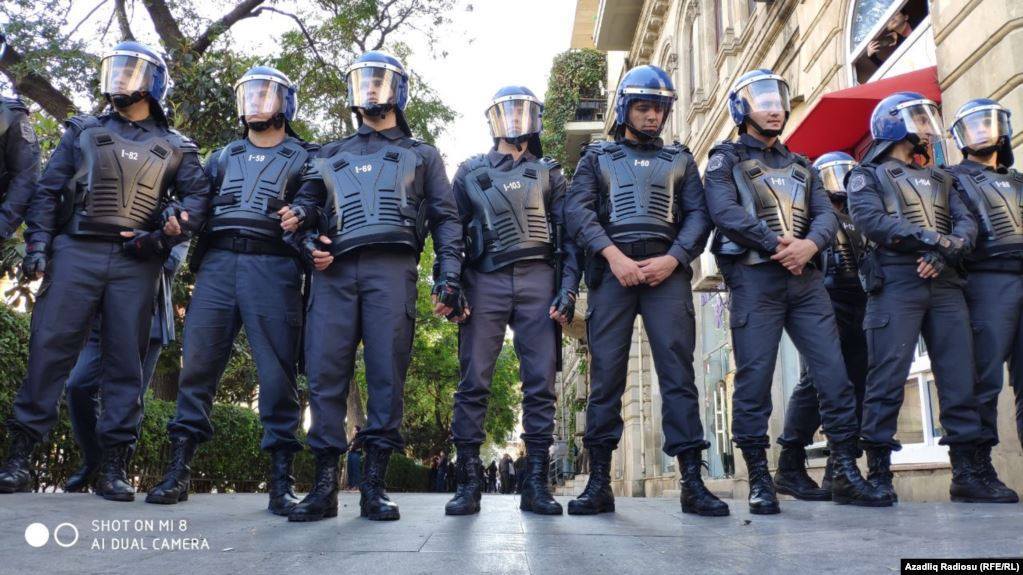 An authorized rally of the opposition National Council of Democratic Forces of Azerbaijan (NSDS) was held in the center of Baku.
The authorities gave permission to participate to only 50 people, but many more came. As a result, the police dispersed the "surplus." About 30 people were detained according to preliminary data.
• Who is the half-Jamaican participant of the Tbilisi protests?
• My Karabakh – Part II: 1988 – The Karabakh protests begin
Background: The struggle for a place half the sun
Previously, the opposition held rallies at the Mehsul stadium – a suburban area of Baku. This was was the only place in the city where the authorities allowed them to gather.
But in early September, the stadium was closed for major repairs.
The National Council tried to get permission to hold a rally in another part of the city near the center. The topic of the rally was to be political prisoners, corruption and other claims against the authorities.
But the authorities suggested that the opposition hold a meeting in Lokbatan, a village near Baku. The NSDS refused to go out of the town.
As a result, it was possible to obtain permission not for a rally, but for a small picket at a standstill near the Baku municipality building. On this occasion, the NSDS decided to change the subject. The picket was dedicated to the freedom of assembly. 
Fake picket
The picket began on September 8 at 15:00.
Some picketers unable to make it through to the demonstration claim that the authorities had sent their dummies there in advance so that 50 people could get in and there was a "legal basis" for not letting anyone else get in to the demonstration.
This version is also supported by the fact that several people standing next to the policemen raised a poster with the inscription "Ilham Aliyev, we are with you." This outraged the opposition, two of them tore the poster, and they were detained.
The picket ended with the announcement of a resolution requiring the authorities to comply with the constitution and international obligations to ensure freedom of assembly.
The next meeting is scheduled for October 19.
Eyewitness accounts
"At 14:55 I went to the venue of the picket. The whole quarter was cordoned off by special forces. About 30 people tried to get to the picket, but the police pushed them back. Two were detained before my eyes. "
"When I approached the park not far from the picket, there were twenty people there who were  'squeezed out' by the police and special forces. They also drove people out of the park who were just sitting on a bench. I saw four people detained. It seemed to me that plainclothes security officials participated in the dispersal: they discussed something with the police, carefully examined and photographed those present."