Online advertising is cheap, measurable, but uncontrollable: the situation in Armenia
Internet advertising in Armenia
Today each of us acts as a seller, everyone sells something – an apartment, a car, furniture, music, knowledge, news, entertainment, and so on. You have to know where to sell, to whom, and for how much.
Whileen years ago an advertiser turned to agencies that charged him for their services, today you can successfully advertise your product yourself.
---
---
"Advertise where there are numbers"
This means that, for example, a businessman with a small advertising budget will not spend it on outdoor advertising, since in Armenia there are no clear data on how many people can see it. Companies offering outdoor advertising can only roughly indicate how many cars will pass, say, along the Yerevan-Sevan highway. The same is true with radio advertising.
Television advertising with a small budget is generally meaningless, since according to various estimates, a minute of television advertising (when broadcast throughout the country) in Armenia starts from 36 thousand drams ($93) and reaches 150 thousand drams ($388). In addition, you need to pay a large amount for the production of the commercial itself.
The cheapest advertising is on internet sites. Here you can get measurable results for little money. In the Armenian online advertising market, the most effective tools are offered by Meta (with their Facebook and Instagram platforms) and Google.
For example, a kids cafe can run their Facebook ads on a budget of $50-60. It can clearly identify its audience — for example, working mothers living in Yerevan. It is also possible to track people's actions: whether they go to the cafe page on Facebook after viewing ads, whether they send a message, etc.
Amounts invested in internet advertising do not stay in Armenia
In 2022, the turnover of the entire advertising market in Armenia (digital, outdoor, TV and radio advertising) amounted to about $60 million.
Armenian online media do not earn much from advertising. At one time there was an advertising network – a system with uniform and understandable rules of the game, all participants of which saw internal traffic. Based on this, advertising was distributed between platforms.
Advertising agents say that working with local news sites is a headache for them, both organizationally and financially. So they prefer to place ads on YouTube, com, net, ru and other domains.
They don't sell quantity but segment, interest, and content. Now it is possible to clearly identify your target audience using location, online, or the so-called digital footprints, that is, the data that a person leaves when using the Internet, and other tools.
Effective advertising is one that leads to action. For example, while watching a movie a person notices an advertisement and enters a site offering this product or service, stays there for some time, gets acquainted with the content, asks questions, and acts as a consumer.
Advertising effectiveness
The advertising market has changed all over the world. The advertiser no longer needs quantity, but quality. That is, he wants the advertising of his product to reach the audience he needs, and not many. For example, he prefers to be seen by 20 thousand men aged 40-50 who work in banking, real estate sales and manufacturing.
The advertiser, from the moment his ad is placed on the internet, sees its effectiveness. First in the form of interest – whether people read it, whether they follow the company's platforms in social networks, and then by incoming orders. If during the process it turns out that the wrong audience reacts to advertising, you can change the settings so as not to show it to this segment.
Traditional media platforms – newspapers, magazines, radio and television – conclude contracts for a certain period, such as a month, a quarter, a year.
Now you no longer need to spend big money and shoot a commercial, participate in television programs, order advertising reports in order to make your small business visible. By spending a small amount, you can advertise your product on social networks on the pages of celebrities (influencers). And from the comments, you can analyze people's attitudes, understand positive and negative impulses, and improve the content.
Online advertising provides feedback. While the viewer, who wants to receive additional information about a given product or service, is practically deprived of the opportunity to respond.
If money is not a problem
Large, well-known companies and brands plan their advertising campaign for the year ahead, including all media platforms and directions
• commercials,
• publications in newspapers and magazines,
• placement of advertisements in programs, films,
• sponsorship, etc.
Their task is to show the brand, to remind of its existence, unlike small companies that still have a problem introducing their product. Large companies usually spend about half or most of their advertising budget on TV channels.
In Armenia, too, television advertising is mainly preferred by large advertisers. With an average or small budget (up to $20,000), companies tend to place ads in such a way that it is as effective as possible. They spend their budget mainly on online platforms.
"Relaxed" advertising
In the Armenian segment of social networks, attempts to present a product or service with humor have become more frequent.
Communication with the audience went beyond the accepted patterns and became casual.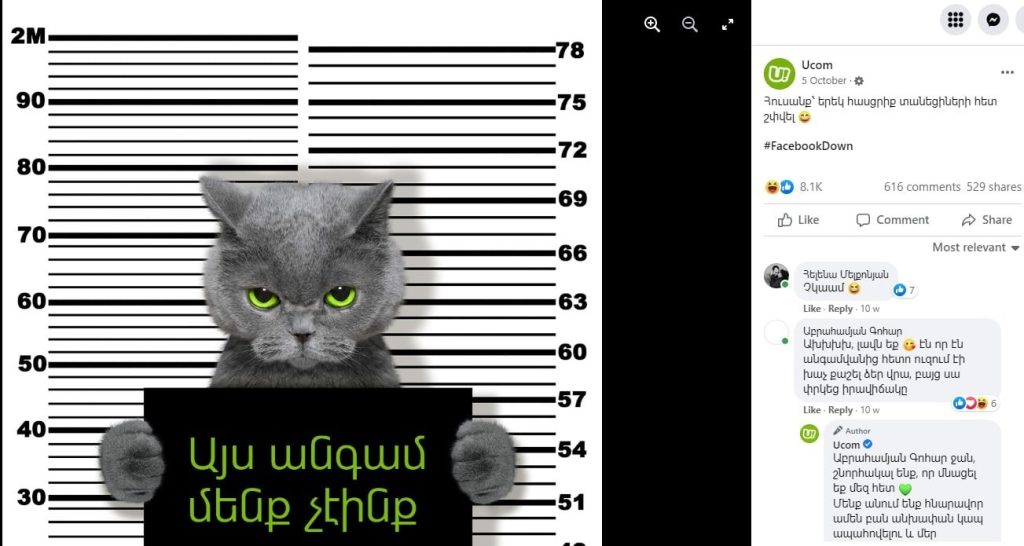 The telecommunications company Ucom wrote on social networks due to a communication failure: "We hope you managed to communicate with family members during this time," saying it was Facebook's fault
The time of elegant texts to communicate with the audience and attract new subscribers is over, now it is more important than good jokes, creative tricks and meme language. The context of popular international projects is often used – films, series, songs, etc.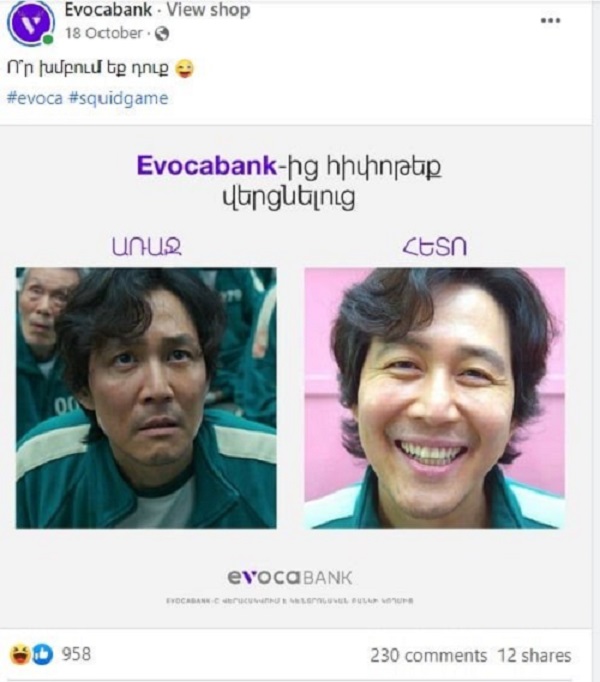 An Armenian bank offered mortgage loans using the image of actor Lee Jong Jae from the Netflix series "Squid Game" ("SquidGame"), playing with his "before and after" photos.
Problems in the advertising market
In 2021 the Armenian government ordered an audit to determine the reliability of the data provided by Atmosfer Armenia on views on Armenian TV channels and the compliance with international standards of the methodology used. As a result, certain violations were recorded.
The study was conducted by the State Commission for Economic Competition. It also revealed violations of competition, most of all in the TV market:
"There are TV companies that have a dominant position, and companies that are considered by contract to be sales houses [Sales-house is a company that sells TV advertising time, a link with advertisers] whose pricing policy leads to risks."
The Commission concluded that although there are no companies that dominate radio and internet sites, there is a problem with the transparency of price offers and gaps in the legislation. In a word, there is no body that controls advertising on the internet.
Follow us – Twitter | Facebook | Instagram
Internet advertising in Armenia