Stagnant economic ties in the South Caucasus: Three stories
Economic ties in the South Caucasus
How transportation of cars from Georgia to Azerbaijan became unprofitable
When it comes to trade relations between Azerbaijan and Georgia, trade in cars and spare parts is paramount. Georgia occupies a significant place in the secondary car market of Azerbaijan,and almost a third of the total trade between these two neighboring countries has to do with used cars.
Before the coronavirus pandemic, the import of cars and spare parts from Georgia to Azerbaijan was a fairly bustling activity. But a lot has changed since then.
"We ourselves move by air, goods by land"

For many years Elnur Ibragimov has been selling auto parts at a market located on Babek Avenue in Baku. There you can get almost everything for cars, from oil to the smallest parts, mainly imported from Georgia, the UAE and Germany.
Elnur also imports them from these countries. But Azerbaijan, having closed its land borders in the spring of 2020 for lockdown, has not opened them yet.
"Before they usually went to Georgia, along the roads. And now you have to fly by plane and spend a lot more. We buy goods there, load them into trucks. For a fee, they transport cargo to Baku. And we fly back by plane," Elnur says.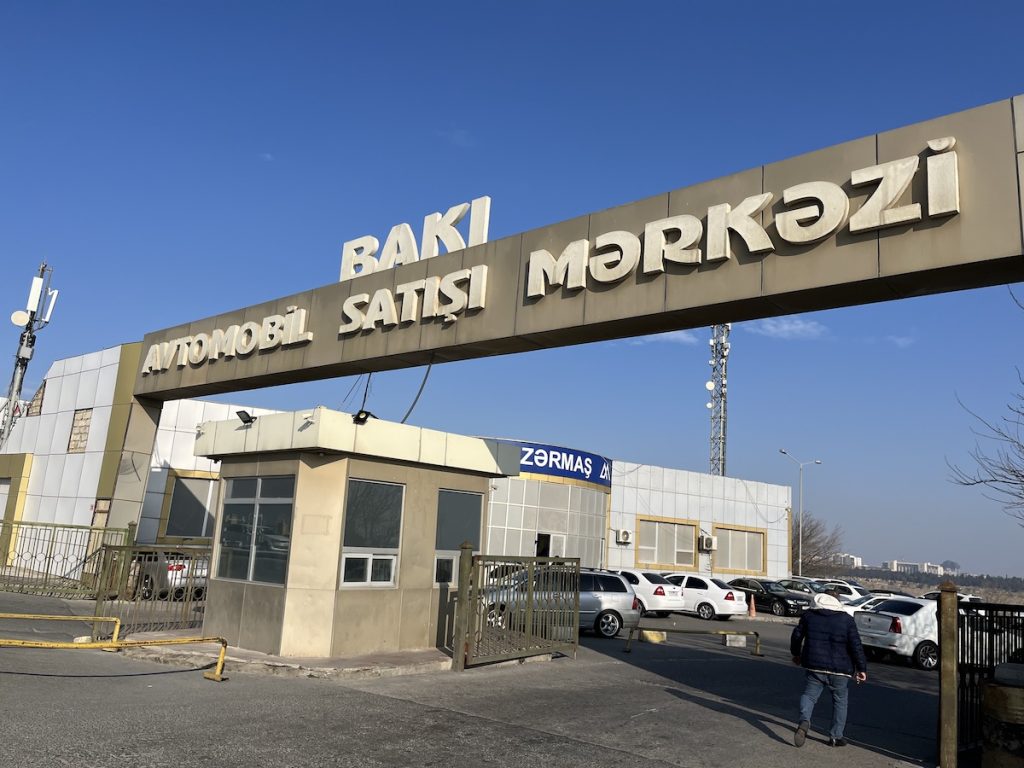 20% of cars imported from Georgia
According to the Azerbaijani State Customs Committee, in January-September 2022 Azerbaijan received 55,199 cars, the total price of which is $743,966,000.
And according to the statistics department of Georgia, in January-May 2022 alone, 11,677 cars were exported from Georgia to Azerbaijan.
In other words, more than 20% of cars (worth about $170 million) sold in Azerbaijan are imported from Georgia.
In the first quarter of 2022, the total trade turnover between Georgia and Azerbaijan was more than $525 million.
The auto trade accounts for 32% of total trade turnover between the two countries, with the vast majority from Georgia to Azerbaijan.

Elnur says that depending on the activity of buyers he sometimes has to fly to Georgia twice a month. Not cheap, and on top of that are customs duties.
"Sometimes the sale goes very well, we go twice a month. But often there are no buyers, like now. At such times we go to Georgia once every two or three months. And flights are expensive [about $250]. Spare parts are expensive. We make a negligible margin in order to somehow sell for such a price. But it is becoming more and more unprofitable to do this," he laments.
Economic ties in the South Caucasus

Badamdar market

The market in Badamdar on the outskirts of Baku does not even exhibit the relative liveliness to be seen on Babek Avenue. The few people around are workers and salesmen. There are no buyers.
It offers both new and used cars. Most of the used market are cars from Georgia.
Sellers complain about the lack of buyers and difficulties in importing cars into the country. Sale is active only on Saturdays and Sundays. Nobody comes on weekdays. Dealers say that despite this trend, they come to work early in the morning and wash cars to a shine in the hope of casual buyers.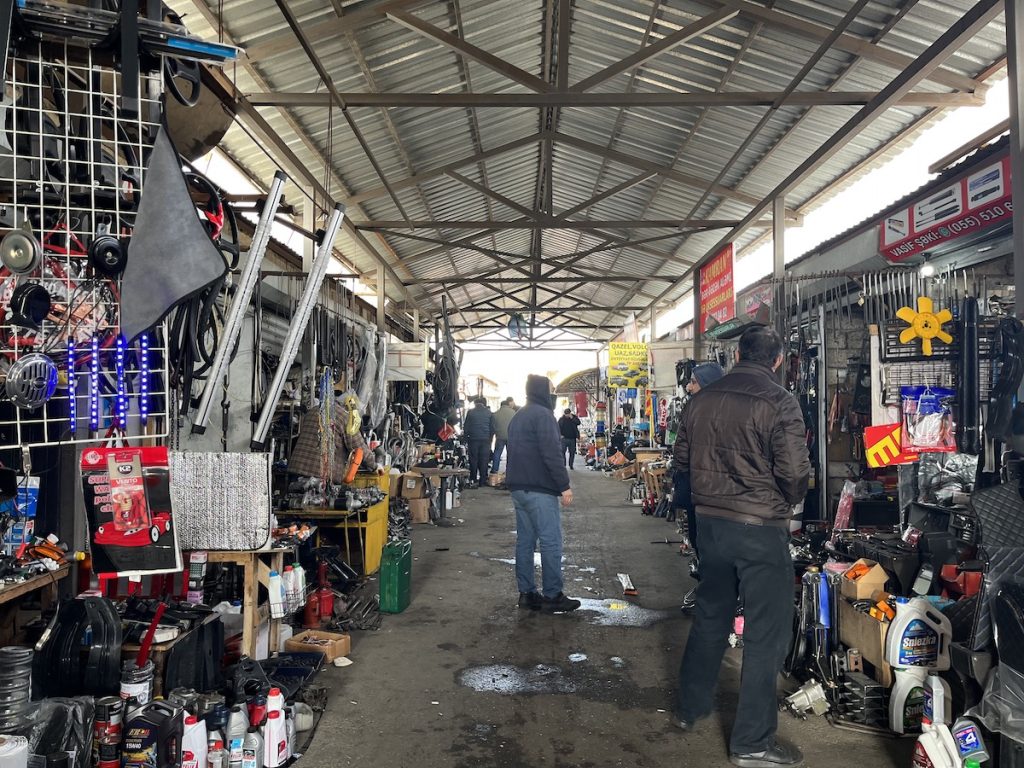 Rizvan Shykhamzaev says that he used to bring cars from Georgia, but recently switched to Korea, as cars from Georgia are so expensive that it is no longer profitable.
Rizvan recalls the days when it was possible to bring cars across the border:
"Now for the transportation of each car across the border in a car they ask for $400. A plane ticket costs about $250. And it's not every day you find for such a price. Add to this the cost of the hotel, and you're already losing. You have to spend more than you earn later. Closed borders are very bad."
Dealers of vehicles brought in from Georgia say that most of these are wrecks and impounds. Cars are transported to Azerbaijan mostly in dilapidated state.
Many sellers admit that after an emergency vehicle reaches Baku, they repair it there, give it a marketable appearance and put it up for sale.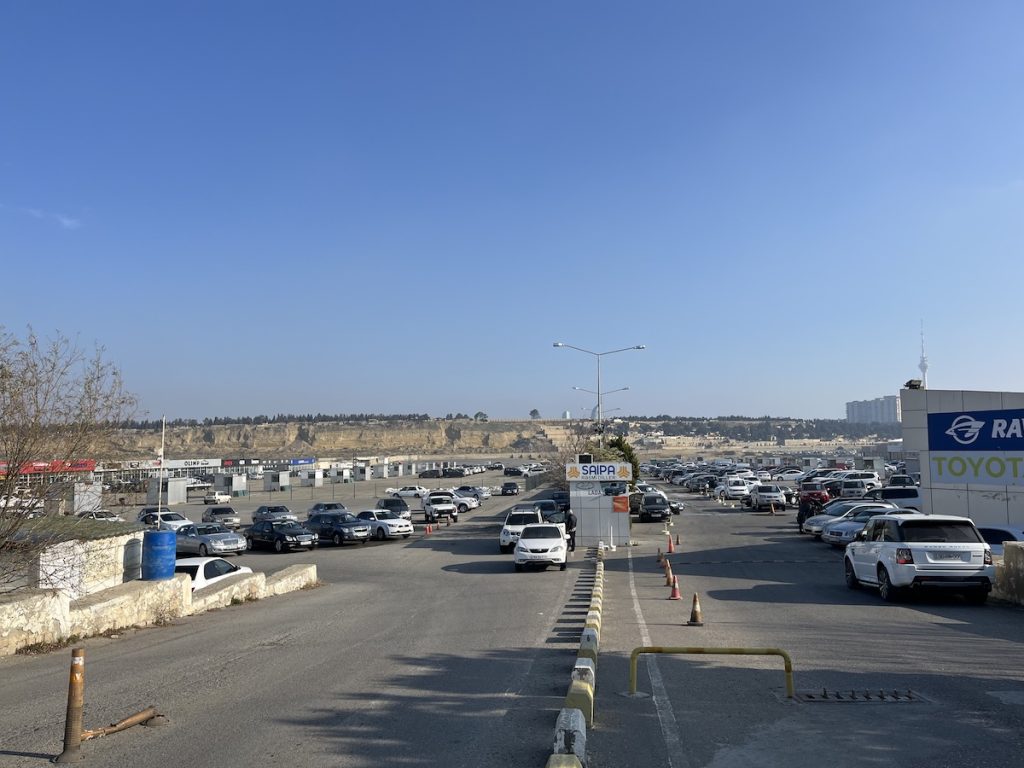 "Before, people could save on expenses"
But the closure of borders hasn't affected car sales much, Eldaniz Jafarov, a motor sales expert, believes, and in comparison with previous years one can even detect an increase. But everything has become much more expensive.
"When the borders were opened, car dealers for the secondary market brought them themselves – driving the same cars. But now cars are transported on containers. Both the primary and secondary markets saw significant increases in shipping costs.
Of course, the rise in prices for logistics around the world plays an important role in this. And, of course, this is reflected in the prices of cars imported into the country. Despite all this, there is a noticeable increase in car imports to Azerbaijan," Jafarov says.
According to an order of the Azerbaijani Cabinet of Ministers, land borders will be closed until March 1, 2023.
Government officials regularly emphasize that the situation is stable, but the opening of borders even in the spring is in question. Auto dealers don't expect it either, and some have shut down altogether.
"We are happy that at least we are not in poverty. But the days when we could save the money we earned are long gone," Rizvan Shykhamzaev says.
Economic ties in the South Caucasus
You need to tell a story to sell a carpet
Anar Mammad-Zade is 33 years old. He told us about his carpet-selling business along the Tbilisi riverfront.
"My father and his brothers started this business many years ago. My uncle Eldar opened his first store in 1991 in old Tbilisi, on Meydan. At that time there were no shops at all. You'd go to someone's house instead.
But soon after the store opened, word of us spread throughout the city. And then everyone began to carry carpets directly to him.
Then my second uncle opened another store nearby. In 1995, my father opened this store on the waterfront. I was then six years old. I used to come straight from school to the store and spend time here. I grew up with carpets.
When I was a student, I was already well versed in this matter and saw my life in carpets.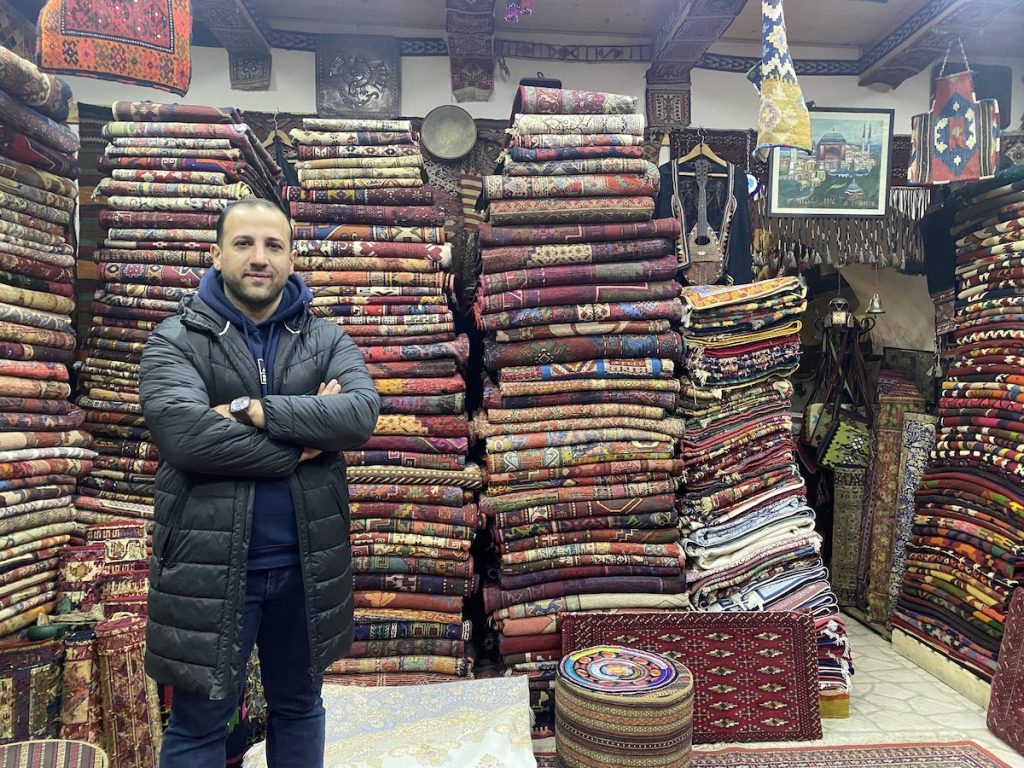 "I have been in this business for fifteen years. It's the kind of job if you don't love it, you can't do it, and you'll never learn it.
This is not a simple trade. All carpets here are woven by hand, they are all works of art. If you trade in carpets, you need to know the explanation of each ornament, the age of each carpet, the origin of each element. If you just roll out the carpet to the buyer, show it and just stand by, nothing will happen.
For a customer to buy a carpet, they need to tell a story.
Economic ties in the South Caucasus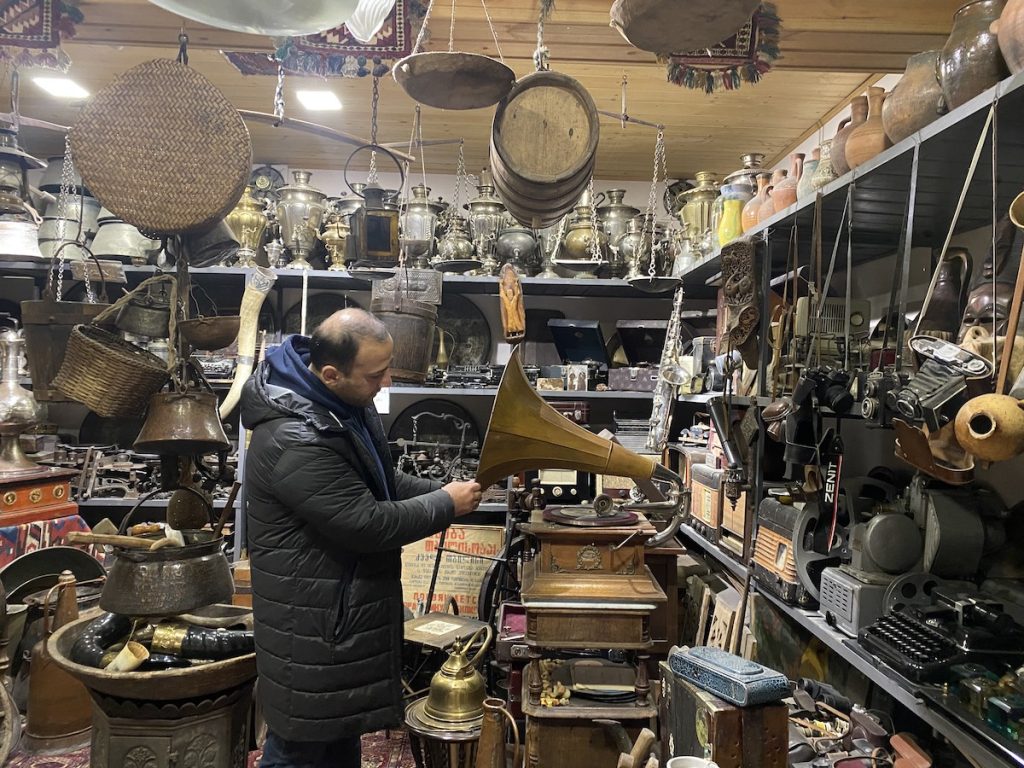 No matter how many years you have been in this business, you will never fully learn all its intricacies. There are so many types of carpets that you can never know everything about this art.
The carpet maker uses not only his skill, but also his imagination. The author can mix four different ornaments, with different elements in the corners. Therefore, it is impossible to fully study this issue.
For example, in a village where Azerbaijanis live, the author can weave a carpet with Azerbaijani ornaments. But it is woven in Georgia, that is, from Georgian wool and with Georgian dye, so it is a Georgian carpet.
We started with the sale of antique carpets, and now this is the basis of our store – Caucasian and Iranian antique carpets. Previously, families had only old carpets. But since the beginning of the 2000s, new carpets have appeared, and we began to import them from Azerbaijan and Iran.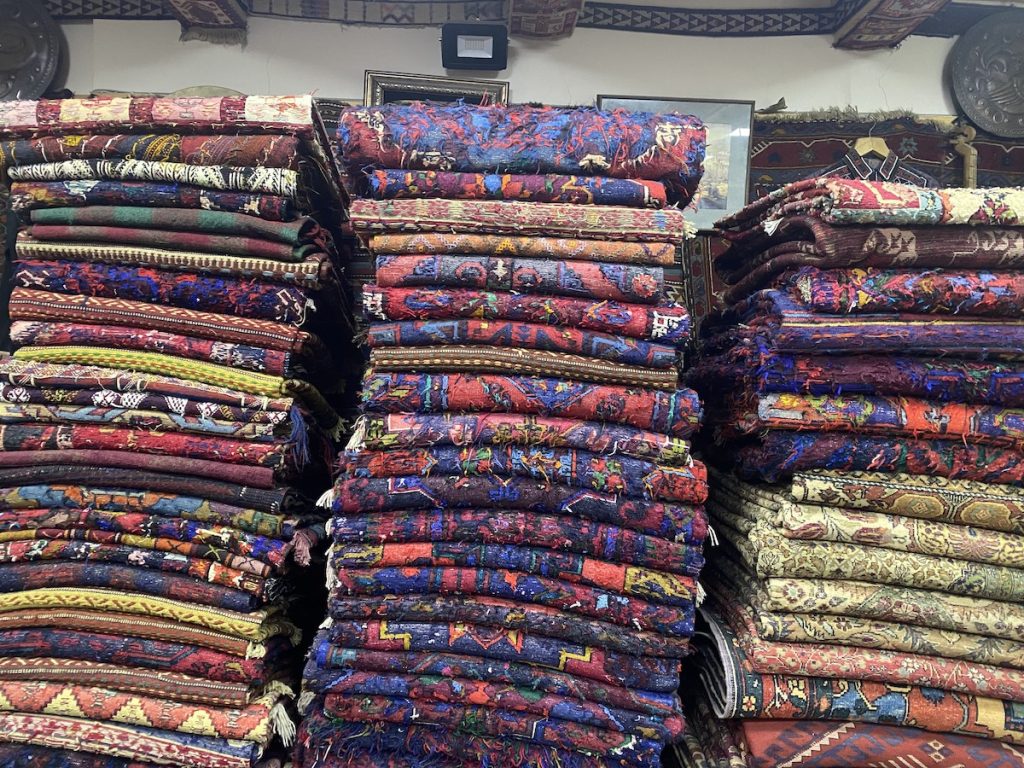 All carpets, both new and old, are woven by hand.
We have Iranian, Azerbaijani, Armenian and Georgian carpets and rugs. In Georgia there was no tradition of weaving fur carpets; Georgian craftsmen made fabric carpets. Fur carpets were mainly woven by Azerbaijanis and Armenians living in Georgia.
But Georgia has always been the trade center of the Caucasus, so Tbilisi ended up with a huge amount of Armenian, Azerbaijani, Iranian carpets and works from other regions of the world.
Unfortunately, old handmade carpets are currently leaving Georgia. Locals rarely buy carpets. Our customers are usually tourists, and they take carpets abroad as a souvenir."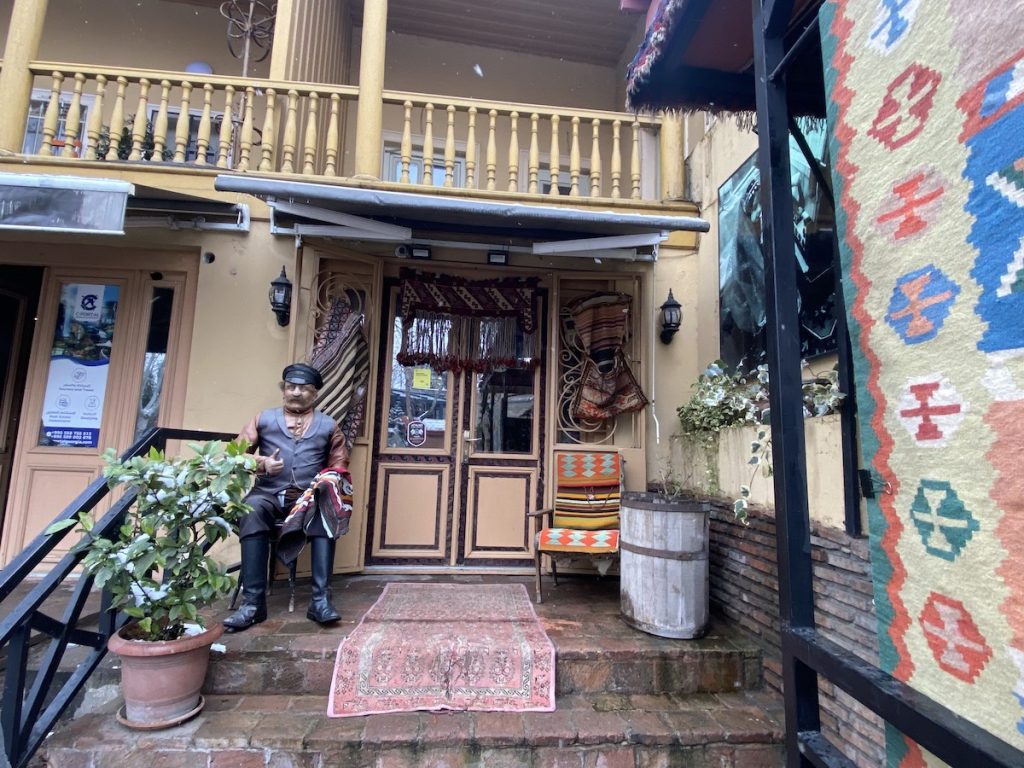 Now there are 3,457 carpets for sale in our store. Some of them have been here since the day they opened — ancient, huge carpets. Over the years, their price increases.
The price for small rugs starts from 100 lari [about $30] and goes up to 500 lari [about $180]. The price of a large old carpet can be 10,000 lari [about $3,000].
This is quite labor intensive work. We come every morning at 9 o' clock, take out the carpets, unpack them, clean them, take care of them. I only close the store once a year, on January 1st. On other days we are always here from morning to night.
Along with carpets, we also have a collection of antiques. We have been collecting these items for over twenty years and do not sell them. At first, we started collecting old things just to decorate the store, and gradually it all turned into a large collection.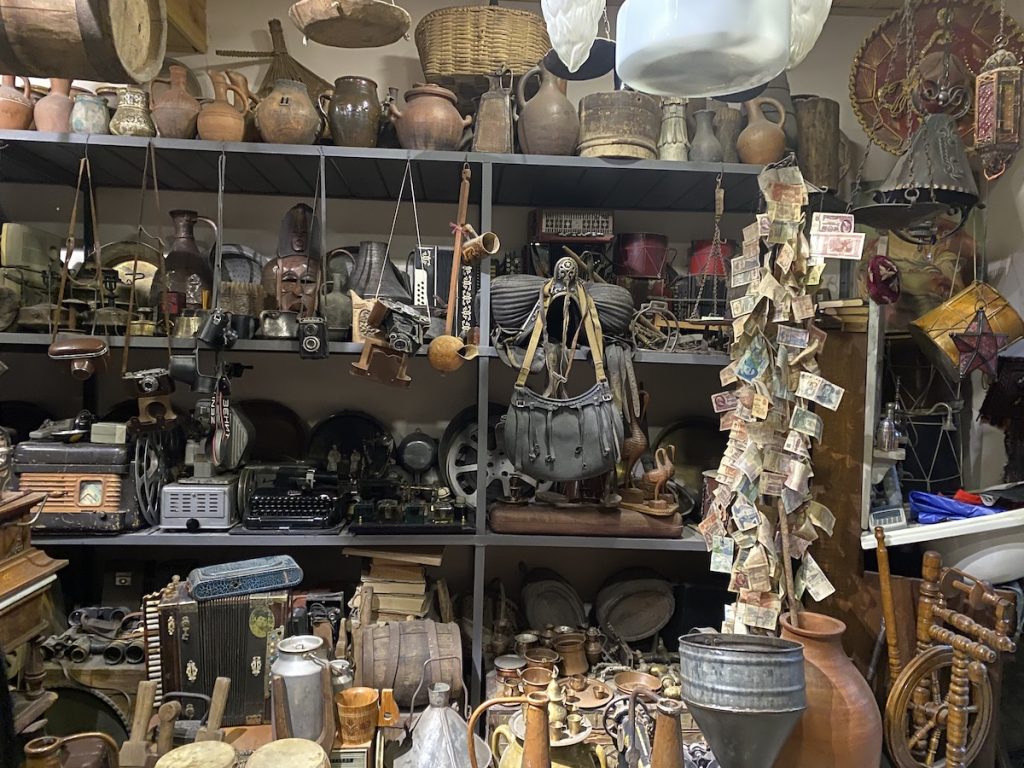 I try my best to continue this work with high quality and involve my children in this work. If they still do not follow this path, they will still have our store. But most importantly, they will have the memory that my family has preserved for this city."
Why don't Georgia and Armenia invest in each other?
Armenian-Georgian trade and lack of joint ventures

The geography of Armenia is one of the most vulnerable aspects of the country. Landlocked and with closed borders on two sides, Armenia's access to world markets has mainly been Georgia. There are no tangible problems between Yerevan and Tbilisi that could slow down economic dialogue. But apart from the standard trade turnover, the economic cooperation between Armenia and Georgia is not deepening. Why?
Impressive trade growth and 1 billion target

Since the 2018 Velvet Revolution in Armenia, Tbilisi has become one of the most visited capitals for Prime Minister Nikol Pashinyan. The heads of the two countries have even held informal meetings outside the capitals, supposed to demonstrate the special closeness of the prime ministers and countries.
According to the data of the National Statistical Service of Armenia, in January-November 2022 the trade turnover between the countries was $759 million. This is 57% more than in 2019, when the largest volume of joint trade was recorded. Exports from Armenia to Georgia almost tripled during this period.
During his visit to Armenia in January 2023, Georgian Prime Minister Irakli Garibashvili even stated that the total volume of trade for the full year 2022 was more than one billion dollars. If this figure is accurate, Yerevan and Tbilisi have managed to bring economic cooperation between the two countries to a new level.
Pashinyan has publicly stated the goal of reaching the one billion dollar mark:
"In 2019, we set ourselves an ambitious goal to increase bilateral trade to $1 billion a year in the medium term. The coronavirus pandemic has slowed this process, but now that we are learning to live in parallel with the coronavirus, I confirm this intention. We have already discussed it with Prime Minister Garibashvili and will try to increase the trade turnover between our countries to $1 billion by 2026."
Why Georgia and Armenia do not invest in each other

In 2016, 160 businesses with Georgian capital were registered in Armenia. Since then the data have not been updated, but a speculative study of the Armenian market clearly indicates that there are either no such businesses left, or they are small businesses with negligible production.
"The structure of our economies is quite similar. There are areas that are slightly developed in Armenia, there are areas that are slightly better in Georgia. One of the few areas where there is capital from Armenia is tourism. Armenian businessmen still invest in the hotel business in Georgian resorts," Johnny Melikyan says.
Another factor in sluggish development of Armenian-Georgian economic relations is the intergovernmental commission of the two countries. For many years it did not hold meetings, and only in 2019 did representatives of the Cabinets of Ministers manage to get together and discuss the main issues on the bilateral agenda.
The main reason for the reluctance of Georgian and Armenian investors to invest in the economies of neighboring countries is quite trivial — the small size of the market. Both Georgia and Armenia are close to each other in the ratings of international economic organizations for thirty years of independence. This means that the conditions for doing business in these countries are similar, so the private sector often does not see the point in investing in a country that does not have tangible competitive advantages.
The second factor is cultural. Armenian business does not have the habit and special resources to invest either in Georgia or any other country. The main investor in the Armenian economy continues to be either local businessmen, investors from large countries, or members of the Armenian diaspora. Often, investment flows to Armenia are conditioned either by political (the presence and expansion of Russian capital in Armenia) or patriotic (the activities of businessmen from the diaspora) considerations.
The situation could be changed by coordination of actions from above. The governments of the two countries could initiate the creation of joint ventures to strengthen economic ties in the South Caucasus, but as yet this has not happened.
Georgia as the main transit hub for Armenia

Georgia is an important country for Armenia, as most of the goods from Armenia reach international markets through Georgia, both overland to Russia through the Upper Lars checkpoint, and by sea. Due to the closure of the Turkish-Armenian border, both European and Russian trade routes for Armenia pass through Georgia.
Meanwhile, for Georgia, Armenia provides only a southern direction — access to the market of Iran and the countries of the Middle East. Tehran, over years of isolation and international sanctions, has created a model of an absolutely closed economy. Certain legal provisions actually make it impossible for a very wide range of goods to enter the Iranian market. This is how the Islamic Republic protects local producers. Thus Iran is not of particular importance for Georgia in terms of exporting goods. As for other countries of the Middle East, these markets are difficult to access for the countries of the South Caucasus.
All this indicates that the current logic of economic cooperation between Armenia and Georgia will continue in the near future. What could help these nations to significantly increase trade is the elimination of logistical problems. Armenia is currently building a North-South highway for transit between Iran and Georgia, while Russia plans to expand the capacity of the checkpoint on the border with Georgia.
Another growing sector of economic cooperation between Armenia and Georgia is energy. Armenia traditionally has a surplus of electricity, which Yerevan sells to Georgia and Iran. According to the latest data, Armenia exported 365 million kWh of electricity to Georgia in 2022, more than the previous ten years combined.
"The growth in volumes is connected with the liberalization of the energy market in Armenia. If Armenia manages to implement the construction of the fourth high-voltage power line, this will provide an opportunity for even greater integration of the energy systems of the two countries. So Armenia will be able to import more electricity to Georgia," Johnny Melikyan, an expert on Georgia, asserts.
There are currently three high-voltage transmission lines between Armenia and Georgia, the construction of the fourth with a voltage of 400 kV (on a loan from the German bank KfW) is planned to begin in 2023. The process of laying the third high-voltage transmission line between Armenia and Iran is underway. Yerevan expects to become part of the energy corridor between Georgia and Iran.
Economic ties in the South Caucasus
Iranian capital in Armenia

In recent years the share of Iranian capital in Armenia has been growing rapidly. The Iranian bank Mellat has been operating in the country for some time. A steel plant funded by Iranian capital operates in the city of Charentsavan, and a few months ago, a similar facility was opened in the Armavir region.
An Iranian shopping mall with an area of 18,000 square meters is scheduled to be built in Yerevean, where a hundred Iranian companies will have shops. Tehran will invest $5 million in the construction of the shopping center.
"We are currently negotiating with Iran to open a similar shopping center in Tehran. The Iranian side is positive. However, we must take into account the peculiarities of the economic policy of our neighbors," Armenian Trade Attache in Iran, Vardan Kostanyan, says.
The influx of Iranian capital to Armenia is due to some advantages of the Armenian market. First, Armenia is a member of the Eurasian Economic Union, which allows local producers to receive a number of advantages for trade in Russia and other EAEU member countries.
Second, the Armenian economy is liberalized, unlike the Iranian. Yerevan provides a number of benefits and tax exemptions for investors who want to start production. This allows Armenia to attract capital from neighboring countries.
Economic ties in the South Caucasus should accelerate as it becomes more important as a transit hub. For the countries of the Middle East, Armenia will try to become the main route to ensure access to the Black Sea through Georgia, in which case even trilateral projects may be feasible.
Economic ties in the South Caucasus