Has Abkhazia's war on corruption finally taken off?
You can't call an official corrupt in Abkhazia.
"If you call an official corrupt, his relatives will come for you the day after and they will force you to 'answer for your accusations'," local activist David Gobechia told JAMnews.
• Abkhazia: life without electricity
• Alcohol, speeding and corruption – Abkhazia's terrifying road safety statistics
• Russian football mascot or example of corruption
A war against what?
David Gobechia is part of a citizens initiative group which has been trying to force the Abkhaz parliament to ratify Article 20 of UN Convention Against Corruption and adopt a law that would criminalize unjust enrichment.
"If you say they're corrupt, they can cripple you, or they can just kill you. At best, you will have to run through the court system until the end of your days. But you'll never prove that an official is a thief.
"Society has become accustomed to the status quo: we shake hands with those who steal our money, and together with that money, the future of the next generations," says Gobechia.
How the citizens initiative became a bill
Initially, the group developed its own version of an anti-corruption law, posted it on social media and invited the public to offer their ideas. In the summer of 2018, the revised bill was submitted to parliament.
There was no reaction.
Members of the group continued to collect signatures and write requests to parliament. When there was still no reaction, the activists decided to start a street protest.
On 18 February, when parliament returned from its winter break, about 50 people gathered in front of parliament and demanded that the bill be considered.
They were promised that a discussion pertaining to the bill would be held on 22 February. The people dispersed, and came back four days later.
The bill was put on the agenda of the day of the meeting – but it turned out to be at the very bottom of the list: there was no time for it to be discussed. The group, which had stood for half a day in front of the parliament building, became indignant and declared that it would begin a round-the-clock protest.
However, they were later convinced that the bill would be discussed at the next session on 25 February.
Again, people went home.
This time around the activists celebrated their victory as the parliament discussed and passed the first reading of a bill on declaring incomes, expenses, and officials' property that had been drafted by the citizens initiative group.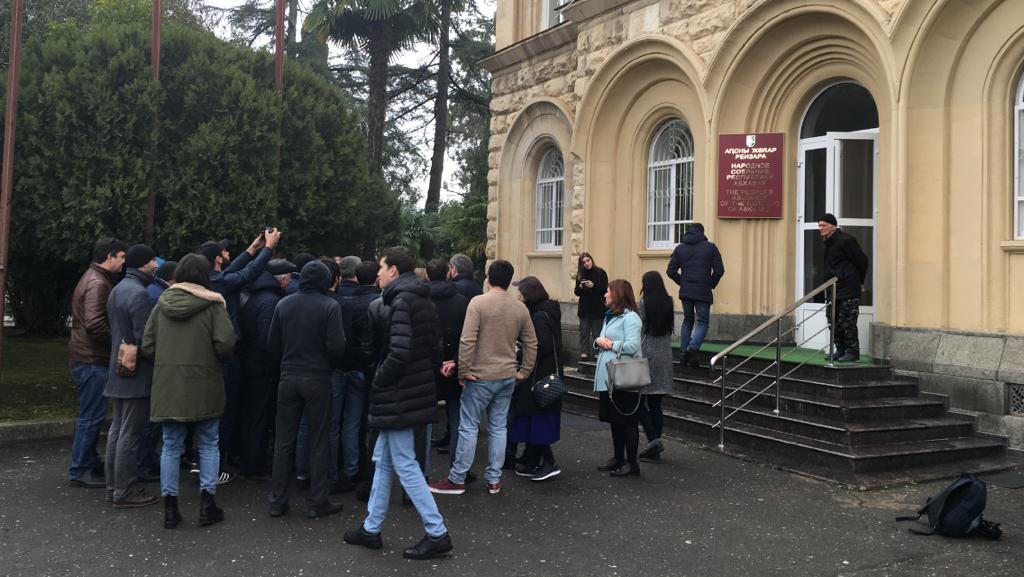 But, the initiative group says, much remains to be done.
Who's involved?
This is one of the few cases when the fight against corruption is initiated by ordinary people – not politicians. The initiative group consists mainly of young people and veterans.
"Corruption could lead not only to degradation and decay, but also to the disappearance of Abkhazia. Corruption breeds terrorism, drug trafficking, the slave trade, fraud and undermines and destroys public institutions," says young activist Janik Ahsalba.
"If they accept Article 20 of the UN Convention, it will become a kind of base, the beginning of the destruction of corruption in our country."
Forty-three-year-old writer Astamur Kakalia made the fight against corruption his personal business nine years ago.
There were only five like-minded people with him back then – today, he says, there are almost 30.
"We are fighting not so much against corruption as for common sense. The officials will be accountable to the people – this is a matter of principle, not just the law," says Kakalia.
He believes that the value of the law is that it will work even if officials are corrupt.
"If there is a legislative base, even a novice tax inspector, a policeman, a journalist or a lawyer can expose the most corrupt official," says Kakalia.
David Gobechia says that the corruption of power affects all spheres – the sad demographic statistics in Abkhazia is also associated with this problem, he said.
"When you're around 20 years old, you might start thinking about starting a family. And then there are questions: 'Where to live?', 'How will I feed my family', and so on. The overwhelming majority of officials and their families have no such problems. And everyone knows why – the population is being robbed blind. And this naturally causes anger in people and awakens a sense of justice," says David.
Next steps
Activists say that now that the parliament is discussing corruption, one of the most important things to be targeted by the country's legislative body should be unjust enrichment.
This item in the citizens initiative's bill will provide for the punishment of officials who cannot explain the origins of their property.
Ramil Azhiba is not a member of the initiative group promoting Article 20 of the UN Convention – but he actively supports the group on the internet.
For a long time, Azhiba has worked in various positions in law enforcement agencies. In 2015, he tried to create a National Anti-Corruption Committee. However, it did not work out.
"The leadership of Abkhazia told me that fighting corruption is the prerogative of the state," he says.
Having such experience, Azhiba says that in today's Abkhazia only public investigation teams can act.
"Public auditing mechanisms were described in the anti-corruption bill prepared by me. But the officials removed this aspect from the bill, saying that such a law cannot work in practice. I am sure that this was done intentionally. These people could not be unaware of the consequences of adopting such a law," says Agiba.
Not a single person in Abkhazia would dare to publicly name a corrupt official, Agiba adds, explaining that there is a very small population in the republic. Therefore, virtually everyone who initiates an investigation against a corrupt official will definitely find that he has some sort of kinship with him.
But the activists in the citizens initiative group will not retreat – they firmly believe they will succeed in the end.
"What will success look like?" JAMnews asked one of the group's members.
The answer was: "The concept of unjust enrichment will no longer be an exotic term, but a legal norm."
Toponyms and terminology used in the article, and views, opinions and strategies expressed in it do not necessarily reflect the views and opinions of JAMnews or any employees thereof. JAMnews reserves the right to delete comments it considers to be offensive, inflammatory, threatening, or otherwise unacceptable.