Georgian opposition leader requests pardon
One of the leaders of the Georgian opposition, the former mayor of Tbilisi, Gigi Ugulava, has appealed to the Georgian president with a request for pardon.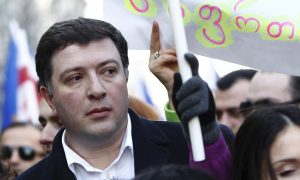 Ugulava was convicted on February 10, 2020 on charges of embezzlement of more than 48 million lari [approximately $17 million] from the city budget. He was sentenced to 3 years and 2 months in prison.
The only way for him to be released would be to secure a presidential pardon.
The opposition and several international organizations accuse the authorities of political persecution in the run up to the parliamentary elections scheduled for autumn 2020.
Activists and opposition in Georgia insist that the authorities release several arrested politicians. This, they say, was one of the points of the memorandum that the opposition representatives signed with the Georgian government on March 9, 2020, with the mediation of the US ambassador to Georgia.
• All you need to know about the Tbilisi protests in 180 seconds
• Georgian opposition proposes judicial reforms in case of victory in elections
• Georgian ruling party, opposition agree on 2020 parliamentary election system
According to the opposition, the memorandum says that Gigi Ugulava will be pardoned by the president, and the imprisoned politicians Irakli Okruashvili and Giorgi Rurua, and the activist Besik Tamliani will receive a different deterrence measure.
"All the political groups in Georgia that were involved in this matter hope that the agreement will be implemented and the situation will calm down. The problem of political prisoners and political repression is a key one. The agreement says that using the institution of the president would be the best way out in the case of Gigi Ugulava," said Giga Bokeria, one of the leaders of the European Georgia party.
Authorities, however, in response accused the opposition of lying. Government officials say there are no political prisoners in Georgia, and no agreement has been reached on the fate of Ugulava and others.
On March 14, the European Parliament also addressed the Georgian government on the issue of arrested politicians. The letter, signed by 11 members of the European Parliament, states:
"We believe that the release of these prisoners will be an important step towards the full normalization of relations between the parties – which we, as friends of Georgia, expect."