Georgian border zone residents block road to Armenia demanding water problems be solved
Three months of life without water have forced residents of the village of Gorelovka in Georgia's Javakheti region to block the highway connecting Georgia with Armenia on January 20.
Protesters say the situation with the water supply is appalling. For more than three months in Gorelovka there has been no water: neither for drinking, nor for technical purposes or for irrigation plots. There is nothing with which to water cattle, and many have had to resort to using melted snow.
Due to this problem, classes at the local school are regularly canceled.
•American expert proposes stationing American soldiers in Georgian region of Javakheti
• 25 photos from Javakheti, Georgia: villages, lakes and birds
• Armenian language in Georgia: 'pros' and 'cons' of the official language status
Gorelovka residents blame five local families who have no problems with water. Among them are the families of the chairman of the Ninotsminda sakrebulo (local legislative authority) Smbat Kuregyan, as well as one local MP and one employee of the city hall of Ninotsminda.
According to the protesters, all the water intended for Gorelovka is distributed between these families, which are involved in livestock and agriculture on a large scale by local standards.
"This is corruption itself," the protesters said.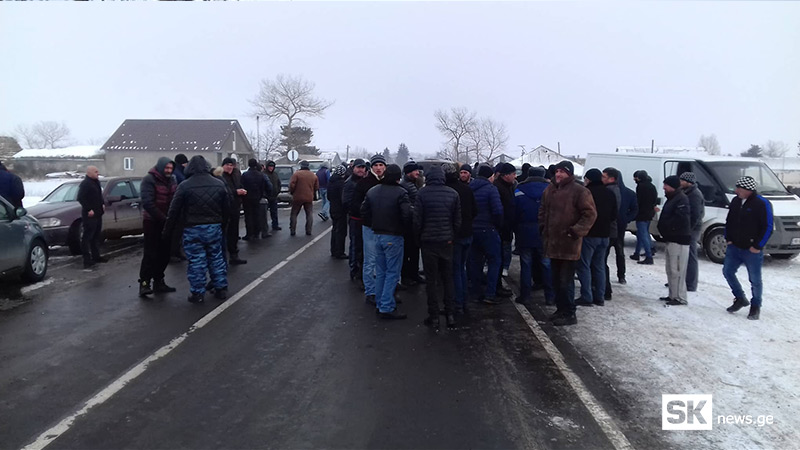 In the morning the police were called to Gorelovka. By the middle of the day, Besik Amiranashvili, the State Commissioner for Javakheti region, and Georgian MP Anzel Mkoyan, met with the protesters who had blocked the highway. After negotiations with them and receiving promises to resolve the problem with water, local residents unblocked the road.
Amiranashvili says he did not know about the problem of the residents of Gorelovka. He acknowledged there were in fact illegal hook ups to the region's central water conduit and promised to eliminate them, but did not specify who exactly is behind the violation of the law.