Gomis Mta, Georgia's Klondike – a world above the clouds and builders above the law
Tourists who visited Gomis Mta are trying to build houses here. As a result, this once unique place is now facing the threat of turning into a concrete jungle
_________________________
When borders were closed this year due to the coronavirus, and Georgian citizens could only travel within the country, many wrote that they had rediscovered their own country.
Among Facebook check-ins, Gomis Mta (Mount Gomi) was one of the leading locations.
In recent years, this place has become one of the most popular tourist destinations in Georgia. Every year more and more people come here and post on social media photos of the sun setting in the clouds.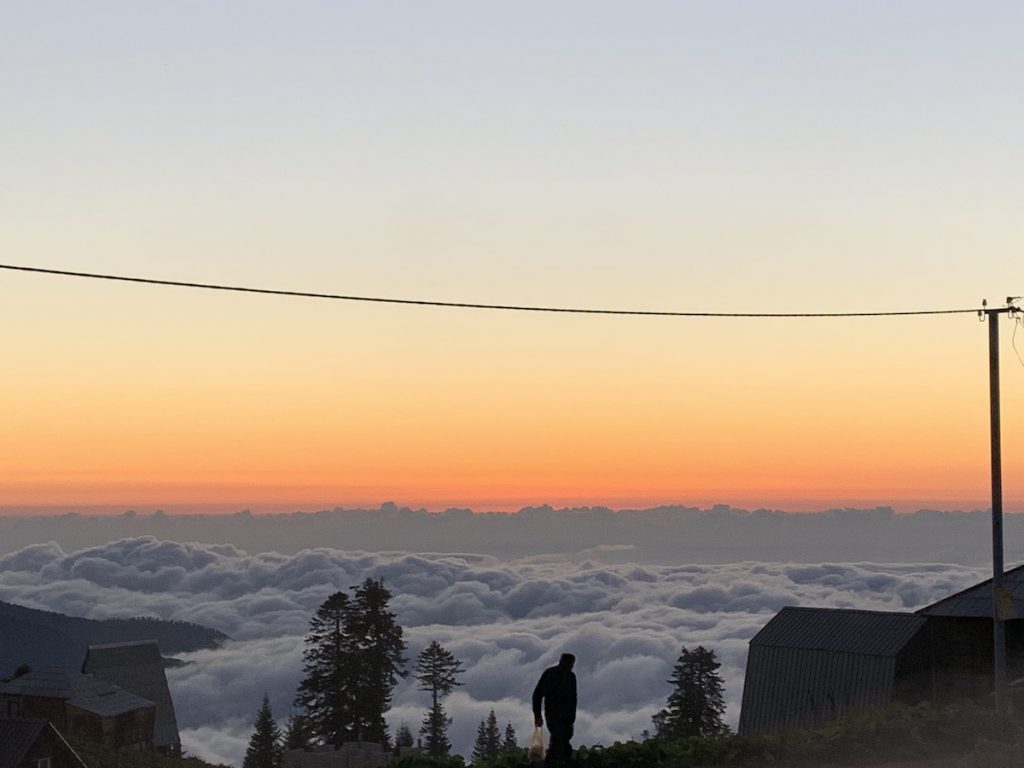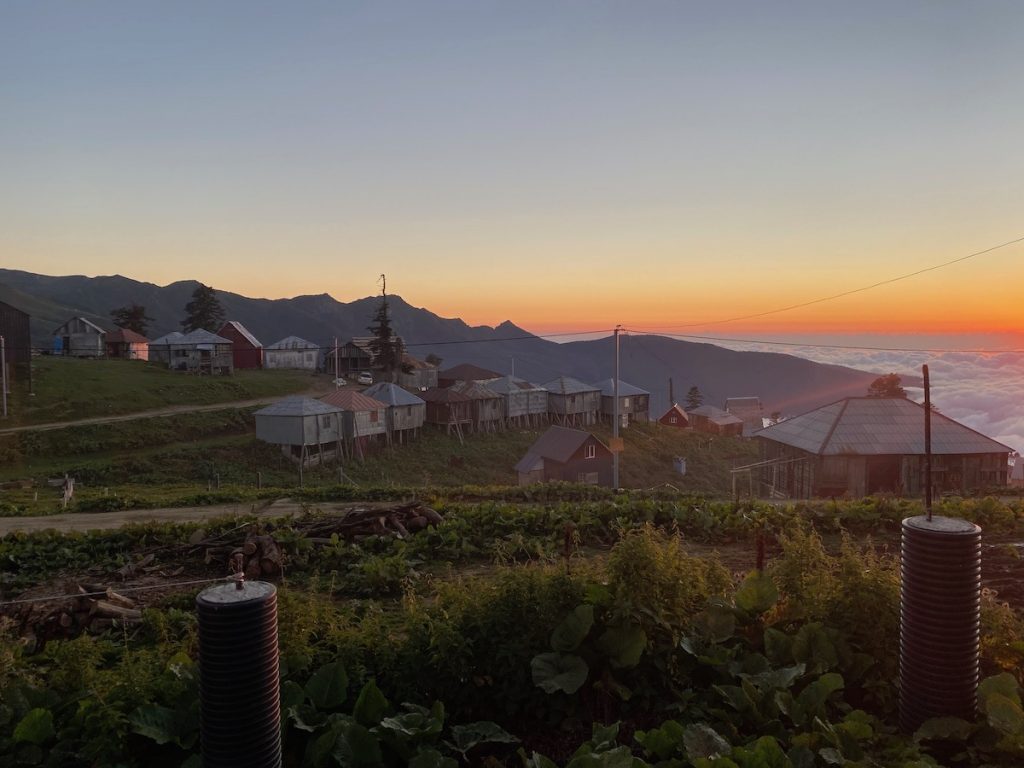 However, new challenges arose with the influx of tourists – some visitors decided to enjoy this territory not only as guests, but also to build their own houses.
So the boom of uncontrolled construction began.
As a result, on the mountain previously filled with fields and pastures, nowadays there's no room to swing a cat.
Every day, small houses pop up like mushrooms. Building permits were not issued here, so in recent years the building has been unauthorized – trucks brought construction materials, the territory was fenced off, the foundation was poured, or pillars were simply driven into the ground as a sign that the place was occupied. The owners of such structures hope that when the authorities find time for Gomis Mta, they won't demolish the already built building, so the owners will get away with it.
The oldest house on Gomis Mta is 120 years old.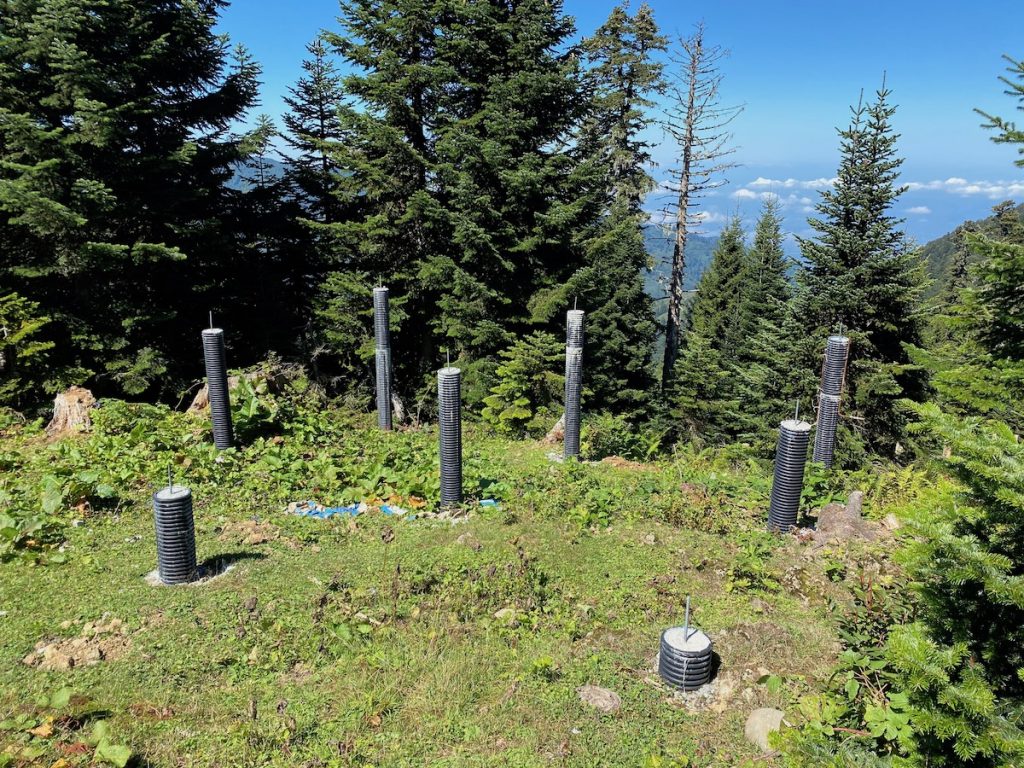 At that time, only shepherds climbed here and built small wooden huts for the night. Then the shepherds brought their families – the clean mountain air had a good effect on the children's.
Summer wooden houses were built, and families spent several weeks on the mountain. There was no road then – the children were carried in saddlebags. Then, under the rule of communists, no one registered either land or houses.
The road was built here in the 50s.
As the mountain-dwellers say, the peak of construction fell on the 80s. Then, in the 90s, when the country was going through difficult times, Gomis Mta grew empty.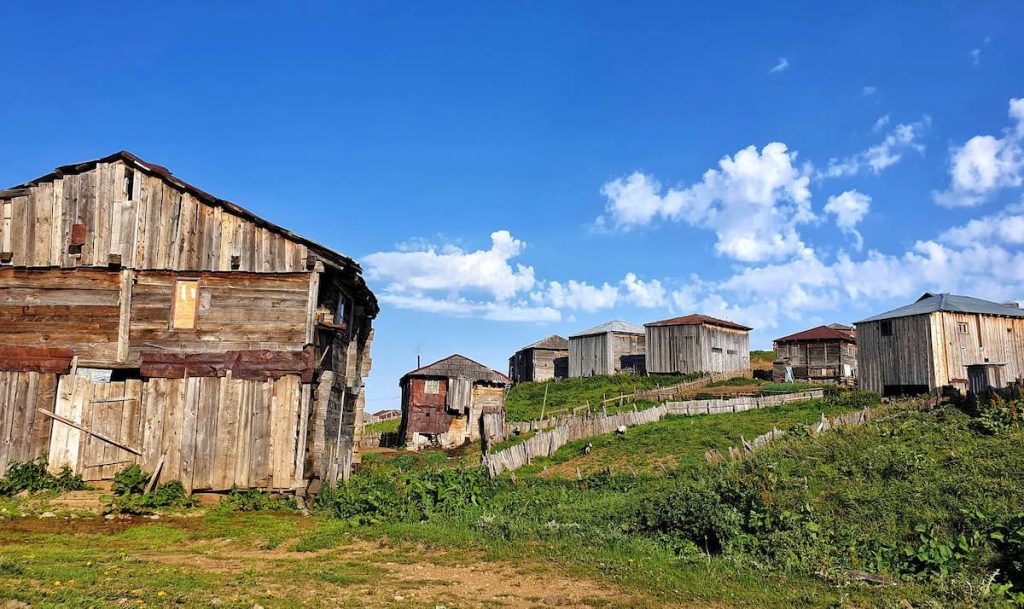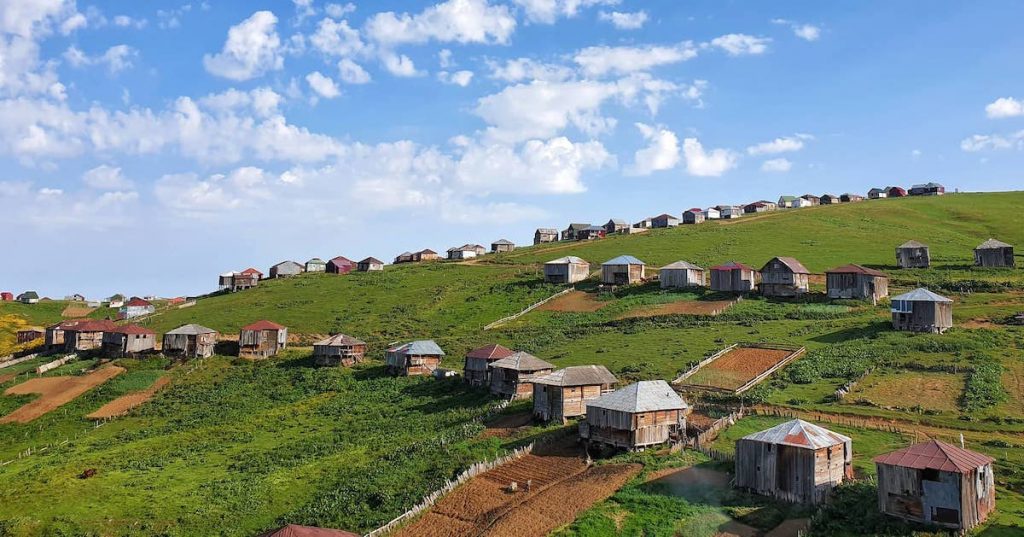 "In 2004, I was alone in this area. There were probably 20 families in total. Houses were ruined, no electricity, no water. I had a car and I brought water from afar. When life improved a little, people returned to the mountain, and now you see what madness is going on here," says Merab Sanikidze.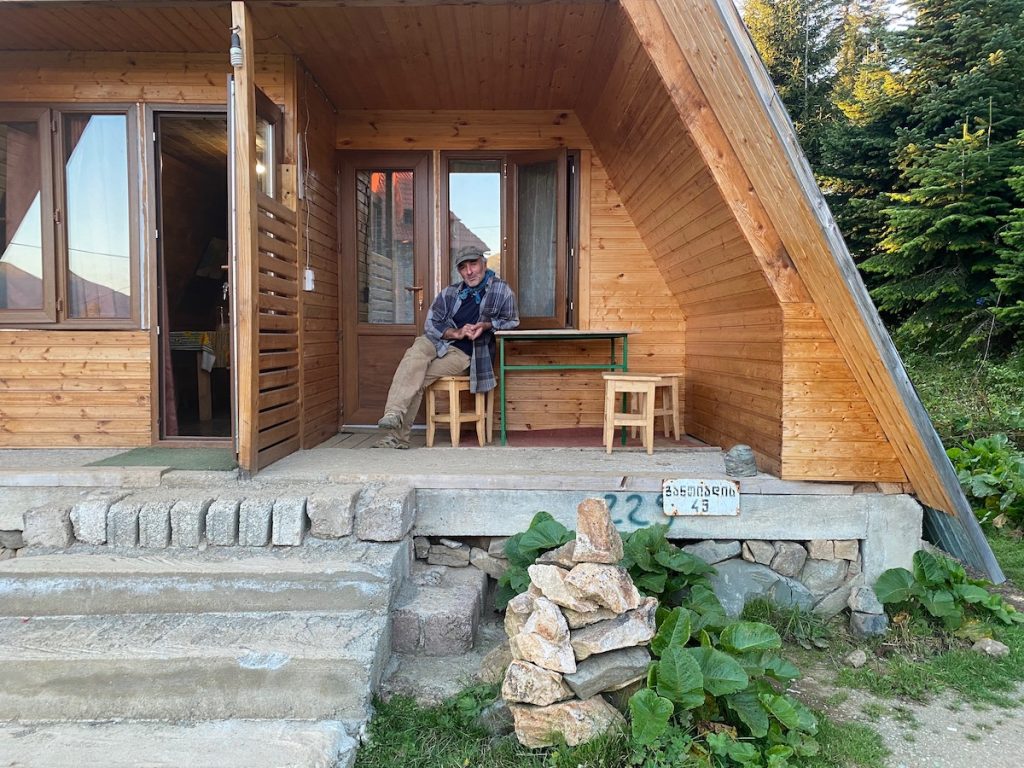 His whole life is connected to Gomis Mta. For many years he has lived here both in winter and in summer and knows the mountain like the back of his hand.
Since the registration of houses and plots on the mountain never took place, building a new home is not a problem.
Guest who came on vacation with friends and relatives decided to build a house here.
As a result, the development went beyond the settlement and embraced the mountainside.
"What is happening here is not even madness. Madness has its own pattern, but what happens here has no pattern. This is an imitation – if someone did, why can't I. First, all of Guria and Achara came and built houses, and now I even met a family from Marneuli, they said they had heard that land was being distributed on Gomis Mta," says Merab Sanikidze.
Niko has been coming to Gomis Mta for 25 years.
His parents built a house here in the 80s.
"As you know, in the days of the Soviet Union, land was not transferred into ownership, they were only allowed to build a house. For example, I have such a permission, and besides me, many have it. But now they are building houses on slopes where there were none before. It is enough to stay here for a day and you will see how people come, put up four pillars and then say that there was their grandmother's house there."
Manana lives in the Ozurgeti region. Her son discovered Gomis Mta four years ago. He was on vacation with friends and decided to build a small house himself.
"Young people saw nature, mountains, fog and wanted to be here," Manana says. "We chose a site, outlined and dug it ourselves. Then we dismantled a relative's house down in the village, brought the materials and built a house with our own hands. It's already been four years since we've had it."
"Illegal construction will be fined"
The government only found time for Gomis Mta this year.
In the center of Gomis Mta, a large stencil appeared with the inscription – "Illegal construction will be fined."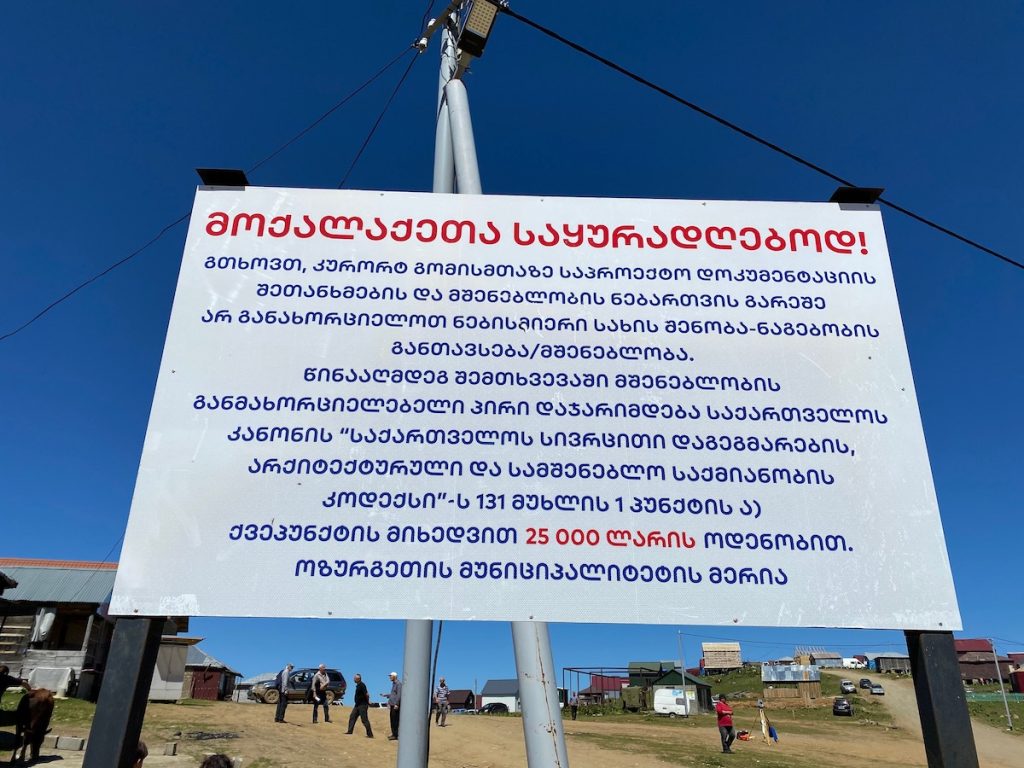 At the initiative of the Minister of Justice Teia Tsulukiani, in the summer of 2020, the systematic registration of property began on Gomis Mta.
Simultaneously, construction was partially suspended – at the base of the main road leading to the mountain, there is a police post, which does not allow vehicles with construction materials in the direction of Gomis Mta.
But some managed to find workarounds.
"We bought a plot this year from a local resident and he organized the delivery of materials at night – we installed a small structure. If this works out, our life will be easier – we will rent this place out to tourists. We got a hold of a very good spot," says Nana Makharadze, a resident of Kobuleti.
Today the slopes of Gomis Mta are divided into ten-meter sections. The registry received up to seven thousand applications for property registration. Trees and bushes are being cut down. The landscape is being destroyed. Houses are often built incorrectly, regardless of the norms for high mountain areas.
Public registry tents have been erected on Gomis Mta for registering a property.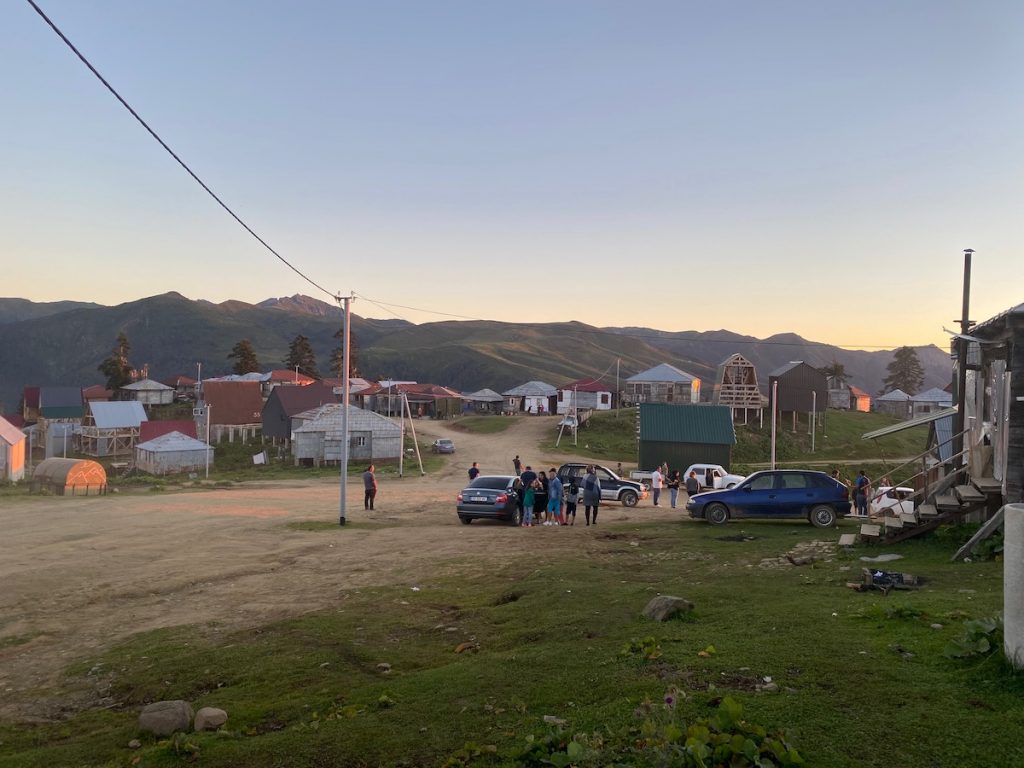 Besik Lominadze, the mayor's representative on Gomis Mta, together with the staff of the public registry, helps the population measure their plots.
"Registration of plots on Gomis Mta is being conducted for the first time. Now we are measuring the plots, and then registration will begin. Some houses here were built in 1920's. So far, what I see is the majority of citizens come with documents. But, of course, there are exceptions," says Lominadze.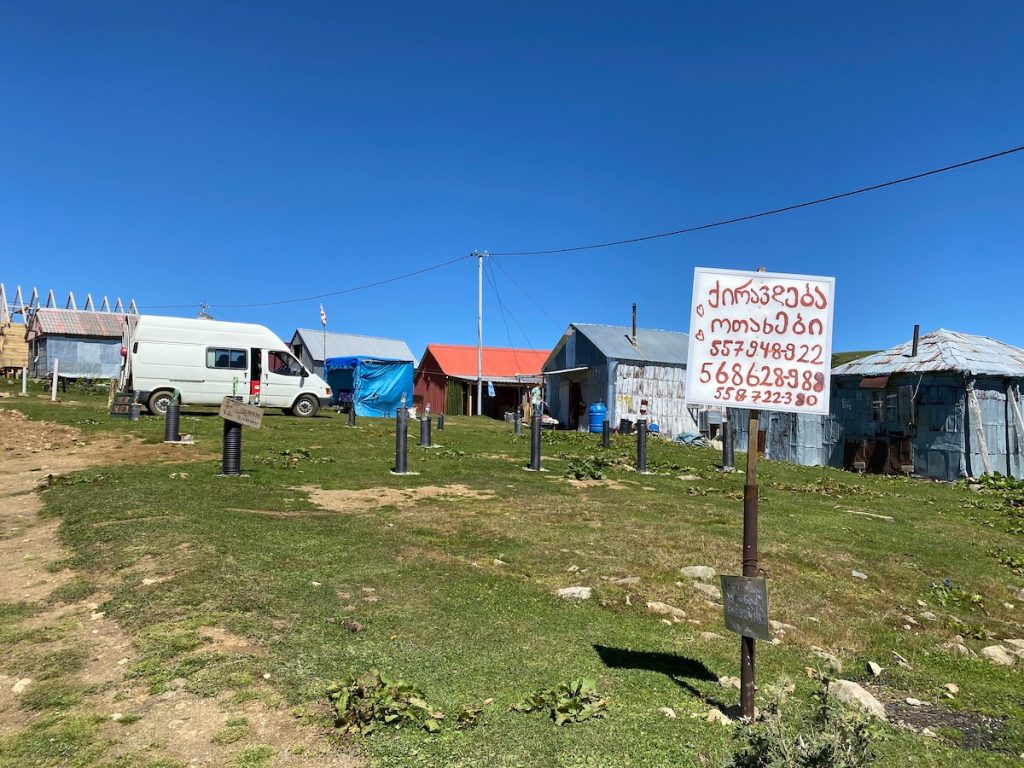 When registering, citizens must provide all documents confirming that the house or plot in question belongs to them or their ancestors. However, in some cases, old documents are lost or destroyed. Some houses were destroyed, only plots remain. In addition, distinguishing old and new sites from each other is quite difficult.
The press service of the public registry says that if a citizen does not have documentation, as part of a systematic registration, the public registry will estimate the right to the site by various procedures, such as interviewing witnesses.
"Such practice existed in Bakhmaro," says Merab Sanikidze, "three neighbors are asked if there was a house here. If three neighbors confirm, the property is approved. But imagine that four families have conspired, fenced off plots and testified in favor of each other," he says.
Despite the fact that the Minister of Justice Tea Tsulukiani said at the opening of the public center in Bagdati on August 27 that no unauthorized development or fenced area would be approved, citizens hope that their new houses will be legalized.
"If there we get refused, we will have to put up with it – there's no other way. But I hope they approve it. So far, we expect only the best and nothing bad. We have fenced off another, new site and are going to build there too. First, I'll register the house and then the other lot. I am thinking of registering it for my spouse and then we will have a "mountain pension". We're trying to make it work. Gomis Mta is not a bad resort," says Manana.
The state should complete the registration of property on Gomis Mta by the end of the year.
Meanwhile, faithful visitors who've been coming here for years, hope that the state will not register illegally built houses and fenced-in areas.
"Otherwise, if houses are built wherever the pillars are now, Gomis Mta will lose all of its unique properties that gave it the status of a resort," says Merab Sanikidze.