Georgia: The deadly legacy of the August war
Mine clearance, the August war in Georgia
Russian military bases and villages in the occupied area are clearly visible from here. In August 2008 Mereti village, Gori municipality, became the epicenter of the Russian-Georgian conflict and was subjected to intense shelling, equally as other neighboring villages.
Ten years have passed since then, but the traces of war are still evident in the village. There are signs of fires and bullets holes on the walls and gates of almost every second house.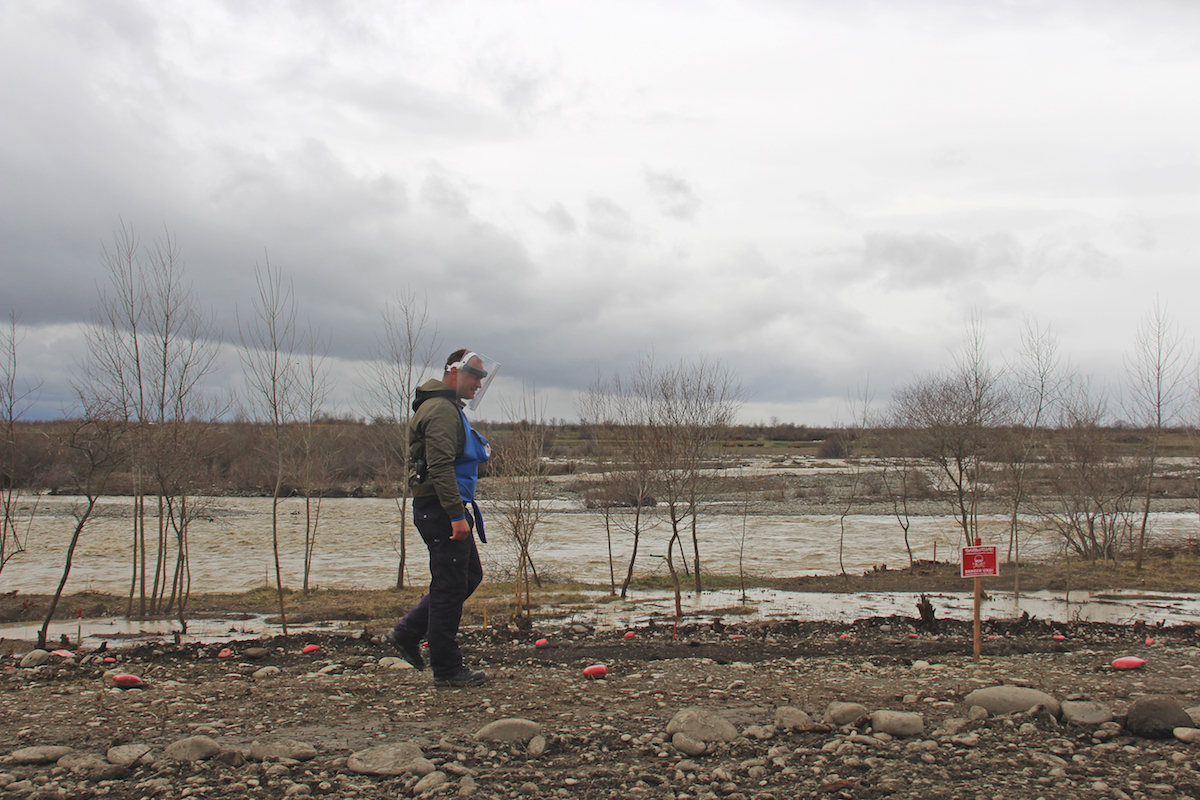 It's peaceful and quiet here now. The only thing that breaks the tranquility now is the chirping of birds, the hum of tractors and the voices of farmers working in the fields. Spring is the most active season here.
Agriculture is virtually the only source of income for the population of this region. Most of the locals earn a living by cultivating fruits and vegetables.
Ivane Baiadze, a native of Mereti village, carefully examines the apple trees in his orchard. "We are satisfied, because the apple prices were good last year. It has instilled hope and the desire to work in people. Everyone has gotten engaged in work this year," says Ivane.
Just a couple of years ago no one cultivated the land in this area as it was too dangerous – the explosive remnants of the war went off from time to time.
Sowing terror – cluster munitions are the most dangerous for civilians here
During the August 2008 conflict both Russia and Georgia used cluster bombs, which caused significant civilian casualties. Human Rights Watch published a detailed report on the aforesaid issue, noting that cluster bomb fragments were scattered across the populated areas in the war zone, including in the backyards of houses and schoolyards, as well as in the fields, on the farms and on the sides of the roads.
Despite the evidence produced by Human Rights Watch and reports from mine clearance agencies, Russia has repeatedly denied the use of cluster bombs. Georgia has admitted to using it, claiming it was used only against Russian military targets.
Civilian casualties during the hostilities (a total of 228 people) were mainly caused by this type of bomb and shell.
They caused civilian casualties after the war as well. Six people were killed and nineteen were wounded as a result of cluster bombs exploding in this region after the hostilities.
Cluster bombs consist of a container that opens in the air and scatters large numbers of explosive submunitions or 'bomblets' over a wide area. This type of munition can pose a serious danger to civilians, including in post-war periods. The Convention on Cluster Munitions was adopted by 108 states at a diplomatic conference in Dublin, Ireland, in 2008. The Convention prohibits the use, stockpiling and transfer of cluster munitions. However, Russia and Georgia were not among the nations who signed the Convention, neither did they join the Ottawa Convention, also referred to as the Anti-Personnel Mine Ban Treaty.
Although this area has been cleared of cluster bombs, they have left some traces – crippled people, destroyed homes that many families have not been able to repair so far, as well as psychological trauma – locals say they still 'hear' the sounds of explosions.
Zurab Zaridze is a native of Mereti village. He has a large apple orchard through which he makes a living. It's just through sheer luck that Zurab is alive today. Three years ago he was working in the orchard when an explosion occurred. The shockwave hurled him down from the tractor and threw him a few meters away. The explosion left him with 13 shrapnel fragments in his body that doctors decided was too risky to remove.
After the explosion, experts from the British Halo Trust organization, which conducts demining operations in various countries worldwide, removed 837 types of munitions from Zaridze's land plot and the adjacent area.
The right to a peaceful life
The house of the Tandiashvili family in Akhaldaba village still bears the traces of war: the plaster walls are peeled off here and there, and the windows on the second floor are smashed. The village was bombed during the August war and an S8-type rocket hit the house. Even now, after 10 years, Ketevan and Nikoloz Tandiashvili can't afford to repair the house.
Ketevan recalls how their house almost got blown up:
"The village was being bombed. Our neighbors' houses went up in flames. One bomb exploded right in front of our gate and another one fell on the house [but didn't go off]. When we went inside we saw that the ceiling collapsed and there were holes blown through the floor."
Deminers said the rocket could have gone off at any moment. It took them a couple of days to dig a 2-meter deep hole in order to defuse it.
Kartlos Surammeli, a native of Brotsleti village and father of four kids, is busy pruning blackberry branches. In 2008 over 160 remnants of cluster munitions and 11 explosive components were removed from his land where the family now cultivates tomatoes, apples and plums.
Kartlos sustained a shrapnel wound and he still has 16 fragments left in his body.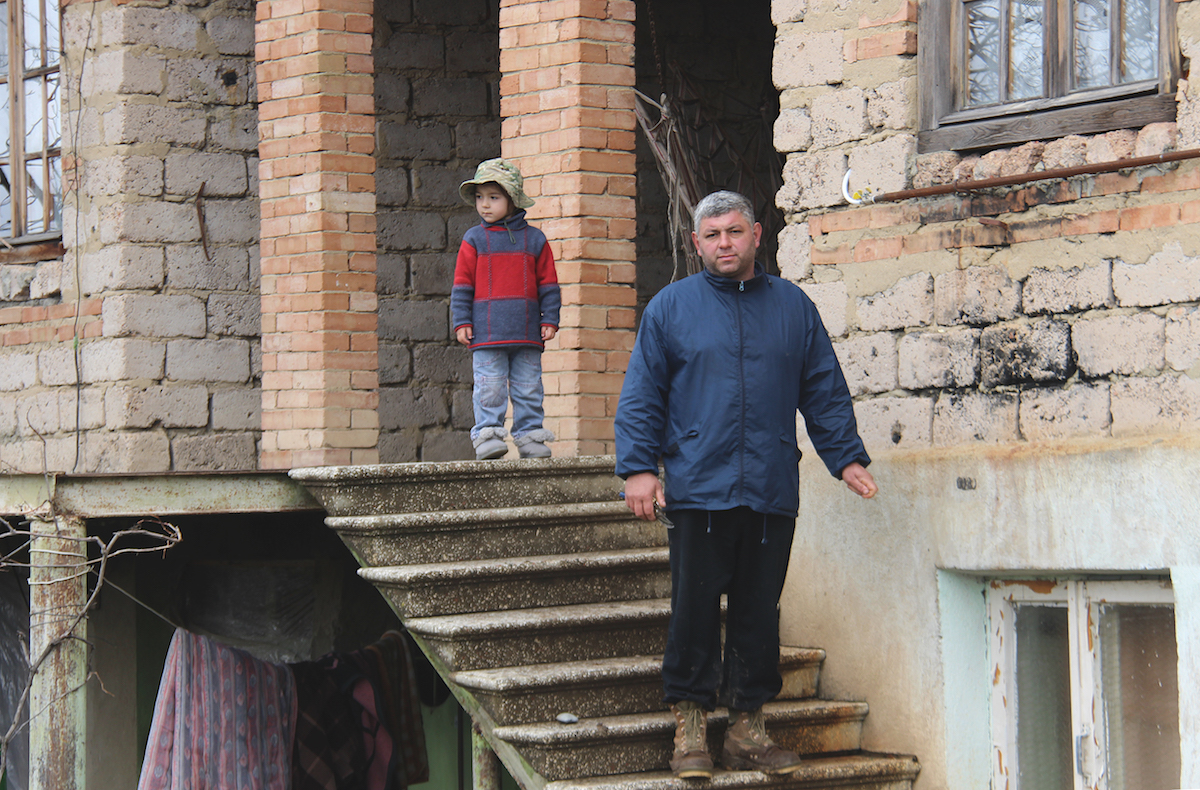 The Halo Trust did a great deal of work clearing the conflict zone of cluster munition remnants. Due to the large amount of work, in 2008 the organization recruited 150 locals. The latter were trained and provided with all the necessary equipment.
Giorgi Maisuradze, a resident of Mejvriskhevi village was among the recruits. At first he removed live munitions from his land and then from the lands in his native village.
"It was a very hard job. Upon getting a signal from a special device, we would mark that place and dig up the ground there. Then we would detonate the detected bomb using TNT. Personally I found a huge number of live bombs. We rummaged each and every millimeter. There haven't been any explosions since then," said Giorgi.
Like the majority of his fellow villagers, he now makes his living from agriculture. After the war he got married and now has two sons.
"We made it through hard times until we were given the chance to work peacefully on our own land. I do hope that I will never have to search for mines again," he said.
The Halo Trust is a British organization that specializes in the removal of the leftovers of war, in particular landmines and live ordnances. It operates in 19 countries across the globe, including in Georgia, where it has been conducting mine clearance operations since 1997. Around 135 million square metres of land has been cleared of mines in Georgia so far, including in the mountainous villages of Omalo and Shenako (on the border with Russia), in the areas around the former Russian military bases in Akhalkalaki, Mtskheta, Telavi, Sagarejo, Chognari, as well as at the former firing range in David Gareji. At different times the mine clearance operations in Georgia were financed by the EU, UK, USA and Germany. Since 2010, the organization has been carrying out its activities in Georgia with the financial assistance from the Japanese government. A total of USD 40 882 000 have been spent on mine clearance operations in Georgia, including USD 25 759 000 in Abkhazia
.
There's still much to be done
A white armored excavator picks up a large layer of soil in the floodplain of the Liakhvi river, near the village of Dzevera. A section of road that is a couple of meters long is divided into strips by white-painted stones. The deminers search for live ordnances using metal detectors.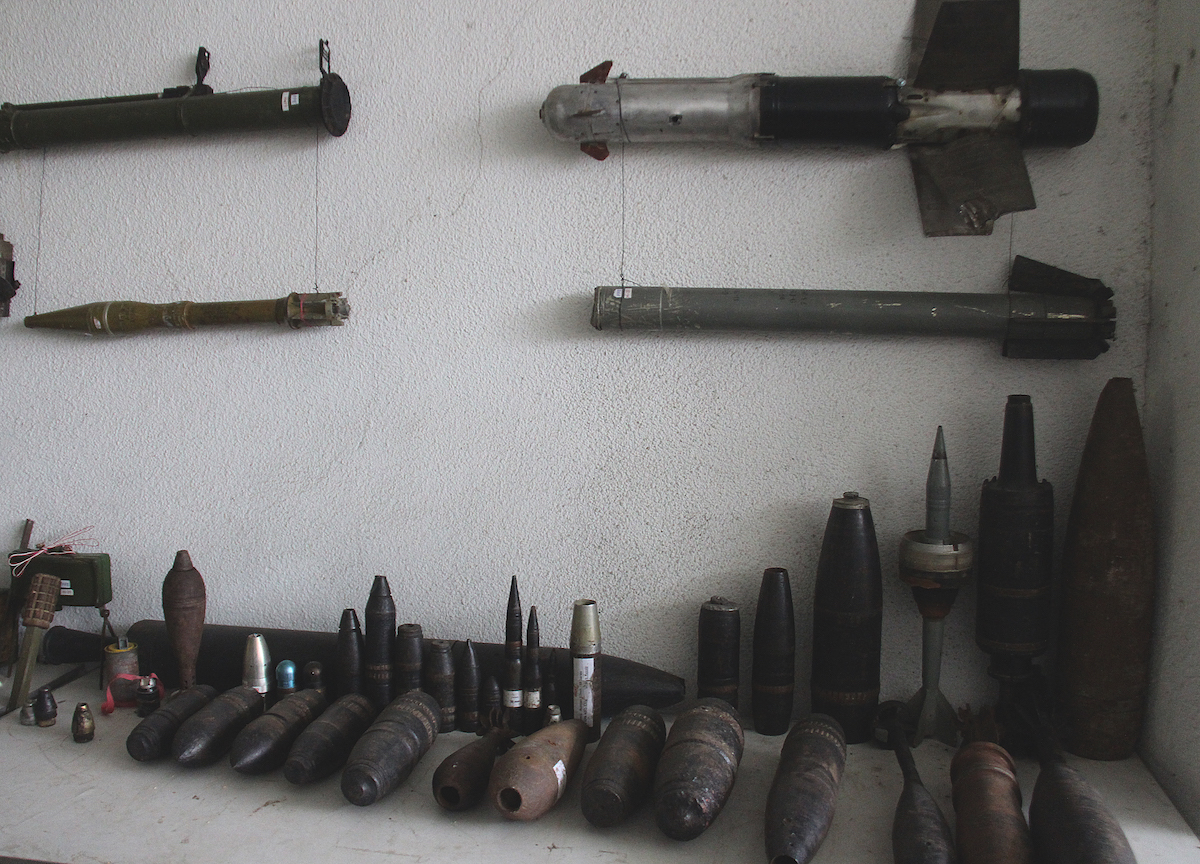 Each square meter of land is thoroughly examined at a 10 cm depth. We witnessed how they found a mortar which was taken to a safer place and detonated there.
It's not a cluster bomb. During the war, the Russian aviation bombed a Georgian ammunition truck in this location. As a result, ammunition was scattered over a large area. Now the Halo Trust staff are searching for them.
The have already found 20 mortars and 16 inert (non-active) ordnances. They will apparently have to work here for two more weeks.
A group of deminers are working in Dvani village.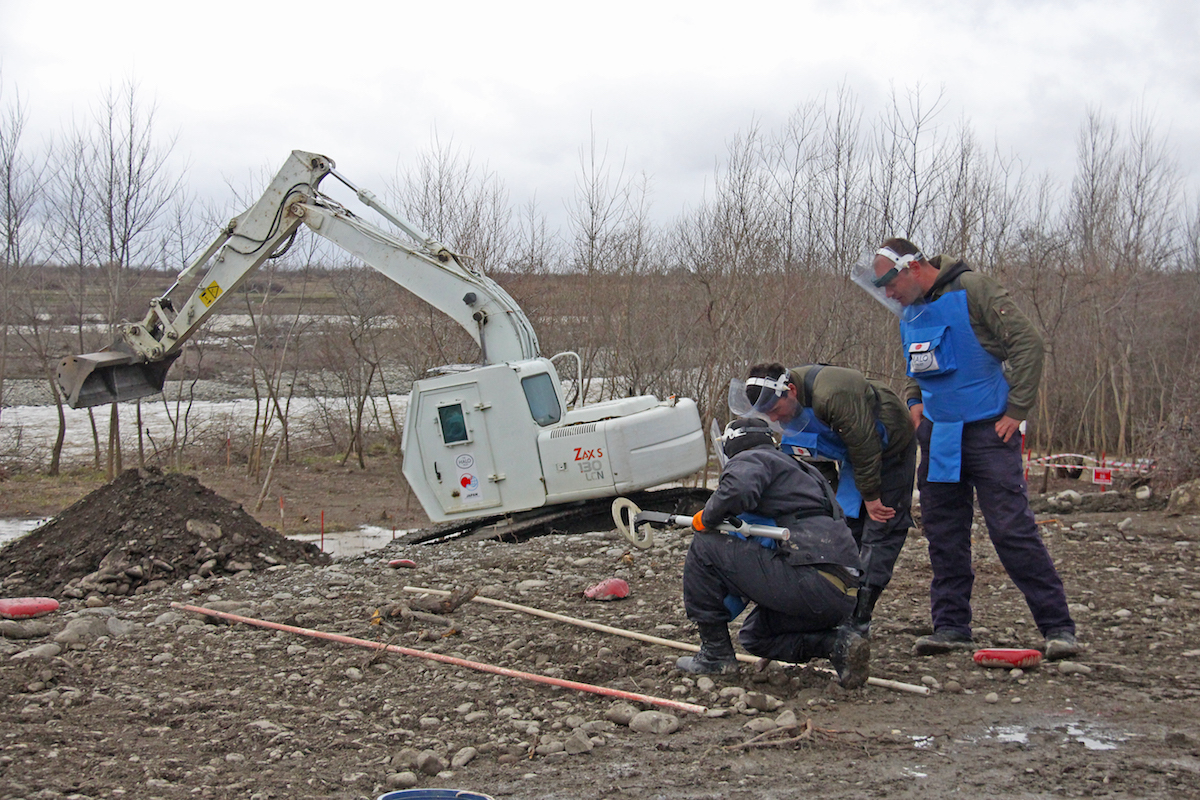 The Halo Trust has been operating in Georgia's Shida Kartli region since 2008, from the moment the active hostilities ended.
A total of 34 million square metres of land has been cleared of mines in 18 villages. They removed 3 789 live ordnances, including 1 759 cluster munitions.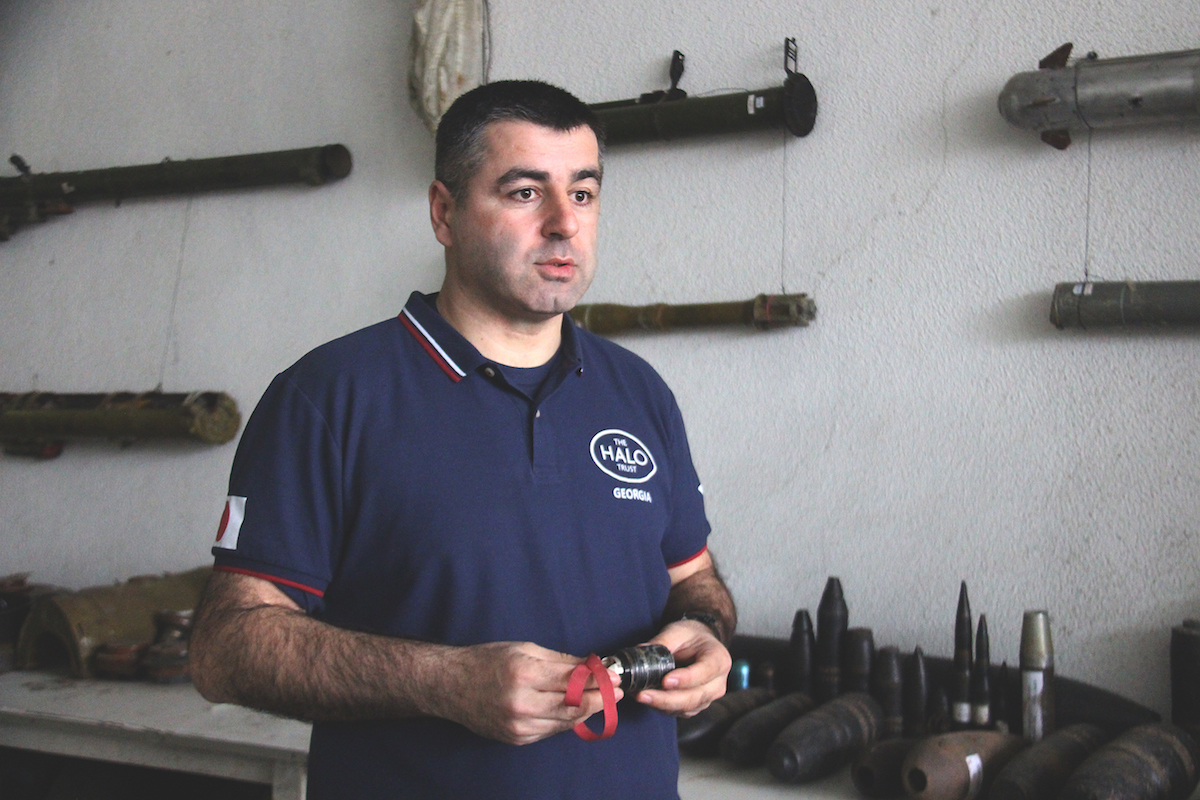 But that's not all – according to Irakli Chitanava, the Programme Manager at Halo Trust, there are still plenty of dangerous places left.
"There are still a couple of places in the Shida Kartli region where there are munition remnants left behind by war. Like, for example, the village of Zemo Nikozi, where a mine was found near the administrative line (border). Therefore this place must be cleared. Training projectiles were found at the former firing range in the village of Dirbi, Kareli district. The most difficult situation is near Chonto village where a Russian bomber crashed in 2008. As many as 24 air bombs were found there. However, to get there you need to cross the so-called 'border'," says Chitanava.
On 16 March the Halo Trust started technical survey operations in Dvani village, where a child lost his fingers after a bomb detonated in his hands. Nothing has been found in that area yet. However, according to Chitanava, about 20 000 square metres of land still needs to be examined to ensure the area is safe.
Toponyms and terminology used in this article, and the views, opinions and strategies it contains don't necessarily reflect the opinions of JAMnews or any employees thereof. JAMnews reserves the right to delete comments it considers to be offensive, inflammatory, threatening, or otherwise unacceptable.