Free Afgan! Georgian journalists rallying in support of their Azerbaijani colleague
Georgia government officials have made first comments on the case of Afgan Mukhtarli, who was abducted in Tbilisi late on 29 May.
According to Vakhtang Gomelauri, the National Security Service Chief, Azerbaijani journalist was detained on the so-called 'green border', where a passport is not required, rather than at the border checkpoint. In Gomelauri's words, an investigation into the case has been already launched and the Georgian Interior Ministry has been communicating with the Azerbaijani side so as to ascertain factual circumstance of the case.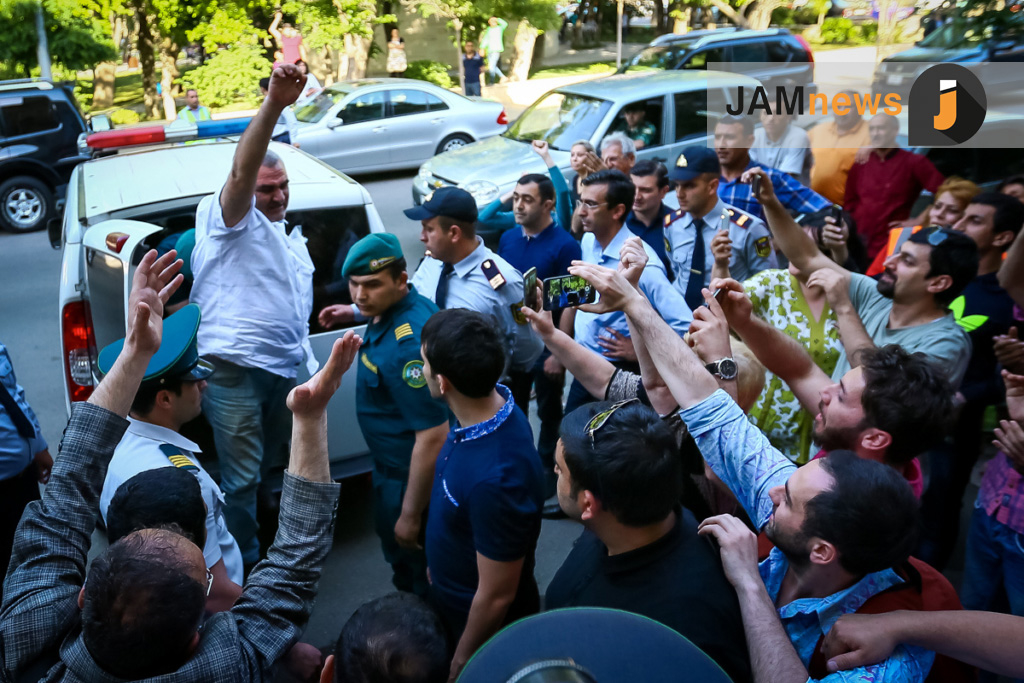 Afgan Mukhtarli, an opposition Azerbaijani journalist, was abducted in Tbilisi center, late on 29 May. He didn't have his passport along with him. Later on, he was found in a pre-trial detention facility in Baku.
Reaction in Azerbaijan
A lawyer has been allowed to visit Mukhtarli in the detention facility today. According to the Azerbaijani media reports, Afgan Mukhtarli is being interrogated.
Afgan Mukhtarli's family members, as well as journalists and activists, have gathered outside the Baku-based court this morning. Mukhtarli will be delivered to court and brought in an indictment today. The court is also expected to decide on a restrain measure for Mukhtarli today. He will be presumably sentenced to 3-month pre-trial detention.
According to Azerbaijani side's official version, Mukhtarli trespassed the Lagodekhi-Balakan section of the so-called 'green border'. The Azerbaijani side claims, EUR10,000 were found in Mukhtarli's pocket when he was arrested.
In the lawyer's words, there are marks of physical violence on his client's body. He was obviously beaten.
Azerbaijani pro-governmental media reported that country's authorities 'have eventually arrested the key leader of anti-Azerbaijani movement and country's enemy.'
Meanwhile, the opposition websites report on pressure upon the journalists, who have left the country. The Azerbaijani authorities sort of warn them that they will no longer feel secure in Georgia either.
Reaction in Georgia
Journalists, activists and NGO persons gathered outside the Georgian Government's Chancellery in Tbilisi to express support to Afgan Mukhtarli. They called on Georgian authorities to provide the details of the Azerbaijani journalist's detention. The support rally was organized by the Georgian Charter of Journalistic Ethics.
"We would like to express solidarity with our Azerbaijani colleague. Regrettably, it has turned out that human rights are not protected in Georgia. What is happening now is just incredible. We insist on conducting a comprehensive investigation that will not leave a single question unanswered," said Nata Dzvelishvili, the Director of Georgian Charter of Journalistic Ethics.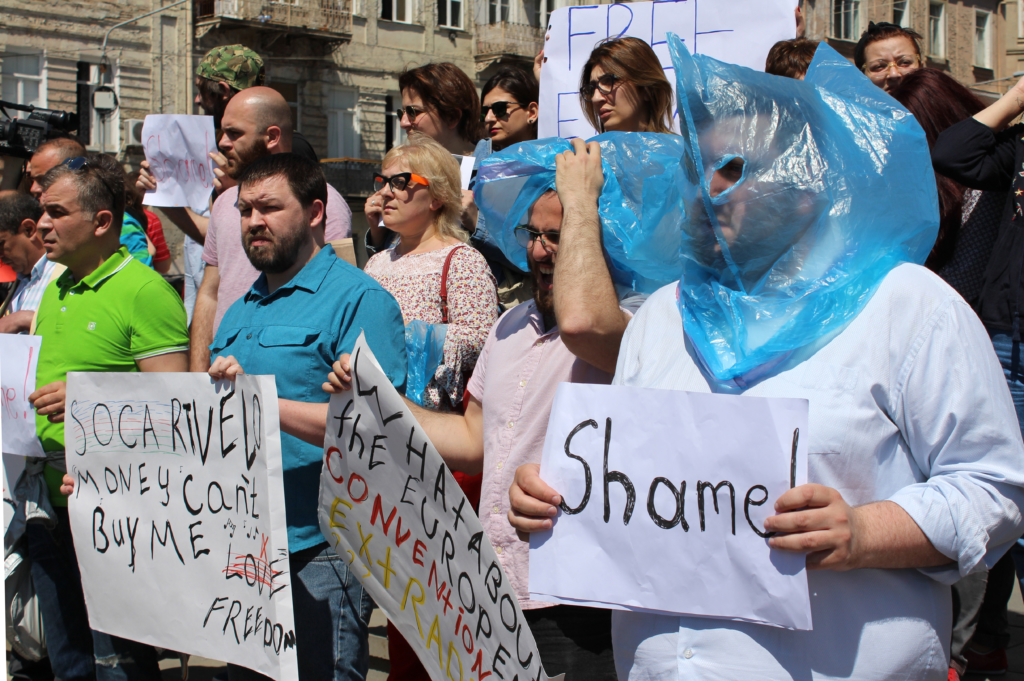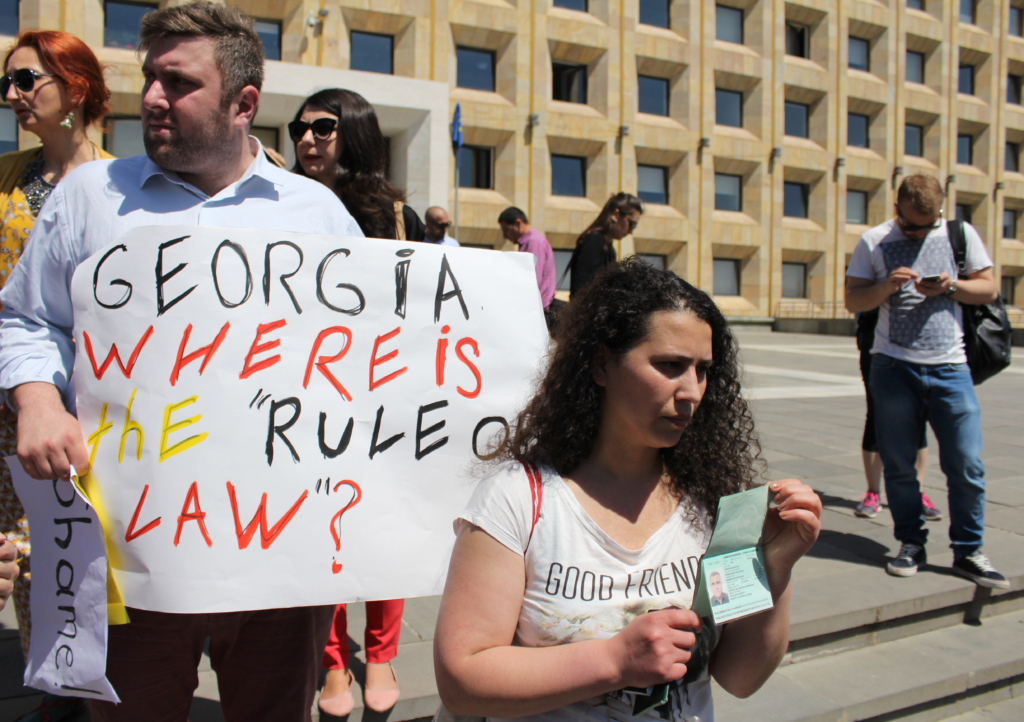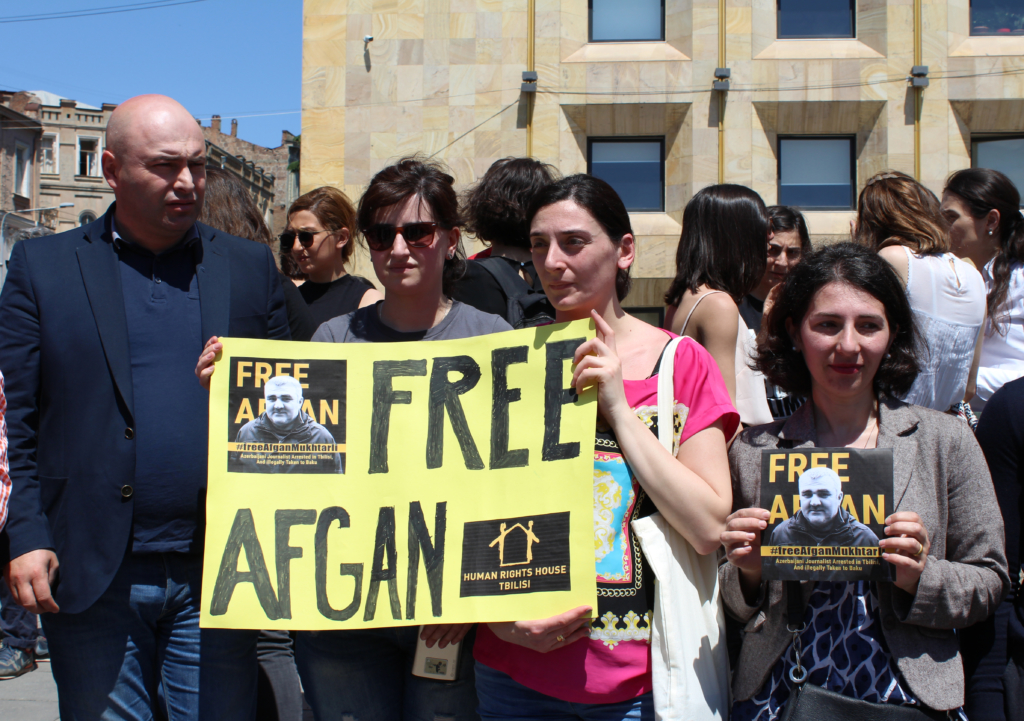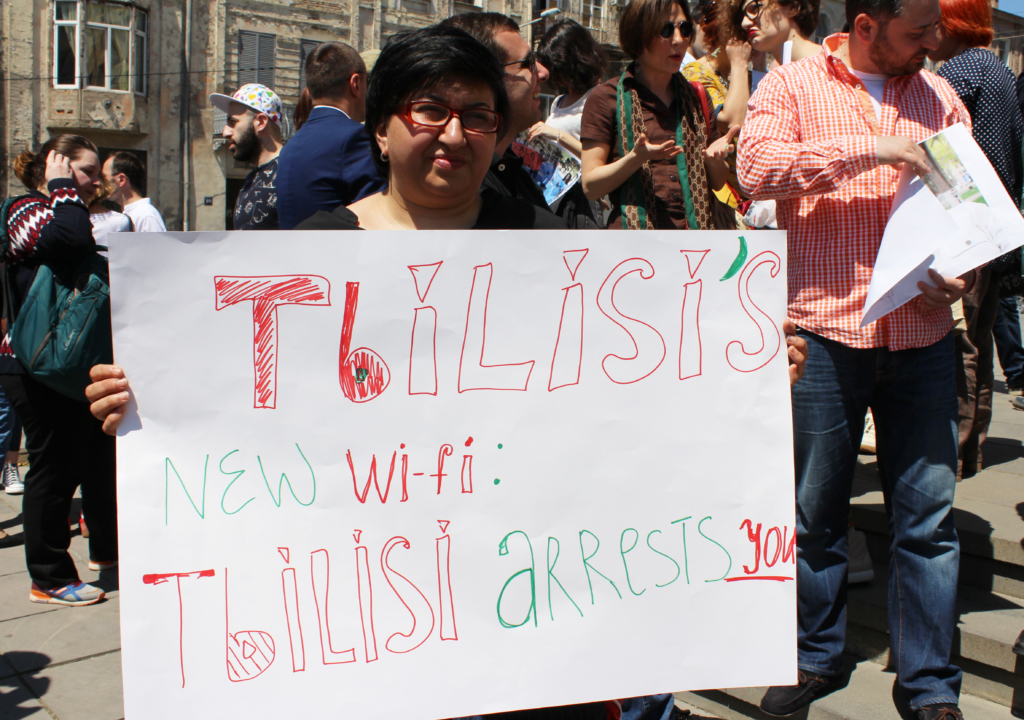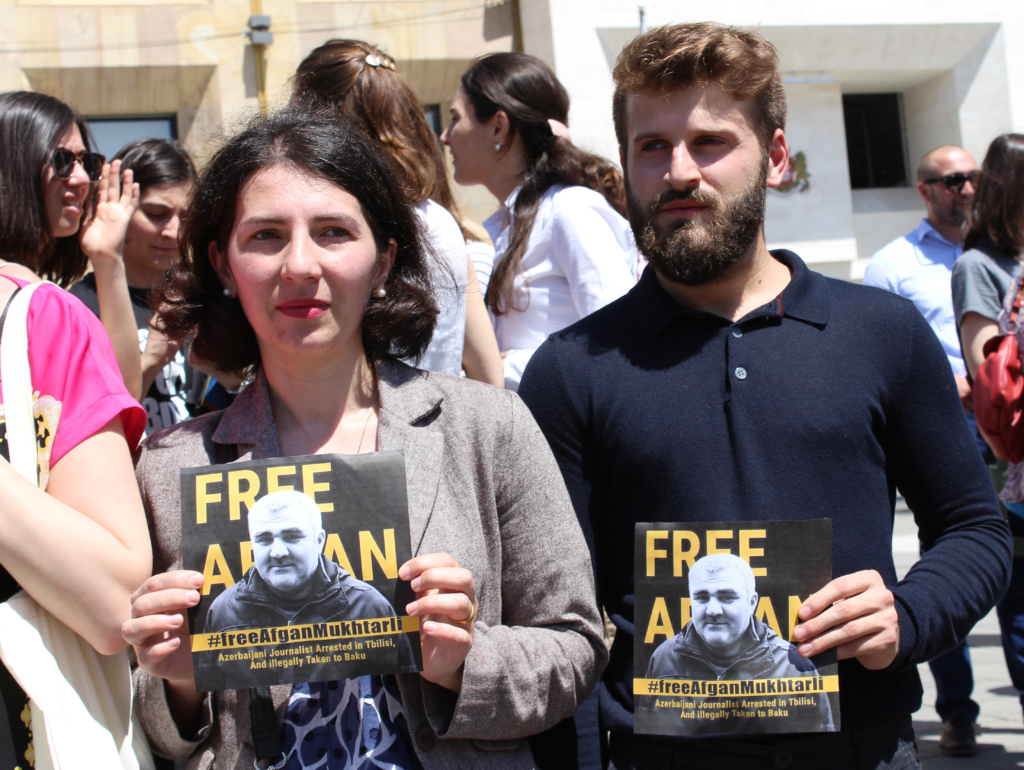 Ten Georgian NGOs released a special statement today, focusing on the fact that Georgian authorities have been recently posing serious problems to the Azerbaijani activists and journalists, who fled from Azerbaijani leadership's pressure, and who have found shelter in Georgia.
"Rejection of residence permit or refugee status applications by the Georgian authorities has become a common practice in the recent period. The aforesaid practice raises suspicion about Georgian authorities' loyal attitude to the Azerbaijani government, which is essentially at variance with the fundamental principles of democracy and the human rights advocacy idea," reads the statement.
The opposition also expects the government to answer the questions with regard to Mukhtarli's case.
"Each such case is ruinous for Georgia's international image. Georgia government's commitment is to protect country's sovereign interests, rather than to perform someone's tasks. This government has failed to do that. The international community is seriously concerned over Georgian authorities' actions," said Salome Samadashvili, a member of the United National Movement (UNM).
Who is Afgan Mukhtarli and how he ended up in Georgia

Afgan Mukhtarli arrived in Georgia together with his family 3 years ago. Before moving to Georgia, Mukhtarli was conducting a journalistic investigation into misappropriation of servicemen's funds by the Defense Ministry high-rank officials. He was actively engaged in campaigns aimed to support the detained Azerbaijani journalists and often openly expressed his position on Facebook. He was a close friend of one of the detained Azerbaijani journalists, Khadija Ismayilova, and he was actively supporting her. For that very reason, he was persecuted, oppressed and intimidated by the Azerbaijani authorities.
Upon moving to Tbilisi, Afgan Mukhtarli applied for a residence permit and was granted it. However, in 2016, his residence permit was revoked on the Azerbaijani side's request. As it was pointed out in the Azerbaijani General Prosecutor's letter, addressed to the Georgian authorities, several citizens have found shelter in Georgia and their staying in Tbilisi marred the relations between the two countries.
Abduction
Mukhtarli's friend seems to be the last person to have seen his missing fellow in the vicinity of the Collective Farming Square, in Tbilisi. As Mukhtarli told his lawyer later, he was abducted from his neighbourhood in Tbilisi. He was pushed into the car, his hands were tied and he was beaten. There are marks [of violence] on his face and body. There are suspicions that his rib is broken.
He was taken to Tbilisi outskirts. There he was put a bag on his head. He said, he had some heart problems and he couldn't breathe. Then they put his shirt over his head and fixed it with a plastic tape. They changed the car twice before they reached the Azerbaijani border.
"At the border checkpoint, I was allowed to get off the car. I was planted money into my pocket," Mukhtarli told his lawyer in a phone conversation.
Charges against Mukhtarli have been brought under Articles 318.1 (trespass of the state border of Azerbaijan) and 206.1 (money smuggling) of the Criminal Code of Azerbaijan.
A few days before he went missing, Mukhtarli mentioned that he had been under constant surveillance in Tbilisi and that the Azerbaijani political refugees residing in Georgia had been experiencing problems, posed by Georgian authorities, over the past 6-7 months.