Foreign ministries of Armenia, Russia claim Azerbaijanis can come to Armenia
An ethnic Azerbaijani participant of a Russian TV show, Rovshan Askerov, stated in an interview that even though he is a citizen of Russia, the fact that he is Azerbaijani by origin precludes him from being able to visit Armenia.
This statement was then commented on by the Armenian and Russian Foreign Ministries.
• Moscow accuses Azerbaijan of discriminating against Russian citizens of Armenian descent
• Most passengers from Georgian airports fly to Russia
Reaction from the Armenian Foreign Ministry
Armenian Foreign Ministry spokeswoman Anna Naghdalyan said that there are simply no reasons that could prevent the arrival of Azerbaijani citizens and ethnic Azerbaijanis who are citizens of other countries to Armenia.
Naghdalyan says the statement of Rovshan Askerov is surprising: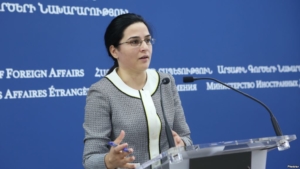 "For more than two years, Russian citizens, regardless of their nationality, have entered Armenia on their internal passports, which significantly simplifies their entry into our country, making Armenia traditionally one of the most popular destinations for Russian tourists."
Responding to a question from the Interfax news agency, the Foreign Ministry spokeswoman also said that Armenia is always open to all who wish to visit the country, including Rovshan Askerov:
"Visitors come from all over to Armenia, without any discrimination based on nationality."
She did, however, note that individuals of Armenian origin cannot enter Azerbaijan:
"Citizens of other countries, including Russia, with Armenian surnames are not allowed to enter Azerbaijan."
The reaction of the Russian MFA
Askerov's statement was also commented on by the Russian Foreign Ministry spokeswoman Maria Zakharova, who said neither she nor the Foreign Ministry of Russia knows of any cases in which citizens of the Russian Federation who are Azerbaijani by nationality were refused entry to Armenia.
She called on individuals who claim the former to inform the Russian Foreign Ministry of any cases of Russian citizens who have been expelled from Yerevan airport due to their Azerbaijani origin.
Social media reaction
Armenian Facebook users also joined in on the discussion of the statement made by Rovshan Askerov. Most of their comments were as follows:
"It would not hurt Askerov to try to come here first, and then make such statements."
Others were annoyed at other aspects of travel limitations:
"I don't understand why Armenians would want to go to Azerbaijan. It is clear what situation we are in today."
There were also Facebook users who brought up the case of one girl from Moscow who tried to visit Azerbaijan but was rejected because of her Armenian heritage.
One Azerbaijani girl's trip to Yerevan
One famous make-up artist from Moscow, Gohar Avetisyan, had her wedding in Yerevan two years ago.
Nazilya Mehdiyeva, an Azerbaijani colleague of Avetisyan, also came to celebrate with her friend.
Mehdiyeva's trip to Armenia provoked a sharp reaction at home, and she responded to criticism on her Instagram page. Armenian media then quoted Mehdiyeva's post:
"I did not know that I would elicit such a strong reaction from the Azerbaijani people and the media. I will answer all at once. I was born in Russia and I have Russian citizenship. I can fly to Azerbaijan and to Armenia without issue … I could have just remained silent, but it hurts that you [have threatened] my family and children. Yes, I am a purebred Azerbaijani. And the fact that you were hurt that I flew to Yerevan to my friend for the wedding … well, I can not understand what is wrong with that.
"Live your life! The fact that I went there is my right alone! This is my friend's wedding, and excuse me, but it seems to me that it is low to choose friends according to a person's ethnicity. If a person is good, but she is Armenian, is that it? You can't be friends with her? You can't communicate with them or be friends?"